For Mom: Baseball's top Mother's Day moments
Though there will be no pink-bat walk-offs or special on-field moments to celebrate this Mother's Day, there have been plenty such events across Major League Baseball in recent years. Here's a look back at some of the top recent Mother's Day memories: 2017: Pillar runs off after walk-off It was
Though there will be no pink-bat walk-offs or special on-field moments to celebrate this Mother's Day, there have been plenty such events across Major League Baseball in recent years.
Here's a look back at some of the top recent Mother's Day memories:
2017: Pillar runs off after walk-off
It was already a special occasion for Kevin Pillar and his family when the outfielder took the field for the Blue Jays' Mother's Day game against the Mariners on May 14, 2017. His parents, Wendy and Mike, were in town to watch him play, along with Pillar's wife, Amanda, making it a perfect opportunity to take some postgame family pictures on the Rogers Centre turf -- especially with Pillar decked out head-to-toe in pink gear to celebrate Mother's Day.
Those plans of taking photos in his crisp pink-and-white uniform, however, were put in jeopardy the moment Pillar crushed a walk-off homer with two outs in the bottom of the ninth. After all, it was a Toronto tradition at the time to rip off a player's jersey anytime he hit a walk-off and douse him with Gatorade. As he rounded third, Pillar eyed a potential escape route and quickly disappeared down the tunnel and into the clubhouse after crossing home plate. Though he managed to emerge mostly unscathed, Pillar's uniform did sustain a slight orange Gatorade stain, courtesy of teammate Darwin Barney.
• MLB Quiz of the Day: Mother's Day edition
2016: Harper walks (and walks and walks ...) -- but Báez walks it off
The Cubs and then-manager Joe Maddon made one thing clear when they hosted the Nationals for a four-game series in early May 2016: They were not going to let Bryce Harper beat them. Chicago walked Harper seven times over the first three games (including once intentionally), but took things to another level for the series finale on Mother's Day.
Harper was walked six times, three of which were intentional, including a 12th-inning free pass that loaded the bases with two outs. He was hit by a pitch in his only other plate appearance. The Cubs not only escaped that threat in the 12th inning, but they also got the last laugh thanks to a Javier Báez walk-off homer in the 13th.
2012: Votto caps trifecta with walk-off slam
Joey Votto had an unforgettable performance when the Reds welcomed the Nationals to Great American Ball Park for a Mother's Day matchup in 2012. After waiting out a three-hour rain delay, Votto hit a solo homer in the first inning and added another in the fourth before clubbing a walk-off grand slam that turned a 6-5 deficit into a 9-6 victory. That remains the only six-RBI game of Votto's career.
2010: Braden's perfect game
When Dallas Braden took the mound for his Mother's Day clash with the Rays in 2010, he did so with a 14-21 career record to go along with a 4.68 lifetime ERA. He had given up 11 hits in his previous start against the Rangers, and he had been tagged for six runs off eight hits over just four innings against the same Tampa Bay club just 11 days earlier. The Rays, meanwhile, were entering with a Major League-best 22-8 record. Over the course of the next two hours and seven minutes, Braden proceeded to retire all 27 batters he faced to forever etch his name into the big league record book with the 19th perfect game in MLB history.
2007: Red Sox pull off "Mother's Day Miracle"
Despite entering the day with the best record in baseball, the Red Sox had absolutely nothing going for the first eight innings of this Mother's Day matinee against the Orioles. Baltimore had knocked out Boston ace Josh Beckett after just four innings and the O's took a 5-0 lead into the bottom of the ninth, where starter Jeremy Guthrie was looking to complete the shutout.
After a quick groundout to start the frame, Guthrie forced Coco Crisp to hit a seemingly harmless pop-up in front of the plate. Instead of being caught for out No. 2, however, Ramón Hernández dropped it along the third-base line -- and the floodgates officially opened. Manager Sam Perlozzo elected to bring in reliever Danys Baez despite Guthrie having thrown only 91 pitches (and allowing just three hits), and the Red Sox promptly delivered back-to-back hits to force Perlozzo to call on closer Chris Ray. After three walks (one intentional) and a two-run double by Jason Varitek, the stage was set for an improbable ending.
With the bases loaded, two outs and the Red Sox still trailing by a run, Julio Lugo hit a ground ball to Orioles first baseman Kevin Millar (a key contributor to Boston's 2004 World Series champion team). Millar fielded the ball and flipped to Ray, but as Varitek crossed the plate for the tying run, the ball clanked off Ray's glove, allowing Eric Hinske to sprint home for the game-winning run, completing the epic comeback in walk-off fashion.
2007: Lewis hits for the cycle
Fred Lewis had a promising, albeit brief, debut for the Giants in 2006, going 5-for-11 (.455) after a September callup. The prospect began the '07 season with Triple-A Fresno, but returned to the big leagues on May 10. Three days later, while making just his fourth career start, Lewis hit for the cycle in a 5-for-6 performance against the Rockies. After hitting a double, triple and homer in the first five innings, Lewis hit not one, but two singles as part of a seventh-inning rally.
2007: Hunter's big day
Torii Hunter put together a career day in the Twins' 16-4 rout of the Tigers on Mother's Day in 2007. The five-time All-Star and nine-time Gold Glove winner connected for a pair of homers and drove in seven runs in arguably the best game of his career. It was his only seven-RBI performance in a Twins uniform, though he later had another with the Angels.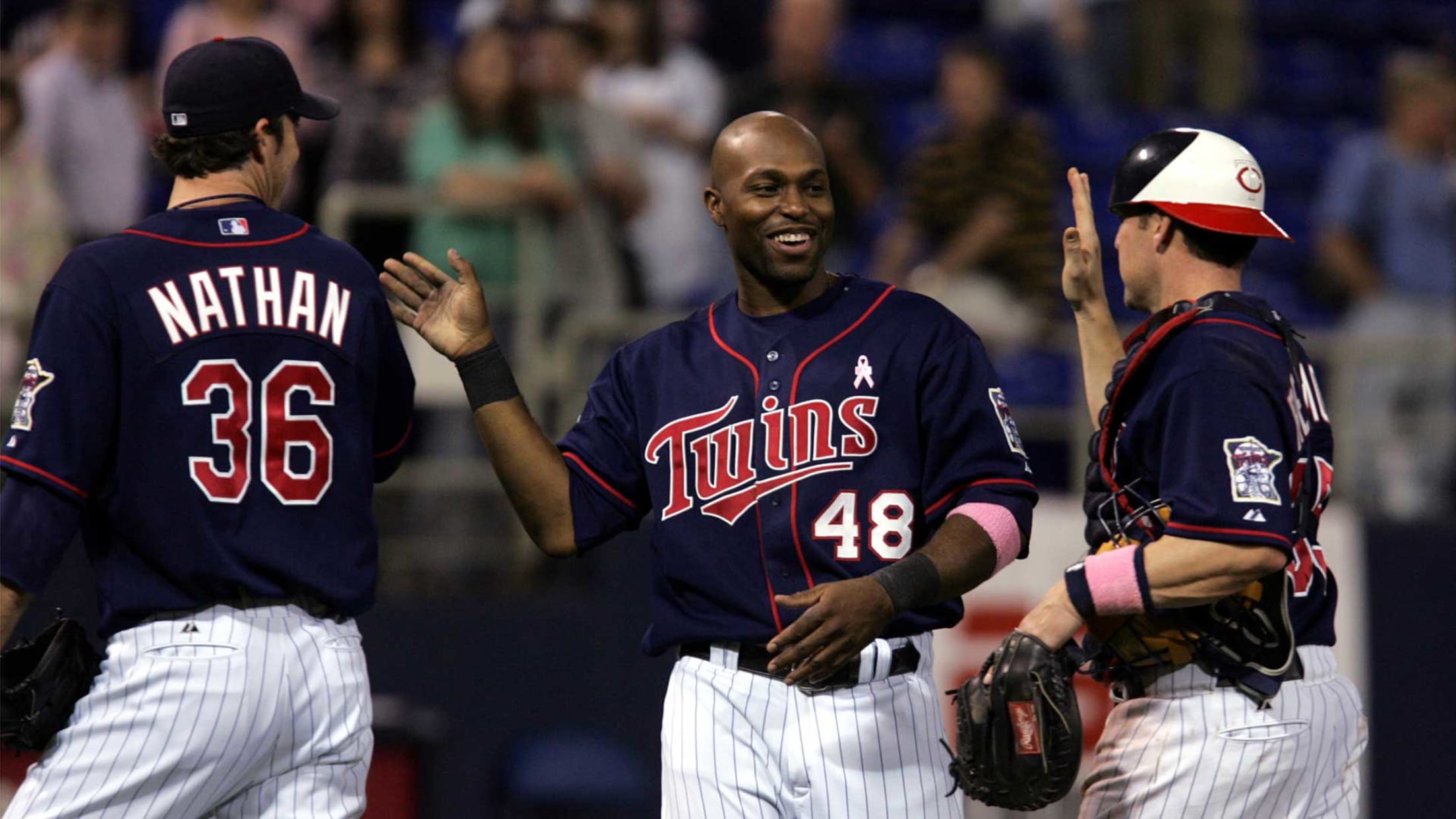 2007: Cust blast caps comeback
Mother's Day was obviously an eventful day across the Majors in 2007, with Oakland also getting in on the highlights. Trailing the Indians by two entering the bottom of the ninth, the A's quickly found themselves down to their final out after the first two batters were retired. Eric Chavez gave the club life, however, with a two-out single, and Milton Bradley followed with a game-tying two-run homer. After back-to-back singles, Jack Cust continued his remarkable breakout journey with a walk-off three-run shot to send the A's home with a 10-7 victory.
2006: Hall hits walk-off for mom
Shortstop Bill Hall provided one of the game's all-time best Mother's Day moments when he delivered a walk-off homer in front of his mother, Vergie, who had driven 10 hours from Nettleton, Miss., to see her son play. Hall was not only using a pink bat (it was the first year players had used the pink bats on Mother's Day), but his had his mother's name engraved on it instead of his own. He stepped to the plate in the bottom of the 10th with two outs and nobody on, and used that special bat to send the Brewers home with a 6-5 victory over the Mets.
2006: Howard comes off bench to save day
After spending the previous night in a Cincinnati hospital with food poisoning, Ryan Howard was not in the Phillies' starting lineup for their 2006 Mother's Day matinee at Great American Ball Park -- but that didn't stop the eventual National League MVP from making his mark. Howard not only came off the bench to hit a game-tying pinch-hit homer in the eighth inning, but he remained in the game at first base and eventually hit another homer in the top of the 12th to provide all of the Phillies' offense in a 2-1 victory. That was just one of many highlights for Howard during a year in which he racked up 58 home runs and 149 RBIs.
2002: Cardinals rally past Reds
The Reds could not have asked for a better start to their 2002 Mother's Day showdown with the Cardinals at Riverfront Stadium. Cincinnati jumped out to an early lead with a six-run first inning, punctuated by a Reggie Taylor grand slam, then added two more in the second to push its lead to 8-0.
The Cardinals, however, chipped away with three runs in the fifth and two more in the sixth to make it an 8-5 ballgame. The rally continued in the eighth with Placido Polanco hitting a two-run double and Fernando Vina following with an RBI double of his own to tie the game at 8 apiece. J.D. Drew followed with a go-ahead two-run homer to lift the Cardinals to a 10-8 victory in front of a shell-shocked Cincinnati crowd. The Reds managed only two hits over the final seven innings after plating eight runs off seven hits in the first two frames.