Red Sox's Top 5 center fielders: Browne's take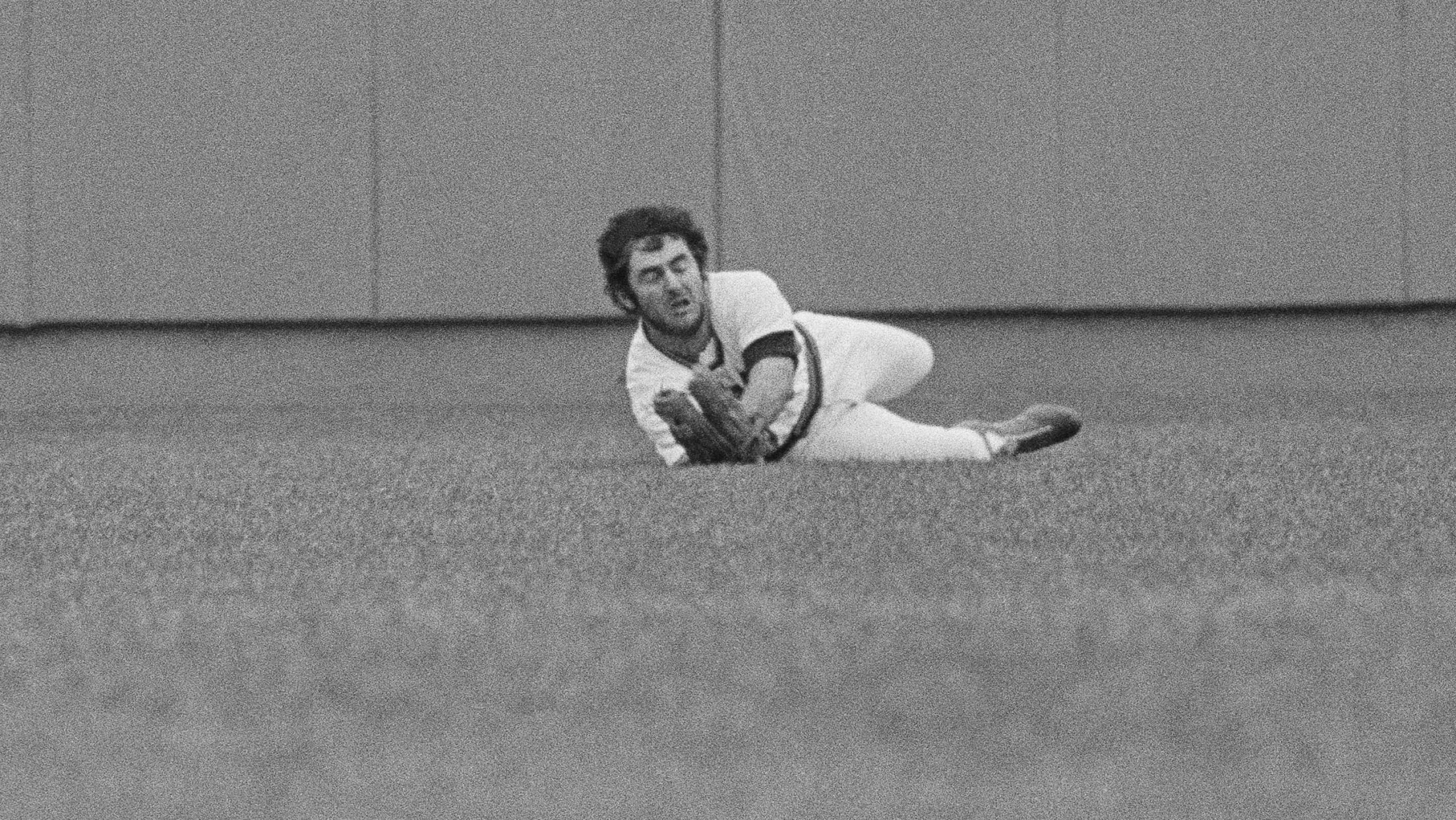 No one loves a good debate quite like baseball fans, and with that in mind, we asked each of our beat reporters to rank the top five players by position in the history of their franchise, based on their career while playing for that club. These rankings are for fun
No one loves a good debate quite like baseball fans, and with that in mind, we asked each of our beat reporters to rank the top five players by position in the history of their franchise, based on their career while playing for that club. These rankings are for fun and debate purposes only ... if you don't agree with the order, participate in the Twitter poll to vote for your favorite at this position.
Here is Ian Browne's ranking of the top 5 center fielders in Red Sox history. Next week: Right field.
• Red Sox All-Time Team: C | 1B | 2B | 3B | SS | LF
1) Tris Speaker, 1907-15
Key fact: Belted 22 triples in 1913 -- still a club record
Call him the best Red Sox position player that none of us ever got to watch or have even seen on film. Speaker was an absolute machine in his day, starring for World Series championship teams in 1912 and '15. One debate during the deadball era was who was the better player: Speaker or Ty Cobb? While Cobb's offensive exploits were legendary and tough for anyone to match, historians widely consider Speaker to be the better fielder of the two. Speaker had a lot of range and a cannon arm.
Continuing our history lesson, we are tackling center field this week. Who is the best in Red Sox history? To avoid confusion, we are not talking just defense. We are talking best all around player.

— Ian Browne (@IanMBrowne) May 3, 2020
As a left-handed hitter, Speaker had few peers during his era. In 1,065 games with the Red Sox, he slashed .337/.414/.482. In 1912 -- the second year of the Most Valuable Player Award's existence -- Speaker won it in the American League with a glittering season in which he had an on-base percentage of .464 with 222 hits, 53 doubles and 12 triples. In fact, his hit total that season ranks second in team history to Wade Boggs, who had 240 knocks in '85.
Speaker was also one of the best baserunners of his time. His 52 steals in 1912 is tied for the third-highest total in Red Sox history. His .383 average in '12 is the best by any player not named Ted Williams in the history of the club. After leaving the Red Sox, Speaker was just as much of a force for the Indians during an 11-year stay in Cleveland.
2) Fred Lynn, 1974-80
Key fact: In 1975, became first player to win Rookie of Year and MVP Awards in same season
Lynn became a fan favorite almost instantly as a rookie in that golden season of 1975. Paired with Jim Rice, they were nicknamed the "Gold Dust Twins" and they helped lead the Red Sox to their first AL pennant in eight years. Lynn had a gorgeous swing from the left side that was perfect for Fenway Park. He could hit outside pitches off the Green Monster with ease and rip mid-to-inside pitches over the bullpen in right field. On defense, he was a stud, winning Gold Glove Awards in four of his six full seasons in Boston.
If 1975 is the season Lynn is best remembered for, '79 was his best year, as he led the league in all three slash categories (.333/.423/.637) to go along with 39 homers and 122 RBIs.
"He had a beautiful swing. He could pull the ball. He could hit the ball off the wall any time he wanted to," said Lynn's former teammate and current Red Sox broadcaster Jerry Remy. "He was a great, great defensive center fielder. I don't know if he was Jackie Bradley [Jr.] great, but he wasn't far from it. If it's not a tie, he's just a step below. Freddy made all those plays too."
Lynn seemed on track for the Hall of Fame in his time with the Red Sox, producing a .902 OPS over 828 games. In January 1981, Boston fans were upset to see Lynn traded along with Steve Renko to the Angels for Jim Dorsey, Joe Rudi and Frank Tanana. In the 1,141 games he played after leaving Boston, Lynn's OPS dipped to .799
"Freddy was special," said Remy. "The motivation that made him great was because he played in Boston where there was pressure. I think it made him great. I still, to this day believe, that had he played his whole career at Fenway Park at his home ballpark, he would definitely be in the Hall of Fame."
3) Reggie Smith, 1966-73
Key fact: His 149 homers are the most of any primary center fielder in Red Sox history
As a rookie, the switch-hitter was the starting center fielder of Boston's Impossible Dream squad of 1967, which will also make him a favorite among fans of a certain age. Despite being part of that unforgettable squad, Smith is a better player than most people know. In 1,014 games for the Sox, Smith had a solid OPS of .826.
After a modest first two seasons in the Majors, Smith became a force in 1969 when he slashed .309/.368/.527 with 25 homers and 93 RBIs. His OPS+ was 142. In '71, Smith led the AL in doubles (33) and total bases (302) while ripping 30 homers. He was one of those players who was a rock of consistency year after year.
Smith was also rewarded for his defense in 1968, when he won his only Gold Glove. The first two of his seven career All-Star appearances happened when he was with Boston. Smith also had a short and successful stint with the Cardinals, but is perhaps best known for his time with the Dodgers -- the team he played in three World Series for.
4) Dom DiMaggio, 1940-42, '46-53
Key fact: His 34-game hitting streak in 1949 is tops in Red Sox history
DiMaggio, who would come to be known as the "Little Professor" wasn't an iconic player like his brother Joe. But that shouldn't take away from how solid he was over his 11 seasons -- all with the Red Sox. A table-setter for the perennial Red Sox contenders of the mid '40s to early '50s, DiMaggio scored 113 runs or more in four straight seasons. His 11 triples and 15 stolen bases in 1950 both led the league.
Like many players of that era, DiMaggio missed three seasons (1943-45) serving in World War II. Even with the lost time, DiMaggio ranks 10th in Red Sox history in at-bats (5,640), eighth in runs (1,046), 10th in hits (1680), ninth in doubles (308) and eighth in walks (750).
He was also a top-notch defender. In fact, Red Sox fans will always wonder what would have happened had DiMaggio not pulled his hamstring running out a double in the eighth inning of Game 7 of the 1946 World Series. With DiMaggio out, the game and the series turned for good when Harry Walker's double scored Enos Slaughter all the way from first. Most people think that DiMaggio could have gotten to the ball much quicker than his replacement Leon Culberson did.
5) Jacoby Ellsbury, 2007-13
Key fact: His 241 steals for the Red Sox are the most by anyone who played for the team after 1920.
Though maligned at times by Red Sox fans for his injury issues -- those became much worse for the Yankees by the way -- Ellsbury is well-deserving of this spot among the best center fielders to play for Boston. When the Red Sox needed a jolt late in the 2007 season, they called Ellsbury up from Triple-A Pawtucket. By the World Series, he had supplanted Coco Crisp as the starting center fielder. As the Red Sox swept the Rockies in four games, Ellsbury hit .438 with four doubles.
In 2009, Ellsbury established a team record of 70 stolen bases. That one might stand for a long time. The leadoff man was at the very top of his game in '11, when he hit .321 with 46 doubles, 32 homers and 364 total bases. Ellsbury was part of a second World Series-winning squad in his final season with the Sox in '13, stealing 52 bases that year. It was in large part due to Ellsbury going 9-for-18 that those Red Sox dispatched of the Rays in four games in the AL Division Series.
Ellsbury captured just one Gold Glove Award (2011), but was a graceful center fielder who took great joy in tracking everything down. He was superb at going back on the ball. His weakness was his throwing arm.
Honorable Mentions
Johnny Damon, the bearded poster child for the iconic 2004 "Idiots", was narrowly edged out by Ellsbury for the final spot in the top five. The only thing holding Damon back was his relatively short tenure (four years) with Boston. The leadoff man had an .803 OPS with Boston and set up countless RBI opportunities for David Ortiz and Manny Ramirez. ... Ellis Burks had an exciting combination of speed and power when he was called up in 1987. He was the team's starting center fielder for six seasons, collecting 93 homers and 93 stolen bases to go with an .800 OPS. ... Jackie Bradley Jr. might be the best defensive center fielder the Red Sox have ever had. Offensively, he's had stretches of greatness but too much inconsistency to crack the club's top five list. ... Jimmy Piersall had his share of mental health issues, yet he still had a solid 931-game run in Boston. His 12.1 defensive bWAR is the best in Red Sox history. ... Chick Stahl's 19 triples in 1904 is third best in team history. He played for Boston's first championship team of 1903.