Top 10 players in championship win probability in '19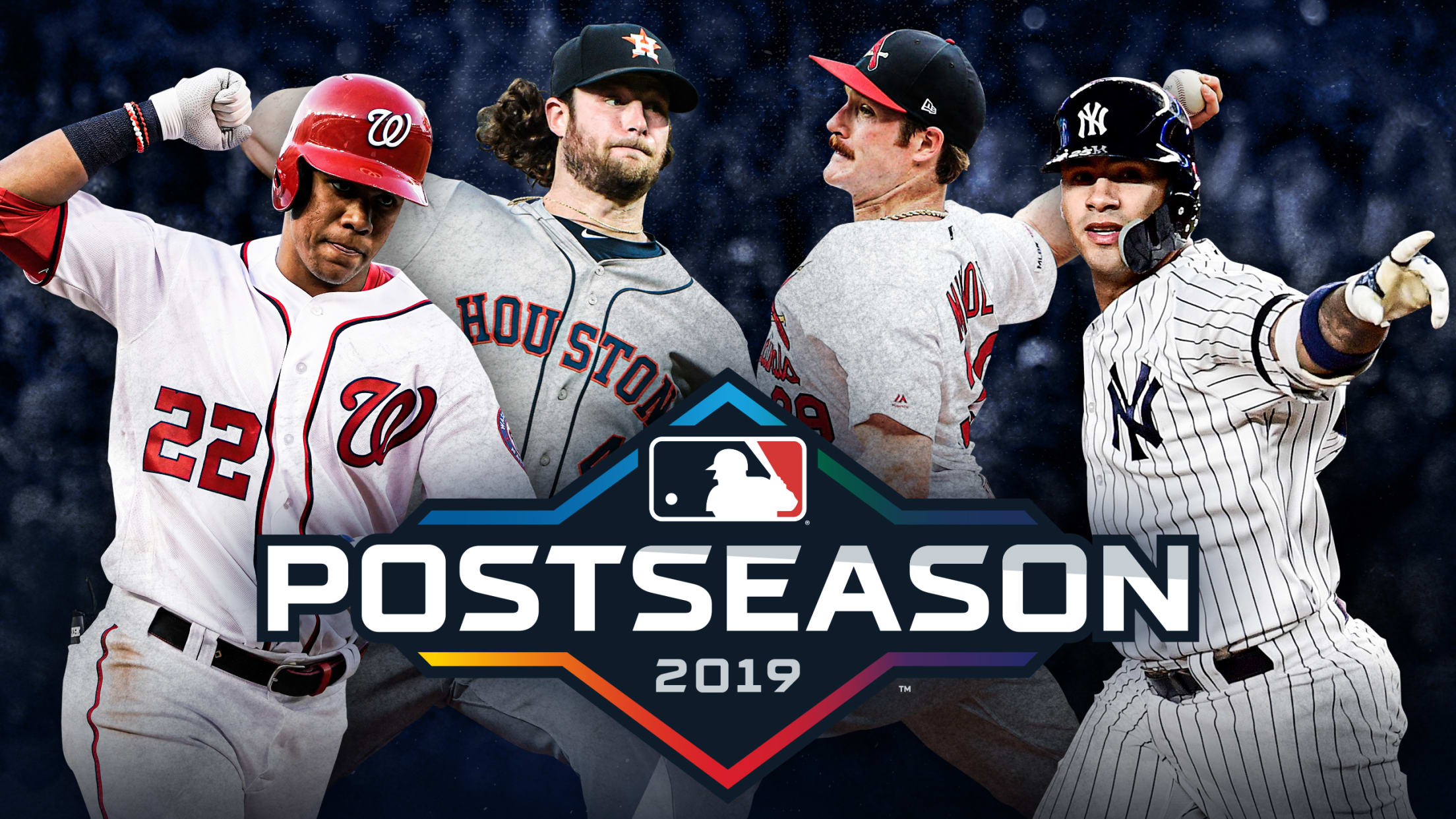 How much does any one player contribute to his team's quest for a World Series championship? How does one weigh a huge performance in a series against one enormous, clutch moment? This debate surrounding October heroes has been largely subjective through the years, and that won't change. But there is
How much does any one player contribute to his team's quest for a World Series championship? How does one weigh a huge performance in a series against one enormous, clutch moment?
This debate surrounding October heroes has been largely subjective through the years, and that won't change. But there is a metric that can help quantify things.
That metric is Championship Win Probability Added (cWPA), available at Dan Hirsch's site, The Baseball Gauge. It works similarly to a more commonly known stat, Win Probability Added, but on a grander scale. While WPA shows how a player affected his team's chances of winning a single game, cWPA shows how a player affects his team's chances of winning the World Series, factoring in WPA and the team's World Series win expectancy at that point.
The stat can be applied to the regular season, although the results are obviously small. The Brewers' Christian Yelich led the Majors with 0.050 cWPA in 2019, meaning he increased Milwaukee's probability of winning the World Series by 5 percentage points.
The stakes grow larger in October. Yasiel Puig was last postseason's leader in cWPA (0.229), followed closely by World Series MVP Steve Pearce of the Red Sox (0.220). The all-time record for a postseason is 0.994 cWPA by Yankees pitcher Ralph Terry, who in 1962 took World Series MVP honors by posting a 1.80 ERA in three starts against the Giants, including a Game 7, 1-0 shutout. (More recent October stars Jack Morris, Madison Bumgarner and David Freese follow him on the list.)
Here are the leaders from the 2019 postseason and the three teams remaining: the World Series-bound Nationals, and the Yankees and Astros, who are battling in the American League Championship Series. This list doesn't include players from eliminated teams, although Dodgers pitcher Walker Buehler (0.079) would be the highest from that group, ranking eighth. It's also important to point out that this metric naturally favors those who have played more games, as well as close games, especially with a series on the line.
Here are the top 10 players, entering Wednesday:
1) Gerrit Cole, SP, Astros: 0.200 cWPA
It's hard to put together a better postseason than the one Cole is having. He just shut out the Yankees for seven innings in Game 3 of the ALCS -- at Yankee Stadium, no less. And that followed an ALDS against the Rays where Cole won both of his starts, allowed just one run in 15 2/3 innings and struck out a Division Series-record 25. Cole's 0.40 ERA this postseason currently ranks as the seventh-lowest all-time for a single postseason (min. three starts).
2) Anthony Rendon, 3B, Nationals: 0.131 cWPA
Rendon is set to reach free agency next month, but he is making his mark on Nationals history in the meantime. Rendon's relentless postseason has the Nats in the World Series for the first time in franchise history. He hit .375 with a 1.059 OPS and hit safely in the Nats' last eight games on the way to the pennant. Rendon's 10th-inning double in NLDS Game 5 against the Dodgers, which set up Howie Kendrick's go-ahead grand slam, is also the second-most impactful play of the postseason by cWPA, sitting between two of teammate Juan Soto's huge hits. Speaking of Soto ...
3) Juan Soto, LF, Nationals: 0.123 cWPA
He's 20 years old and playing in his first postseason, yet Soto is clearly not bothered by the pressure. In fact, he's thrived. Soto has been responsible for two of the three biggest individual cWPA plays this postseason: his eighth-inning Wild Card Game-tying single off Brewers lefty Josh Hader that also brought in the winning run on an error and his game-tying homer off Dodgers lefty Clayton Kershaw in the eighth inning of Game 5 of the NLDS.
4) Max Scherzer, SP, Nationals: 0.092 cWPA
Scherzer followed teammate Aníbal Sánchez's no-hit bid by flirting with a no-hitter of his own, as he pitched the Nats to a 2-0 lead over the Cardinals during their NLCS sweep. He allowed just one hit -- a Paul Goldschmidt single in the seventh -- over seven scoreless innings, and he struck out 11. That was Scherzer's second straight dominant playoff start, after he threw seven innings of one-run ball to beat the Dodgers in Game 4 of the NLDS.
5) Aníbal Sánchez, SP, Nationals: 0.086 cWPA
Sánchez's brilliant no-hit bid led the Nationals past the Cardinals in the opener of their NLCS sweep -- he went 7 2/3 innings before allowing a single to José Martínez -- and vaulted him onto the cWPA leaderboard. With five innings of one-run ball against the Dodgers in the NLDS, too, the 14-year veteran is having himself a great postseason.
6) Gleyber Torres, 2B, Yankees: 0.082 cWPA
Torres is only 22, but his postseason performance is beyond his years. After homering and doubling twice in the Yankees' ALDS-clinching win over the Twins, he didn't miss a beat in Game 1 of the ALCS, notching three more hits and homering again to help lead the Bronx Bombers past the Astros. Then he homered again in Game 3, providing the Yankees' only offense.
7) José Altuve, 2B, Astros: 0.081 cWPA
When the calendar flips to October, Altuve powers up. The Astros second baseman has 12 home runs in the postseason since 2017, including four this year. He's hit them off top pitchers like the Yankees' Luis Severino (ALCS Game 3) and the Rays' Charlie Morton (ALDS Game 3) and Tyler Glasnow (ALDS Game 1). The only players with more home runs through their first 40 playoff games are Nelson Cruz, Carlos Beltrán, Babe Ruth and Mickey Mantle.
8) Daniel Hudson, RP, Nationals: 0.077 cWPA
The veteran right-hander has come up big for a beleaguered Nats bullpen since his July 31 trade from the Blue Jays. All six of Hudson's postseason appearances on the way to the World Series were scoreless, and he got the final outs of the NLCS to send the Nationals to the Fall Classic. Hudson has four saves in the playoffs -- the NL Wild Card Game, Game 2 of the NLDS and Games 2 and 4 of the NLCS, plus he got the win in relief in the clinching NLDS Game 5.
9) Masahiro Tanaka, SP, Yankees: 0.072 cWPA
Tanaka just continues to be lights-out in October. After beating the Astros with six scoreless innings of one-hit baseball in the ALCS opener, Tanaka has a career 1.32 playoff ERA in seven starts. He's allowed just one run and four hits in 11 innings this postseason while winning both of his starts.
10) Chad Green, RP, Yankees: 0.056 cWPA
Green has bailed the Yankees out of many a playoff jam already, emerging as one of the most important arms even in New York's deep bullpen. The right-hander has yet to allow a run in four appearances this postseason, and he has one hold and one win in relief. It's been a critical return to form for a pitcher who struggled so much earlier this year that he was sent to the Minors.