The best Home Run Derby moments ever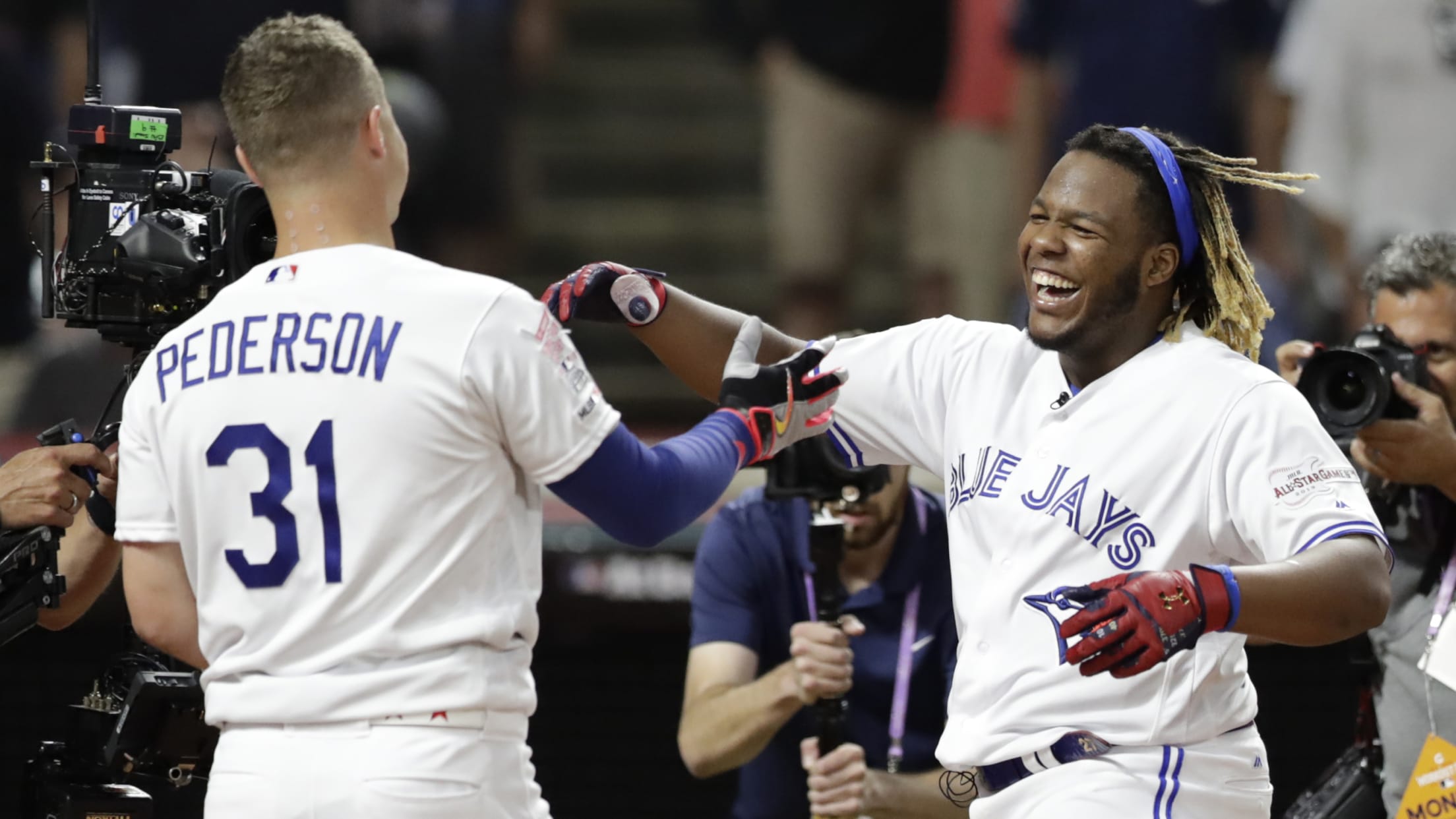 At its best, the T-Mobile Home Run Derby brings us out of our seats and has the sluggers themselves -- and the players who are watching the show -- searching for just the right word. That's how it was 2018, when Bryce Harper hammered nine home runs in 50 seconds
At its best, the T-Mobile Home Run Derby brings us out of our seats and has the sluggers themselves -- and the players who are watching the show -- searching for just the right word. That's how it was 2018, when Bryce Harper hammered nine home runs in 50 seconds to win in front of his hometown fans at Nationals Park.
That was also the case in 2017, when Aaron Judge put on a display that was equal parts timing, strength and reaction. If you'd been in Miami that evening, you may have thought nothing could ever top that.
That was absolutely the case on Tuesday as the 2019 Derby featured Blue Jays 20-year-old rookie Vlad Guerrero Jr. and Dodgers outfielder Joc Pederson putting on a show to end all shows.
That Guerrero eventually bested Pederson may not be as important as how they did it. Through the years, we've felt that way about Josh Hamilton, Giancarlo Stanton, Ken Griffey Jr. and a long list of others. That's the thing about the Home Run Derby: On the list of must-see events, it's near the top.
To see some of baseball's strongest players launching home run after home run, balls disappearing into the evening air, never fails to amaze. So with the 2019 T-Mobile Home Run Derby now in the books, let's revisit arguably the 10 best moments since the event began in 1985:
1. Vlad Jr. and Joc deliver the best Derby moment of them all (2019)
Just when we think we've seen the best this event can deliver, along comes a moment like this one that surpasses every expectation. Guerrero slammed 29 home runs to open Round 2, matching his record-setting first round. But Pederson hit 29 of his own, the last one landing in the right-field seats just before time expired, forcing a 60-second swing-off. They each hit eight, forcing a three-swing tiebreaker. They both hit one, bringing their totals to 38 heading into another three-swing tiebreaker. Finally, Guerrero hit two home runs while Pederson hit one, giving the rookie a 40-39 victory and a spot in the final against eventual champion Pete Alonso. When the two players embraced happily at home plate after the event, it spoke volumes about both of them and the event itself.
2. Josh Hamilton hits 28 homers in one round (2008)
Hamilton's first-round performance was so incredible that his fellow All-Stars joined a packed house in standing and applauding a performance that immediately became the stuff of legend. Hamilton's second home run nearly sailed completely out of the old Yankee Stadium, drawing an ovation so loud that he stepped from the box and tipped his hat. History barely remembers that it was Justin Morneau, not Hamilton, who won the Derby that year.
3. Ken Griffey Jr. reaches the warehouse at Camden Yards (1993)
When he was at his best, there was no one better than Ken Griffey Jr. He remains the only player to win the Home Run Derby three times (1994, '98, '99). He did not win in '93, but he delivered one of the most memorable home runs in Derby history by becoming the only player to hit a baseball over Batimore's Eutaw Street and off the warehouse on the fly.
Juan Gonzalez won the Derby that year, but it's Griffey's 465-foot shot that made history. The Orioles memorialized it with a plaque marking the spot.
4. Bryce Harper hits 9 homers in 50 seconds to win at home (2018)
Harper had the crowd at Nationals Park on its feet, screaming with every swing as the hometown hero staged a furious rally to pass Kyle Schwarber in the most dramatic Derby finish of all-time. He was introduced to a roaring ovation before the event started, and then got another when he stepped into the batter's box and pointed to the D.C. flag bandana on his head.
5. Aaron Judge hammers four 500-foot home runs (2017)
Judge stepped into the batter's box at Marlins Park as one of the most heralded rookies in recent years. He then became the first rookie to win the Home Run Derby outright by hitting almost two miles of home runs, including 16 with exit velocities of 115 mph or better. He swatted 11 in the finals to get past Miguel Sano of the Twins.
6. Giancarlo Stanton hits a pair of 497-footers (2016)
The introduction of Statcast in 2015 added a new dimension to the Home Run Derby, and Stanton gave the tracking system a workout a year later. He went deep on 24 of his first 30 swings and tied the Derby record with 41 home runs in the first two rounds, then got another 20 in the finals. Among them were a pair 497-foot shots, including one that cleared the batter's eye in center field. Seven other sluggers combined for 142, and Stanton had 20 of the 21 longest homers.
7. Mark McGwire goes for Landsdowne Street (1999)
McGwire began blasting home runs over the Green Monster and onto Landsdowne Street so effortlessly that he seemed to have found another gear. He got into such a groove during the first round that Pedro Martinez playfully took his bat away to change the momentum and assist fellow Dominican Sammy Sosa. In the end, McGwire lost to Griffey, but gave a packed house a moment to remember.
8. Todd Frazier wins for the hometown fans (2015)
One year after being edged out by Yoenis Cespedes in the finals at Citi Field, the Reds' third baseman had Great American Ball Park roaring with approval as he slammed a bonus-round shot into the left-field seats to edge Dodgers rookie Joc Pederson, 15-14, setting off fireworks and the kind of cheers he's likely to remember long after his career is done.
9. Bobby Abreu wins for Venezuela in surprising power display (2005)
Abreu played 18 seasons, collected 2,470 hits and had a career .870 OPS. He may have been one of baseball's most unheralded stars, but Abreu got his moment on one of the game's biggest stages at Comerica Park, homering on his first swing of the day and hitting 41 in all. Fellow Venezuela native Johan Santana telephoned his father back home during the event and was told the country was "paralyzed," with so many eyes focused on one of their favorite sons.
10. Big Papi dedicates HR Derby win to Jose Lima (2010)
David Ortiz's fifth Home Run Derby appearance became the one he's likely to remember most vividly, as his 32 home runs averaged 417 feet in Anaheim. Afterwards, he dedicated the evening to Lima, a fellow Dominican who'd died unexpectedly two months earlier.