Best pitching season in history for every club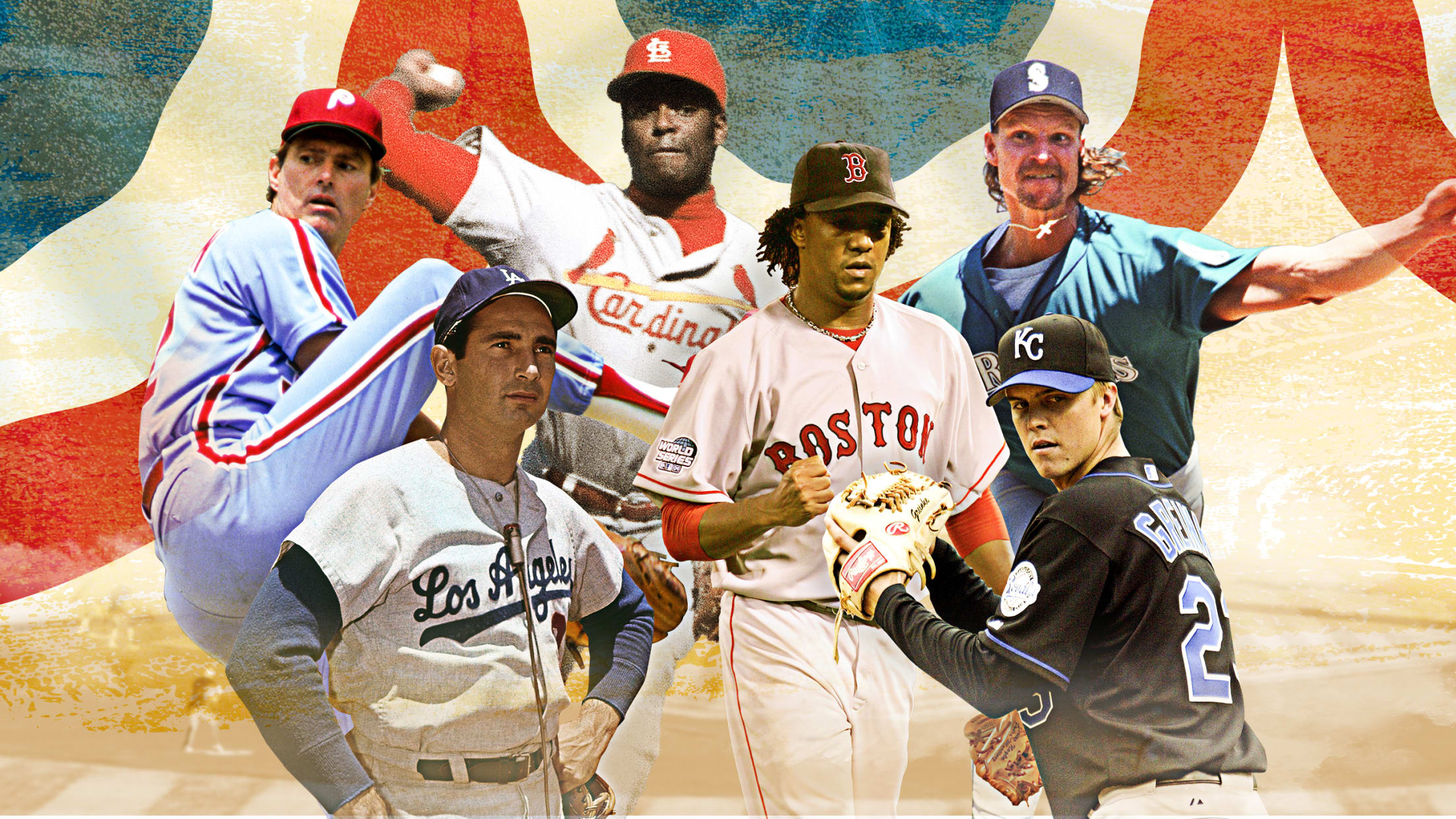 After recently ranking the best individual offensive seasons for all 30 teams, MLB.com's beat reporters flipped their focus to crowning the best single-season pitching performances of all time. From gaudy strikeout numbers to miniscule ERAs, below is a look at the best individual pitching campaign for all 30 clubs, as
After recently ranking the best individual offensive seasons for all 30 teams, MLB.com's beat reporters flipped their focus to crowning the best single-season pitching performances of all time.
From gaudy strikeout numbers to miniscule ERAs, below is a look at the best individual pitching campaign for all 30 clubs, as well as a link to the Top 5 for each team.
AL EAST
Blue Jays: Roger Clemens (1997)
Clemens' 1997 season stands above all others in Blue Jays history -- hitters included -- with a value of 10.7 fWAR. Forget franchise history for a moment, though. In the Live Ball Era (since 1920), only three pitchers -- Pedro Martinez ('99), Steve Carlton ('72) and Bert Blyleven ('73) -- have produced a higher fWAR over a single season as a pitcher. Clemens' numbers in that '97 season were ridiculous, pitching to a 2.05 ERA over 34 starts, including nine complete games, three of which were shutouts. This was the first of back-to-back AL Cy Young Awards for Clemens, and while Toronto fans have rarely claimed Clemens as one of their own, this '97 season remains unmatched, even in an organization that's had Hall of Fame-caliber pitchers in multiple eras. More >
Orioles: Jim Palmer (1975)
The most complete season from the top pitcher in Orioles history came in 1975, when Palmer cemented his future place in the Hall of Fame as he captured the second of three AL Cy Young Awards that he would win over a four-year stretch. Palmer went 23-11 with a 2.09 ERA, pacing AL hurlers in victories, ERA and shutouts, while logging a franchise-record 323 innings and finishing sixth in AL Most Valuable Player Award voting. No Major League starter since has matched Palmer's 10 shutouts from that season -- during which he permitted 44 combined hits. Palmer would pitch for more successful O's teams, but this was him at his peak. More >
Rays: Blake Snell (2018)
At the beginning of the 2018 season, Snell told pitching coach Kyle Snyder that he was going to win the AL Cy Young Award. Coming off a 4.04 ERA season in '17, most people would have called Snell crazy, but the left-hander was just crazy enough to accomplish his goal, winning the honor over Justin Verlander. Snell set franchise records with a 1.89 ERA and 21 wins, surpassing David Price's previous mark of 20 victories, set in the '12 season. Right-handed batters hit just .188 against Snell in '18 and left-handers hit .135. More >
Red Sox: Pedro Martinez (2000)
How good was Martinez in 2000? His 291 ERA+ is the best of any MLB pitcher in the Modern Era (since 1900). In an era when offense was exploding, Martinez's ERA was a miniscule 1.74. For perspective, Clemens finished second in the AL that season at 3.70 -- a disparity of almost two full runs! Martinez also led the Majors that season in shutouts, FIP, WHIP and hits per nine innings. He led the AL in strikeouts, HR per nine innings and strikeouts per nine. More >
Yankees: Ron Guidry (1978)
"Louisiana Lightning" won the 1978 AL Cy Young Award unanimously, going 25-3 with a 1.74 ERA (208 ERA+) in 35 starts. Guidry led the Majors with nine shutouts and a 0.95 WHIP, and his resulting 9.6 bWAR ranks 11th among AL pitchers in the Divisional Era (since 1969). The peak of Guidry's '78 campaign came on June 17 at Yankee Stadium, when he set a still-standing franchise record by striking out 18 California Angels in a shutout victory. That gem launched the league-wide tradition in which fans often rise to their feet with a two-strike count, trying to will the pitcher to a strikeout. More >
AL CENTRAL
Indians: Bob Feller (1946)
When pitching is the topic of discussion for the Indians, it's hard not to lead the conversation -- whatever it may be -- with Feller. Arguably the best pitcher to go through Cleveland's organization, Feller rightfully earns the title of best season in franchise history with his impressive showing in 1946. He led all other pitchers in wins (26), games (48), starts (42), complete games (36), shutouts (10), innings (371 1/3) and strikeouts (348). Feller also tossed an April 30 no-hitter against the Yankees that season. His 36 complete games and 348 strikeouts remain franchise records. More >
Royals: Zack Greinke (2009)
Greinke put together the most dominant pitching performance in Kansas City history -- and less than two years later, he asked to be traded. The Royals obliged and hauled in Alcides Escobar and Lorenzo Cain from the Brewers, a pivotal point in their march toward a World Series title in 2015. Greinke was at his peak in a Royals uniform in '09, going 16-8 with an MLB-best 2.16 ERA. He also notched career highs in both innings pitched (229 1/3) and strikeouts (242). Naturally, he won the AL Cy Young that season. More >
Tigers: Justin Verlander (2011)
The raw statistics (24-5 with a 2.40 ERA and 250 strikeouts) were eye-popping. No AL pitcher had won a Triple Crown since Johan Santana in 2006, no Tigers hurler had done so since Hal Newhouser in 1945. No AL pitcher had won that many games in a season since Bob Welch in '90. No AL pitcher had as strong of a combination of stats in the Triple Crown categories since Vida Blue in '71. But beyond the numbers was a summer of dominance in which every Verlander start felt like a no-hit bid in the making. He no-hit the Blue Jays on May 7 (falling a walk shy of a perfect game), held the Royals hitless for five innings five days later, took a no-hit bid into the eighth against Cleveland a month after that and then did so again versus the Angels on July 31. He'd had good seasons before, but this was the year Verlander became Verlander -- and he was rewarded with both the AL Cy Young and MVP Awards. More >
Twins: Bert Blyleven (1973)
Though the Dutchman's first six and a half seasons in Minnesota were all exemplary, his 1973 campaign stood above the pack. He pitched a career-high 325 innings, tossing an MLB-best nine shutouts, while posting career lows in ERA (2.52) and FIP (2.32) and a career-high 258 strikeouts. Surprisingly, Blyleven received only one AL Cy Young vote despite posting the highest bWAR (9.7) among all nine pitchers receiving votes -- and the highest single-season WAR among pitchers in Twins history. Blyleven's performance that year was a microcosm of the skillset -- driven by his knee-buckling curveball -- that made him the club's all-time leader in complete games (141), shutouts (29) and strikeouts (2,035) and the only pitcher to enter the Hall of Fame as a Twin. More >
White Sox: Ed Walsh (1908)
Walsh set the franchise's single-season ERA mark with his 1.27 mark produced over 369 2/3 innings and 45 games in 1910 and won 27 games each in '11 and '12. But his performance in '08 gets the nod. Walsh finished 40-15 with a 1.42 ERA over 66 games, 49 of which were starts. He threw 42 complete games and 11 shutouts, which stand as single-season franchise marks. He threw an astounding 464 innings, yet another White Sox record, and fanned 269 against 56 walks. Those 269 strikeouts rank second behind Chris Sale's 274 from 2015. For the record, Walsh has four of the top five single-season strikeout totals. He holds three of the top six individual season win marks and four of the best seven individual ERAs. Let's not forget that Walsh also had five seasons with at least 368 innings pitched. More >
AL WEST
Angels: Dean Chance (1964)
Chance had a breakout season as a 23-year-old in 1964, going 20-9 with a 1.65 ERA in 46 appearances, including 35 starts. He led the league with 15 complete games, 11 shutouts and 278 1/3 innings pitched en route to winning the AL Cy Young Award and finishing fifth in AL MVP voting. Chance put up 9.4 bWAR, which ranks as the highest total by a pitcher in club history. He's one of just two Angels pitchers to win a Cy Young Award, along with Bartolo Colon (2005). More >
Astros: Mike Scott (1986)
Scott, having picked up a split-fingered fastball, put himself on the map when he came out of nowhere to go 18-8 with a 3.29 ERA in his age-30 season in 1985, but no one could have imagined what he and the Astros did in '86. Behind Scott, the Astros -- picked by most to finish last in the National League West -- won 96 games to win the division, with Scott throwing a no-hitter against the Giants to clinch the crown. Scott was the first Cy Young Award winner in Astros history after going 18-10 and leading the NL in strikeouts (306), ERA (2.22), shutouts (five) and innings (275 1/3). In the NL Championship Series, he threw two complete games, allowing only one run in 18 innings, to beat the vaunted Mets twice and he was set to start Game 7 before the Mets rallied to win Game 6 in 16 innings at the Astrodome. Despite Houston losing the series, Scott was still named the NLCS MVP. More >
Athletics: Lefty Grove (1931)
Grove captured his first AL pitching Triple Crown in 1930, but it was his Triple Crown-winning effort the following season that stands as the best of his Hall of Fame career. Grove went an astonishing 31-4 with a career-best 2.06 ERA and racked up 175 strikeouts during the '31 campaign. Of his 30 starts, 27 were complete games (four shutouts) as he helped lead the club to its third consecutive AL pennant. Though the A's fell to the Cardinals in the World Series that year, Grove's superb season was enough to edge out Lou Gehrig for the AL MVP Award. More >
Mariners: Randy Johnson (1995)
The Big Unit had a number of big seasons in his 10 years with the Mariners, but none topped the magical 1995 campaign in which he went 18-2 with a 2.48 ERA and 294 strikeouts in 214 1/3 innings. Johnson put the Mariners on his shoulders that season, earning the first AL Cy Young Award in franchise history while carrying Seattle to its first AL West title. The Mariners pulled off one of the biggest comebacks in MLB history to catch the Angels down the stretch and Johnson was a huge part of that, going 7-0 with a 1.45 ERA in his final 10 starts (all Seattle wins) in August and September. He then beat the Yankees in Game 3 of the AL Division Series before coming out of the bullpen two days later to pitch the final three innings to get the win in the dramatic 11-inning Game 5 clincher. More >
Rangers: Fergie Jenkins (1974)
The Rangers acquired Jenkins from the Cubs in the winter of 1973 on the heels of the right-hander going 14-16 with a 3.89 ERA. Texas gave up Minor League infielders Bill Madlock and Vic Harris for him, a pretty cheap price for a No. 1 starter who had six straight 20-win seasons from 1967-72 and was the '71 NL Cy Young Award winner. There was speculation that Jenkins was headed toward the end of his career, but he bounced back with a terrific season, going 25-12 with a 2.82 ERA in his debut season with the Rangers. The 25 wins, 328 innings pitched and 29 complete games are franchise records that will likely never be broken. More >
NL EAST
Braves: Greg Maddux (1995)
Maddux was spectacular in 1994 and even better on the way to earning his fourth straight NL Cy Young Award in '95. Going back to 1900, there have been just four instances of a pitcher producing an ERA+ of 260 or greater while making at least 25 starts in a season. Pedro Martinez (291 ERA+ in 2000) and Dutch Leonard (279 ERA+ in 1914) account for two of those cases. Maddux accounts for the other two -- 260 ERA+ in 1995 and a 271 ERA+ in '94. So why pick '95 for this exercise? His two-hit shutout in Game 1 of the '95 World Series served as the tiebreaker. More >
Marlins: Dontrelle Willis (2005)
One of the most popular players in franchise history, Willis showcased his overall talents -- both on the mound and at the plate -- in 2005. The D-Train paced the NL in wins (22), complete games (seven) and shutouts (five), while posting a 2.63 ERA and 6.5 fWAR in his All-Star campaign. With a 22-10 record, Willis remains the only 20-game winner in Marlins history. The lefty with the high leg kick finished second in NL Cy Young Award voting to Chris Carpenter of the Cardinals. Willis logged 236 1/3 innings, second in franchise history only to Kevin Brown's 237 1/3 in 1997. Willis' five shutouts matched A.J. Burnett (2002) for the most in a season in club history. Willis also made an impact with the bat in his hands, hitting .261 with one home run, 11 RBIs and 14 runs. More >
Mets: Dwight Gooden (1985)
Unquestionably, Tom Seaver is the greatest Mets pitcher of all time. But the greatest season by a Mets pitcher? That belongs to Gooden, who followed up his otherworldly rookie campaign with an even better year in 1985. En route to his only NL Cy Young Award, Gooden not only set the Mets' single-season record for bWAR (12.2) by a pitcher, but he also finished with the highest total of any Major League pitcher since Walter Johnson in '13. Gooden led the league in innings, wins, strikeouts, complete games and ERA+, becoming the first (and still only) unanimous Cy Young Award winner in Mets history. It was undoubtedly the best season of an absurd three-year run that saw Gooden win 58 games with a 2.28 ERA. More >
Nationals: Max Scherzer (2018)
This list could have easily included a number of Scherzer's seasons, but it's his standout 2018 campaign that gets the nod. Scherzer went 18-7 with a 2.53 ERA, while posting an 8.4 bWAR, the highest single-season mark by a Nationals pitcher. He reached the 300-strikeout milestone in only 220 1/3 innings, a mark that only three pitchers -- Pedro Martinez (1999), Randy Johnson (2000 and '01) and Chris Sale ('17) -- reached while pitching fewer frames. To top it off, Scherzer's 150 hits allowed were the fewest all-time in a 300-strikeout season. Along with pacing all pitchers in strikeouts and innings pitched, Scherzer tied for first in the NL in wins and led the league outright in WHIP (0.91), opponents' batting average (.188) and strikeouts per nine innings (12.24). He finished second in NL Cy Young Award voting behind Jacob deGrom and earned his sixth consecutive All-Star selection that year. More >
Phillies: Steve Carlton (1972)
Lefty's 1972 season truly is one of the greatest by any pitcher in baseball history. Carlton went 27-10 with a 1.97 ERA in 41 starts, while racking up 30 complete games and 310 strikeouts to 87 walks in 346 1/3 innings. He won the NL Cy Young Award. He finished fifth in NL MVP voting. He made the NL All-Star team. But the most impressive part about Carlton's season is that he put up those numbers on a truly terrible team. The '72 Phillies finished 59-97, meaning Carlton won a record 45.8 percent of his team's games that season. He was just the fifth pitcher in history to win 20 or more games for a last-place team and he won 15 consecutive decisions at one point. The Hall of Famer also tossed eight shutouts. No pitcher has won more games or thrown more complete games since Carlton in '72. No pitcher has thrown more innings since '73. More >
NL CENTRAL
Brewers: Ben Sheets (2004)
Sheets made the NL All-Star team as a rookie in 2001 and topped 200 innings in each of the '02 and '03 seasons before delivering the finest performance of his 10-year career in '04, posting a 2.70 ERA and setting a franchise record with 264 strikeouts. The highlight was a sunny Sunday afternoon against Atlanta on May 16 at Miller Park, when the stadium shadows and Sheets' killer curveball made for a tough day for the Braves. He struck out a career-high 18 batters (also a franchise record), including six of the last seven hitters he faced to easily surpass Moose Haas' club record of 14 strikeouts on April 12, 1978, against the Yankees.
"Maybe it was just a good matchup," Sheets said. "They'll tell you about the shadows, and I won't argue that. But it was also a good matchup." More >
Cardinals: Bob Gibson (1968)
The number 1.12 is held in high regards when it comes to baseball history, as it was Gibson's mind-boggling ERA from the 1968 season. Gibson's 1.12 ERA is easily the best in the Live Ball Era (since 1920) and the third-best mark overall since 1900. The greatest Cardinals pitcher of all time had arguably the greatest season of all time in '68, allowing just 38 earned runs across 304 2/3 innings en route to winning both the NL Cy Young and MVP Awards. The imposing right-hander completed 28 of his 34 starts, 13 of which resulted in shutouts. He also struck out 268 batters and his 0.85 WHIP led the NL that year. Gibson redefined dominance -- and was part of the reason MLB lowered the height of the mound from 15 inches to 10 in '69. Pitchers excelled across the Majors in '68, but none more than Gibson. To top it all off, he struck out 17 batters in Game 1 of the '68 World Series -- a Fall Classic record that still stands. More >
Cubs: Fergie Jenkins (1971)
With 145 years of Cubs history, it's hard to decipher which individual pitching performance rises to the level of best ever. For example, there is John Clarkson, who won 53 games with a 1.85 ERA in 623 innings in 1885. Or maybe it makes more sense to point to a more modern showing like Jake Arrieta in 2015, when he had a 1.77 ERA and won the NL Cy Young Award. We'll find a middle ground and go with Jenkins' incredible Summer of 1971, when the Cubs legend led the Majors in wins (24), complete games (30) and strikeout-to-walk ratio (7.1). Jenkins outdueled Gibson with a 10-inning masterpiece on Opening Day, and he went on to put up a 2.77 ERA over 325 innings en route to claiming the NL Cy Young Award. The right-hander struck out 263 batters and walked only 37 in 39 starts. More >
Pirates: John Candelaria (1977)
Even without one of the Pirates' two Cy Young Awards to back it up, Candelaria's 1977 campaign is, by some metrics, the best single-season pitching performance in franchise history. Candelaria finished with a 20-5 record, a 2.34 ERA and a 1.07 WHIP in 230 2/3 innings over 33 starts, including six complete games and one shutout. His winning percentage and ERA were the best in the Majors that year. His 169 ERA+ was not just the best mark in MLB, but the best for any Pirates pitcher who's worked at least 180 innings in a season during baseball's Modern Era (since 1900). The last Pittsburgh pitcher to match or exceed Candelaria's 7.4 bWAR was Babe Adams, who matched that mark in 1919. It's just tough to compare his excellence that season to, say, Adams' high-volume years in the early 1900s, the higher-strikeout pitchers of recent years or the NL Cy Young campaigns of Vern Law ('60) and Doug Drabek ('90). More >
Reds: Bucky Walters (1939)
Walters was voted the 1939 NL MVP after leading all pitchers in ERA (2.29), wins (27), complete games (31) and innings pitched (319). He also led the NL with 137 strikeouts, making him one of only 16 pitchers to achieve the NL pitching Triple Crown in the 145-year history of the league. Walters put up 9.7 fWAR to help the Reds win the NL pennant. In '40, as Cincinnati won the World Series, Walters just missed another Triple Crown, going 22-10 with a 2.48 ERA and 115 strikeouts over 305 innings. More >
NL WEST
D-backs: Randy Johnson (2002)
Johnson won four straight NL Cy Young Awards from 1999-2002, but he saved his best season for the last one. He led the league in wins (24), ERA (2.32), complete games (eight), innings (260), strikeouts (334) and ERA+ (195). Making it all the more impressive is the innings mark came after a '01 season in which he threw 249 2/3 regular-season innings and then another 41 1/3 during a postseason in which he was named the co-MVP of the World Series. More >
Dodgers: Sandy Koufax (1966)
While pitching through pain, Koufax won 27 games and posted a 1.73 ERA and 317 strikeouts over 323 innings. Most impressive, perhaps, is the fact that Koufax led the Majors with 27 complete games -- just one year after also leading all pitchers with 27 complete games. Then, he retired. Imagine what Koufax could have done if fully healthy. The entire Dodgers staff hasn't combined for 27 complete games over the last seven years. More >
Giants: Christy Mathewson (1908)
One of the most dominant pitchers in baseball history, Mathewson's biggest year came in 1908, when he won a career-high 37 games, setting a Modern Era record for NL pitchers. The Hall of Famer logged a 1.43 ERA over 390 2/3 innings, racking up 259 strikeouts while issuing only 42 walks. Mathewson completed 34 of his 44 starts that year, including a franchise-record 11 shutouts. The "Big Six" was worth 10.8 fWAR, the highest single-season total by a pitcher in Giants history.
"Mathewson was the greatest pitcher who ever lived," Hall of Fame manager Connie Mack once said. "He had knowledge, judgment, perfect control and form. It was wonderful to watch him pitch -- when he wasn't pitching against you." More >
Padres: Kevin Brown (1998)
The Padres only had Brown for one season -- but what a season it was. At the game's offensive peak, Brown posted a 2.38 ERA across his 35 starts in San Diego, and his 257 strikeouts remain a franchise record. On top of that, Brown was, perhaps, even better than the numbers indicated. He sported a 2.23 FIP and allowed 0.3 homers per nine innings. Not to mention, Brown always rose to the occasion. He recorded seven complete games and three shutouts -- and those came at critical junctures, as the Padres made a run at an NL West title. Brown was similarly dominant in the playoffs, including turning in the best game ever pitched by a Padre. In Game 1 of the NLDS, Brown set an LDS record with 16 strikeouts against a juggernaut Houston lineup, outdueling Randy Johnson in the process. More >
Rockies: Ubaldo Jiménez (2010)
Every five games, the neon smile would disappear and the scowl that replaced it was just part of the visual imprint of one of the greatest first half-seasons in history. A slow leg lift and windup. A long stride plateward, timed with the arm stabbing to the back and the hand curiously curled. Then, pure fire. Capable of a fastball in the upper 90s seemingly at will, Jiménez became more steely the deeper he pitched. His 15-1 start made him the first pitcher since the turn of the century to win 15 games in his club's first 85 games. The impressive run included an April 17 no-hitter at Atlanta and led to Jiménez being named the NL starter for the 2010 All-Star Game. The ending, however, was as star-crossed as the beginning was stellar. He threw eight scoreless, three-hit innings at St. Louis in his final start, but the Rockies fell, 1-0, and he finished one victory short of the magical 20-win mark. More >