These are the best late-round picks in Draft history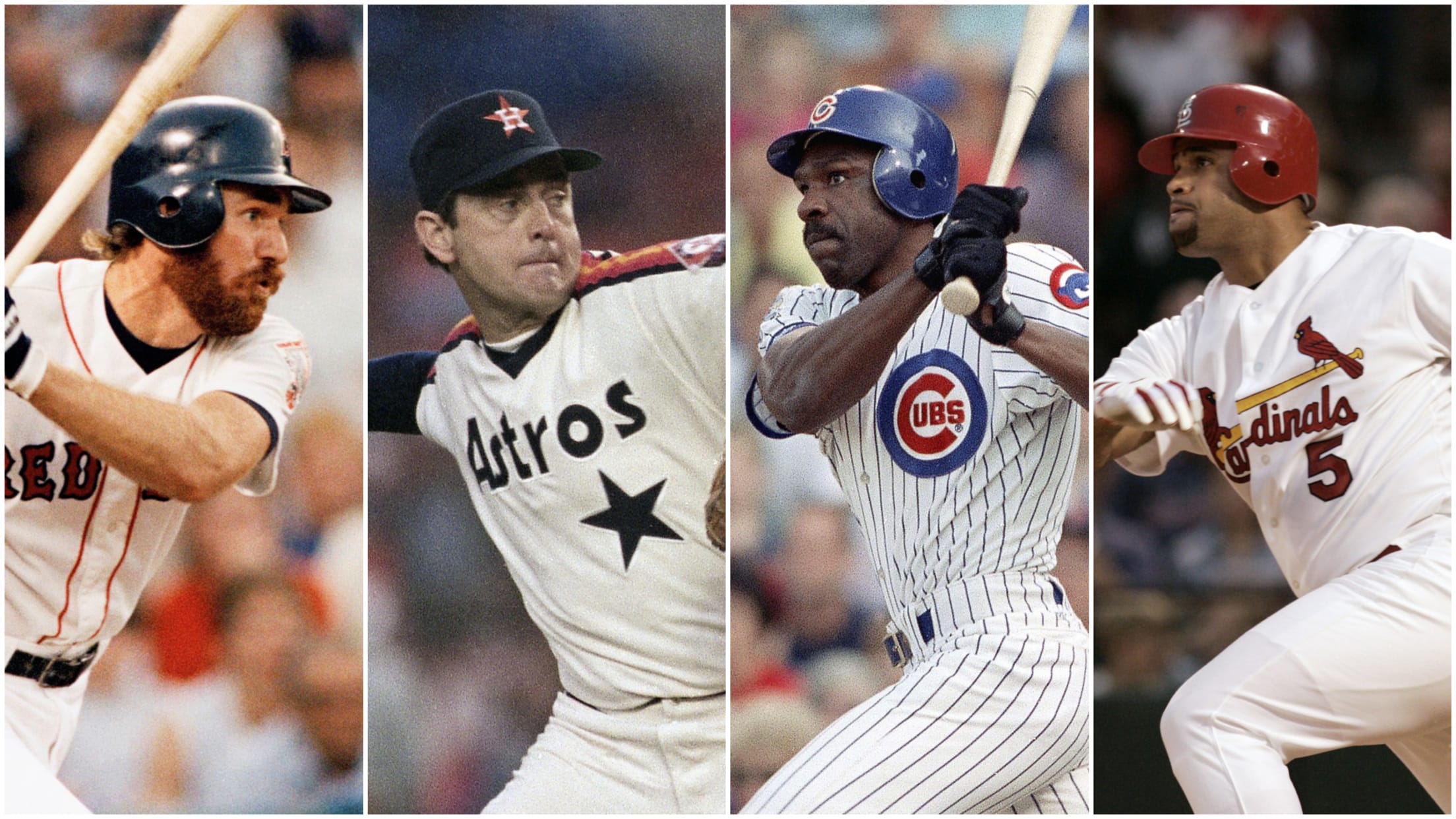 In the MLB Draft, good things can come for those who wait. So while much of the hype this year has understandably centered around the high-profile prospects who could go at the top of the first round, there will be plenty of potential stars still out on the Draft's third
In the MLB Draft, good things can come for those who wait.
So while much of the hype this year has understandably centered around the high-profile prospects who could go at the top of the first round, there will be plenty of potential stars still out on the Draft's third and final day.
With that in mind, here is a look at the most productive players -- by wins above replacement (WAR)* entering 2019 -- ever selected in each round, counting only picks who signed.
Round 6: Sal Bando, A's, 1965, 61.5 WAR
The third baseman was a four-time All-Star who had seven seasons of at least 5 WAR, helping Oakland win three straight World Series from 1972-74.
Honorable mentions: Tim Hudson, A's, 1997; Jamie Moyer, Cubs, 1984
Round 7: Wade Boggs, Red Sox, 1976, 91.4 WAR
The Hall of Fame third baseman captured five batting titles in his first seven seasons, finishing his 18-year career with a .328 average and 3,010 hits.
Honorable mentions: Willie Randolph, Pirates, 1972; Jim Edmonds, Angels, 1988
Round 8: Brad Radke, Twins, 1991, 45.4 WAR
He was a steady presence in the Minnesota rotation over his 12 seasons, making more than 30 starts nine times and posting an above-average ERA+ in all but two.
Honorable mentions: Paul Goldschmidt, D-backs, 2009, Charlie Hough, Dodgers, 1966; Eric Davis, Reds, 1980
Round 9: Fred McGriff, Yankees, 1981, 52.6 WAR
The Yankees traded McGriff to the Blue Jays a year later, then watched him turn into a five-time All-Star who came within seven homers of 500 while racking up 1,550 RBIs.
Honorable mentions: Goose Gossage, White Sox, 1970; Jesse Barfield, Blue Jays, 1977
Round 10: Brady Anderson, Red Sox, 1985, 35 WAR
Anderson blossomed as an outfielder with the Orioles and topped 200 homers and 300 steals in his career, including a 50-21 season in 1996.
Honorable mentions: Howie Kendrick, Angels, 2002; Marlon Byrd, Phillies, 1999
Round 11: Andre Dawson, Expos, 1975, 64.8
The Hawk was the 1977 NL Rookie of the Year with Montreal and the '87 NL MVP with the Cubs, collecting 438 homers and eight Gold Gloves during a Hall of Fame career.
Honorable mentions: Chili Davis, Giants, 1977; Jeff Cirillo, Brewers, 1991
Round 12: Nolan Ryan, Mets, 1965, 81.2 WAR
In the first year of the Draft, 294 players were chosen before the Hall of Fame right-hander. Ryan, baseball's all-time strikeout king (5,714), won 324 games while tossing a record seven no-hitters.
Honorable mentions: Bill North, Cubs, 1969; Johnny Ray, Astros, 1979
Round 13: Albert Pujols, Cardinals, 1999, 100 WAR
A three-time MVP, Pujols continues to reach major milestones late in his career. He joined Hank Aaron, Willie Mays and Alex Rodriguez as the only players with 3,000 hits in addition to 600 home runs, and is one of three players, alongside Aaron and Rodriguez, to tally 2,000 RBIs.
Honorable mentions: Jim Thome, Indians, 1989; Jack Clark, Giants, 1973
Round 14: Dave Parker, Pirates, 1970, 40.1 WAR
The right fielder was the 1978 NL MVP for Pittsburgh, when he won his second straight batting title, and went on to post a 121 career OPS+, capturing a pair of World Series.
Honorable mentions: Dexter Fowler, Rockies, 2004; Jamey Carroll, Expos, 1996
Round 15: Jose Canseco, A's, 1982, 42.4 WAR
He was a big part of the great A's teams of the late 1980s, taking AL Rookie of the Year honors in '86 and MVP honors in '88, when he became baseball's first 40-40 man.
Honorable mentions: Jake Peavy, Padres, 1999; Dwayne Murphy, A's, 1973
Round 16: Buddy Bell, Indians, 1969, 66.3 WAR
Only 10 third basemen in history have accrued more career WAR than the underrated Bell, who won six straight Gold Gloves and made four All-Star teams for Texas from 1979-84.
Honorable mentions: James Shields, Rays, 2000; Dave Stewart, Dodgers, 1975
Round 17: Kenny Lofton, Astros, 1988, 68.3 WAR
The former Arizona University basketball player spent only 20 games with Houston, one of his 11 teams. He posted a .372 career OBP and ranks 15th all time in stolen bases (622).
Honorable mentions: Ian Kinsler, Rangers, 2003; Orel Hershiser, Dodgers, 1979
Round 18: Mike Cameron, White Sox, 1991, 46.7 WAR
One of only 16 players to collect at least 275 homers and steals, Cameron got to double digits in both categories for 10 straight seasons, from 1999-2008.
Honorable mentions: Ken Forsch, Astros, 1968; Lyle Overbay, D-backs, 199
Round 19: Bret Saberhagen, Royals, 1982, 58.8 WAR
Before the age of 26, the right-hander had won two AL Cy Young Awards and a World Series MVP Award for the Royals, having led the league in wins (23), ERA (2.16), FIP (2.45) and strikeout-to-walk ratio (4.5) in 1989.
Honorable mentions: Don Mattingly, Yankees, 1979; Placido Polanco, Cardinals, 1994
Round 20: Ryne Sandberg, Phillies, 1978, 68 WAR
Traded to the Cubs after playing 13 games for Philly, Sandberg emerged as a Hall of Fame second baseman, taking NL MVP honors in 1984, when he made the first of 10 straight All-Star teams.
Honorable mentions: Jeff Kent, Blue Jays, 1989; Gene Tenace, A's, 1965
Round 21: Nick Punto, Phillies, 1998, 15.4 WAR
A useful utility man, Punto split his time almost evenly between second, third and shortstop while appearing at every spot except pitcher and catcher over 14 seasons.
Honorable mentions: Dave Dravecky, Pirates, 1978; Eddie Guardado, Twins, 1990
Round 22: John Smoltz, Tigers, 1985, 69 WAR
Shipped to the Braves as a prospect, Smoltz became a Cy Young Award winner and Hall of Famer, making All-Star teams as both a starter and a closer. He's the only pitcher to record 200 wins and 100 saves.
Honorable mentions: Andy Pettitte, Yankees, 1990; Jason Bay, Expos, 2000
Round 23: Roy Oswalt, Astros, 1996, 50.1 WAR
Over his first seven seasons, from 2001-07 with Houston, Oswalt's 36.9 pitcher WAR trailed only Curt Schilling and Randy Johnson.
Honorable mentions: Brett Butler, Braves, 1979; Ted Lilly, Dodgers, 1996
Round 24: Mark Grace, Cubs, 1985, 46.4 WAR
A career .303 hitter with a .383 OBP, Grace led the Majors with 1,754 hits during the 1990s and won four Gold Glove Awards at first base.
Honorable mentions: Jorge Posada, Yankees, 1990; Steve Renko, Mets, 1965
Round 25: Mike Hargrove, Rangers, 1972, 30.4 WAR
Before he became a successful manager, Hargrove was the 1974 AL Rookie of the Year for Texas and twice led the league in walks, posting a .396 career OBP.
Honorable mentions: Paul Splittorff, Royals, 1968; Darren Daulton, Phillies, 1980
Round 26: Dusty Baker, Braves, 1967, 37 WAR
Baker piled up nearly 2,000 hits and 250 homers during his 19-year career as an outfielder -- now overshadowed by his 22 years as a manager.
Honorable mentions: Corey Koskie, Twins, 1994; Bob Forsch, Cardinals, 1968
Round 27: Brendan Donnelly, White Sox, 1992, 7.5 WAR
As a 30-year-old rookie, the right-hander was a key bullpen piece for the 2002 World Series-winning Angels, and he became an All-Star the next year, when he posted a 1.58 ERA. Current stars Yasmani Grandal and Anthony Rendon were also 27th round picks, but neither of them signed in the respective years they were chosen there.
Honorable mentions: Buzz Capra, Mets, 1969; Kiko Calero, Royals, 1996
Round 28: Woody Williams, Blue Jays, 1988, 30.2 WAR
The right-hander pitched in more than 400 games and started 330 over 15 seasons, posting a 103 ERA+ and making the NL All-Star team with St. Louis in 2003.
Honorable mentions: Sergio Romo, Giants, 2005; Dave Roberts, Tigers, 1994
Round 29: Ken Griffey, Reds, 1969, 34.5 WAR
Junior's dad -- and 1990-91 Mariners teammate -- was no slouch himself, as a three-time All-Star with a career 118 OPS+, 152 homers and 200 steals who won two championships with the Big Red Machine.
Honorable mentions: John Denny, Cardinals, 1970; Kyle Lohse, Cubs, 1996
Round 30: Damion Easley, Angels, 1988, 20.5 WAR
Easley spent the bulk of his 17 big league seasons with the Angels and Tigers, highlighted by his 1998 campaign with Detroit. The second baseman drove in 100 runs that year, made the AL All-Star squad and won a Silver Slugger Award.
Honorable mentions: Darryl Kile, Astros, 1987; Doc Medich, Yankees, 1970
Round 31: Travis Hafner, Rangers, 1996, 24.8 WAR
It was not a long-lasting peak, but from 2004-06 Hafner batted .308/.419/.611 with 103 homers and 334 RBIs for the Indians.
Honorable mentions: Kevin Kiermaier, Rays, 2010; Jay Howell, Reds, 1976
Round 32: Robb Nen, Rangers, 1987, 15 WAR
Over his last five seasons, 1998-2002 with the Giants, Nen ranked second in the Majors with 206 saves, striking out nearly 11 batters per nine innings with a 2.43 ERA.
Honorable mentions: Kevin Pillar, Blue Jays, 2011 Eric Rasmussen, Cardinals, 1973
Round 33: Walt Terrell, Rangers, 1980, 10.7 WAR
From 1984-89, Terrell topped 200 innings each year. He finished his career just shy of 300 starts, pitching for five teams over 11 seasons.
Honorable mentions: Jason Frasor, Tigers, 1999; Tyler Flowers, Braves, 2005
Round 34: Dan Wheeler, Rays, 1996, 7.8 WAR
He made nearly 600 career relief appearances and was at his best from 2005-06 with Houston (146 games, 2.36 ERA).
Honorable mentions: Jack Brohamer, Indians, 1967; Ray Fontenot, Rangers, 1979
Round 35: Steve Cooke, Pirates, 1989, 4.3 WAR
The right-hander gave Pittsburgh two seasons (1993, '97) with more than 30 starts and an ERA+ of just above 100.
Honorable mentions: Steve Hovley, Angels, 1966; Danny Barnes, Blue Jays, 2010
Round 36: Raul Ibanez, Mariners, 1992, 20.4 WAR
He generated essentially no value in his 20s, but Ibanez made up for lost time by hanging around through age 42, topping 300 homers and 1,200 RBIs.
Honorable mentions: Junior Spivey, D-backs, 1996; T.J. Mathews, Cardinals, 1992
Round 37: Bake McBride, Cardinals, 1970, 22.7 WAR
Beginning with his 1974 NL Rookie of the Year campaign in St. Louis, McBride hit .300 with a 112 OPS+ and 168 stolen bases over a seven-year stretch, helping the Phillies win the World Series in '80.
Honorable mentions: Chris Peters, Pirates, 1993; Bill Butler, Tigers, 1965
Round 38: Mark Buehrle, White Sox, 1998, 59.2 WAR
The lefty was a terrific find for the Sox with the 1,139th pick out of a Missouri junior college. From 2001-15, he logged at least 30 starts and 10 wins every year while producing a 116 ERA+.
Honorable mentions: Scot Shields, Angels, 1997; Rajai Davis, Pirates, 2001
Round 39: Kenny Rogers, Rangers, 1982, 50.4 WAR
Three of the lefty's four All-Star seasons came from ages 39-41, and he pitched for two more years after that, finishing with a 107 ERA+ over more than 3,000 innings.
Honorable mentions: Vance Law, Pirates, 1978; Todd Redmond, Pirates, 2004
Round 40: Brandon Kintzler, Padres, 2004, 4.5 WAR
The 2017 AL All-Star with the Twins, who was traded to the Nationals later that summer, actually was taken in the 40th round twice. He didn't sign with the Yankees in 2003 but did when San Diego snatched him from Dixie State College of Utah a year later.
Honorable mentions: Ray Lamb, Dodgers, 1966, 4.1 WAR; Terry Jones, Rockies, 1993, 0.8 WAR
Best of the rest
The Draft now ends after the 40th round, but in the past, some productive players were selected even later than that.
Keith Hernandez, Cardinals, 1971 (42nd round), 60.4 WAR
The slick-fielding first baseman made it from the high school ranks to St. Louis in just three years and developed into the 1979 NL co-MVP. Hernandez collected nearly 2,200 hits in a 17-year-career, captured 11 Gold Glove Awards and won World Series rings with the '82 Cardinals and '86 Mets.
Mike Piazza, Dodgers, 1988 (62nd round), 59.6 WAR
He began his professional baseball journey as an afterthought, and he ended it by getting inducted into the Hall of Fame in 2016. An elite offensive catcher, Piazza was a 12-time All-Star who batted .308/.377/.545 with 427 home runs.
Orlando Hudson, Blue Jays, 1997 (43rd round), 30.9 WAR
Hudson brought a league-average bat and stellar glove to second base, winning four Gold Glove Awards and making a pair of All-Star squads over 11 big league seasons.
Honorable mentions: Jeff Conine, Royals, 1987 (58th round), 19.5 WAR; Eric Young, Dodgers, 1989 (43rd round), 18.8 WAR; Marcus Giles, Braves, 1996 (53rd round), 16.8 WAR; Brad Ausmus, Yankees, 1987 (48th round), 16.5 WAR; Jarrod Dyson, Royals, 2006 (50th round), 15.2 WAR.
*Based on Baseball Reference's version of WAR.