What if these teammates faced off for real?
These 13 never-before-seen matchups would be a lot of fun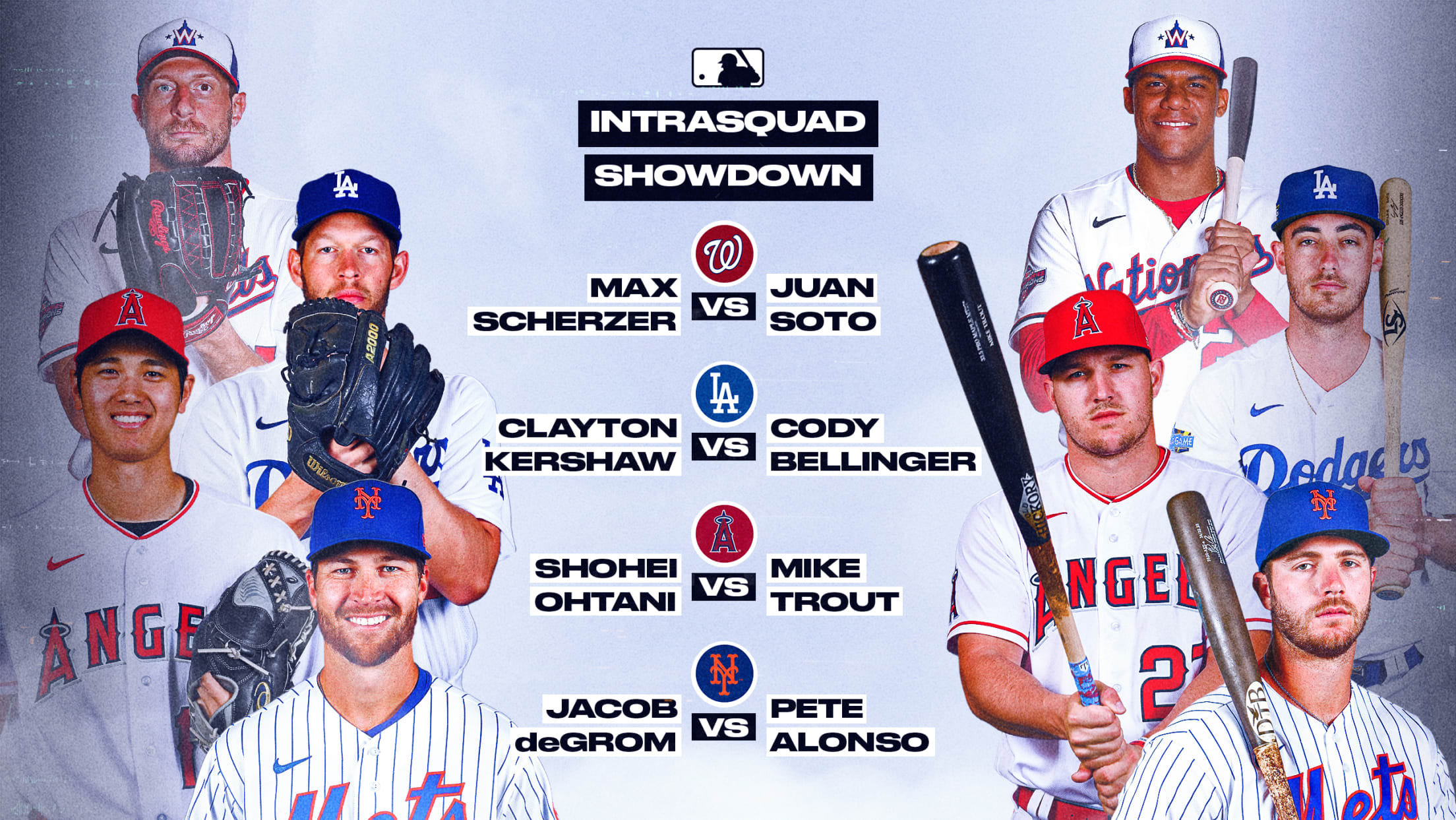 Intrasquad games are all the rage right now. With Summer Camp underway and Opening Day approaching, clubs are doing what they can to put their players in competitive situations against high-caliber talent. For now, that means scrimmaging against themselves. Already, we've had Gerrit Cole taking on his new Yankees teammates,
Intrasquad games are all the rage right now.
With Summer Camp underway and Opening Day approaching, clubs are doing what they can to put their players in competitive situations against high-caliber talent. For now, that means scrimmaging against themselves.
Already, we've had Gerrit Cole taking on his new Yankees teammates, Shohei Ohtani returning to the mound against some Halos hitters, and more.
Since this will be a common sight over the next couple of weeks, it's a good opportunity to take stock of the batter-pitcher matchups these games could offer, including some we've never seen before. Which would be the most fun to watch in the heat of a real game?
Here are 13 of the top candidates. To make this list, we chose no more than one matchup per team and focused only on players who have never faced each other in a regular season or postseason MLB game. (So no Cole vs. Aaron Judge, or Josh Hader vs. Christian Yelich).
Angels: Shohei Ohtani vs. Mike Trout
To be clear, we're not talking about Ohtani batting against Trout, although the three-time American League MVP could pitch a little bit back in high school. No, we want to see Trout do what he does best -- hit great pitches from great pitchers, and make it look easy. (See his .412/.500/1.000 career line in All-Star Games.) In case you forgot during Ohtani's absence from the mound, he has some of the most unhittable stuff on Earth, including a splitter that held opponents to a .036 average (2-for-55) with 35 strikeouts in '18. Would that fall-off-the-table offering be Trout's Kryptonite?
Astros: Justin Verlander vs. Yordan Alvarez
Alvarez's resume is far shorter than Verlander's, but it sure is impressive. As a 22-year-old, he slashed .313/.412/.655 with 27 homers in 87 games, tying José Abreu's modern rookie record (minimum 350 plate appearances) with a 173 OPS+. Then again, he may not have faced a pitcher as tough as Verlander, who could attack Alvarez with his combination of veteran experience and still-elite stuff.
Braves: Mike Soroka vs. Ronald Acuña Jr.
These two 22-year-olds are Atlanta's present and future, and Braves fans will hope they're not getting the chance to face each other in a real game for a long, long time. But imagine if they did. On one side, you have a pitcher who keeps the ball on the ground and had the NL's lowest home run rate in 2019. On the other side, you have an uber-talented slugger coming off a 41-homer season. Something's got to give.
Cardinals: Adam Wainwright vs. Yadier Molina
Are there two current MLB teammates who know each other better than these guys? Probably not. Over the past 15 seasons, Molina has caught 1,758 1/3 of Wainwright's 2,103 2/3 innings (83.6%) -- and that's just in the regular season. At this point, they've been together so long that it's hard to believe they actually faced each in the Minors, when Wainwright was a Braves prospect. Now their connection is like "telepathy," according to St. Louis pitching coach Mike Maddux. So while these guys aren't the best pitcher-hitter combo on this list at this point in their careers, the potential mind games this matchup would involve would be more than worth the price of admission.
Cubs: Yu Darvish vs. Javier Báez
Darvish can basically invent new pitches at will. But could he invent one Báez wouldn't want to attack with a big swing?
Dodgers: Clayton Kershaw vs. Cody Bellinger
Two of the sweetest sights for Dodgers fans over the past decade have been Kershaw's glorious curveball dropping from the heavens and Bellinger unfurling that gorgeous, full-extension lefty swing. Now imagine those two forces colliding, in a battle of NL MVP winners.
Indians: Mike Clevinger vs. Francisco Lindor
Clevinger talked about facing Lindor in camp on Wednesday: "Me and Frankie take that matchup very seriously," he said. The right-hander's 35.3% whiff rate on opponents' swings last season was the highest for any AL starter besides Gerrit Cole and Blake Snell. With the right-hander able to miss bushels of bats with all four of his pitches (four-seamer, slider, curve, changeup), even a hitter as dynamic as Lindor would have his hands full.
Mets: Jacob deGrom vs. Pete Alonso
Alonso launched dingers off 50 different pitchers while setting the rookie home run record (53) last year, but obviously his back-to-back Cy Young Award-winning teammate was not one of the victims. The smart move would be for deGrom to attack Alonso with his vicious slider (105 K's in 2019). But it would be fascinating to see if the righty could sneak his high-90s four-seamer past the Polar Bear, whose 11 big flies off pitches 95-plus mph led the Majors.
Nationals: Max Scherzer vs. Juan Soto
If we've learned anything from Soto's incredible first two Major League seasons, it's that the youngster isn't scared of anyone, in any situation. Look no further than his clutch homer off Clayton Kershaw in last year's NL Division Series, or his game-changing shot off Justin Verlander in the World Series. So it's a given that Soto would take a quality at-bat against Scherzer, too, just as there is no doubt Mad Max would go after Soto with his typically unflinching intensity.
Padres: Chris Paddack vs. Fernando Tatis Jr.
The level of swag here would be completely off the charts. These two took San Diego by storm as rookies last year, impressing with their confidence and charisma, in addition to their enviable ability. No matter the result here, this matchup would be absolutely riveting.
Reds: Luis Castillo vs. Joey Votto
Last season, Castillo threw his devastating changeup 40% of the time to left-handed batters, who hit .136 with 90 strikeouts against it, while chasing it out of the zone 44% of the time. The best plan for an opponent is to hold off and hope it fades low for a ball. Even though Votto's numbers slipped in 2019, he has the savvy to make Castillo work. The 36-year-old remains one of the game's most disciplined hitters, ranking among the MLB leaders last year by chasing only about 20% of out-of-zone changeups. Let the chess match begin.
Twins: José Berríos vs. Miguel Sanó
Both longtime Twins top prospects have been key figures in the team's recent revival. Berríos has made two straight All-Star teams in part because he excels at limiting hard contact, but that would be a tall order against Sanó, who led the Majors in hard-hit rate last year.
Yankees: Aroldis Chapman vs. Gleyber Torres
If you want narrative juice, this one's for you. The Yankees famously acquired Torres (then a prospect) from the Cubs in a July 2016 deal for Chapman. The left-handed flamethrower helped Chicago win a long-awaited championship before returning to the Bronx as a free agent. That was before Torres made his debut in '18 and proceeded to hit 62 homers over his first 267 games.