The coolest jersey to own from each team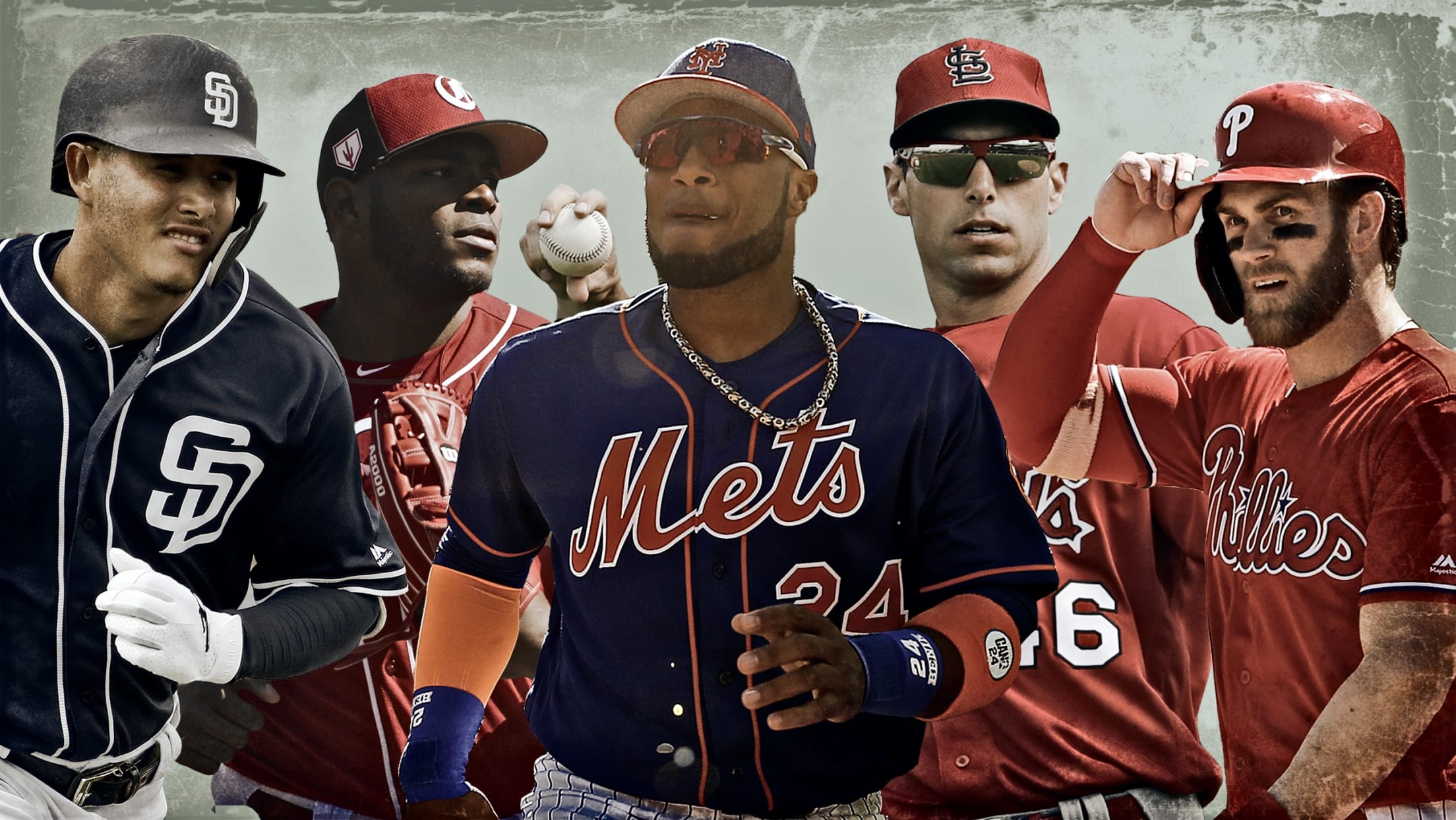 Some of us own too many baseball jerseys. We're suckers for it. I own more than I care to admit. But of course, a great jersey is so much more than just an article of clothing. I actually buy a new one every year. With that in mind, we take
Some of us own too many baseball jerseys. We're suckers for it. I own more than I care to admit. But of course, a great jersey is so much more than just an article of clothing. I actually buy a new one every year.
With that in mind, we take a look at your 2019 hipster jersey -- the guy whose jersey or shirsey will have the most cachet at your home park this year. It's another way of identifying the "coolest" player on the team.
With a few exceptions, these picks were made under the assumption that you already have all the big names. Anyone can wear a Derek Jeter (No. 2) jersey to the stadium. Here are the ones that are the freshest for this specific year.
AMERICAN LEAGUE EAST
Blue Jays: Vladimir Guerrero Jr., No. 27
They might not be selling this in the team store just yet, but know that when he recovers from his oblique injury and reaches the Majors, they'll have hundreds of them ready. Get them before everyone you know has one.
Orioles: Yusniel Diaz, No. 21
This is a bit of a guess on the number, but if there's any jersey that's going to be popular in the next half-decade, it's the Orioles' top prospect.
Rays: Tommy Pham, No. 29
If you can get past his offseason comments about a lack of enthusiasm from Rays fans, you might be enjoying yourself a potential MVP candidate this year.
Red Sox: Nathan Eovaldi, No. 17
Assuming you have every other major Red Sox player's jersey, how about you reward that amazing World Series performance by wearing this guy's number on your back?
Yankees: Luke Voit, No. 45
The folk hero of last fall has the starting job this year and retains cult hero status for a team that doesn't easily produce a lot of cult heroes.
AL CENTRAL
Indians: Hanley Ramirez, No. 13
If Hanley has a successful comeback with the Indians, it'll be one of the most enjoyable stories of the year.
Royals: Billy Hamilton, No. 6
The speedster will be the primary reason to pay close attention to every second at Kauffman Stadium this year.
Tigers: Niko Goodrum, No. 28
He's one of the young bright spots on a team that's a few years away, and plus, it's a terrific name.
Twins: Nelson Cruz, No. 23
It may be just one year, but what a fun year it will be.
White Sox: Eloy Jiménez, No. 6
It's a guess again on the number -- his 2018 number at Triple-A, 16, is retired by the White Sox (Ted Lyons) -- but, like Vlad Jr., everyone's going to have this jersey soon enough.
AL WEST
Angels: Mike Trout, No. 27
Sorry, this is always the answer. Shop now >>
Astros: Michael Brantley, No. 23
Astros fans are going to adore this quiet veteran, but this assumes you already have your Alex Bregman (No. 2), Jose Altuve (No. 27) and George Springer (No. 4) jerseys.
Athletics: Matt Chapman, No. 26
You might already have this one, but there's a sense this MVP candidate hasn't entirely broken through yet, so you can still get in early.
Mariners: Daniel Vogelbach, No. 20
Every Mariners fan worth their salt already has a No. 51 (Ichiro Suzuki) or No. 34 (Felix Hernandez) jersey or shirsey, so this is an alternative. Vogelbach has the physique of a beer leaguer, which makes him someone we can all relate to.
Rangers: Hunter Pence, No. 47
In a bridge year, there's nothing wrong with a historical curiosity jersey like this one.
NATIONAL LEAGUE EAST
Braves: Josh Donaldson, No. 20
This assumes you already have Ozzie Albies (No. 1), Ronald Acuna Jr. (No. 13), and Freddie Freeman (No. 5). But save some money for all those pitching prospects who will arrive next year.
Marlins: Curtis Granderson, No. 21
A way to honor one of baseball's true great guys late in his career. (Even though he might be in a different uniform by August.)
Mets: Robinson Canó, No. 24
That sweet swing is the epitome of baseball cool, and you'll certainly get a lot of wear out of this one. Based on the length of his contract and the unlikelihood he'll be traded again, you'll be able to wear this one until the year on the back of the jersey.
Nationals: Juan Soto, No. 22
The best way to get over losing Bryce Harper is to get the jersey of the next Bryce Harper.
Phillies: Bryce Harper, No. 3
If you are able to still fit into the jersey you buy this year when Harper's deal expires in 2032, you're a genetic miracle. Shop now >>
NL CENTRAL
Brewers: Jesús Aguilar, No. 24
The Brewers have a ton of great uniform options, particularly in throwback mode, but Aguilar is irresistible.
Cardinals: Paul Goldschmidt, No. 46
And then cross your fingers that it's not a relic in a year.
Cubs: David Bote, No. 13
The Cubs have a lot of good options (Javier Baez, Anthony Rizzo, Kris Bryant), but those are kind of obvious (or you probably already own them). Impress your fellow bleacher bums with everybody's favorite lovable bench guy.
Pirates: Jameson Taillon, No. 50
As tempting as the Chris Archer (No. 24) jersey is, you really can't go wrong with the team's true ace.
Reds: Yasiel Puig, No. 66
The Puig jersey is your friend. Shop now >>
NL WEST
D-backs: Adam Jones, No. 10
The D-backs just said goodbye to a few of their big-name guys (Goldschmidt, A.J. Pollock, Patrick Corbin), so the newly acquired Jones becomes a great choice. He is perhaps the most purely enjoyable player in baseball to cheer for.
Dodgers: Max Muncy, No. 13
I'm not even sure Muncy's family had a Muncy jersey heading into last year.
Giants: Mac Williamson, No. 51
Anyone else whose jersey you might want, you surely already have. And in case you haven't noticed, this guy can hit the ball really hard and far.
Padres: Manny Machado, No. 13
There's really no reason you don't have this jersey already. Shop now >>
Rockies: Nolan Arenado, No. 28
It's very possible you already own this one, but you can honor his extension by going out and buying his jersey again.
Will Leitch is a columnist for MLB.com.