Best players to only play for one team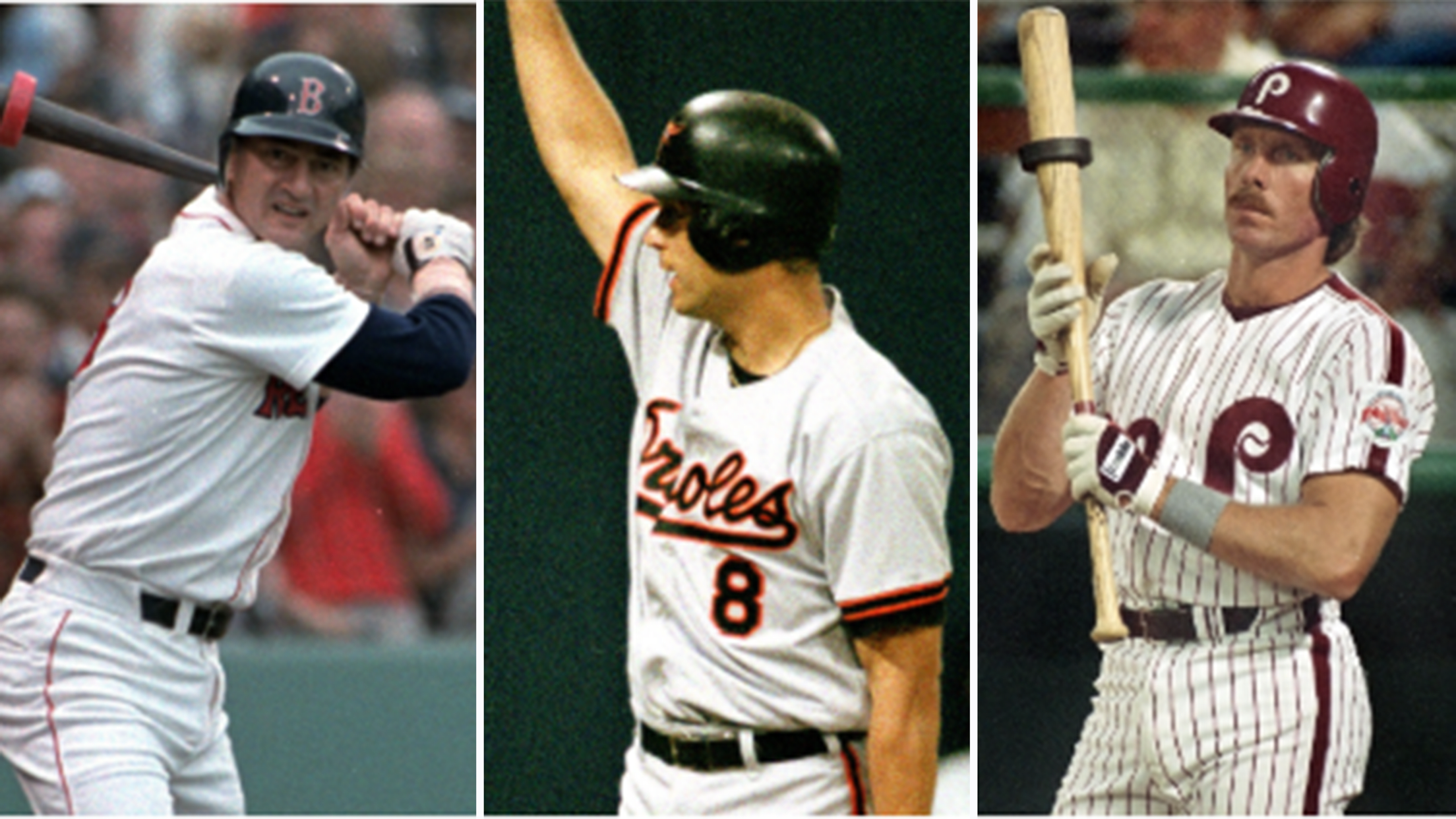 With Mike Trout's 12-year contract extension worth a reported $426.5 million, he'll be in an Angels uniform through the 2030 season. That year, he'll turn 39 years old in August. In other words, it's not hyperbole to wager that Trout could be an Angel for his entire career. If Trout
With Mike Trout's 12-year contract extension worth a reported $426.5 million, he'll be in an Angels uniform through the 2030 season. That year, he'll turn 39 years old in August. In other words, it's not hyperbole to wager that Trout could be an Angel for his entire career.
If Trout indeed spends his entire career with one team, he could join a number of elite lists. One of those is the most Wins Above Replacement by a player who spent his entire career with one team. Trout's ascension in WAR has been well-documented. He already has 64.3 WAR, which ranks 99th among position players and is tied for 144th overall with Roy Halladay, who will be inducted into the Hall of Fame this summer.
Even though he's 27, the 2018 season was Trout's age-26 season, which is determined by a player's age on June 30. His 64.3 WAR through his age-26 season is the most for any position player before his age-27 season.
If Trout continues at his pace of 9.1 WAR per season, which he's had each year since 2012, he'd have 173.5 WAR at the end of the contract, which would be second-most all time. He probably won't produce at the same rate for the next 12 years, but he seems poised to be at that level for at least a portion of the deal.
Here are the players to accumulate the most WAR while playing their entire careers with one team.
1) Walter Johnson, Senators: 165.2
Johnson's 165.2 career WAR ranks third all time and leads the way for players who played their entire careers with one team. Johnson spent his entire 21-year career with the Washington Senators, amassing a 417-279 record in 802 career games, 666 of which were starts. He threw 531 complete games, including 110 shutouts, which is 20 more than any other player all time. Through his age-26 season, Johnson compiled 71.1 WAR, the most of any player through his age-26 season regardless of position.
2) Stan Musial, Cardinals: 128.2
Stan the Man played his entire 3,026-game career with the Cardinals -- spanning 23 years, 22 of which he played in. Through his age-26 season, Musial, like Trout, had won two MVP Awards. He's a member of the 3,000-hit club, and he won three MVP Awards total, seven batting titles and three World Series championships.
3) Ted Williams, Red Sox: 123.1
Williams missed three seasons due to World War II but still managed to accumulate 34.2 WAR before his age-26 season. He returned in 1946 -- his age-27 season -- and promptly won the first of two MVP Awards. Williams is baseball's all-time leader in on-base percentage and is still the last player to hit .400 for a qualified season, when he hit .406 in 1941.
4) Lou Gehrig, Yankees: 112.4
Gehrig played his entire 17-year career -- which ended prematurely and tragically due to illness -- with the Yankees. He won two MVP Awards and accumulated a .340 batting average, as well as a consecutive-games-played streak that would stand until Cal Ripken Jr. showed up. Through his age-26 season, he'd won one MVP Award and accumulated 39.3 WAR.
5) Mickey Mantle, Yankees: 110.3
Through his age-26 season, Mantle had 61.4 WAR and had won two MVP Awards -- just as Trout has won two. Mantle went on to win a third MVP Award, hit 536 home runs and play for 18 years, all with the Yankees. Mantle won the batting Triple Crown in 1956. He retired in the spring of 1969 at 37 years old after dealing with leg and knee injuries throughout his career.
6) Mel Ott, Giants: 107.8
Ott debuted as a 17-year-old for the Giants in 1926 and played until he was 38 -- a span of 22 seasons. He had 242 home runs through his age-26 season and a .317 career batting average to go along with 51.3 WAR. He won the 1933 World Series with the Giants -- something Trout is still searching for, his first title. The All-Star Game didn't come into existence until Ott's eighth year in the Majors, but he was still a 12-time All-Star.
7) Mike Schmidt, Phillies: 106.8
Schmidt played his entire 18-year career in Philadelphia, winning three MVP Awards and making 12 All-Star teams. He did most of his work later in his career, with 27.3 WAR, 131 home runs and a .252 batting average through his age-26 season. He won all three of his MVP Awards after that, and he hit 417 home runs in his age-27 season and after.
8) Carl Yastrzemski, Red Sox: 96.4
The 18-time All-Star played his entire 23-year career in Boston with the Red Sox, playing in two World Series but never winning it all. Yaz played until he was 44, giving him plenty of time to accumulate WAR after starting his career with 24.8 through his age-26 season. He had 12.5 WAR in 1967, when he won his only MVP Award, in his age-27 season. That's the third-highest single-season WAR mark by a position player -- the only position player with a higher single-season WAR was Babe Ruth, who did it twice.
9) Cal Ripken Jr., Orioles: 95.9
Through his age-26 season, Ripken had won a Rookie of the Year Award -- like Trout -- and one MVP Award, one shy of Trout's current total. He went on to win one more MVP Award, and he made 19 consecutive All-Star Games in total. Ripken owns the all-time consecutive-games-played streak (2,632) and is a member of the 3,000-hit club. And he did it all for the Orioles, who drafted him out of high school in Aberdeen, Md., in 1978.
10) Roberto Clemente, Pirates: 94.5
Clemente's entire 18-year career was with the Pirates, and it would've been longer if not for his tragic death while delivering supplies to earthquake victims in Nicaragua in 1972. In the final 11 seasons of his career, Clemente hit .329 with a .502 slugging percentage, and that's to say nothing of his defense, which was spectacular.