These are the Top 10 rookie classes since 1947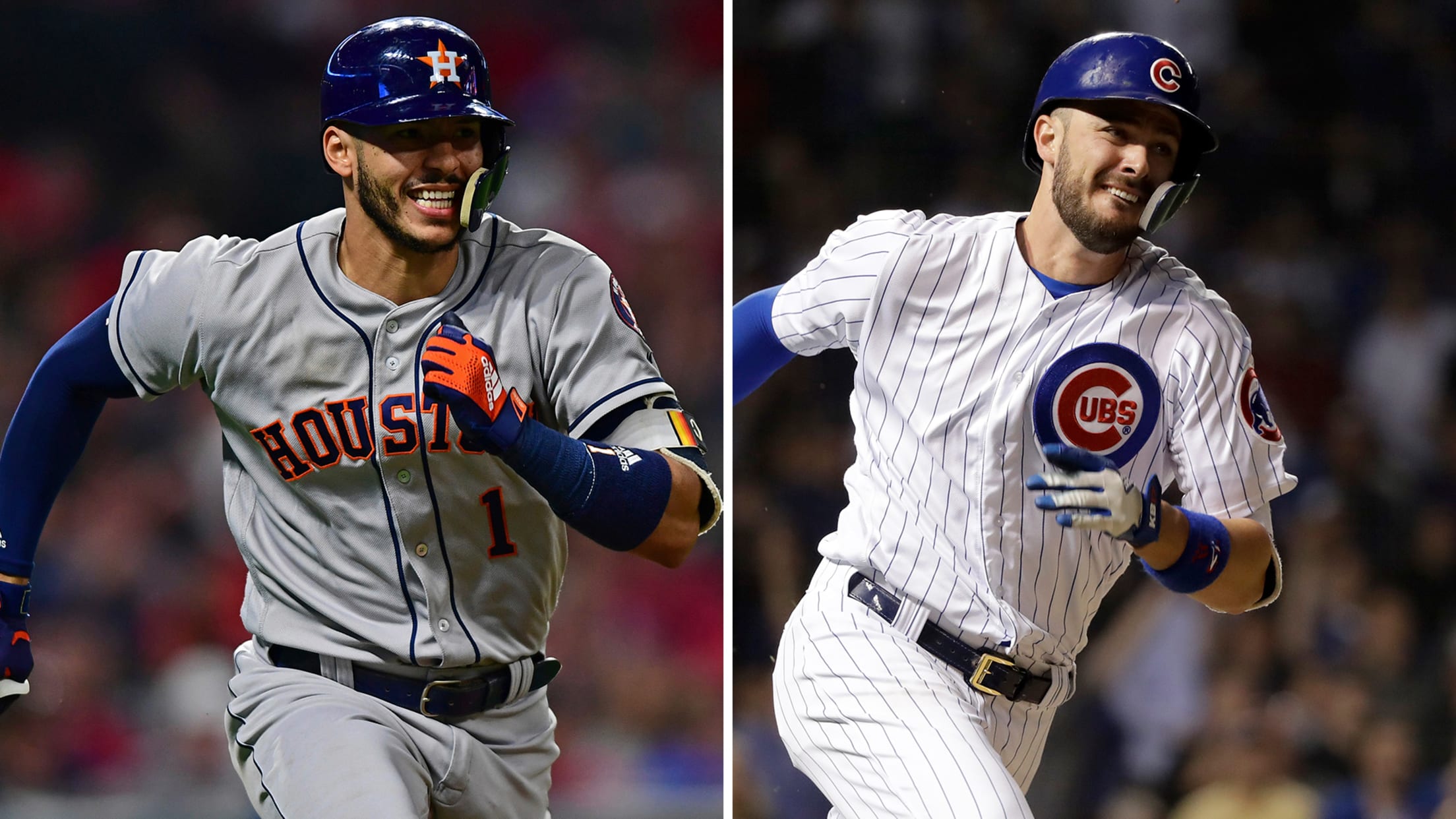 Has 2018 been the year of the rookie?Even after Aaron Judge and Cody Bellinger took the Major Leagues by storm a season ago, first-year players seem even more prominent now. Shohei Ohtani is a sensation like few other rookies in baseball history, and he has continued to bolster his American
Has 2018 been the year of the rookie?
Even after Aaron Judge and Cody Bellinger took the Major Leagues by storm a season ago, first-year players seem even more prominent now. Shohei Ohtani is a sensation like few other rookies in baseball history, and he has continued to bolster his American League Rookie of the Year Award case even after an injury limited him only to hitting. A pair of Yankees infielders, Miguel Andujar and Gleyber Torres, also will challenge for that honor after helping propel their club to the postseason.
In the National League, the Braves' Ronald Acuna Jr. (age 20) and the Nationals' Juan Soto (19) both wasted no time ascending to stardom, perhaps overshadowing effective starting pitchers such as the Dodgers' Walker Buehler and the Cardinals' Jack Flaherty.
But despite all of that talent, the 2018 rookie class doesn't quite rank as historic -- at least by one measure. Going by FanGraphs' wins above replacement (WAR) metric, this year's group accounts for 9.6 percent of the value accrued by all MLB players. That ranks 13th among all seasons since 1947, when baseball first integrated and the Rookie of the Year Award became an official national award handed out by the Baseball Writers' Association of America (BBWAA).
Using that same methodology, here are the top 10 rookie classes since 1947:
1. Class of 2015
Rookie of the Year Award winners:Carlos Correa (AL), Kristopher Bryant (NL)
Rookies with at least 2 WAR: 21 (13 hitters, eight pitchers)
Total rookie WAR: 129.9 (13.0 percent of total)
Bryant (6.1 WAR) became an immediate star, helping the Cubs return to the postseason for the first time since 2008. A pair of dynamic young shortstops, Houston's Correa and Cleveland's Francisco Lindor, announced their presence as well. On the pitching side, the Mets' Noah Syndergaard brought his triple-digit heat to MLB, and Lance McCullers introduced big league hitters to his nasty curveball. The list of 2-WAR players doesn't even include talented rookie hitters such as Michael Conforto, Tommy Pham, J.T. Realmuto, Kyle Schwarber and Corey Seager.
2. Class of 2006
Rookie of the Year Award winners:Justin Verlander (AL), Hanley Ramirez (NL)
Rookies with at least 2 WAR: 23 (12 hitters, 11 pitchers)
Total rookie WAR: 119.6 (12.0 percent of total)
The Marlins had three of the top four NL vote-getters in five-tool shortstop Ramirez, slugging second baseman Dan Uggla and hard-throwing righty Josh Johnson. Andre Ethier, Nick Markakis, Russell Martin, Mike Napoli and Shane Victorino were among the other hitters to post at least 2 WAR and launch stellar careers. Verlander was hardly the only notable rookie starting pitcher who excelled in 2006, joining the likes of Player Page for Matt Cain, Cole Hamels and Jered Weaver. Jonathan Papelbon was dominant from the back of Boston's bullpen to lead the group of young relief talent.
3. Class of 2012
Rookie of the Year Award winners:Michael Trout (AL), Bryce Harper (NL)
Rookies with at least 2 WAR: 18 (seven hitters, 11 pitchers)
Total rookie WAR: 111.7 (11.2 percent of total)
It's difficult to find two bigger rookie stars than Trout and Harper. The former immediately became the best player in the game, easily leading the Majors with a rookie-record 10.0 WAR. The latter posted a 4.4 WAR and helped spur the Nationals to a division title despite playing the entire season as a teenager. Trout and Harper weren't alone, though. There was an influx of international talent, thanks to Yoenis Cespedes (Cuba), Yu Darvish and Norichika Aoki (Japan), and Wei-Yin Chen (Taiwan). Other notable rookie contributors included Matt Carpenter, Matt Harvey, Todd Frazier, Manny Machado, Anthony Rizzo and Andrelton Simmons.
4. Class of 1977
Rookie of the Year Award winners: Eddie Murray (AL), Andre Dawson (NL)
Rookies with at least 2 WAR: 20 (10 hitters, 10 pitchers)
Total rookie WAR: 94.3 (10.9 percent of total)
Both Rookie of the Year Award-winning sluggers went on to enjoy Hall of Fame careers, with Murray hitting the first 27 of his 504 home runs and Dawson falling one homer shy of a 20-20 season -- something he later accomplished five times. But as a rookie, at least, neither was as productive as Oakland's Mitchell Page (6.2 WAR), who hit .307/.405/.521 with 21 homers and 42 steals. The Yankees' Ron Guidry (5.7) was the top pitcher of the class, going 16-7 with a 2.82 ERA one year before capturing the AL Cy Young Award.
5. Class of 1972
Rookie of the Year Award winners: Carlton Fisk (AL), Jon Matlack (NL)
Rookies with at least 2 WAR: 18 (seven hitters, 11 pitchers)
Total rookie WAR: 82.3 (10.7 percent of total)
It was a good year for rookies, in both the short and long term. Fisk (6.6 WAR) wrote the first chapter of his journey to Cooperstown, posting a .909 OPS while winning a Gold Glove Award behind the plate. He and five of the other rookie hitters with 2-plus WAR (Dusty Baker, Don Baylor, Bobby Grich, Dave Kingman and Greg Luzinski) eventually combined for more than 250 WAR in their careers. Matlack, Rick Reuschel and Burt Hooton all had sub-3.00 ERAs on the mound that season while topping 4 WAR, and each went on to rack up at least 40 career WAR.
6. Class of 1966
Rookie of the Year Award winners: Tommie Agee (AL), Tommy Helms (NL)
Rookies with at least 2 WAR: 16 (nine hitters, seven pitchers)
Total rookie WAR: 71.0 (10.7 percent of total)
Agee (6.4 WAR) played Gold Glove Award-winning defense in center field while slugging 22 home runs and stealing 44 bases for the White Sox. Don Sutton (4.7 WAR) was the top rookie pitcher in a class that also included future Hall of Famers Steve Carlton and Fergie Jenkins. The Dodgers right-hander threw 225 2/3 innings with a 2.99 ERA and finished seventh in the NL with 209 strikeouts.
7. Class of 1948
Rookie of the Year Award winner: Al Dark (MLB)
Rookies with at least 2 WAR: 10 (four hitters, six pitchers)
Total rookie WAR: 54.1 WAR (10.7 percent of total)
Dark (3.9 WAR) batted .322 for the Boston Braves to win the second Rookie of the Year Award, and the last to be given for all of MLB. Richie Ashburn batted .333 and led the NL with 32 steals for the Phillies. Two more future Hall of Famers, Larry Doby of the Indians and Roy Campanella of the Dodgers, followed Jackie Robinson's lead by making an immediate impact in the Majors, with Doby accruing 4.5 WAR a year after his 29-game debut. The legendary Satchel Paige also made a long-overdue jump from the Negro Leagues, and at age 41, went 6-1 with a 2.48 ERA in 21 games (seven starts) for the Indians. Another great story was Philadelphia A's pitcher Lou Brissie (4.1 WAR), who in 1944 was severely wounded in combat in World War II and nearly lost a leg.
8. Class of 1984
Rookie of the Year Award winners: Alvin Davis (AL), Dwight Gooden (NL)
Rookies with at least 2 WAR: 18 (nine hitters, nine pitchers)
Total rookie WAR: 91.4 (10.6 percent of total)
Gooden's 8.3 WAR is the most produced by a rookie pitcher, as the 19-year-old Mets righty overwhelmed opponents on his way to a 2.60 ERA, 276 strikeouts and a runner-up finish in the NL Cy Young Award race. It was an incredible season for rookie arms, with Roger Clemens, Ron Darling, John Franco, Mark Gubicza, Orel Hershiser, Mark Langston and Bret Saberhagen among the contributors. While Davis (5.3 WAR) had 27 homers and 116 RBIs to win the AL Rookie of the Year Award, he had company from the likes of Joe Carter, Eric Davis, Tony Fernandez, Terry Pendleton and Kirby Puckett.
9. Class of 2009
Rookie of the Year Award winners:Andrew Bailey (AL), Chris Coghlan (NL)
Rookies with at least 2 WAR: 16 (eight hitters, eight pitchers)
Total rookie WAR: 101.4 WAR (10.1 percent of total)
Coghlan batted .321/.390/.460 for the Marlins, and Bailey saved 26 games for the A's, but neither became a lasting star. This class had depth, however. Andrew McCutchen, Elvis Andrus, Colby Rasmus and Brett Gardner were among the hitters who produced at least 2 WAR. Oakland lefty Brett Anderson (3.5 WAR) led the pitchers, a group that also included Wade Davis, J.A. Happ, Rick Porcello, David Price, Sergio Romo and Jordan Zimmermann.
10. Class of 1987
Rookie of the Year Award winners: Mark McGwire (AL), Benito Santiago (NL)
Rookies with at least 2 WAR: 17 (11 hitters, six pitchers)
Total rookie WAR: 86.2 (10.0 percent of total)
Oakland's McGwire (5.1 WAR) slammed 49 home runs to set a rookie record that stood until Judge broke it in 2017. Santiago shined behind the plate while batting .300 for the Padres, part of a stellar class of rookie hitters that also included Ellis Burks, B.J. Surhoff, Fred McGriff, Paul O'Neill, Kevin Seitzer and Devon White. While the Brewers' Chris Bosio led rookie pitchers with 3.7 WAR, this class also featured Greg Maddux, whose 5.61 ERA hardly spoke to his future success. David Cone, Chuck Finley and David Wells all became stars on the mound as well.