Here's each team's biggest impact rookie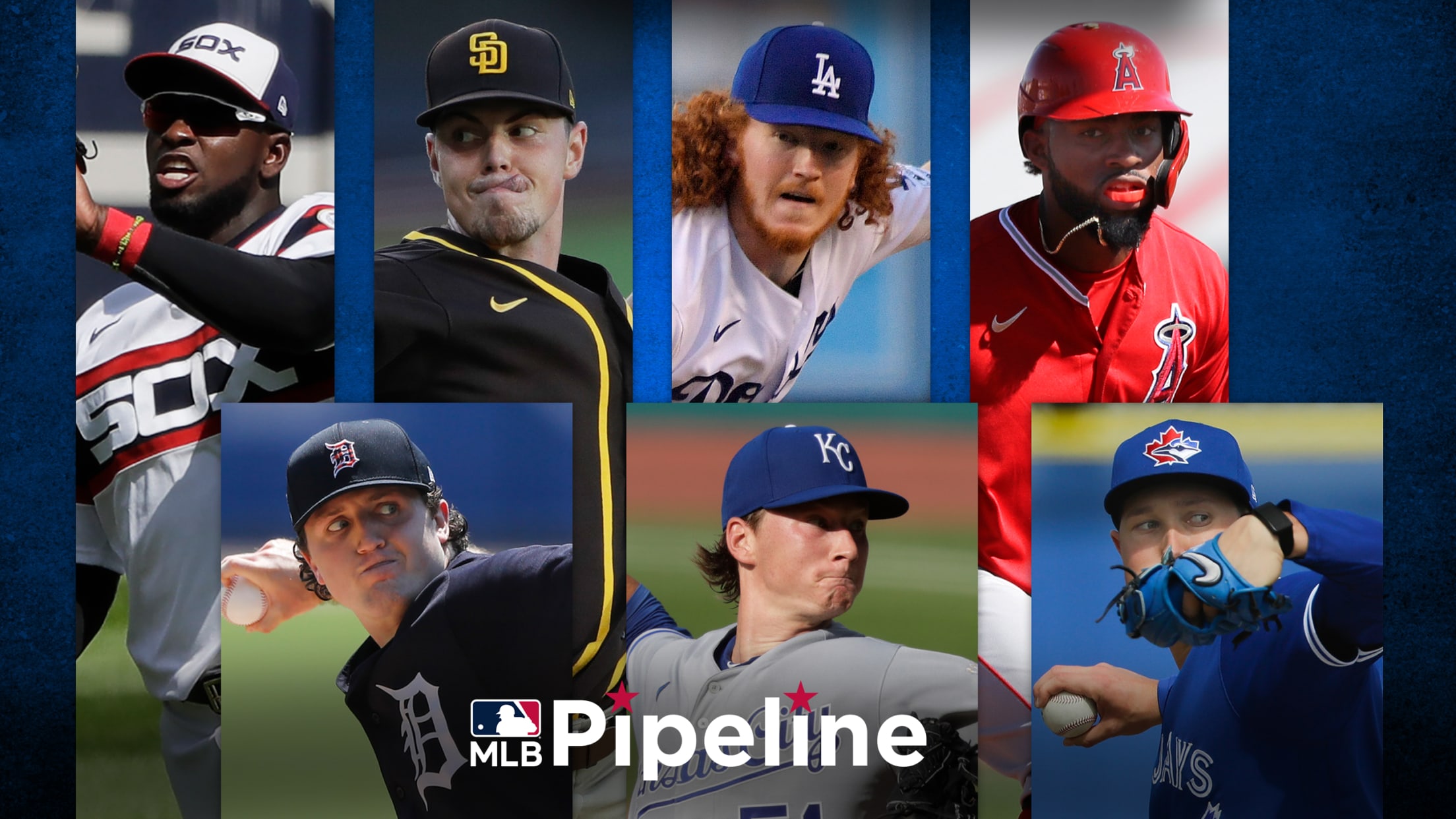 Back in January, we took an early crack at picking a Rookie of the Year candidate for each team. The 2020 season obviously looks much different than we thought it would back then, so with the season underway, we thought we would take a look at which rookie will have
Back in January, we took an early crack at picking a Rookie of the Year candidate for each team. The 2020 season obviously looks much different than we thought it would back then, so with the season underway, we thought we would take a look at which rookie will have the biggest impact for each team this year.
Many of the names from January are still very much in play, with 16 holdovers from our early predictions. That means, of course, that there are 14 new names who could make very strong contributions in the big leagues during this abbreviated season.
AMERICAN LEAGUE EAST
Blue Jays: Nate Pearson, RHP (No. 1/MLB No. 8)
After opening the season on Toronto's taxi squad, Pearson was promoted to the active roster on Wednesday and excelled in his big league debut, tossing five scoreless frames of two-hit ball against the defending World Series champion Nationals. Throwing 75 pitches in the outing, the 6-foot-6 right-hander posted five strikeouts, fanning four of the final five batters he faced, and walked a pair. And while Pearson dialed his explosive fastball up to 99 mph on several occasions, it was his feel for executing his devastating slider along with a curveball and changeup that really stood out.
Orioles: Austin Hays, OF
Hays just graduated off the Orioles' Top 30, where he had entered the season as the organization's No. 5 prospect. After initially making his big league debut in 2017, the outfielder struggled in '18, but came back and made a very strong impression in Baltimore a year ago. Though he's gotten off to a slow start through the team's first four games, he's been the Orioles' leadoff hitter and center fielder, a role that's unlikely to change.
Rays: Brendan McKay, LHP/DH (No. 2/MLB No. 15)
The former No. 4 overall Draft pick (2017) missed most of Summer Camp due to undisclosed reasons, and there isn't a timetable for when he'll be ready to take the field. But when he's healthy, the left-hander should be able to pitch in a variety of roles, working as either a starter, a multi-inning reliever or possibly even a straight bullpen piece for the Rays during the shortened 2020 season.
Red Sox: Bobby Dalbec, 3B/1B (No. 3)
Dalbec hasn't been summoned from alternative camp yet, but the Red Sox don't have any rookies currently playing prominent roles and he has the power to make an impact. The 2016 fourth-round pick from Arizona ranks sixth in the Minors with 59 homers over the past two seasons and plays a nifty third base, though he's blocked by Rafael Devers at the hot corner.
Yankees: Clarke Schmidt, RHP (No. 2/MLB No. 87)
Though he opened the season in alternative camp, Schmidt looks ready to bolster New York's rotation after allowing just one earned run in his final four Double-A starts last year and standing out in both Spring Training and Summer Camp. A first-round choice out of South Carolina in 2017 -- a month after he had Tommy John surgery -- he has three pitches (fastball, curveball, changeup) that grade as plus at their best.
AMERICAN LEAGUE CENTRAL
Indians: James Karinchak, RHP (No. 14)
Already the best big leaguer ever from Bryant, the 2017 ninth-rounder set a modern Minor League record last year for strikeout rate (22.0 per nine innings) and has 12 whiffs in 8 1/3 innings with the Indians over the past two seasons. His high-spin 95-99 mph fastball and hammer breaking ball will allow him to serve in a high-leverage role provided that he throws enough strikes.
Royals: Brady Singer, RHP (No. 2/No. 59)
The first pitcher from Kansas City's loaded 2018 Draft class to reach the Majors, Singer, whom the club selected with the 18th overall pick, announced his arrival on Saturday by allowing two runs on three hits over five innings against the Indians. Relying heavily on his plus fastball-slider pairing in the outing, the right-hander struck out seven and walked a pair, all while showing poise beyond his years.
Tigers: Casey Mize, RHP (No. 1/MLB No. 7)
The former No. 1 overall pick (2018) was perhaps the Minors' most dominant hurler during the first part of the 2019 season and fired a no-hitter in his Double-A Erie debut, but issues with his right shoulder landed him on the injured list in June, and he was inconsistent upon returning before being shut down for the season in mid-August. The Tigers opted to not break camp with their prized right-hander on their roster, though it shouldn't be long before Mize, who possesses three plus pitches and an overall advanced feel for pitching, gets his first crack in the Majors.
Twins: Randy Dobnak, RHP
An undrafted free agent out of tiny Division III Alderson-Broaddus in West Virginia, Dobnak went from the Class A Advanced Florida State League up to the big leagues in 2019, capping it off by starting ALDS Game 2 in last year's postseason. He made a solid spot start the other day and even if he serves as a swingman in 2020, given the uncertain nature of pitching in this shortened season, he's undoubtedly going to get many opportunities.
White Sox: Luis Robert, OF (No. 1/MLB No. 3)
Few big leaguers can match Robert's combination of bat speed and foot speed, which helped him become the Minors' youngest 30-30 player in two decades a year ago, not to mention the first 30-30 guy with 300 total bases since 1961. Before he played in his first big league game, the White Sox paid a $26 million bonus and $25,243,200 in penalty tax to sign him in May 2017, then gave him a six-year, $50 million contract (with two club options worth another $20 million each) this January.
AMERICAN LEAGUE WEST
Astros: Forrest Whitley, RHP (No. 1/MLB No. 19)
Houston used nine different rookie pitchers in the first week of the season and the best is yet to come in Whitley, a 2016 first-rounder out of the Texas high school ranks, who can show off five different pitches that can grade as plus or better. Though his last two seasons have been derailed by a suspension, minor ailments and command woes, he could be a significant upgrade for an Astros rotation already riddled by injuries.
Angels: Jo Adell, OF (No. 1/MLB No. 6)
Adell is still in alternate camp, and the Angels felt he need to work on some defensive issues they saw during Summer Camp, but it's hard to imagine the 2017 first-round pick not making an offensive impact at some point this season. A lineup with him in right field and Brian Goodwin serving as a very valuable fourth outfielder would be a better one for the Angels.
A's: Jesus Luzardo, LHP (No. 1/MLB. No. 12)
A positive COVID-19 test set Luzardo back a bit in Summer Camp, otherwise he'd already be in the A's rotation. For now, he's contributing out of the bullpen, having allowed one earned run over 6 2/3 IP in two appearances, striking out seven. He should eventually get stretched out and cement his place as one of the best young lefty starters in the game.
Mariners: Kyle Lewis, OF (No. 10)
Lewis served notice that his power would play in the big leagues late last year when he hit six homers in just 71 at-bats during his big league debut. He's raised the bar even higher with his start to the 2020 season, slashing .458/.519/.708 with a pair of homers in his first six games. His 37 percent strikeout rate points to some adjustments he'll eventually have to make, but boy has he been fun to watch.
Rangers: Nick Solak, 2B/3B/OF (No. 5)
Solak didn't join Texas until last July in a trade with the Rays for Peter Fairbanks, but he already has started games for the Rangers at DH, third base, second base and left field while also seeing action at first base. In addition to his versatility, he has plus speed and has increased his home run output from 12 to 19 to 32 in three full years in pro ball.
NATIONAL LEAGUE EAST
Braves: Kyle Wright, RHP (No. 4/MLB No. 51)
Yes, Wright's 2020 debut was rough (5 ER in 2 2/3 IP). And yes, he's struggled to establish himself in his previous brief chances in the big leagues, especially hurt by a lack of command. But the former No. 5 overall pick (2017) still has really good stuff and here's hoping the Braves let him iron things out so he can start making positive contributions to the staff.
Marlins: Monte Harrison, OF (No. 9)
Miami obviously has roster issues and Harrison nearly made the club out of Summer Camp, so his first big league opportunity could be imminent. Potentially the best player in the package the Marlins received from the Brewers for Christian Yelich in January 2018, he's an outstanding athlete with well-above-average raw power and arm strength, not to mention plus speed.
Mets: David Peterson, LHP (No. 10)
After a strong Double-A campaign in 2019 followed by an impressive showing in big league camp during Spring Training, Peterson was viewed as a candidate for the Mets' Opening Day roster before being reassigned to the Minors. But the former first-round pick (2017) from Oregon finally got the call this week and earned the win in his big league debut, allowing two runs over 5 2/3 innings against Boston. Though not overpowering, Peterson should have no trouble sticking in the rotation with his blend of size, pitchability and natural ground-ball tendencies.
Nats: Carter Kieboom, 3B (No. 1/MLB No. 21)
Kieboom homered in his big league debut last season but also was overmatched during an 11-game audition with the Nationals, filling in for an injured Trea Turner. But the offseason departure of free agent Anthony Rendon opened the door at the hot corner for the 22-year-old infielder, who has the requisite hitting ability and power to profile at the position.
Phillies: Spencer Howard, RHP (No. 2/MLB No. 34)
Howard made a very strong impression during Summer Camp and there's no question his stuff is ready to get big league hitters out in some capacity. Given the uncertainty of pitching in this shortened season, every team is going to need extra arms. Howard could be nasty in shorter stints coming out of the bullpen in the short term, but also has the stuff to eventually be a frontline starter.
NATIONAL LEAGUE CENTRAL
Brewers: Devin Williams, RHP (No. 13)
It's been a long, winding road for Williams, who missed close to two years because of injuries (including Tommy John surgery) after the Brewers made him their second-round pick in 2013. The 25-year-old righty's stuff and overall effectiveness improved when he moved to the bullpen last year, allowing him to reach the big leagues for the first time and factor into Milwaukee's 2020 bullpen plans.
Cardinals: Dylan Carlson, OF (No. 1/MLB No. 17)
The switch-hitting Carlson had a huge breakout season as a 20-year-old last year, slashing .292/.372/.542 with 26 homers and 20 steals -- one of ten 20-homer, 20-steal players in the Minors -- across the Double- and Triple-A levels. He didn't make the Cardinals' Opening Day roster, largely due to the team's outfield glut, but is the type of five-tool, impact player who will immediately change the face of the team's lineup upon his arrival.
Cubs: Nico Hoerner, 2B/SS/OF (No. 1/MLB No. 50)
After batting .282 with three homers in 20 games as an emergency callup last September, Hoerner beat out Jason Kipnis for the Cubs' second-base job and ripped seven hits in his first five starts this July. A 2018 first-rounder from Stanford, he's a gifted hitter with some sneaky pop and solid speed.
Pirates: Mitch Keller, RHP
Keller was the Pirates' top prospect and No. 39 on the Top 100 until he graduated from prospect status with his first start on Sunday. While there is a little concern about a drop in his typical velocity, it's hard to argue with the results: Keller picked up Pittsburgh's first win of the season by going five strong innings, allowing just one run on two hits.
Reds: Tejay Antone, RHP (No. 20)
The 26-year-old right-hander, who was a fifth-round pick of the Reds back in 2014, may not wow you with electric stuff, but if his Major League debut is any indication, he's ready to help Cincy win games. His 4 1/3 innings of one-hit, one-run relief helped the Reds climb back into a game against the Cubs. He struck out five and got five ground-ball outs, showing he can contribute by eating innings in the 'pen, but also is stretched out enough to step into the rotation if needed.
NATIONAL LEAGUE WEST
D-backs: Kevin Ginkel, RHP (No. 26)
A 22nd-round pick in the 2016 Draft, Ginkel posted outstanding numbers during his brief time in the Minors before making his big league debut last August and posting a 1.48 ERA down the stretch. He misses plenty of bats with an above-average to plus fastball-slider combination and provides the D-backs with quality late-inning bullpen depth.
Dodgers: Dustin May, RHP (No. 2/MLB No. 23)
A third-rounder out of a Texas high school in 2016, May owns a pair of nasty pitches in a lively 94-98 mph two-seam fastball and a low-90s cutter, and he also has a power curveball, decent changeup and uncanny control. He took Clayton Kershaw's first two starts after the three-time Cy Young Award winner came down with back stiffness, and he eventually should claim a full-time job in the Los Angeles rotation.
Giants: Mauricio Dubon, 2B/SS (No. 11)
The first native Honduran to play in the Majors, Dubon made his big league debut last July with the Brewers shortly before coming to the Giants in a deal for Drew Pomeranz and Ray Black. The versatile Dubon already has started games this year at second base, shortstop and center field, and he's a contact hitter who broke out with a career-best 24 homers between Triple-A and the Majors.
Padres: MacKenzie Gore, LHP (No. 1/MLB No. 5)
The former No. 3 overall pick (2017) garnered MLB Pipeline Pitcher of the Year honors last year, posting a 1.69 ERA, a 0.83 WHIP and 135 strikeouts over 101 innings between Class A Advanced Lake Elsinore and Double-A Amarillo. The Padres broke camp with several promising rookies on their roster but decided to wait on Gore, who has ace upside and should establish himself as one of the game's premier young pitchers even in a shortened season.
Rockies: Sam Hilliard, OF (No. 8)
During his big league debut in 2019, the 6-foot-5 athletic outfielder hit seven homers in 77 at-bats and posted a 1.006 OPS in 27 games. He has a pair of extra-base hits over his first our games this year (to go along with nine strikeouts). Four of those K's came in his first game, and he's started four of the Rockies' first five games and looks like he'll be getting plenty of time in the outfield this year.