Bates was Reds' unsung hero of 1990 title team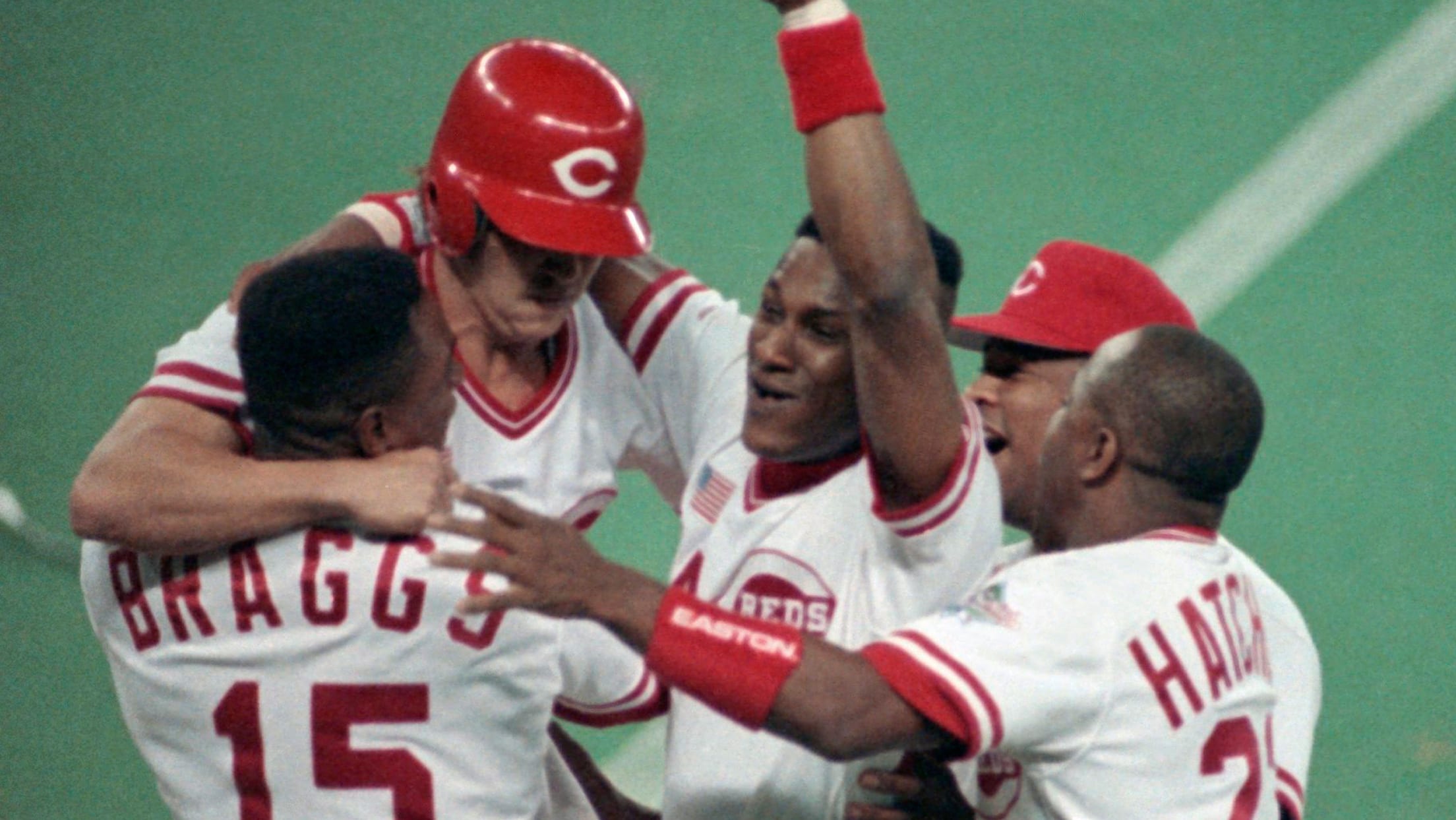 CINCINNATI -- Billy Bates has one career hit in a Reds uniform and it couldn't have come at a more unlikely time and against a more unlikely pitcher. But Reds fans will never forget that one hit, or the run he scored soon after.That's because it was for a walk-off
CINCINNATI -- Billy Bates has one career hit in a Reds uniform and it couldn't have come at a more unlikely time and against a more unlikely pitcher. But Reds fans will never forget that one hit, or the run he scored soon after.
That's because it was for a walk-off win over the A's in Game 2 of the 1990 World Series at Riverfront Stadium.
"He earned his niche in Reds history because of his tremendous speed," said Reds radio broadcaster Marty Brennaman, who has been the team's iconic play-by-play voice since 1974.
• Each team's most unlikely postseason heroes
A second baseman, Bates was acquired with outfielder Glenn Braggs in a June 9, 1990, trade with the Brewers but spent most of the remainder of the season in Triple-A. A September callup to Cincinnati, he went 0-for-5 in eight regular-season plate appearances.
The Reds put Bates on their postseason roster, in part, because Bill Doran was out with a back injury. They needed a backup infielder and his pinch-running skills.
Bates was the smallest player on the club, listed at 5-foot-7 and 155 pounds.
"It was a stroke of genius to put him on the roster to begin with," Brennaman said. "To be honest, he couldn't do a whole lot else. At this level, he was pretty much overmatched offensively. He was not a big guy, he was a little guy. Defensively, he was fine but at that stage of the year you're not playing Billy Bates at a position to start a World Series game."
Bates' moment came in Game 2 during the bottom of the 10th inning with one out and a 4-4 score. Reds manager Lou Piniella summoned him to pinch-hit for reliever Rob Dibble against future Hall of Famer closer Dennis Eckersley.
During the regular season, Eckersley was nearly unhittable and had a 0.61 ERA and 48 saves in 63 appearances.
"Yeah, I was surprised when Lou told me to get loose," Bates told reporters after the game, including the Los Angeles Times. "I only had time for a couple of swings and then I had to get out there."
Bates didn't have much of a scouting report to go on with Eckersley.
"I had seen him a lot on TV," he said.
After already fouling off an 0-2 pitch from Eckersley, Bates chopped a slow ground ball to third base that went off the glove of Carney Lansford and he was safe at first with a single -- his first and only hit as a Red.
Chris Sabo moved Bates to second base with a single to left field. Next was Joe Oliver, who pulled a ball by Lansford that touched the left-field line for a single. Bates was able to score easily and after touching the plate for the 5-4 win, he was lifted by Braggs near the plate as a deafening celebration began at the stadium.
"His contribution was his speed. God, he could run," Brennaman said. "It turned out to be the thing that had as much to do with them winning the second game of that World Series when Joe Oliver got the base hit off of Dennis Eckersley to win the thing in extra innings. Had it not been for Billy Bates' speed to begin with, he would not have gotten the infield hit."
The Reds went on to sweep the A's and win the '90 World Series, the last major professional sports title the city of Cincinnati has experienced.
It was the last time that Bates appeared in a game for Cincinnati, or in the Major Leagues. He spent 1991 in Triple-A for the Reds and 1992 at the same level for the Cubs organization. By the age of 28, he was out of baseball.
Bates may have been a small guy and his time with the Reds may have been fleeting, but the memory of his contribution will always be large -- and permanent.