Always behind 8-ball, Beane still the best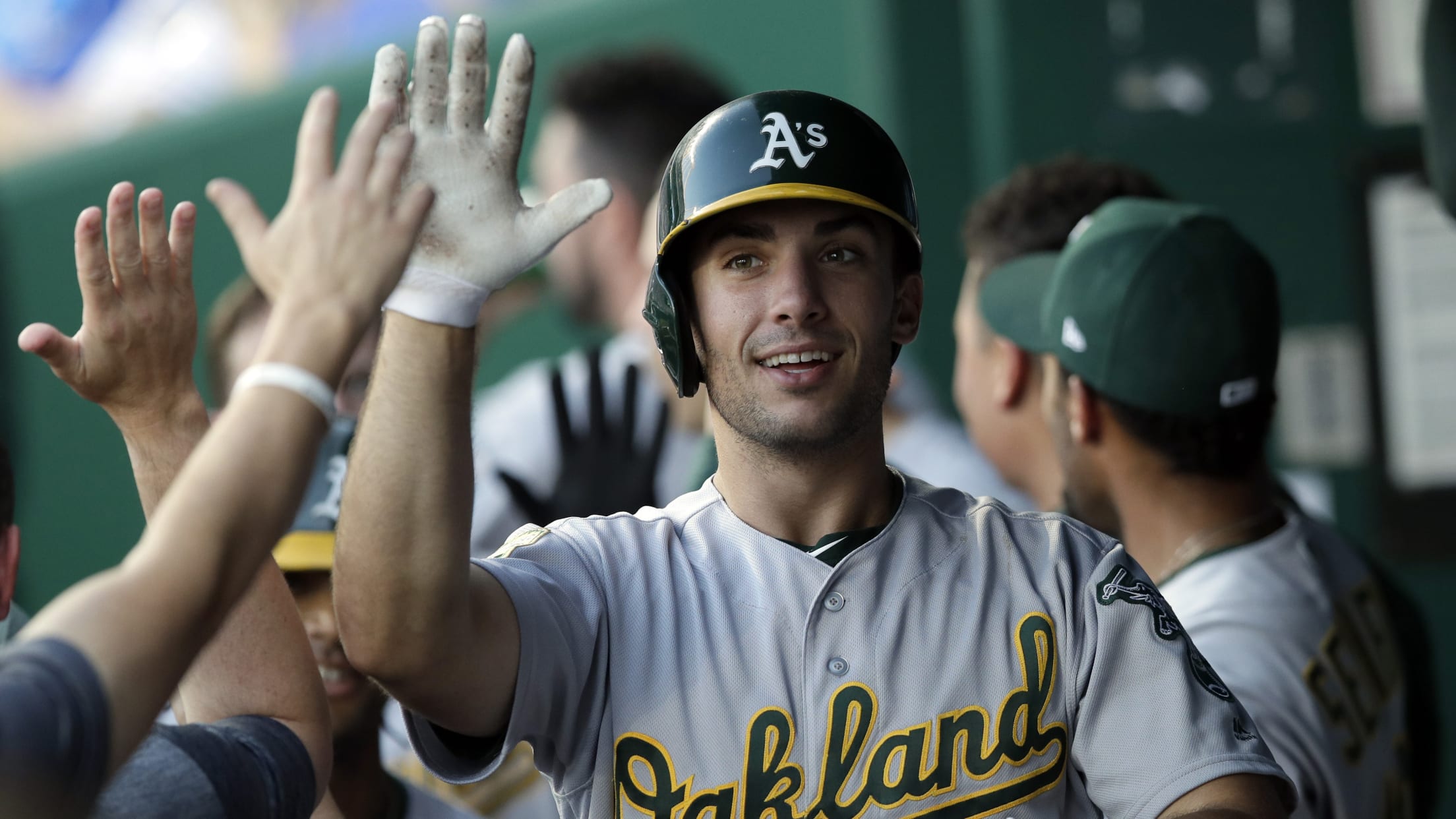 Oakland Athletics' Matt Olson celebrates with teammates following his three-run home run during the third inning of a baseball game against the Kansas City Royals at Kauffman Stadium in Kansas City, Mo., Friday, June 1, 2018. (AP Photo/Orlin Wagner) (Orlin Wagner/AP)
The Oakland A's are last in payroll in Major League Baseball this season and fourth in the American League West with a record of 31-30 after a late-inning loss to the Rangers on Tuesday night. The A's are 7 1/2 games behind the first-place Mariners, five games in the loss
The Oakland A's are last in payroll in Major League Baseball this season and fourth in the American League West with a record of 31-30 after a late-inning loss to the Rangers on Tuesday night. The A's are 7 1/2 games behind the first-place Mariners, five games in the loss column behind the Astros, the defending champs of the world, and it's impossible to see a path for Oakland to even earn an AL Wild Card berth.
But they are still one of the surprises of the early season. At least they are in play again, and so we can again talk about Billy Beane, the most influential front-office figure of his generation and one of the most influential of all time.
Beane has run the A's for two decades now, run them out of the worst stadium in the sport, run them on small-money even in an area, the Bay Area, he still calls "the Florence of the United States." Beane's A's did not make the World Series before or after Michael Lewis wrote an iconic book "Moneyball," about the way Beane was and is still doing baseball business. They might never make the World Series again or get a new stadium, but Beane is still playing his game, in a sport in which the Red Sox, who have the best record, spend three times as much money on baseball players as his $72 million.
"We validate ourselves," Beane was saying on Tuesday, "by trying to give ourselves our best chance considering our circumstances. As for me, I still love working here. I still love living in Oakland, and my job never gets old or less satisfying, even though the longer I do this I enjoy the winning less and take the losses much harder."
Beane also knows full well the reality of professional sports in Oakland. The Raiders are leaving. The Warriors are leaving. The A's are still there, in a stadium that was known in football, and not affectionately, as "the Black Hole."
I asked Beane if he thought the A's would ever get the kind of fancy new ballpark the Giants now have on the other side of the Bay Bridge.
"I still think that's a long way off," he said. "Will we get a new stadium eventually? Yes. Will it be during my tenure here? Hard to say."
Beane didn't invent what he calls "Big Data" in baseball. He didn't invent sabermetrics, analytics, shifts, launch angles or exit velocity. But more than any baseball executive of his time, Beane is the one who began to take that data and send it into the game. He is the one who brought favor and prominence to the kinds of numbers that Bill James had been writing about in his "Baseball Abstract" books as far back as the late 1970s.
Beane was 35 when he became Oakland's general manager. If he didn't, perhaps Theo Epstein wouldn't have become general manager of the Red Sox at 28. There have been a lot of boy princes in baseball since and a tidal wave of analytics. Beane came first. He remains a genius without nearly enough of a postseason portfolio.
"Even with all the noise that Michael's book created," Beane said, "we always tried to drown out the noise. We always thought, even before the book, that what we were doing was simply rational and part of the future. I never defended what we were trying to do, and neither did brilliant people I was fortunate enough to work with. But I always felt, way back at the beginning, that everybody would eventually do the things that we were doing.
"It just all seemed so obvious, at least to us, and I frankly think that we were just a part of the data revolution that now pretty much dominates everything, certainly not just in sports. I also like to think that we took what had been an old-boys club before and turned it into more of a meritocracy, maybe helped open it up to the best and the brightest."
Of course, if you measure Beane by titles won, he isn't a giant of the game, but you can't use that as the only indicator with a general manager or president of baseball operations any more than you can use it with great athletes. Baseball knows about Billy Beane. It has always known.
"I'll use an old rock-and-roll reference," Beane said. "The Bee Gees always sold more records, but I always liked the Velvet Underground and the Ramones more. I always thought they had influence, too."
As does he, still, with his A's at one game over .500. Small payroll. Big guy. A Moneyball guy still behind the 8-ball on the wrong side of the Bay. Let all the other geniuses try it spending $72 million.
Mike Lupica is a columnist for MLB.com. He also writes for the New York Daily News.