Cuyahoga River of Dreams: Joel to play Progressive Field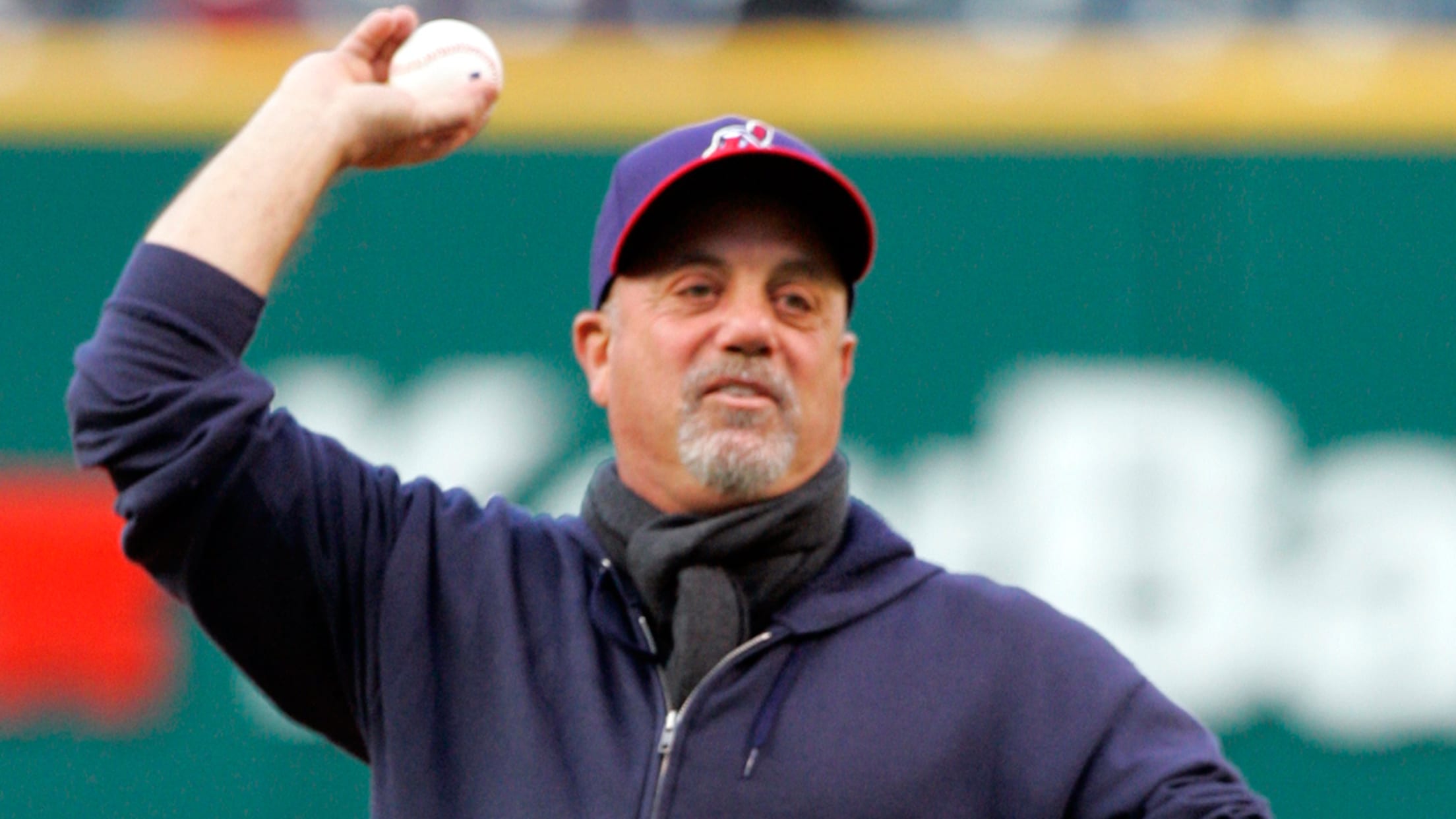 Billy Joel threw out the first pitch at an Indians game in 2007. (AP)
CLEVELAND -- Larry Doby Jr. was once tasked with the job of helping rock legend Billy Joel warm up for a show. The son of the Indians great put on a baseball glove and the two played catch, preparing Joel for a ceremonial first pitch in front of Tribe fans
CLEVELAND -- Larry Doby Jr. was once tasked with the job of helping rock legend Billy Joel warm up for a show. The son of the Indians great put on a baseball glove and the two played catch, preparing Joel for a ceremonial first pitch in front of Tribe fans at Progressive Field.
A decade later, Doby Jr.'s ties to the organization -- his dad broke the American League color barrier in 1947 with the Indians and is in the Baseball Hall of Fame -- have helped bring a Billy Joel concert to the Indians' home ballpark. The team announced on Thursday that Joel will play at Progressive Field at 8 p.m. ET on July 14.
"It's always good to come back to this fine city," said Doby Jr., who works for Joel. "Normally, every time I'm here ... we're doing something for my dad. It's like coming home almost. This particular day, I am very proud to say that as a member of Billy Joel's road crew for over 20 years, that we're going to actually put a show on here at Progressive Field.
"It's an honor to be representing Billy and the crew and say we are so looking forward to being here in July."
The concert, which is being put on by the Indians in conjunction with Live Nation, will mark Joel's first time playing in Cleveland since April 1, 2014, at Quicken Loans Arena. Joel also played at The Q on April 13, 2007, when he made the stop at Progressive Field to throw out the first pitch.
Tickets for Joel's show at Progressive Field are on sale to the general public at indians.com/billyjoel. The stadium ticket office will be open only on Friday, Jan. 13. Tickets can also be purchased by phone (877-538-6282) or at Ticketmaster.com.
Last year, Joel performed concerts at Petco Park in San Diego, PNC Park in Pittsburgh, Fenway Park in Boston, Wrigley Field in Chicago, Citizens Bank Park in Philadelphia and Nationals Park in Washington, D.C. When he plays at Progressive Field, the Indians will be on the road in Oakland, following the All-Star break.
"We are all about fun and entertainment here at Progressive Field," Bob DiBiasio, the Indians senior vice president of public affairs, said in a release. "[We] are extremely excited to add iconic rock-and-roll Hall of Famer Billy Joel to our 2017 schedule. We are coming off one of the most exciting and memorable seasons in franchise history and together with our fans, we look forward to defending our American League championship and pursuit of a World Series title this coming season.
"Adding Billy Joel to the mix, with his high energy performance and diverse, multi-generational following, will be one of the highlights of the summer at renovated Progressive Field."