Montoyo's staff set with collaboration a priority
'Open-minded' a key trait among Blue Jays coaches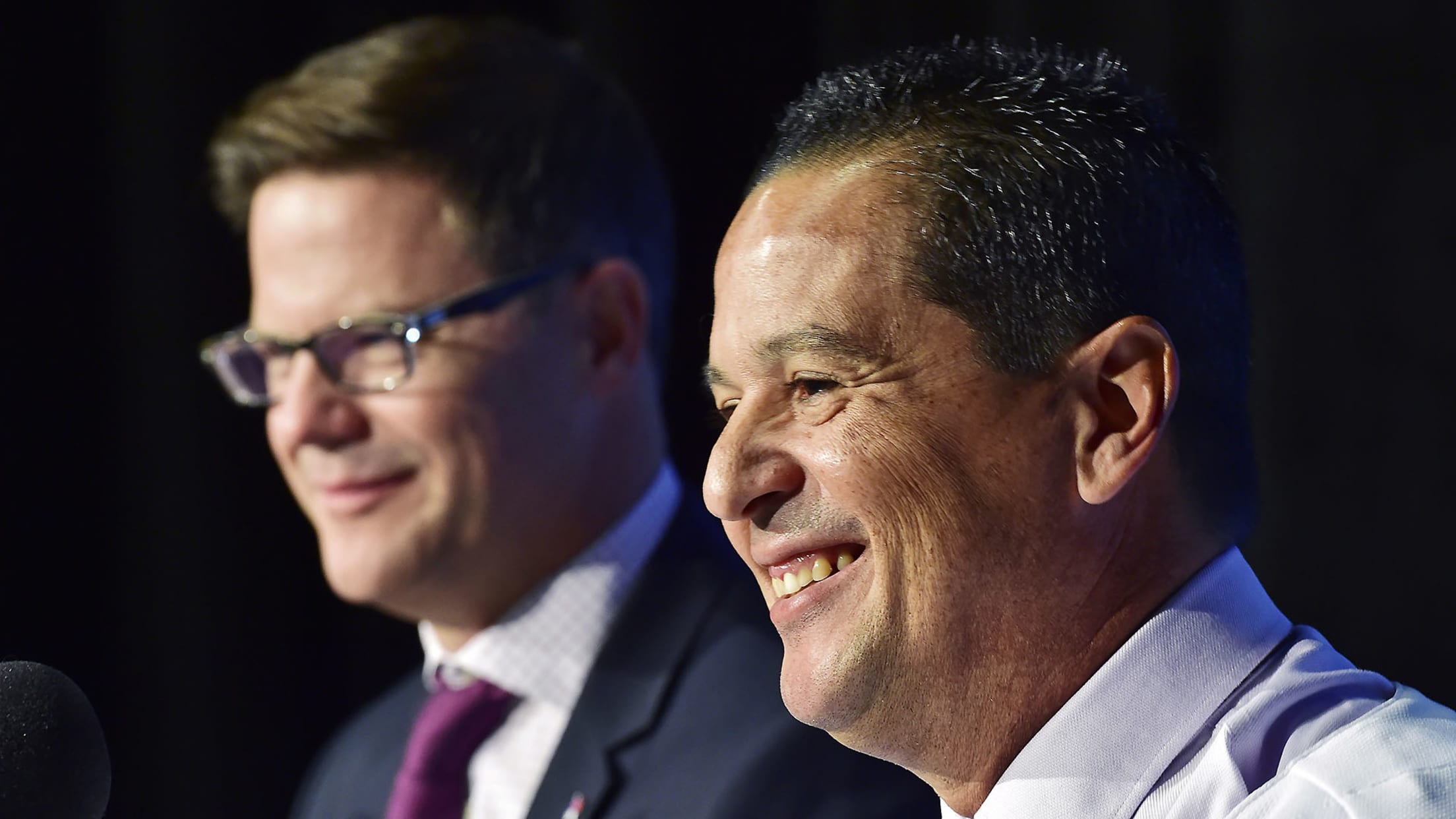 New Toronto Blue Jays manager Charlie Montoyo, right, speaks to the media with Blue Jays General Manager Ross Atkins at a news conference in Toronto on Monday, Oct. 29, 2018. (Frank Gunn/The Canadian Press via AP) (Frank Gunn/AP)
TORONTO -- The Blue Jays have spent the last couple of years attempting to modernize their organization, and the latest department to feel the impact is the Major League coaching staff.Toronto officially unveiled Charlie Montoyo's staff on Tuesday, and the group includes a mix of newcomers and familiar faces. Pete
TORONTO -- The Blue Jays have spent the last couple of years attempting to modernize their organization, and the latest department to feel the impact is the Major League coaching staff.
Toronto officially unveiled Charlie Montoyo's staff on Tuesday, and the group includes a mix of newcomers and familiar faces. Pete Walker and Luis Rivera are back, while John Schneider and Guillermo Martinez received promotions. Mark Budzinski, Matt Buschmann and Shelley Duncan are among the new recruits.
Blue Jays general manager Ross Atkins held a conference call with reporters on Wednesday morning to discuss the new hires, and one common theme was analytics and the way information is disseminated to players.
"I think first and foremost, open-minded," Atkins said when asked what characteristics were most important to him during this process. "The innovation that is occurring in today's game -- with information, with technology -- is changing rapidly. Everything is changing rapidly. So that was at the forefront of every discussion.
"The open-minded nature of each individual, that was very important to Charlie. As important, certainly not less important, was collaboration. Guys who are willing to do things together and not wanting to stay in silos. Not wanting to say, 'This is my area, and I want to be accountable for just this and nothing else.'"
That description is a stark contrast to how things used to operate under John Gibbons. The former Blue Jays manager tasked each of his coaches with a specific responsibility and then got out of their way; Tim Leiper worked with the outfielders, Rivera worked with the infielders, Brook Jacoby handled the hitters and so on.
The traditional roles remain, but from the way Atkins talked Wednesday morning, it became clear he wants more. Buschmann will take over as bullpen coach, but it was his experience in player development and in-depth knowledge of the emerging technology that earned praise. Budzinski spent last season working for Cleveland with a focus on "advance preparation, player performance and on-field pregame work."
Duncan has been hired to work with some of the younger players in a new development position that will be centered around "big league players getting better on a consistent basis." Martinez becomes the hitting coach after one year as Toronto's hitting coordinator and a four-year stint with the Cubs organization.
"I'm confident that this staff will collaborate," Atkins said. "It's less about the comparison [to last year's staff], but what I am confident in is that these guys are going to work together.
"They're going to have a sincere thirst for that information, being open-minded to do things differently. Really, it just comes down to my confidence in their character -- each of them having that thirst and curiosity for all the information that is available to them."
Walker returns for his seventh season as pitching coach and his 11th as a member of the Blue Jays' staff. Rivera will begin his seventh year on staff and ninth as a member of the organization.
Schneider was rewarded for his 11 years of service, which most notably included managing Double-A New Hampshire to an Eastern League title. He will be tasked with handling the catchers, possibly at both the Minor League and Major League levels, while also helping Martinez with the hitters.
Montoyo joined the Blue Jays from the Rays, Dave Hudgens from the Astros, Budzinski from the Indians, Buschmann from the Giants and Duncan from the D-backs. That should lead to a well-rounded staff for Montoyo's first year on the job.
"I think that is a benefit for sure, to learn from different approaches and different organizations, but it wasn't necessarily a goal of ours," Atkins said. "Most importantly it was about aligning from a values perspective and philosophically."