Pompey intent on becoming a factor again
After two tough years, one-time 'centre fielder of the future' eager to prove worth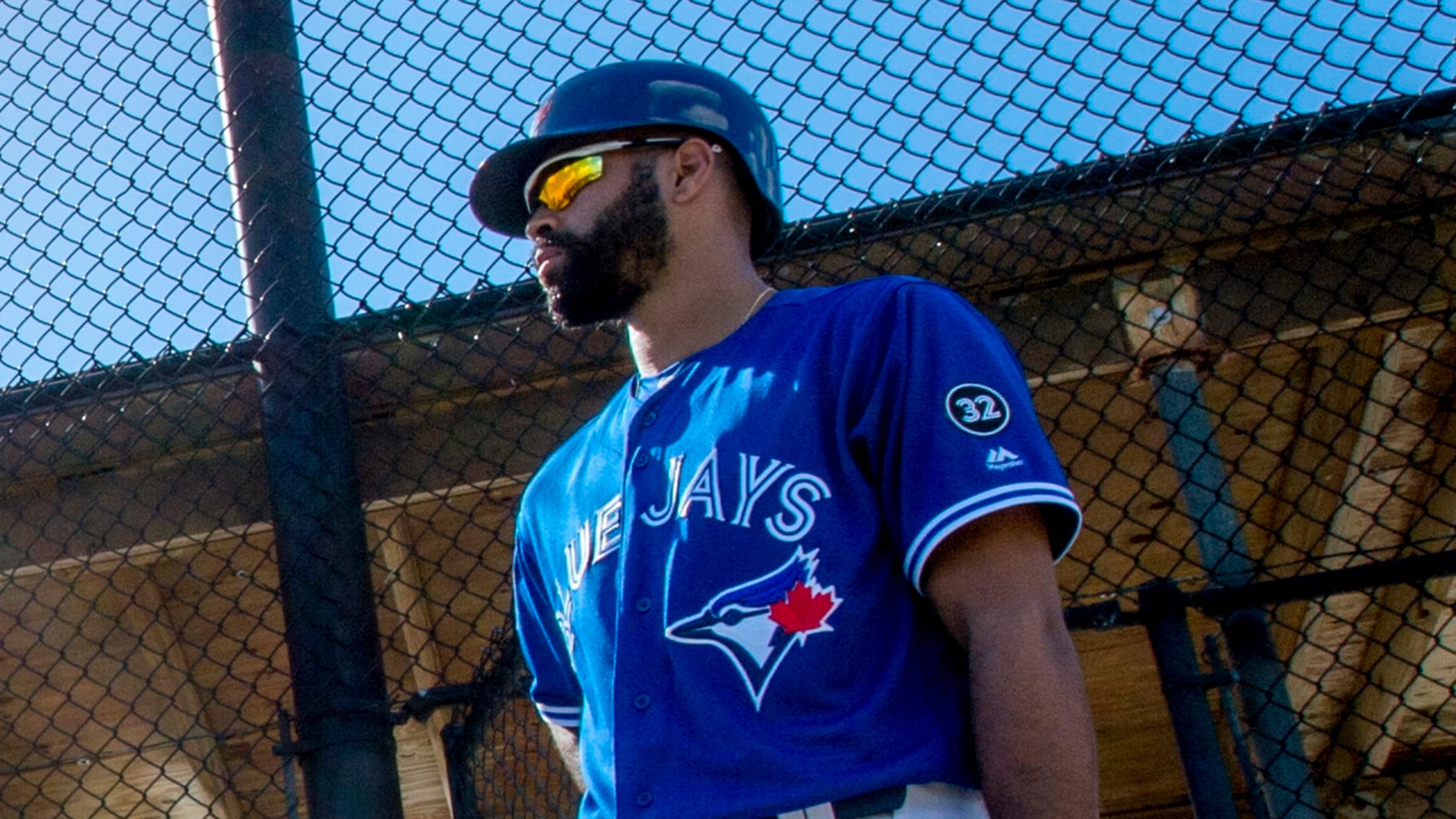 Dalton Pompey, once considered Toronto's centre fielder of the future, is hoping to re-emerge as an important part of the club's plans. (AP)
LAKELAND, Fla. -- Opening Day is still more than a month away. But as far as Dalton Pompey is concerned, it might as well have been Saturday afternoon.Pompey's nerves for a Spring Training game rivaled the ones he's typically felt in the big leagues. On the surface, that doesn't make
LAKELAND, Fla. -- Opening Day is still more than a month away. But as far as Dalton Pompey is concerned, it might as well have been Saturday afternoon.
Pompey's nerves for a Spring Training game rivaled the ones he's typically felt in the big leagues. On the surface, that doesn't make a whole lot of sense. But dig a little deeper, and it's easy to find out why. After a lost season, Pompey is finally back where he belongs.
The 25-year-old sustained a serious concussion while playing for Team Canada in last year's World Baseball Classic. He attempted to return in late May, only to injure a knee in his first rehab game for Triple-A Buffalo. Another attempt at returning a month later ended in the same result. While he may have been frustrated last season, Pompey hopes to turn the page this year.
• Spring Training:Info | Tickets | Schedule
"I had to calm [my] nerves a bit, I was pretty nervous before the game," Pompey said after his spring debut in Toronto's 5-4 loss to Detroit, during which he went 0-for-2 with a walk. "Once I had my first at-bat and got the first ball hit to me, it was just like any other game. But I'm definitely happy to be back out there."
Pompey's road back to the big leagues is not going to be easy. An injury-plagued 2017 campaign, combined with a disappointing season in '16, has resulted in Pompey falling down Toronto's depth chart. He's no longer mentioned as a possibility to crack the Opening Day roster and, unfortunately, the former "centre fielder of the future" has become an afterthought -- even by his own club.
Toronto spent the entire offseason looking for help in the outfield. The Blue Jays signed veteran Curtis Granderson and traded for Randal Grichuk. Front-office executives frequently tout the depth of the Minor Leagues, but when they do that, they're not mentioning Pompey. Instead, they are focusing on the likes of Anthony Alford, Teoscar Hernandez and J.D. Davis.
Pompey's name hardly gets mentioned anymore -- and the only way that's going to change is as a result of his performance. Triple-A Buffalo's outfield is expected to be crowded with the aforementioned outfielders, plus additional options like John Smith There isn't exactly guaranteed playing time there, let alone in Toronto. But it's important to keep in mind that Pompey is still just 25, and nobody has given up on him quite yet.
:: Spring Training coverage presented by Camping World ::
"I think it starts with him," Blue Jays bench coach DeMarlo Hale said. "He's positive, he understands. This industry, there's always someone new coming. So I think it starts with him, and he's not shying away from the competition. Us, as coaches, and a front-office staff, we just remind him: You have to show us the things that we've seen you do. He's a talented young man, and I think he understands the business like, 'Hey, I'm going to do what I need to do.' But he's happy being on the baseball field playing again, I know that."
Pompey should receive some clarity this season -- one way or the other. He will be out of options at the end of the season, and once that happens, the native of Mississauga, Ontario, can no longer be sent to the Minors without first clearing waivers. His performance this spring, and throughout the regular season, will go a long way toward determining his future in the game -- even if it doesn't happen to be with the Blue Jays.
The skill set that appealed so much to the Blue Jays that they made him their Opening Day centre fielder in 2014 is still there: The game-changing speed on the basepaths; the ability to work a deep count and draw a lot of walks; the power into the gap. There are flashes of the raw tools every time Pompey steps onto the field. He just needs to find consistency -- and being out there every day is the first step.
"I'm just trying to enjoy the moment," Pompey said. "After missing all of last year, I realized how quickly it can all be taken away from me. My focus now is just trying to stay healthy and get back into that routine of playing. Because I hadn't played in so long ... everything kind of feels weird to me. But it's still the same game, like I played my whole life. I just need to slow it down and go from there."