Blue Jays ship Morales to A's 
GM Atkins says deal benefits both clubs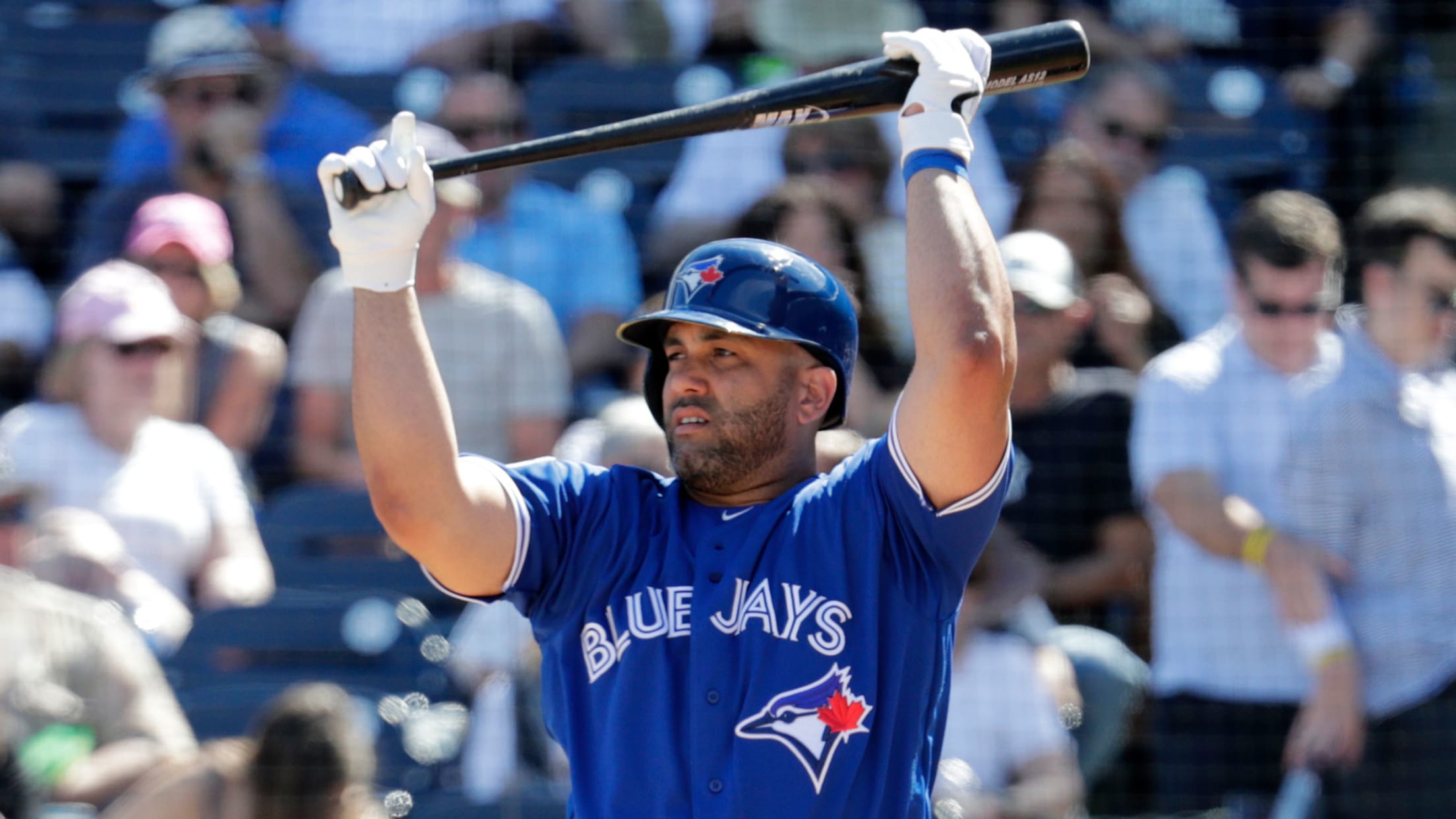 TORONTO -- The Blue Jays pulled off a major move on the eve of Opening Day by sending veteran slugger Kendrys Morales to the A's for Minor League infielder Jesus Lopez and international bonus pool space. Morales was set to begin the year as Toronto's full-time designated hitter, but he
TORONTO -- The Blue Jays pulled off a major move on the eve of Opening Day by sending veteran slugger Kendrys Morales to the A's for Minor League infielder Jesus Lopez and international bonus pool space.
Morales was set to begin the year as Toronto's full-time designated hitter, but he will instead head to Oakland, where he is expected fill in for the injured Matt Olson at first base. The Blue Jays primarily made the move to create more flexibility on the 25-man roster.
Toronto will now have the luxury of rotating its players through the DH slot, instead of having one player stuck in the full-time role. Rowdy Tellez and Teoscar Hernadez will both receive at-bats at DH, which should free up additional playing time for Billy McKinney in left field.
"A good baseball trade for both teams," Blue Jays general manager Ross Atkins said. "It's a clear need for them right now. It opens up an opportunity for our younger players, more opportunities for versatility, and obviously there's the return, as well. I had a great interaction with Kendrys last night. As everyone in this room can attest to, he's one of the great all-time teammates and he'll certainly be missed."
The Blue Jays were faced with the possibility of having to platoon Hernandez and McKinney in left field. Toronto should now be able to start both players on a more regular basis, which likely means McKinney will have a bigger presence at the top of the order as the Blue Jays' semi-regular leadoff man.
Tellez will get some at-bats at DH, as well while backing up Smoak at first. Outfielder Anthony Alford initially was reported as the replacement for Morales on the 25-man roster, and he did fly north to Toronto on Wednesday night, but Atkins revealed that was a precaution in case the Morales trade did not become official before Opening Day.
"We wanted to make sure that we were covered," Atkins said of Alford, who tweeted early Thursday morning about how excited he was to be a part of Opening Day. "We wanted to make sure that we had alternatives. There was a scenario, had the trade not gone through, we didn't want to potentially have to burn a player taking off of 40-man roster that we didn't have to. So having a 40-man player, it could have been short term or long term here, was important to us."
Morales joined the Blue Jays prior to the 2017 season on a three-year deal worth $33 million. Toronto's intended plan was for Morales to replace the production of Edwin Encarnacion, but instead, he mostly struggled, posting a .753 OPS in '17 and a .769 OPS in '18. He had one year and $12 million remaining on his deal.
Lopez spent most of last season with Class A Beloit in the A's system. The 22-year-old middle infielder hit .239/.293/.402 across 84 games, and he has posted a .588 OPS across five seasons in the Minors. Those numbers don't bode well for a Major League career, but this was less about the return for Toronto and more about clearing the way for its younger players.
Toronto made its Opening Day roster official approximately four hours before Thursday afternoon's game against the Tigers. That's when Tellez was announced as a member of the team while right-hander Javy Guerra claimed the final spot in the bullpen.
"It came down to, first and foremost, it's good to have a lot of options and we did have options," Atkins said. "I think Rowdy came down to who needed the most playing time of our alternatives and in our current setup, our current alignment, he fell right into that spot. He has options. We have options. That speaks to having the agility, it's extremely valuable, the roster flexibility."