Clemens joins Blue Jays' notable-names family
Eighth-round draftee one of several Toronto prospects who are sons of Major League alumni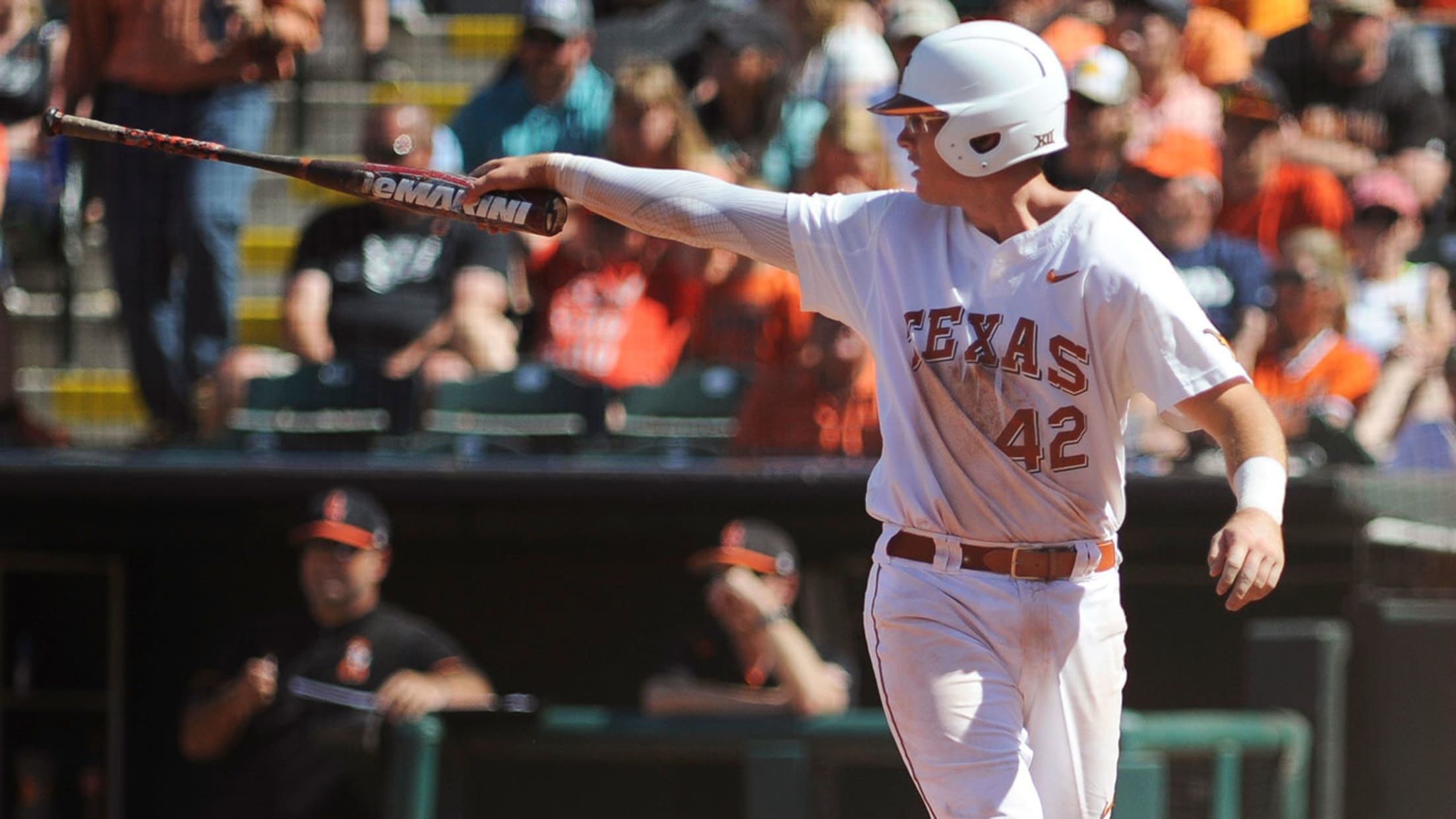 University of Texas star Kacy Clemens, the Blue Jays' eighth-round pick, is the second son of Roger Clemens to be drafted, following Koby. (AP)
TORONTO -- The Blue Jays didn't do this intentionally, but they have amassed a Dream Team of former Major League stars-turned-proud-fathers.Roger Clemens became the latest when his son, Kacy, was selected by Toronto on Tuesday afternoon in the eighth round of the 2017 MLB Draft. Clemens joins Craig Biggio, Vladimir
TORONTO -- The Blue Jays didn't do this intentionally, but they have amassed a Dream Team of former Major League stars-turned-proud-fathers.
Roger Clemens became the latest when his son, Kacy, was selected by Toronto on Tuesday afternoon in the eighth round of the 2017 MLB Draft. Clemens joins Craig Biggio, Vladimir Guerrero, Dante Bichette and Dwight Smith as some of the big league alumni with sons in the Blue Jays' system.
:: 2017 MLB Draft coverage ::
The Draft concludes on Wednesday, with exclusive coverage of Rounds 11-40 beginning on MLB.com at noon ET.
Kacy is the second of Clemens' sons to be taken in the Draft. Koby was selected by Houston in 2005 and played 10 seasons in the Minor Leagues, including a brief stint with Toronto's Class A Advanced Dunedin, before retiring in 2015. Kody, Clemens' third son, just completed his sophomore season at the University of Texas.
• Blue Jays go college route on Day 2
"He is fired up and ready to go. Very thankful to have to opportunity at the next level," Roger Clemens wrote to MLB.com's Brian McTaggart via a text message. "Below are two photos of years gone by. We are going to recreate them, hopefully during the spring."
Roger made a living with his arm, and there was a time when Kacy thought about following a similar path. He started 10 games for Texas in 2015 and made three appearances out of the bullpen in 2016. But this year, he focused exclusively on first base, and it appears to have paid off. Clemens was the offensive MVP for the Longhorns in 2017, and he hit .305/.414/.532 with 12 home runs, 49 RBIs and 48 runs scored.

At first base, Clemens is considered an elite defender with solid footwork around the bag, impressive range and an ability to dig balls out of the dirt. The question is whether he will be able to hit enough for the position as he rises through the Minor League system. At least in college at Texas, it wasn't a problem.
"We've seen progression out of him," Blue Jays director of amateur scouting Steve Sanders said. "He's enjoying probably the best year of his career as a senior. He's a team leader, and exhibits a lot of things we look for in a player both on and off the field."
Kacy also appears to have the right approach when it comes to all of the attention he has received along the way because of his father's fame. There's no escaping the Clemens name in baseball, but he doesn't seem too concerned about that, and he won't have to search very far for people inside the organization who can relate.

"The amount of weight that last name has, it means a lot more weight for other people than us," Kacy told Longhorns Extra. "For us, it's just a last name."