Young Blue Jays pitchers see opportunity ahead
Recently added hurlers participate in Player Development Program; Pearson progressing in recovery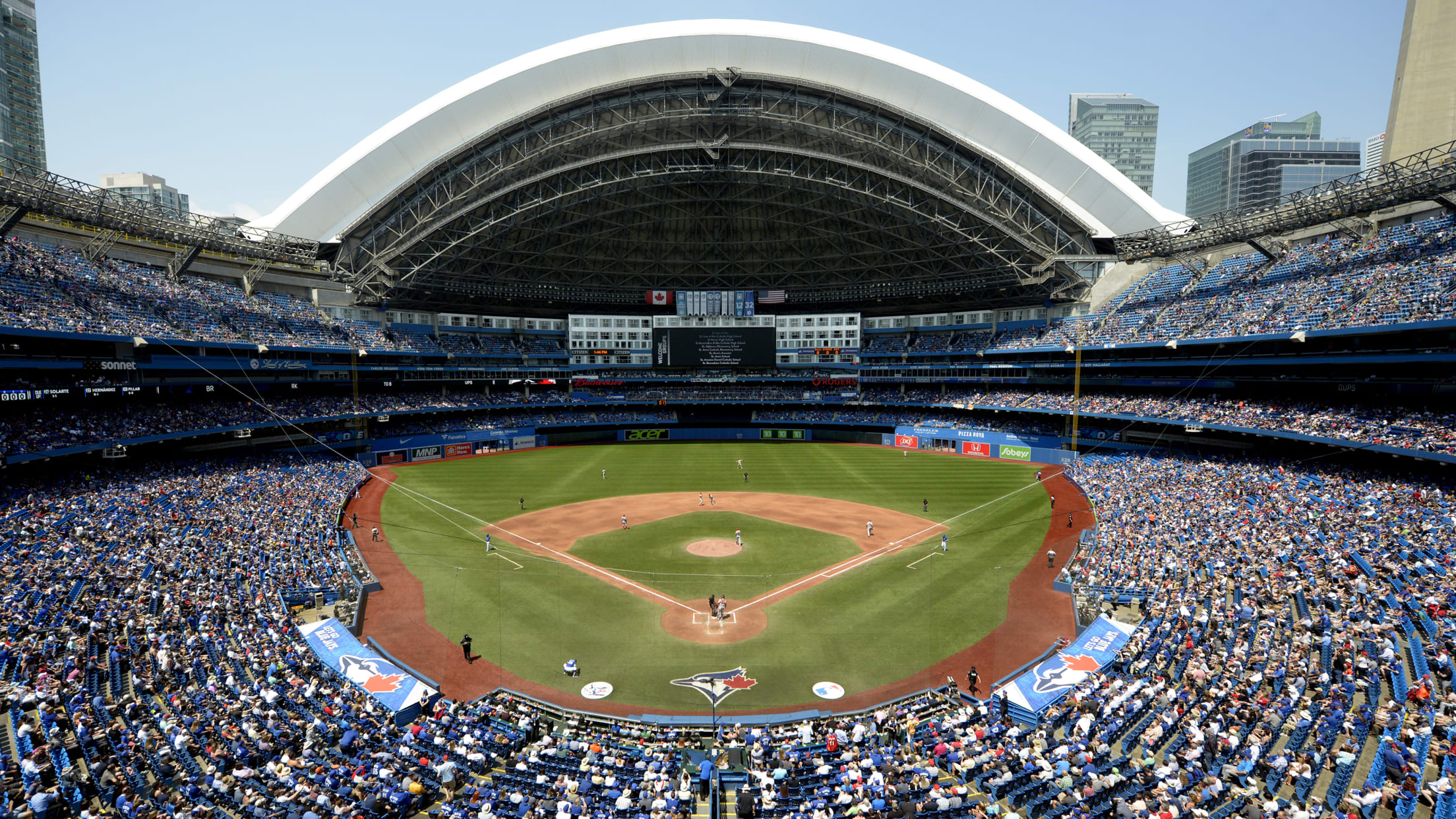 TORONTO, CANADA - MAY 24: A general view of Rogers Centre during a game between the Los Angeles Angels and the Toronto Blue Jays at the Rogers Centre on Thursday, May 24, 2018 in Toronto, Canada. (Photo by Jon Blacker/MLB Photos via Getty Images) *** Local Caption *** (Jon Blacker/Getty Images)
TORONTO -- As the Blue Jays transitioned into their ongoing rebuild, general manager Ross Atkins made it clear that young and controllable pitching would need to be a cornerstone of the club's next phase.Looking around the locker room at the Blue Jays' Prospect Development Program in Toronto on Friday, it's
TORONTO -- As the Blue Jays transitioned into their ongoing rebuild, general manager Ross Atkins made it clear that young and controllable pitching would need to be a cornerstone of the club's next phase.
Looking around the locker room at the Blue Jays' Prospect Development Program in Toronto on Friday, it's clear that Atkins followed through. Five young pitchers in attendance had been added to the organization since July, and all five have already pitched in Double-A or higher.
Julian Merryweather, Hector Perez, Andrew Sopko, Trent Thornton and Jacob Waguespack suddenly have an opportunity in front of them. They've also got some high expectations.
When you're the trade return for franchise icon Josh Donaldson, all eyes are on you.
"It's MVP or bust this year," Merryweather said, laughing. "That's kind of the motto I'm going with this year. It's obviously big shoes to fill, but I'm just happy to be in the room with these guys here and be part of the future."
Sopko finds himself in a similar situation, coming over from the Dodgers for fan favorite Russell Martin.
To these young pitchers, Toronto could represent a quicker path to the Majors. The recent additions of Clayton Richard and Matthew Shoemaker should help to solidify the back end of Toronto's rotation, but plenty more arms will be needed both in 2019 and beyond.
"It's just extra motivation for us," Sopko said. "Obviously, the ultimate goal is to be right here. The fact that there's opportunity, it gives you motivation."
Waguespack, the towering right-hander who came over from Philadelphia for Aaron Loup, is another name that Atkins brings up often when discussing rotation depth.
Instead of bringing in veteran arms to steady their rotations in the upper Minors, the Blue Jays may be able to survive on prospects alone. That's a new reality for the club, but one that was consciously chased.
"There is a good opportunity here," Waguespack said. "Obviously we have a lot of young guys here, or we will in the clubhouse, but it's just about going out and competing."
Pearson expecting workload limit
Toronto's top pitching prospect, Nate Pearson, missed nearly all of 2018 after a comeback liner broke his arm in May. The hard-throwing righty is back to full health and threw 20 1/3 innings in the Arizona Fall League, but still needs to be monitored in 2019.
"They're going to have an inning limit on me," Pearson said. "I'm not sure what it is and we haven't decided what it is, but there will be some sort of limit on me because I haven't built up to throw 150 innings yet."
Jackson thinking north-south
Relief prospect Zach Jackson racks up strikeouts and owns one of the organization's best curveballs, but walks have been a serious issue, as he allowed 51 over 62 innings in 2018. If he can find the zone more consistently, his fastball and curveball combination could really play up.
"We started looking a lot on the analytical side, being able to attack the top of the zone," Jackson said. "Especially the trend in baseball with high fastballs and curveballs, it really plays in my favour."
Keegan Matheson is a contributor to MLB.com.