Blue Jays being cautious with Martin's neck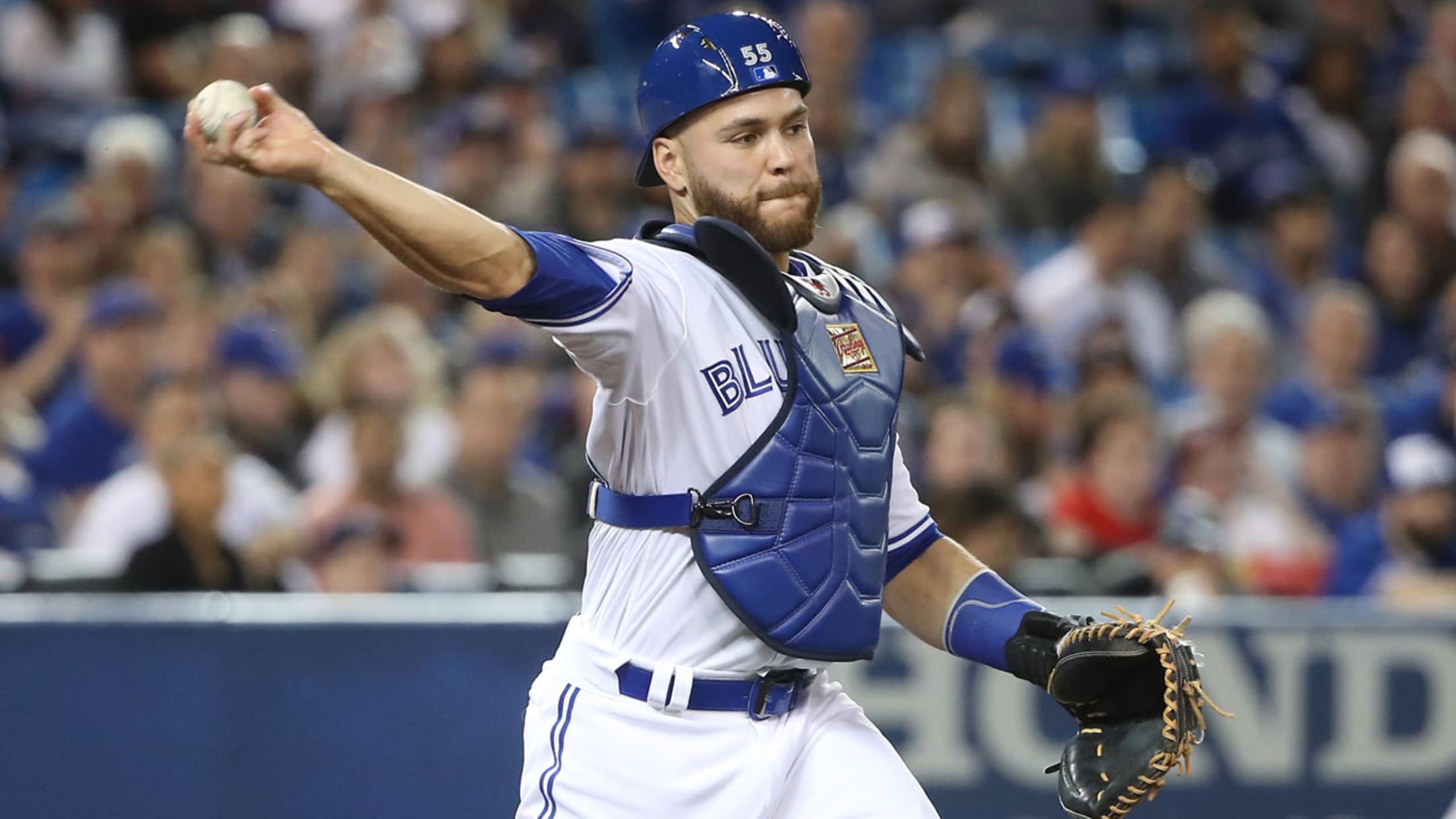 Russell Martin's neck issue is unrelated to the nerve problem that sidelined him earlier this season. (Getty)
TORONTO -- The Blue Jays will be without catcher Russell Martin for their third consecutive game on Saturday, as the catcher is still trying to work back from a neck issue."Martin's neck is] not good enough," said manager John Gibbons prior to the game. "It's one of those things you
TORONTO -- The Blue Jays will be without catcher Russell Martin for their third consecutive game on Saturday, as the catcher is still trying to work back from a neck issue.
"[Martin's neck is] not good enough," said manager John Gibbons prior to the game. "It's one of those things you don't want to keep aggravating if things get worse."
Gibbons said on Friday that the current injury is not related to the nerve issue in Martin's shoulder and neck that landed him on the disabled list earlier this season. Scratching Martin was a late decision on Friday, after he took batting practice. But with the quick turnaround to an afternoon game on Saturday, the team is taking a cautious approach.
Luke Maile has started in Martin's place and continues to draw praise from Toronto's pitching staff. He's also started to chip in at the plate, with hits in each of his last three games -- including a home run on May 31 against Cincinnati.
Worth noting
• The Blue Jays will be adding some special features to Saturday's game against the Yankees as part of Major League Baseball's league-wide Play Ball weekend. The Play Ball logo will appear on the field at Rogers Centre and Toronto's jerseys, as local youth will take the field with the Blue Jays for the pregame lineup announcement and announce "Play Ball" prior to first pitch. The Blue Jays will also show a Play Ball video from their event at Olympic Stadium in Montreal this spring with Hall of Fame outfielder Tim Raines. Kids will be given a bat and ball with the Blue Jays and Play Ball logos while leaving Saturday's game, and similar kits will be distributed to communities around the country.
Being one of Toronto's weekly Jr. Jays Saturdays, the Blue Jays will get kids at the park involved as the Jr. Jays announcer, groundskeeper, and DJ throughout the game. After the game, kids under 14 will also have the opportunity to run the bases. The Play Ball initiative aims to encourage participation in all forms of baseball from all age groups, with a focus on youth.
The second annual Play Ball Weekend features a variety of youth engagement activities by nearly 200 Major League and Minor League clubs to highlight the fun of youth baseball and softball. It is a complementary program of the Play Ball initiative, designed by MLB to celebrate youth baseball and softball participation. MLB has provided clubs with more than 300,000 youth plastic bat and ball sets to distribute in both ballparks and at community events.
Many MLB clubs are hosting skills and physical fitness clinics as well as surprise "takeovers" of youth baseball and softball games or practices featuring appearances by Major League players, alumni, mascots, public address announcers and more. Activities will include kids participating in special news conferences, pregame meet-and-greets and catches with players, ceremonial first pitches, public address duties, lineup card exchanges, taking the field with players, postgame running the bases and more. Major League players, coaches and managers will wear Play Ball Weekend patches during the weekend's games, and players on home clubs will wear custom T-shirts during batting practice on the date of their club's activations.
Teams that are on the road Saturday and Sunday will host their Play Ball Weekend activities during another homestand.
• The annual Sportsnet Broadcast Auction in support of the Jays Care Foundation was held on Friday night throughout the game, as fans had the opportunity to bid on a variety of Blue Jays packages. These included a 2018 Spring Training getaway, a trip to the top of Toronto's CN Tower with Joe Biagini, and a trip to Wrigley Field in Chicago to see the Blue Jays play later this season.
By the time the bidding ended, over $275,000 was raised by this year's auction. The money raised will be part of over $6.2 million that the Jays Care Foundation uses in 2017 to positively impact over 65,000 children and youth across Canada in all 10 provinces and the Yukon Territory.