Clemens' son Kacy signs with Blue Jays
U. of Texas standout among 24 Draft picks inked by Toronto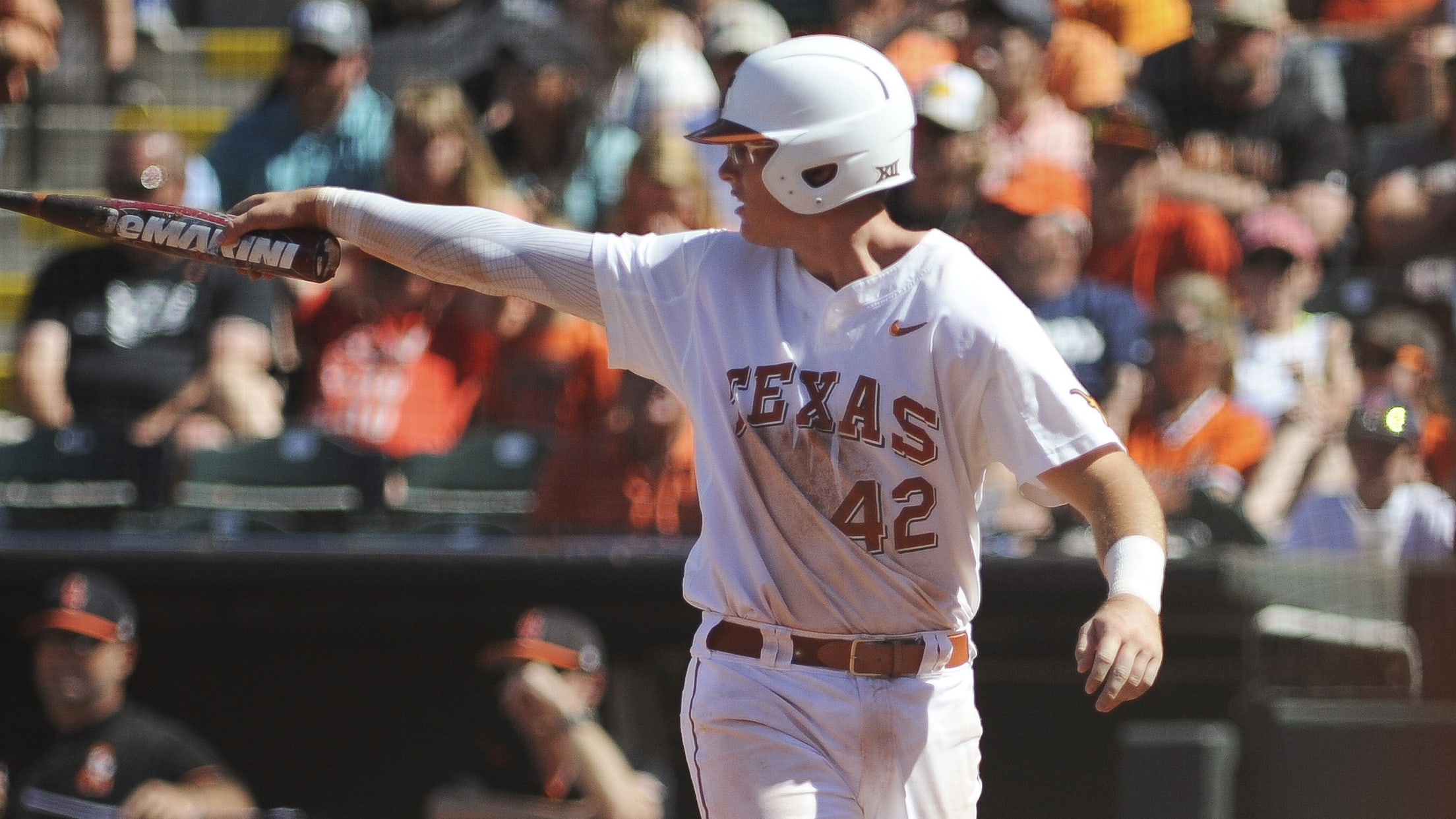 Kacy Clemens (305/.414/.532, 12 HRs and 49 RBIs) was the University of Texas' offensive MVP in '17. (Kyle Phillips/AP)
ARLINGTON -- The Blue Jays announced on Monday night that they have officially signed 24 of their 41 selections from this year's MLB Draft, including Kacy Clemens, the son of former Toronto right-hander Roger Clemens.Toronto agreed to terms with eight of its top 11 players taken in the Draft. First-rounder
ARLINGTON -- The Blue Jays announced on Monday night that they have officially signed 24 of their 41 selections from this year's MLB Draft, including Kacy Clemens, the son of former Toronto right-hander Roger Clemens.
Toronto agreed to terms with eight of its top 11 players taken in the Draft. First-rounder Logan Warmoth, compensatory pick Nate Pearson and second-rounder Hagen Danner are the only players from the first 10 rounds who remain unsigned.
• 2017 Draft: Signing and Bonus Tracker
The Blue Jays did not disclose the financial terms of each deal, but MLB.com's Jim Callis had the details of several contracts. According to Callis, third-rounder Riley Adams received $542,000, which was the recommended slot value of the 99th overall selection.
Fifth rounder Cullen Large received $302,100, which was the slot value for pick No. 159, and eighth-rounder Clemens received $50,000 compared to a slot value of $152,000. Callis also previously reported that fourth-rounder Kevin Smith received $405,100 as the slot value for pick No. 129 and 24th-rounder Colin Brockhouse received $125,000.
The Blue Jays can use the savings from Clemens' modest deal to allocate elsewhere and sign players for above the slot value. This year, the Blue Jays have a pool of $8,231,000, which ranks 13th overall. Kacy was the University of Texas' offensive MVP this season as he hit .305/.414/.532 with 12 home runs, 49 RBIs and 48 runs scored.
"He is fired up and ready to go. Very thankful to have the opportunity at the next level," Roger Clemens wrote in a text message to MLB.com following the Draft.
Toronto's bonus pool number includes $2,795,200 for the 22nd overall pick and $2,302,900 for the 28th. The signing bonuses for a team's selections in the first 10 rounds, plus any bonus greater than $125,000 for a player taken after the 10th round, will apply toward the bonus-pool total.
Draft picks signed: C Riley Adams (third round, No. 99), SS Kevin Smith (fourth round, No. 129), 2B Cullen Large (fifth round, No. 159), OF Brock Lundquist (sixth round, No. 189), RHP Colton Laws (seventh round, No. 219), 1B Kacy Clemens (eighth round, No. 249), LHP Zach Logue (ninth round, No. 279), RHP Justin Dillon (10th round, No. 309), RHP Donnie Sellers (11th round, No. 339), RHP Matt Shannon (12th round, No. 369), 1B Ryan Noda (15th round, No. 459), RHP Ty Tice (16th round, No. 489), LHP Jordan Barrett (18th round, No. 549), OF Tanner Kirwer (20th round, No. 609), OF D.J. Neal (26th round, No. 789), LHP Joseph DiBenedetto (29th round, No. 879), C Reilly Johnson (30th round, No. 909), RHP Graham Sparker (31st round, No. 939), LHP Matt Gunter (33rd round, No. 999), RHP Maverik Buffo (34th round, No. 1,029), OF Brandon Polizzi (35th round, No. 1,059), RHP Jonathan Cheshire (36th round, No. 1,089), RHP Justin Watts (37th round, No. 1,119), LHP Marcus Reyes (38th round, No. 1,149).