Blue Jays to stick with 8-man bullpen for now
'It'll probably stay this way until Tulo gets back,' Gibbons says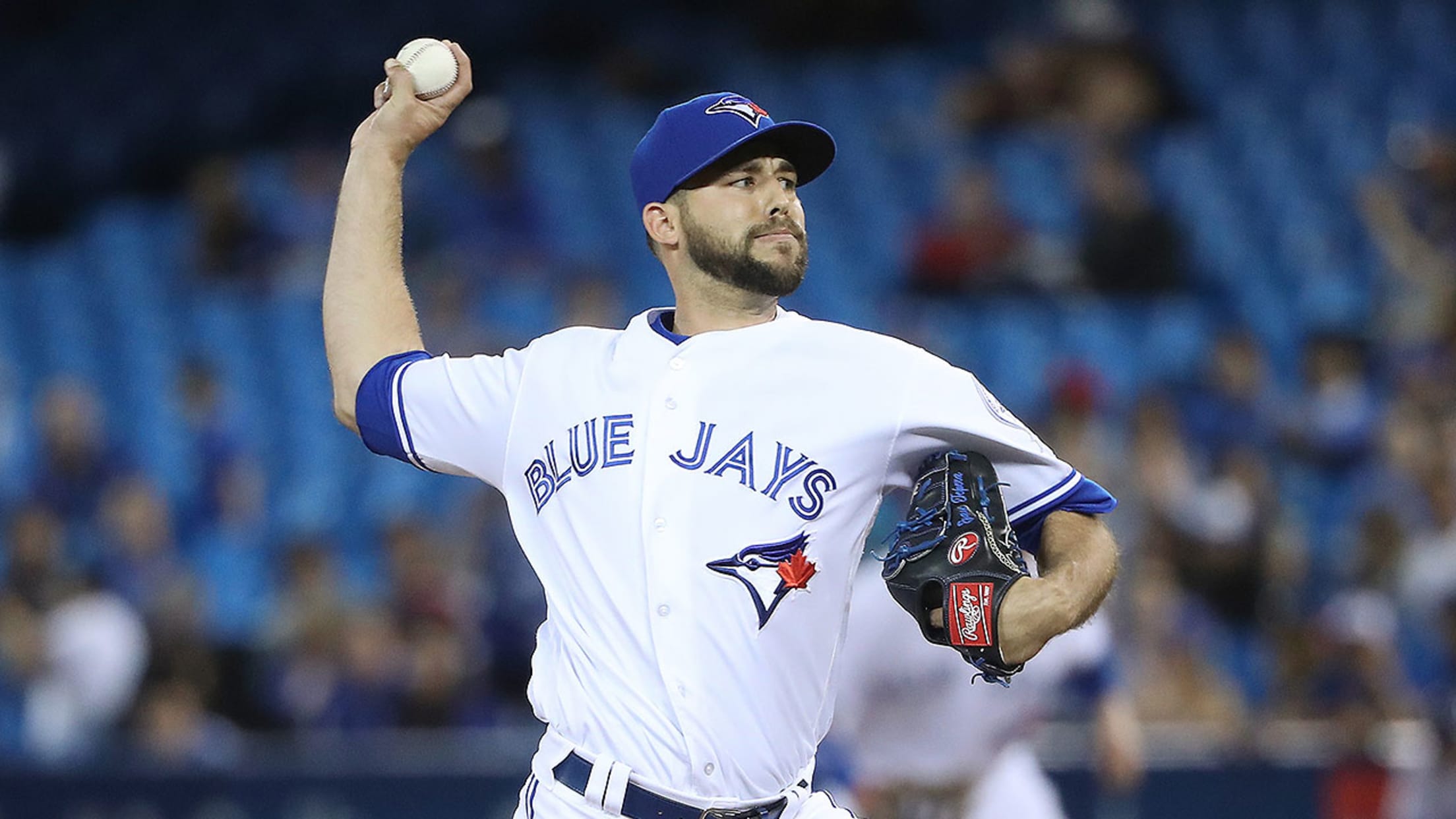 Ryan Tepera is a likely candidate to be optioned eventually, but for now, Toronto will keep an additional reliever. (Getty)
BOSTON -- Blue Jays manager John Gibbons expects to stick with an eight-man bullpen until shortstop Troy Tulowitzki is able to return from a right quad injury.Tulowitzki is on the 15-day disabled list and will not be eligible to return until June 13. Toronto added an extra reliever at the
BOSTON -- Blue Jays manager John Gibbons expects to stick with an eight-man bullpen until shortstop Troy Tulowitzki is able to return from a right quad injury.
Tulowitzki is on the 15-day disabled list and will not be eligible to return until June 13. Toronto added an extra reliever at the time of his injury, and it appears as though the Blue Jays are intent to stick with that strategy.
Toronto will eventually need to option a pitcher, and right-hander Ryan Tepera is the likely candidate. But in the interim, the Blue Jays will protect their arms by keeping an additional reliever in the mix.
"It'll probably stay this way until Tulo gets back, unless we need to do something out of necessity," Gibbons said.
Gibbons pointed to the lack of need for a pinch-hitter off the bench as one of the main reasons why he's OK with one fewer position player on the roster. In the event that someone needs to pinch-run for Justin Smoak, Jose Bautista or Ryan Goins would be the top candidates to play first.
Bautista could shift from right field to first with reserve outfielder Ezequiel Carrera also entering the game. Goins has never played first base at the professional level, but he has been working out there in recent days and is more than equipped to handle the position defensively, he said.
"They've been working him out there, and they said he looks really good," Gibbons said.
Leading off
The Blue Jays entered play on Friday night with a 10-3 record since Bautista moved into the leadoff spot. The offense is batting .262 with 46 extra-base hits and a .778 OPS while averaging 4.92 runs per game. Prior to the lineup change, Toronto was hitting .234 with a .711 OPS and four runs per game.
It would be easy to suggest that Bautista's new role has played a part in the offensive turnaround, but that also would be a little too simplistic. In Gibbons' mind, it seems like a coincidence more than anything else, and everyone is still waiting for the batting order to produce like it did a year ago by averaging 5.5 runs per game.
"Everybody says that's the key, and maybe it is, because we've been playing better since it happened," Gibbons said of Bautista. "But Jose, wherever he is hitting, is a good hitter for us. Whether that's the actual cause of us winning more games, who knows? Because I still don't think our offense is in high gear like it was last year.
"I actually think the way Boston is hitting it looks a lot like last year with what we were doing, when you're watching from afar. The whole idea behind it, the more at-bats you can give to [Josh] Donaldson, Bautista, those guys, the better off you're going to be."