Walk-off losses haunting Blue Jays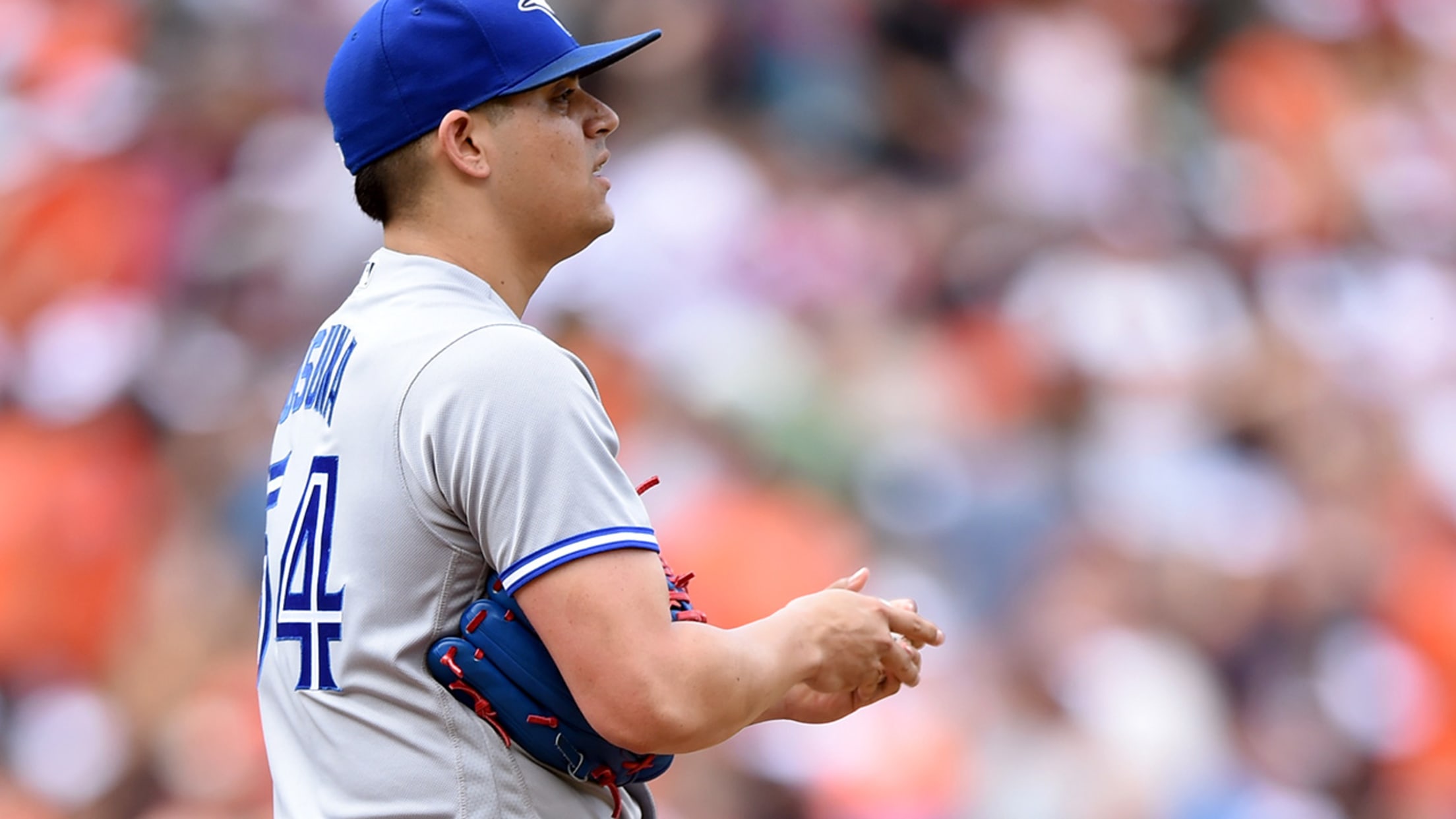 Roberto Osuna gave up a tying home run to Welington Castillo in the ninth inning Sunday. (Getty)
BALTIMORE -- If this season has felt particularly gut-wrenching for Blue Jays fans there is a good reason: Toronto leads the Major Leagues with 13 walk-off losses.Toronto was walked off for the second time in its last three games Sunday when Mark Trumbo hit an RBI single off right-hander Danny
BALTIMORE -- If this season has felt particularly gut-wrenching for Blue Jays fans there is a good reason: Toronto leads the Major Leagues with 13 walk-off losses.
Toronto was walked off for the second time in its last three games Sunday when Mark Trumbo hit an RBI single off right-hander Danny Barnes in the 12th inning, resulting in a 5-4 Baltimore victory and the Blue Jays' 12th loss in extra innings this season.
For a team that is currently 11 games under .500, the 5-12 record in extra innings and the walk-off losses are just two reasons this group is currently not in contention for the postseason. These type of defeats also can be particularly tough to take, but those inside the clubhouse are trying to find some positives behind the numbers.
"I didn't know it was that many," acting manager DeMarlo Hale said. "But it also shows that we're in games, and we compete for those nine innings or however many innings it takes. ... We played a very good baseball game, and we've done some good things that I think will roll over into tomorrow and compete at the same level that we competed out there on the field. There were a lot of good things that we've done."
Toronto appeared to be in prime position to take the series finale when it carried a 4-3 lead into the bottom of the ninth inning. Closer Roberto Osuna entered looking for his 36th save of the season, but instead his struggles continue. Osuna served up a solo homer to the first batter he faced -- Welington Castillo -- and just like that the Blue Jays were going to extras once again.
Osuna rode a dominating first half on the mound all the way to the All-Star Game, but the second half has been much more challenging. Since July 18, Osuna is 1-4 with six blown saves and a 6.10 ERA. He has nine blown saves this season, which is the third most in one season by a Blue Jays reliever in franchise history. The only others with more are Duane Ward (12 in 1989) and Joey McLaughlin (11 in 1983).
A lot of Osuna's issues have stemmed from his cutter, and that was the case again Sunday afternoon. He fired off three consecutive 95 mph four-seam fastballs before turning to the cutter, and Castillo immediately took advantage of the poor location. After the game, Osuna was accountable and took full responsibility for the pitch.
"I started with three fastballs away so I didn't think he was gonna hit the cutter," Osuna said through an interpreter. "It was my decision, my fault. I left it a little bit up, and then he got a good swing on it. It was an execution [thing]. It was my fault. I tried to go in there, and it didn't work for me."
The issues from the bullpen tell only one part of this story from the loss. Toronto got scoreless appearances from relievers Tom Koehler, Dennis Tepera and Carlos Ramirez to give the offense plenty of time to put the game away, but each time it came up short. The Blue Jays sent just one batter over the minimum to the plate in the three extra innings.
"This team is battling and I appreciate the effort these players are putting forth, and we're going to roll into Boston and continue to compete at this level," Hale said.