Buckle named T12 MVP; All-Star squad chosen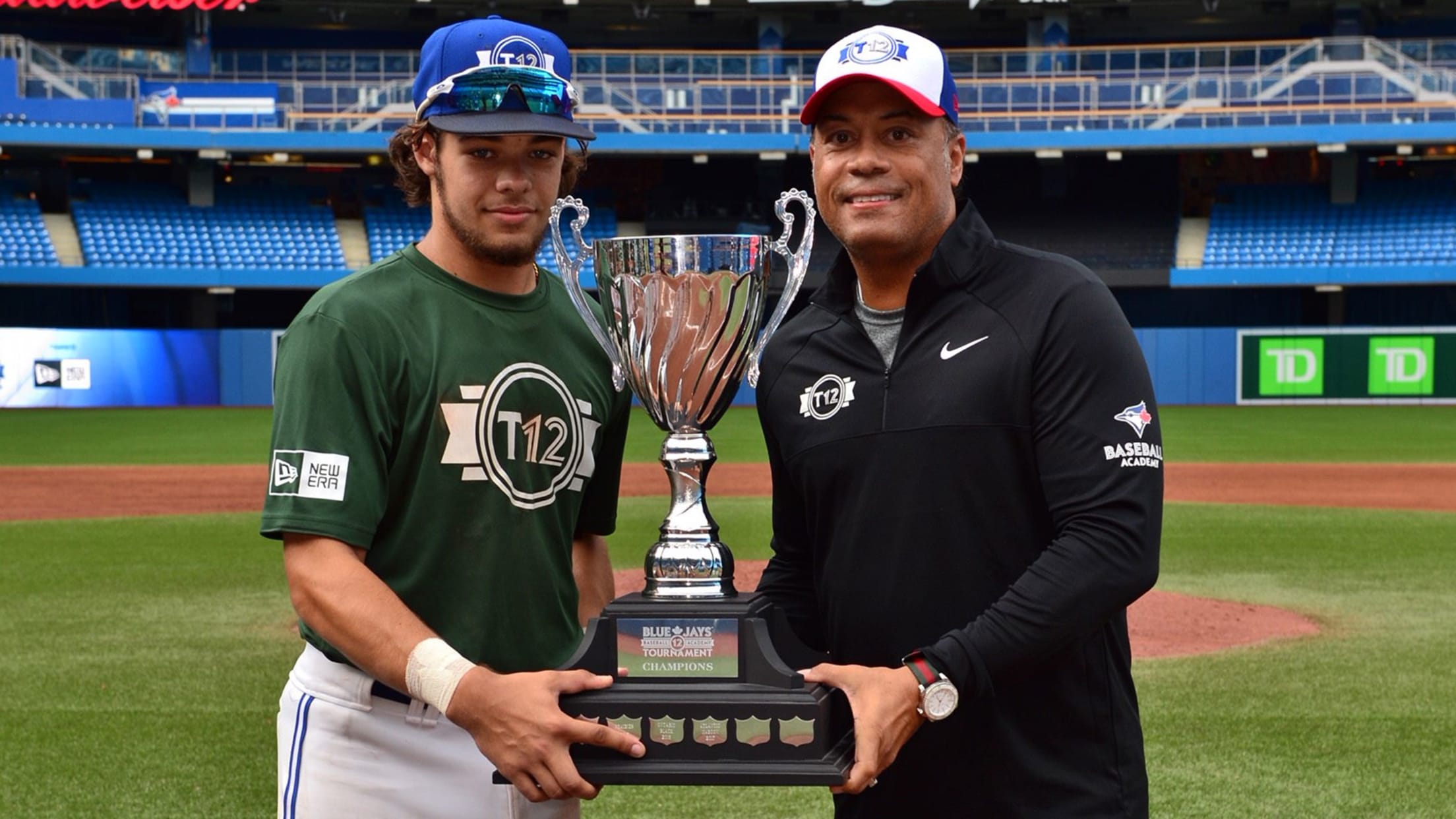 Blake Buckle accepts his award from Roberto Alomar. (Michelle Prata/Blue Jays)
The Blue Jays Baseball Academy has named its 2018 Tournament 12 All-Stars. The sixth annual T12 wrapped Sept. 17 with Ontario Green winning the title.Ontario Green's first baseman Blake Buckle was named MVP and was tabbed for the All-Star roster, having gone 5-for-13 (.385) with a pair of doubles and
The Blue Jays Baseball Academy has named its 2018 Tournament 12 All-Stars. The sixth annual T12 wrapped Sept. 17 with Ontario Green winning the title.
Ontario Green's first baseman Blake Buckle was named MVP and was tabbed for the All-Star roster, having gone 5-for-13 (.385) with a pair of doubles and five walks. He also came up with several clutch hits, leading to five RBIs, while posting a 1.117 OPS.
Buckle had a trio of teammates also named to the 2018 squad.
Second baseman Bryce Arnold went 5-for-13 as well, while leading the tourney with seven runs scored. Orillia's Caleb Clark posted a 1.29 ERA in seven innings and posted the second-lowest WHIP (0.43) of the tournament. Zachery Cameron recorded 10 strikeouts over 5.1 innings of work while allowing just two hits.
Ontario Black's Owen Diodati was tagged as the All-Star designated hitter. The 17-year-old crushed two home runs and led all hitters in OBP (.667) and OPS (1.889) as he also doubled and drove in three runs. Outfielder Dasan Brown joins his mate on the All-Star roster after batting at the top of Black's order and leading the tournament with seven hits. The speedster also posted the best 60s time during Scout Day, clocking in a 6.35 seconds. Infielder TJ Schofield-Sam completed the Black contingent as he paced all hitters with seven RBIs while playing multiple positions and was deemed the All-Star utility player.
The runner-up Alberta squad had two position players and a pair of pitchers named to the All-Star team.
Brayden Cust led all hurlers with 18 strikeouts. The Cold Lake native also made his mark with the third individual no-hitter in T12 history, doing so against Quebec Blue in the semifinal to get his team to the championship game. Right-hander Chase Florendine threw 4 1/3 scoreless innings and recorded eight strikeouts without issuing a walk.
Outfielder Micah McDowell, who was the 2017 MVP, had a pair of triples and batted .333 (6-for-18) while stealing seven bases -- tied for the most in the tournament. Catcher Aiden Makarus had a triple of his own and drove in a pair of runs as part of a .733 OPS.
Quebec's Tristan Aspeck also swiped seven bags. The shortstop did so on three hits and seven walks, en route to a .714 on-base percentage.
Eli Saul of Vancouver was also one of the five pitchers named to this year's All-Star team. The 6-foot-5 righty posted the lowest WHIP of the weekend (0.40) and held opponents to a .059 average, while occasionally hitting 90 mph on the radar gun.
Two of Saul's teammates rounded out the 2018 selections.
Third baseman Joshua Walker led all hitters with a .500 average as he went 6-for-12 with a triple and five stolen bases. Outfielder Daniel Martin hit .462 (6-for-13) while driving in three runs over his four games.
Coach of the Tournament honours went to Ontario Green's Adam Stern. The former Major League outfielder from London led his squad to a 4-1-1 record and its first T12 title.