Q&A: Quinn on his 3rd-generation baseball life
Former World Series-winning GM discusses famous father, grandfather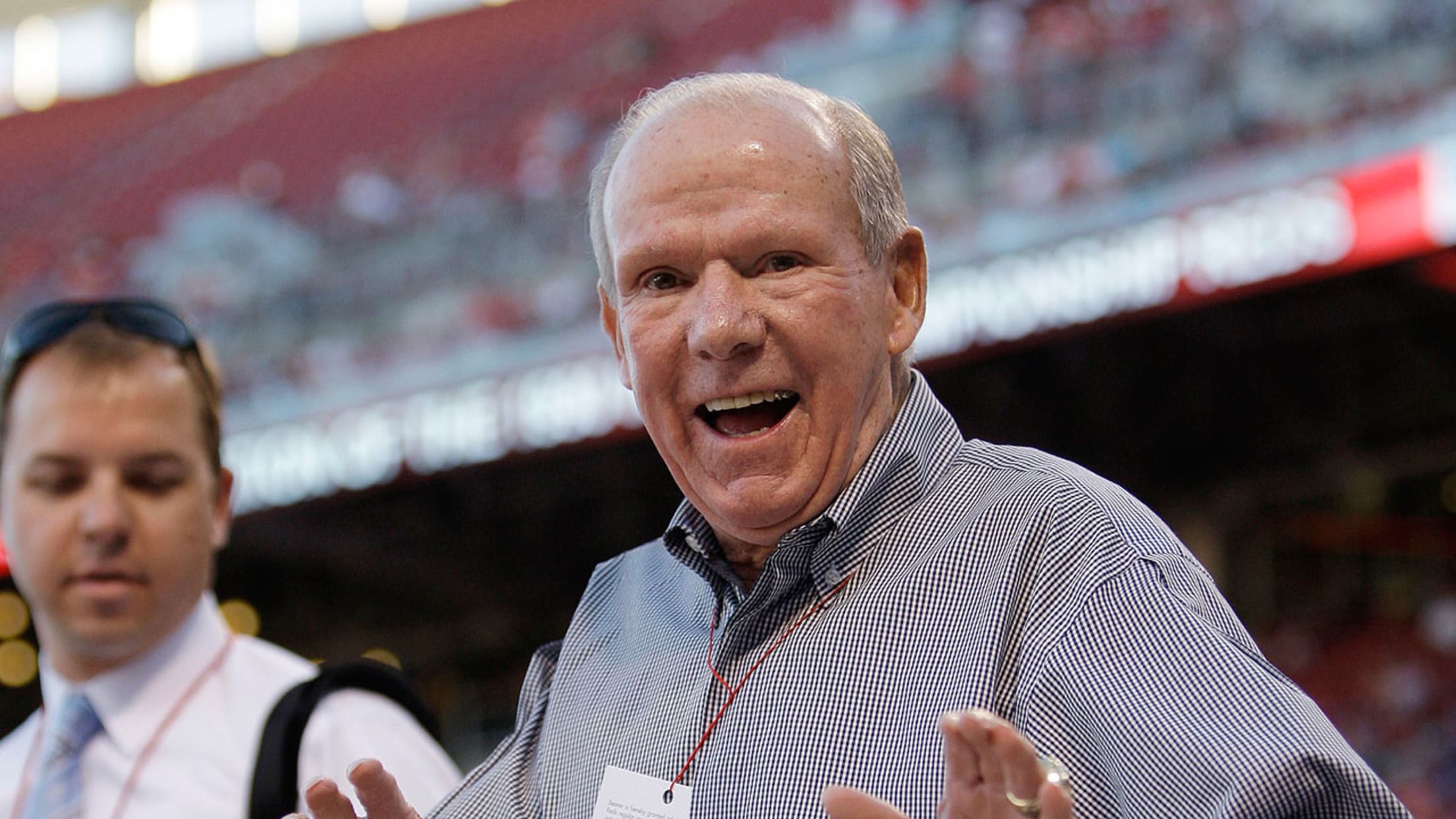 Bob Quinn served as general manager of the Yankees, Reds and Giants.
Bob Quinn was born into the game of baseball.Quinn is the grandson of James Aloysius Robert Quinn, known as "Bob" in the baseball world, and the man who put together the group that purchased the Red Sox from Harry Frazee and later sold it to Tom Yawkey. The eldest Quinn
Bob Quinn was born into the game of baseball.
Quinn is the grandson of James Aloysius Robert Quinn, known as "Bob" in the baseball world, and the man who put together the group that purchased the Red Sox from Harry Frazee and later sold it to Tom Yawkey. The eldest Quinn also was the general manager of the St. Louis Browns (1917-22) and Brooklyn Dodgers (1934-35), and he became president of the Boston Braves, where he was a part of the franchise's ownership group. He later was the president of the Baseball Hall of Fame.
Quinn is the son of John Quinn, who succeeded his father as the general manager of the Boston Braves and moved with the team to Milwaukee. He finished his career as the general manager of the Phillies.
It shouldn't be a surprise, then, that Bob Quinn made his living in baseball, including serving as general manager of the Yankees, Reds and Giants.
With such strong family ties, Quinn is the subject of the Q&A the weekend of Father's Day.
MLB.com: What about the fourth generation? Is baseball still in the bloodlines?
Quinn: My son, Bob, is a CPA, and is the CFO and executive vice president finance and administration of the Brewers. I asked him why he didn't pursue the baseball side. He said, 'Are you nuts? I rode to work with you to Yankee Stadium every day [one summer when he worked on concessions].' He would have to wait for the ride home each night until [George] Steinbrenner would release me to go home.
MLB.com: You have put together an information packet on your grandfather for Hall of Fame consideration. Must be awful proud of him.
Quinn: Arthur Daley of the New York Times said it better than I could in an article he wrote four days after my grandfather's death in 1954. He wrote, 'Bob Quinn had integrity, self-respect and the ungrudging admiration of all who knew him. If Diogenes had encountered Bob Quinn, he'd have thrown away his lantern and ended successfully his search for an honest man.'
He treated everyone so fair. In 1937, he had a pitcher, Guy Bush, who was going through a rough stretch. Guy was told that my grandfather wanted to meet with him. He figured he was going to be released. When he walked in the office, my grandfather said, 'You can pitch in the Majors. You are just unfortunate with your run support.' They shook hands and my grandfather had a $500 check for [Bush] in his hand.
MLB.com: What is your favorite personal memory of your grandfather?
Quinn: He never smoked or drank or shaved. He would stop on his way to the ballpark and get a shave and a haircut for two bits. My mom and dad would take the five grandkids out to visit on Sunday and he hadn't shaved for two days. When he hugged you, you got a bristle job.
MLB.com: What stood out about your father?
Quinn: My dad was similar to my grandfather. I remember bumping into Gene Conley and he told me how much admiration he had for my dad as an administrator and great talent evaluator. He put together the 1957 Braves World Championship team, and that '58 team that had a 3-games-to-1 lead on the Yankees but lost the World Series.
MLB.com: What's your favorite personal memory of your father?
Quinn: Every morning when he would leave for work, he would stop at the bottom of the stairs and holler up, 'Be the best,' and then he would leave. I ran the 100 and 220 [meter dashes] my senior year in high school, and at Marquette. In the Central Collegiate championship, I turned in a 9.7 [seconds] in the 100 on a cinder track and a 21.5 in the 220 on a curve. He was so busy with the teams that he only saw me run twice. That was one of the times, and I attribute having my best times in both to him. I would hear his whistle above all the crowd noise.
MLB.com: So you followed in the footsteps of your grandfather and father?
Quinn: I started out working for my dad and the Braves. I can remember like it was yesterday. He said, 'I am not going to give you a job in the big league front office. You are going to have to go the Minors and learn how to really run a baseball team. I went to Eau Claire, Wis., for two years, 1959-60. It was Class C. Joe Torre was the 19-year-old catcher who won the batting title on the final day of the season in '60. We'd travel in three nine-passenger station wagons with a car top carrier. A game would be over and the manager would tell the players to grab a bite to eat and be back at midnight because we had to drive to Winnipeg. We'd get there at 2 p.m. the next day for a night game.
After those two years, I got out of baseball for a while. We lost our first child and I was devastated. I went to work for Northern States Power as a vice president of information and advertising. I was too competitive. I had to get back into baseball.
MLB.com: From a personal standpoint, you are finishing up your junior year in high school when the Braves move to Milwaukee. How difficult was that?
Quinn: My dad had my mother stay with the five kids in Boston so we could finish the school year, and then he rented a place on Golden Lake for the summer. I know he was a good scout because he was next to a family with five girls, one of which, Kathryn, became my wife in 1960, and we were very happily married for 50 years. I lost her seven years ago.
MLB.com: You won Executive of the Year Awards at Reading and Omaha in the Minor Leagues, and with the 1990 World Champion Reds. But you might best be known as the general manager who worked for both George Steinbrenner and Marge Schott. What was that like?
Quinn: It was a great experience with both. When we won in Cincinnati, George Steinbrenner was the first to congratulate me and sent a case of champagne to [manager Lou] Piniella and myself. He sent a note that read, 'I knew you could do it.' Marge was fine. When we swept the A's in 1990, she found out the first four game [proceeds] went to the players, and she was mad as a hen. She never said anything about the season tickets going from 17,500 in '90 to 22,500 the next year.
MLB.com: Your son, Bob, became a fourth-generation baseball man, but what about Mike?
Quinn: He has been with the Secret Service for 26 years. He drove Presidents Clinton and Bush, and he still works in the White House. I am awful proud of what he has accomplished. I leave a week from today with Mike and my youngest grandson, Sean, for a tour of Cooperstown. I have not been there since Casey Stengel was inducted. My father gave Casey his first job as a manager in the Minor Leagues and Major Leagues. Ted Williams was also inducted that year. That was a special ceremony.
Tracy Ringolsby is a columnist for MLB.com.