Ausmus eager to guide Halos as camp opens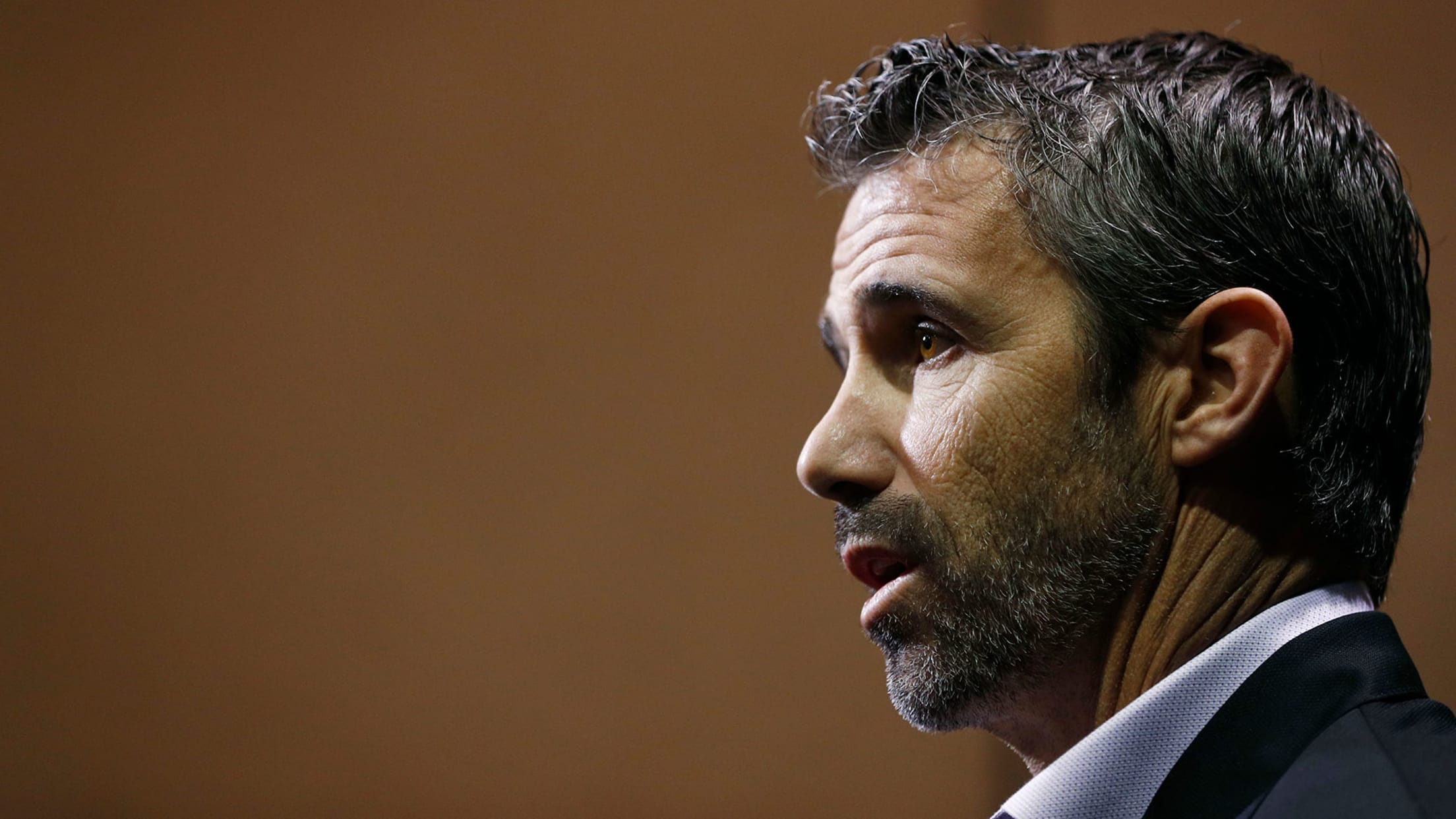 TEMPE, Ariz. -- Spring Training is officially here for the Angels, with pitchers and catchers reporting to Tempe Diablo Stadium on Tuesday. And there's a new face at manager, with Brad Ausmus replacing longtime skipper Mike Scioscia this offseason.It's the first time the Angels have headed into Spring Training without
TEMPE, Ariz. -- Spring Training is officially here for the Angels, with pitchers and catchers reporting to Tempe Diablo Stadium on Tuesday. And there's a new face at manager, with Brad Ausmus replacing longtime skipper Mike Scioscia this offseason.
It's the first time the Angels have headed into Spring Training without Scioscia at the helm since 1999, and Ausmus is tasked with trying to help the club reach the postseason for the first time since 2014. Ausmus has managerial experience, having served as Tigers skipper from 2014-17, and he is plenty familiar with the Angels, as he was a special assistant to general manager Billy Eppler last season.
:: Spring Training coverage presented by Camping World ::
"This is a little different scenario for me because going into Detroit, I didn't have any background there, so I was getting to know the people as I went as well as trying to prepare for a season," Ausmus said. "It's different because I was with the Angels all last year. I know the entire front office. I know the players. The players know who I am. So I think that's going to make it a little bit easier. The transition will be much easier."
Ausmus also used his year in the front office to learn more about analytics, which he plans to use more than he did in Detroit. But he cautioned there can be information overload for the players, so it'll be important for him and his staff to find the right data to give to the players.
"Analytics is part of it, and part of the reason I came on with Billy was I wanted to dive into that a little more," Ausmus said. "I wanted to learn more about what some of the measurements are and how they apply and what's important. And so I spent a good portion of this previous season as a special assistant learning. And Billy has not been shy about it -- we're going to use the information. The information helps us win games. One of the main jobs for a manager and coaching staff is taking that information and putting it in simple baseball lingo."
Ausmus will have a few roster decisions to make this spring, and he'll also be monitoring the health of first baseman Albert Pujols and designated hitter Shohei Ohtani. Pujols is returning from arthroscopic surgery on his left knee in August, while Ohtani underwent Tommy John surgery on Oct. 1. Pujols will be ready for the start of the season, but he will take it slow early in the camp, while Ohtani will not be ready for Opening Day but isn't expected to miss too much time early in the year.
• Limited to DH, Ohtani still a must-watch
As for the position battles, most of the roster is set, but David Fletcher, Taylor Ward and prospect Luis Rengifo will compete for a starting infield role. If Fletcher or Rengifo wins a spot, it'll be at second base with Zack Cozart at third, while if Ward wins it, he'll be at third and Cozart at second. Fletcher is considered the favorite, while Rengifo is an exciting prospect who is getting close to the Majors.
Additionally, Kevan Smith and Jose Briceno will compete for the backup catcher role, while Michael Hermosillo and Peter Bourjos will compete for the extra outfielder role. On the pitching side, Jaime Barria is the heavy favorite for the fifth spot in the rotation over Felix Peña, Nick Tropeano and Dillon Peters, while there could be an extra relief role open, especially if the Angels decide to carry an extra pitcher into the season while Ohtani is on the injured list.
• Predicting the Angels' Opening Day roster
So it'll be a Spring Training worth monitoring for Angels fans, especially with a new manager at the helm for the first time in nearly 20 years.