Zimmer aiming to beat injury return timeline
Outfielder working back from labrum surgery; plus updates on Perez, Martin, Bauer, Bauers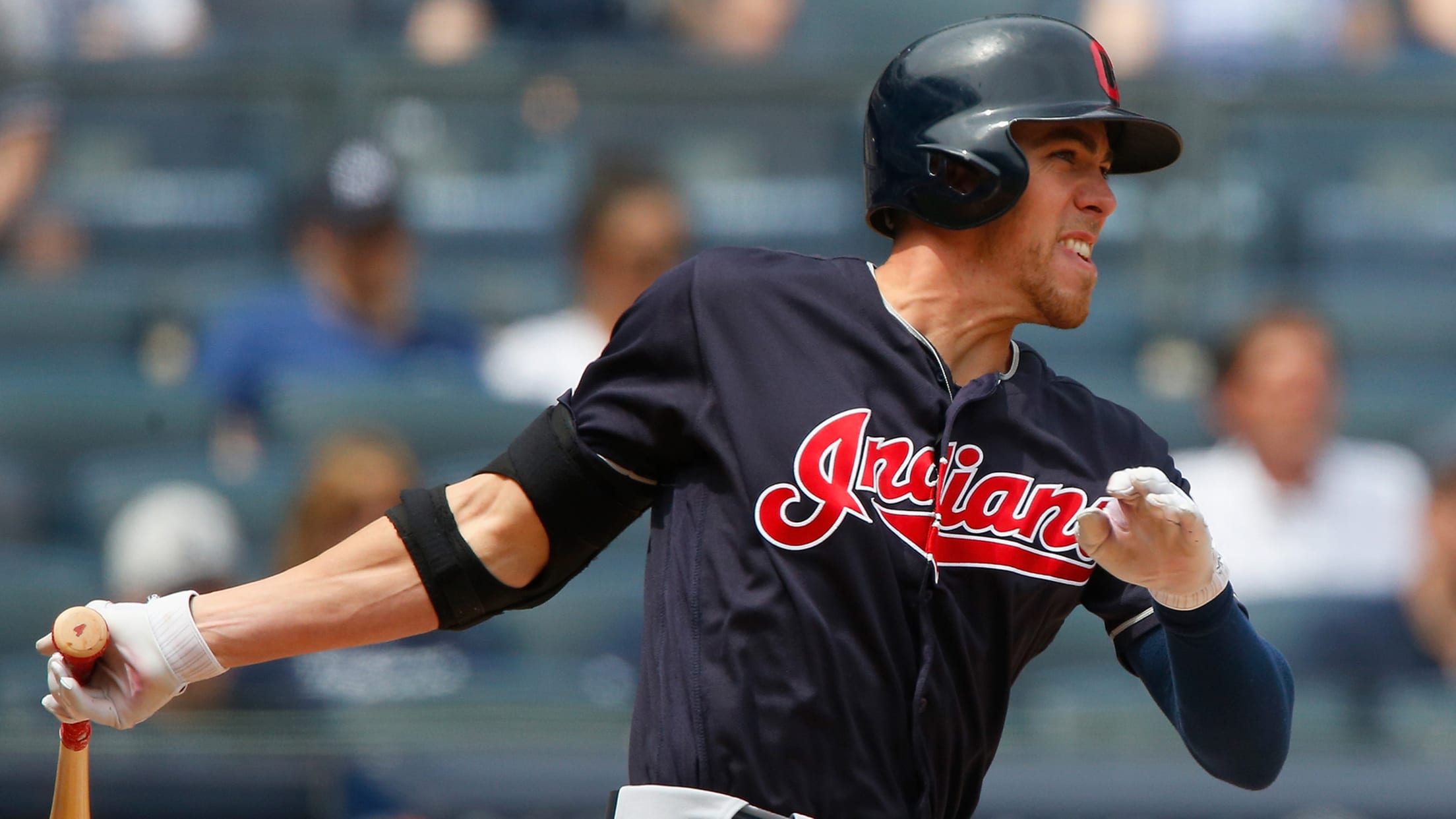 CLEVELAND -- Indians manager Terry Francona said that the team knew Bradley Zimmer wouldn't be ready to rejoin the club at the beginning of the 2019 season last month at the Winter Meetings. On Friday, Zimmer expressed a different opinion.After having arthroscopic surgery to repair the labrum of his right
CLEVELAND -- Indians manager Terry Francona said that the team knew Bradley Zimmer wouldn't be ready to rejoin the club at the beginning of the 2019 season last month at the Winter Meetings. On Friday, Zimmer expressed a different opinion.
After having arthroscopic surgery to repair the labrum of his right shoulder last July, the 26-year-old center fielder was informed that he would need 8-12 months to return to full baseball activities. Not even six months later, Zimmer said he feels as though he could be ready even sooner.
"I think everyone has their own take on it. It's anywhere from six to eight months. Maybe 12," Zimmer said. "But based on how I'm feeling now, I feel like I'll be ready for Spring Training. Whether they turn me loose by then or not, I feel like I'm in a really good place right now, physically."
Zimmer first battled a left rib contusion at the beginning of the year, before feeling a tear and discomfort in his shoulder while taking a swing in July, playing in just 34 big league games in his 2018 campaign.
"It's no fun having to watch from afar. It's tough," Zimmer said. "Anyone that has had injuries in their career can attest to that. But I think it's a good learning time for you to reflect and get back to what works for you and your routine. I had some time to myself to get physically back, but also mentally just where I need to be. I think I used all that time wisely and I'm feeling really good overall right now."
A speedy return could prove to be beneficial to the Indians, who are in need of some help beyond the infield dirt. However, the last thing the team wants is to rush the outfielder back too quickly.
"In a perfect world, I'd like to be healthy and ready to play by Day One, because I believe I belong on this team and I can contribute from the start of the season," Zimmer said. "But the timetable is not really in my hands, as far as my progression. If everything goes the way it is right now, I should be ready by early in the season."
Bauer not worried about rumors
We've all heard Trevor Bauer's name thrown around in potential deals throughout the offseason. One could assume that the endless rumors could become exhausting to the right-hander, but Bauer does not seem to be bothered in the slightest.
"No, I mean that's going to be my career," Bauer said. "I mean, I'm one-year deals the whole time, so I'm used to it. Ultimately, nothing changes, you know? Work on getting better, work on becoming a better pitcher, throwing harder, being in better physical shape, developing a new pitch, being smarter, whatever. And then you show up to the season, wherever I'm at, just try to be better."
• Indians headed to arb with Bauer, but agree with Lindor
Bauer answered one question from the media Friday afternoon, a day prior to the team's annual Tribe Fest, before cutting the interview short when asked about his social media use.
Martin is back to 100 percent
Just a few days after being traded to the Indians at last year's July 31 non-waiver Trade Deadline, Leonys Martin was fighting for his life. The outfielder was battling a severe bacterial infection that put him in intensive care and left him in the hospital for about two weeks.
Now, nearly five months later, Martin says he has regained all of his strength and feels exactly like he did prior to the illness.
"I got a second chance at this life, so I'm going to enjoy every single time that I wear the Cleveland Indians uniform," Martin said. "I'm going to be out there doing my best and try to do my job the best that I can."
Perez hopes more reps lead to more consistency
After the Indians traded Yan Gomes, Roberto Perez expected that his playing time would go up in 2019. Although he had a rough year at the plate, hitting .168 in 62 games, the catcher believes playing in more contests will only improve his consistency at the plate.
"I think playing every day you get the consistent at bats, you get the opportunity of making adjustments, you get live pitching every day," Perez said. "It's not like playing once a week, you know? You're trying to do too much because that's the only day you're going to get. But right now, I'm going to take advantage of the opportunity."
Bauers open to outfield
Although he's used to spending the majority of his time at first base, newly acquired Jake Bauers is more than willing to make some appearances in the outfield if the Tribe needs him to.
"I prefer to play whatever gets me in the lineup," Bauers said. "I know that's not the answer you want, but that's the answer you're going to get, because that's the truth. As long as I'm in the lineup, that's all I truly care about."