Belt honors college coach with newborn's name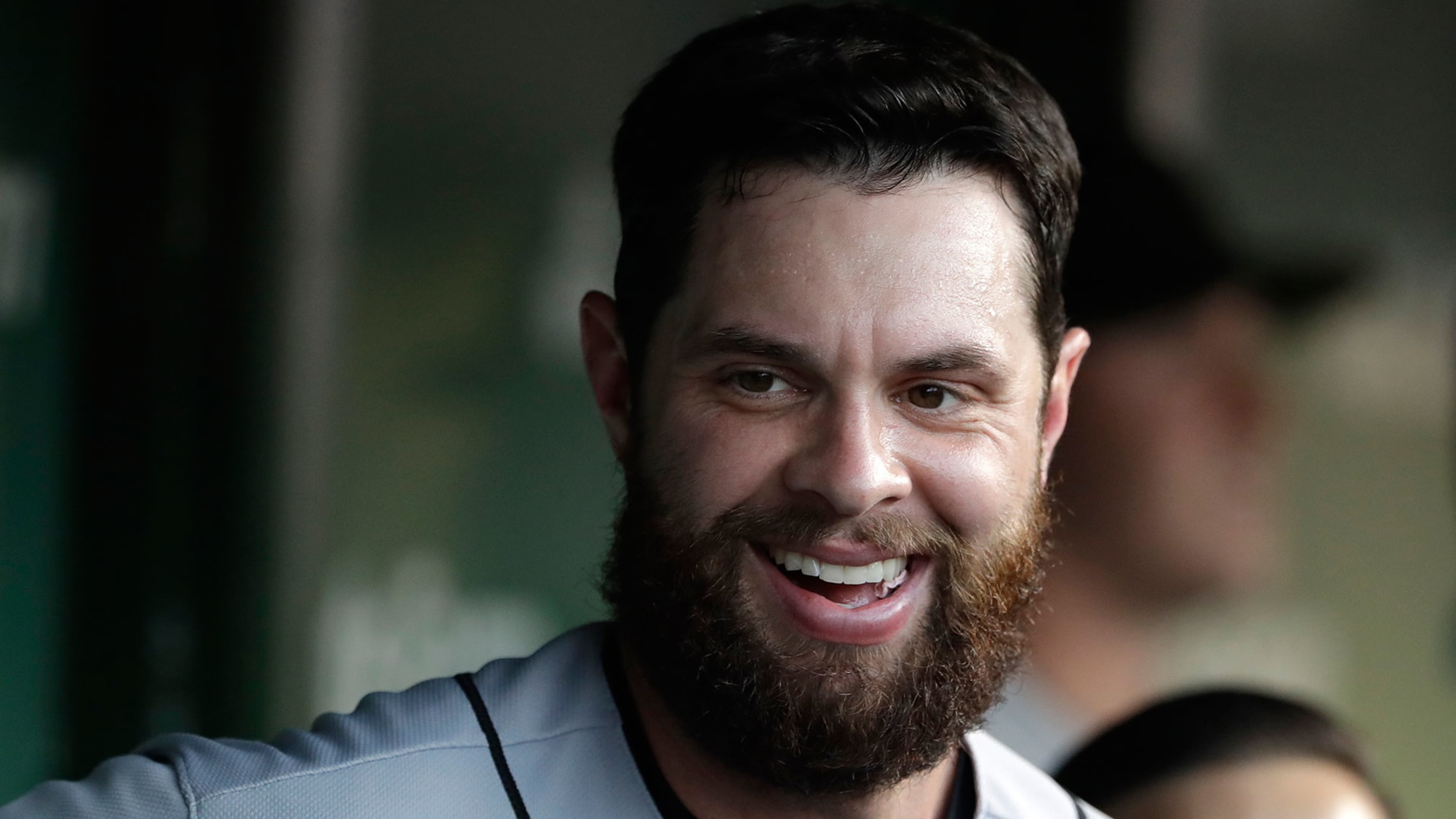 OAKLAND -- Brandon Belt fielded questions before Saturday evening's game with a Red Bull in his hand.Asked how much sleep he had gotten the night before, the first baseman hesitated."Enough."Belt wasn't in Oakland for the Giants' 5-1 win on Friday night. Instead, he watched the series opener at the hospital
OAKLAND -- Brandon Belt fielded questions before Saturday evening's game with a Red Bull in his hand.
Asked how much sleep he had gotten the night before, the first baseman hesitated.
"Enough."
Belt wasn't in Oakland for the Giants' 5-1 win on Friday night. Instead, he watched the series opener at the hospital with his newborn son, August (Augie) Kyle Belt.
Me and my boy watching the Giants take care of business. pic.twitter.com/xASZcqGXEm

— Brandon Belt (@bbelt9) July 21, 2018
The name of Belt's second son is a tip of the cap to his former college coach at the University of Texas, the late Augie Garrido. Belt starred under Garrido for two seasons (2008-09), hitting .321 with 14 home runs and 108 RBIs.
"I thought it'd be a great way to honor somebody who I truly loved and helped me in life and in my career so much," Belt said. "To me that was the coolest way I could do that."
• Belt watched Giants game with newborn son
Garrido passed away in March at the age of 79, leaving a lasting impact after a 47-year college coaching career, the last 20 of which were at Texas. Belt anticipates telling his son about the man he is named after.
"I'll tell him that Coach Garrido was always a guy who demanded the best out of you and pretty much got it," Belt said. "A guy you didn't want to let down. A guy that really, really cared about his players and that's something that the players could always feel. I think that was the most important thing, is he cared about you as a human being, and that's why he's loved so much."
Rotation decision looming
As Dereck Rodriguez cruised through a formidable Oakland lineup on Friday night, Chris Stratton twirled six electric innings for Triple-A Sacramento.
Stratton, who was optioned to Triple-A on July 7 to make room in the rotation for Jeff Samardzija and Johnny Cueto, struck out 10 across six innings, allowing just two runs. Manager Bruce Bochy took notice.
"He threw a great game," Bochy said. "A lot of strikeouts, a solid six innings, and good for Chris. It looks like he found his game last night. With [Derek] Holland here and Chris throwing the ball the way he is, it does allow you to be a little more patient if you think you need to be."
Bochy, of course, is tasked with deciding whether Samardzija will start in Seattle on Wednesday. Samardzija is on the disabled list for the third time this season with right shoulder inflammation.
"[Samardzija] will take a bullpen [session] tomorrow and we should have a better idea where we're at with him," Bochy said. "We'll probably wait until Monday to see how he feels before we make a call there."
Stratton's strong outing Friday certainly makes him a candidate to start next week, and that means Bochy may be in little rush to move Samardzija back into the rotation.
Martin Oppegaard is a reporter for MLB.com based in the Bay Area. Follow him on Twitter at @MartinOppegaard.