Drury on mend, but '18 return looks unlikely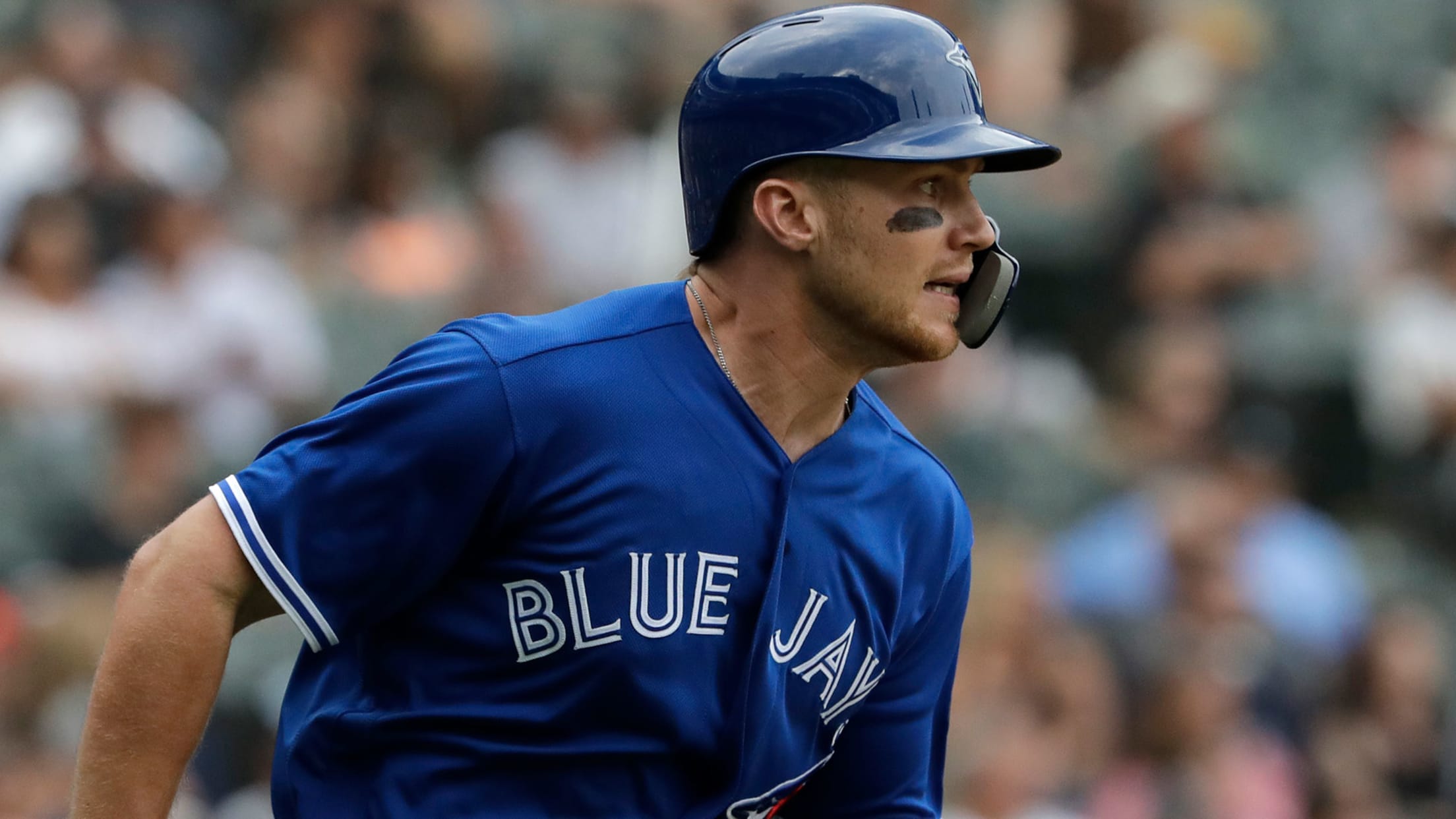 TORONTO -- Infielder Brandon Drury is making progress from a fractured left hand, but it's "doubtful" that he will return to the field before the end of the year.The Blue Jays announced Monday afternoon that Drury's hand is out of a removable brace full-time, and that he is set to
TORONTO -- Infielder Brandon Drury is making progress from a fractured left hand, but it's "doubtful" that he will return to the field before the end of the year.
The Blue Jays announced Monday afternoon that Drury's hand is out of a removable brace full-time, and that he is set to begin a hitting and fielding progression in the near future. That's the good news; but with less than two weeks remaining in the regular season, that's about as positive as it's going to get for now.
Drury was on the field Monday afternoon playing catch with third base coach Luis Rivera. He will continue to repeat that exercise along with some occasional hitting drills as the Blue Jays look to get Drury healthy before the end of the year so that he can go through a normal offseason routine.
"He's going through the way they work it," Blue Jays manager John Gibbons said. "He's definitely healing up. But there's only two weeks left and he hasn't played in a while, so I'm not sure it makes much sense [to play him]."
Drury was acquired alongside outfielder Billy McKinney in a deal with the Yankees for left-hander J.A. Happ prior to the July 31 non-waiver Trade Deadline. The 26-year-old appeared in just eight games for the Blue Jays after the trade and had four hits in 26 at-bats.
Alford gets the call
The Blue Jays recalled outfielder Anthony Alford from Triple-A Buffalo on Monday as the club made its final addition to an expanded September roster. Alford is ranked as Toronto's No. 5 prospect per MLB Pipeline and is viewed as a possible future cornerstone of the franchise in the outfield.
Alford's playing time might be sporadic over the final two weeks of the season, but the Blue Jays saw value in exposing him to the Major League environment. Alford previously appeared in 11 games for the Blue Jays and has an outside shot at competing for a job next spring.
The 24-year-old had a bit of a down year in 2018 at Buffalo with a .240 average to go along with five home runs and 34 RBIs in 105 games. This marked Alford's third full season as an outfielder after previously splitting his time between baseball and college football.
"He's one of my favorites," Gibbons said. "He's one of the good guys, he always livens up the place. We'll get him in there, probably won't be a lot, but he'll get something.
"He has everything there. Remember, he wasn't a baseball guy when he started out. He made a lot of progress early. Sometimes [those struggles] happen. I think he was a little banged up this year, but he's still a young man."
Reid-Foley to get one more start
Right-hander Sean Reid-Foley is expected to make one more start before he gets shut down for the remainder of the season because of an innings limit. Reid-Foley has tossed 155 2/3 combined innings this year in the Minors and Majors, and the Blue Jays want to make sure he is not overworked.
There was some speculation that Reid-Foley's recent performance of five scoreless innings against the Yankees would be his final one of the year, but he will return to the mound at least one more time.
"He's got at least one more start," Gibbons said. "After that, I'm not sure. But you can count on one more at least."
Worth mentioning
Reliever Justin Shafer has been diagnosed with a Grade 1 flexor strain in his right elbow. Shafer tossed two innings of one-run ball in an 11-0 loss to the Yankees on Friday and later admitted to feeling discomfort. He will be shut down from throwing at least until Toronto returns home Thursday and will be re-evaluated at that time.
The Blue Jays have yet to announce a starter for Wednesday's series finale against the Orioles, but it will go to either Marco Estrada or Sam Gaviglio. Estrada last pitched Friday in New York and wasn't scheduled to pitch until Thursday vs. Tampa Bay, but Toronto might bring him back one day early because he threw just 55 pitches in his last outing.