Hyde pieces together first win as manager
Orioles skipper thwarts Yankees' vaunted lineup with 6 bullpen arms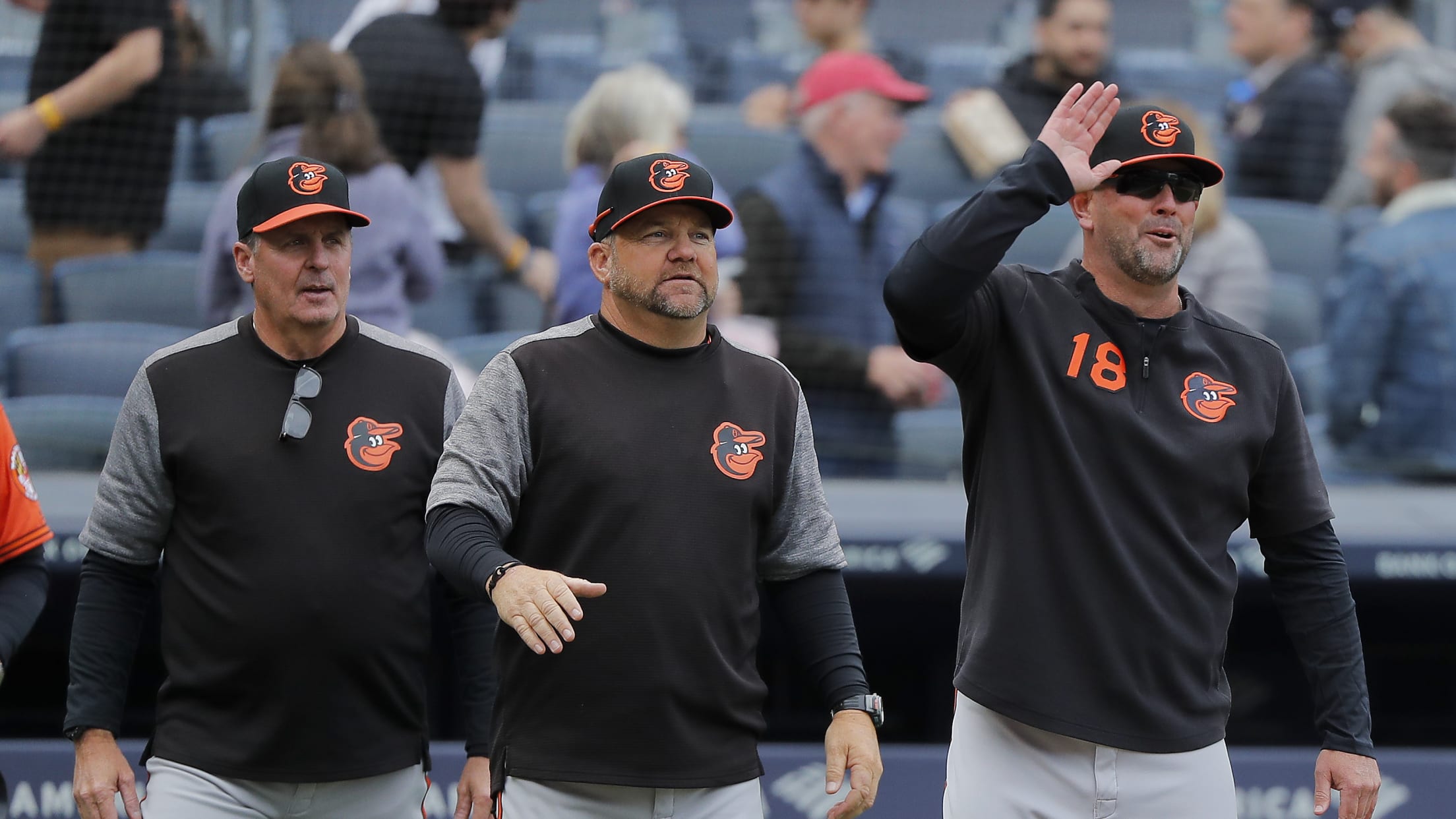 NEW YORK -- By the time Brandon Hyde emerged from the Orioles' clubhouse Saturday afternoon at Yankee Stadium with his first Major League managerial win, he'd already been muscled into a laundry cart, pushed into the team shower and doused with "all kinds of things." "There was so much spray
NEW YORK -- By the time Brandon Hyde emerged from the Orioles' clubhouse Saturday afternoon at Yankee Stadium with his first Major League managerial win, he'd already been muscled into a laundry cart, pushed into the team shower and doused with "all kinds of things."
"There was so much spray in my face, I didn't know what they were spraying," a jubilant Hyde said afterward. "I'm dripping right now, and who knows what that is."
It was a celebration many hours, six pitchers and a whole lot of planning in the making, culminating in a 5-3 triumph over the Yankees in the Bronx. Reacting to the loss of top starter Alex Cobb to the injured list just before breaking camp, the Orioles pegged Saturday as an early-season bullpen day, opting to string several of their toughest righties together with an eye toward suppressing New York's righty-heavy lineup. The O's plan on utilizing the strategy again, given their uncertainty on the pitching side and the effect to which the trial run worked.
Ain't the beer cold! 🍻 pic.twitter.com/yJsjvy2Jd7

— Baltimore Orioles (@Orioles) March 30, 2019
Here is how it went down:
Innings 1-2
RHP Nate Karns
Signed as the club's apparent No.4 starter, Karns settled into a bullpen role this spring after struggling to stretch out following two years dealing with arm injuries. That, and his history as a starter, made him the perfect candidate to become Baltimore's first "opener." Karns walked three of the first four hitters he faced but used a double play to wiggle out of the first-inning jam, completing two scoreless innings in his first game action since May 19, 2017.
Innings 3-5
RHP Jimmy Yacabonis
Part of the calculus of a bullpen game is the matchup advantages it can provide, and the Orioles felt Yacabonis' two-seamer/slider combo could create uncomfortable at-bats for New York's right-handed sluggers. Another is the advantage of limiting each hitter's exposure to any one pitcher, forcing a different look each time through the order. Yacabonis faced 13 hitters, more than any of the Orioles' six pitchers Saturday, including the meat of New York's order twice.
He allowed a run in the fourth via DJ LeMahieu's RBI single, but Yacabonis held the line and left with a lead after Gary Sanchez's throwing error brought home Richie Martin with the go-ahead run. Jesus Sucre stretched Baltimore's lead with run-scoring hits in the seventh and ninth, paving the way for Yacabonis' first win of 2019.
Innings 6-7
RHP Miguel Castro
There may be no pitcher on the Orioles who presents a tougher at-bat for righties than Castro, who slung his fastball from a three-quarter arm angle as hard as 97.9 mph Saturday, per Statcast. He worked around an infield single and a walk in the sixth before tossing a 1-2-3 seventh, Baltimore's only clean inning of the afternoon.
Inning 8
RHP Mychal Givens
The Orioles have been hesitant to name Givens their closer precisely for situations like Saturday, when Hyde called upon their longest-tenured reliever to hold a 3-1 lead in the eighth. Givens struck out three and likely would've stayed on for the ninth had Baltimore not added two runs in the top of the frame.
Inning 9
LHP Richard Bleier, RHP Mike Wright
Until the ninth, the Orioles' plans had worked more or less perfectly. This is where things got dicey. Like Karns, Bleier was returning to game action after a long injury rehab; his last appearance came on June 13, when he suffered a torn left lat that required surgery. Troy Tulowitzki greeted him rudely, lofting a solo home run over Yankee Stadium's short right-field porch. LeMahieu followed with a double, and two batters later, an Aaron Judge single brought up Giancarlo Stanton representing the tying run.
Hyde then turned to Wright, who had stretched out all spring as a starter, for his second relief appearance in two games. Though one inherited runner scored on a Luke Voit bloop single, Wright struck out Stanton and Andujar to notch his first career save. That prompted an on-field celebration that bled into the Orioles' clubhouse.
"The atmosphere was electric. The fans were obviously into it and we were searching for Hyde's first win ... I was a little pumped, a little jacked," Wright said. "There may have been some syrup on him, I don't know who did that.
"Just kidding, it was me."