Hyde's path to O's skipper filled with lessons
How an athletic childhood and three decades of baseball experience shaped Baltimore's new manager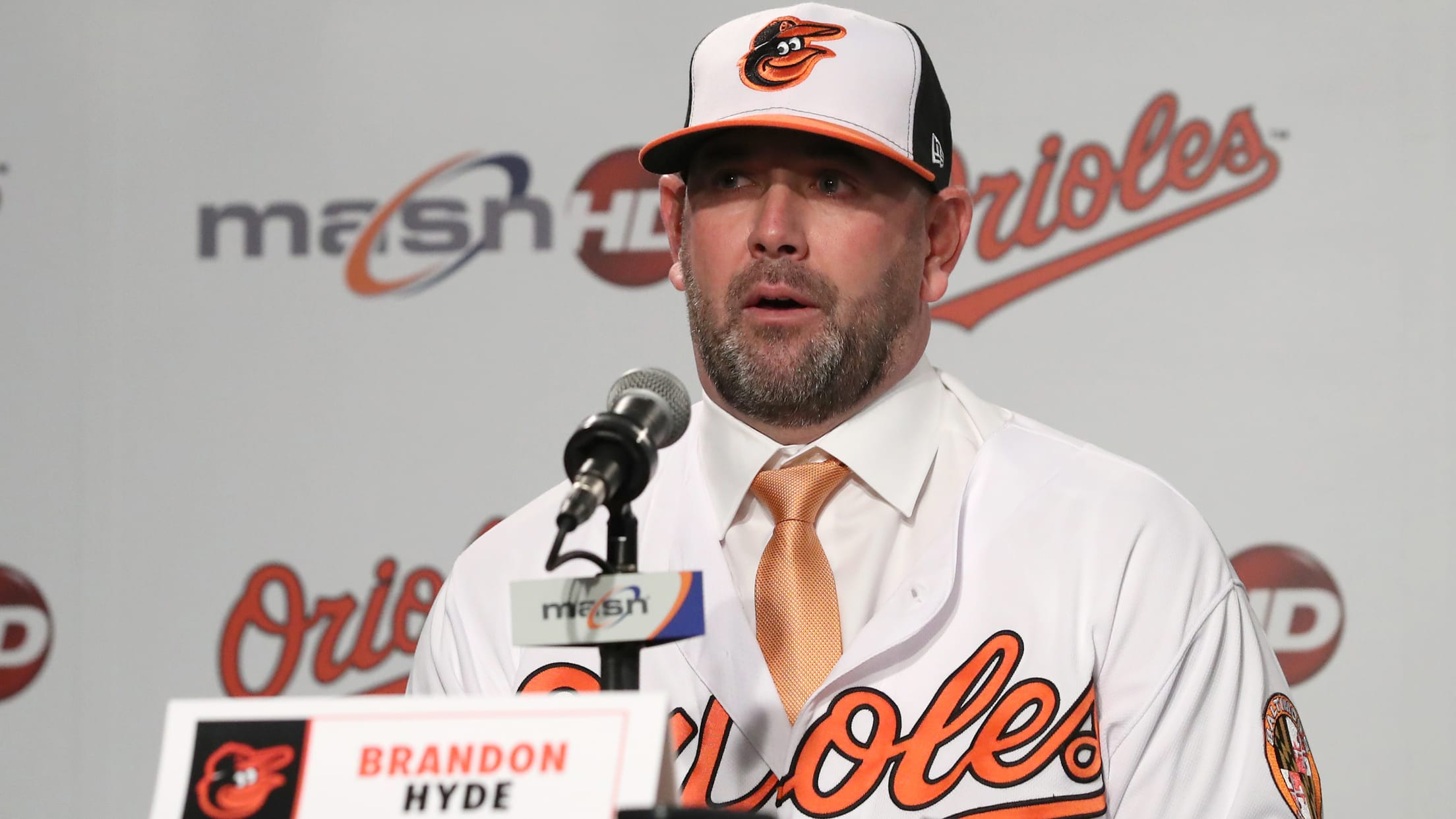 BALTIMORE, MARYLAND - DECEMBER 17: Brandon Hyde talks to the media after being introduced as the new manager of the Baltimore Orioles during a news conference at Oriole Park at Camden Yards on December 17, 2018 in Baltimore, Maryland. (Photo by Rob Carr/Getty Images) (Rob Carr/Getty Images)
The story Cubs people tell stars Brandon Hyde, is set hundreds of miles from Wrigley Field and years removed from glory. It is 2012, and the Cubs are bad. They've been bad for a while, and their poor play is precisely what Hyde, then a 39-year-old, first-time front-office member, was
The story Cubs people tell stars Brandon Hyde, is set hundreds of miles from Wrigley Field and years removed from glory. It is 2012, and the Cubs are bad. They've been bad for a while, and their poor play is precisely what Hyde, then a 39-year-old, first-time front-office member, was brought in to help fix.
A few months earlier, in one of his first moves as club president, Theo Epstein plucked Hyde from the Marlins and tasked him with a mission: Change the culture. Epstein would spend the next two years infusing talent into the Cubs' farm system, which Hyde soon oversaw as director of player development. On this particular night, Hyde is in Knoxville, Tenn., home of the Cubs' Double-A affiliate, and he doesn't like what he sees.
"So he goes into the clubhouse after the game and lights the whole team up," Jason McLeod, the Cubs' senior vice president of scouting and player development, remembered. "Some words we shouldn't be printing."
"I may have raised my voice a little," Hyde said, chuckling. "But I was so disappointed with what I saw, I wanted to let them know. What you're throwing out there isn't nearly good enough … your effort, your attention to detail. ... If you want to be a part of this thing when it happens, this is not what it looked like."
At that time, Hyde had accomplished only a fraction, professionally, of what he has now. Still, his message spoke volumes to those who heard it, and today survives as glimpse into a leadership style Hyde characterizes simply as "honesty." Former colleagues call it a blend of authenticity and accountability, and largely credit Hyde for fostering what came next in Chicago: Years of winning, an ancient World Series curse broken and a model rebuild executed with purpose and precision.
"Immediately, he brought high standards, and he wasn't afraid to kick guys in the rear when they needed it," McLeod said. "The first year, two years [of our rebuild], we had an energy to us led by Brandon that filtered down through the coaches, through the players, that almost became a rallying cry of sorts. This is what we're going to do, and we're going to go about it this way.
"He wasn't just there to tell me what I wanted to hear. There was an authenticity to him. I felt he truly, truly believes this. We thought, 'This is what we needed.'"
*
As his college days wound down and then throughout his mid-20s, people constantly told Hyde he'd end up coaching. This had less to do with his ceiling as a player, which was admittedly limited ("I was a right-handed hitter who hated the right-handed slider," Hyde recalled), and more with his makeup and drive, the seeds of which were planted long before.
The only son of two elementary school teachers, Hyde was raised in a "teachers' household" wedged into the wine country hills of Santa Rosa, Calif., a blue-collar enclave north of San Francisco situated between Napa Valley and the sea. Teaching allowed Hyde's father, Barry, summers off, which left plenty of time to nurture his eldest child's burgeoning love for athletics.
"He was a pretty driven guy from the time he was about two years old," Barry Hyde said. "I fell in line with what he wanted, and from the get-go that was sports."
Basketball provided one of Brandon Hyde's earliest educations (Barry Hyde had played collegiately), and he actually garnered more interest coming out of Montgomery High as a shooting guard than he did as a catcher. Soon, baseball became a priority, too.

"He was very, very positive," Brandon Hyde said of his father. "He was the kind of dad who was always around, rebounding for me, throwing batting practice constantly. We would find some little field or crappy park, and he'd throw a trash can in front of him as an L screen."
For a full decade, the highlight of their annual family road trip south was a detour to either Dodger Stadium or Angel Stadium. Brandon Hyde, though, grew up a Giants kid. Baseball card collections filled his drawers. Will Clark posters lined his walls. On Little League mornings, his father wrote out lineups while Brandon Hyde strapped on wristbands with Chili Davis' face on them. That he grew up to coach on the same staff as Davis in Chicago last season still tickles the 12-year-old in him.
"I just loved to compete, loved to play. It mattered to me," Brandon Hyde said. "I was the kid sleeping in his uniform the night before the game."
Sports provided a backdrop that Barry Hyde and his wife, Lucy Hyde, used to tailor their lessons around larger themes, like respect, accountability and loyalty. In doing so, they raised a son known for being fiercely protective of his family and friends, many of who remain some of the most important people in Brandon Hyde's life.
So close-knit is the group of buddies he formed in Santa Rosa, he shouted them out during his introductory press conference in Baltimore, in the same breath as his family. They are police officers, high school coaches and rivals in the same fantasy football league they've competed in for years. They travel together to visit Brandon Hyde each season along the MLB circuit, popping up at Spring Training, at the World Series and various outposts in between. They are people who Brandon Hyde says he wishes he "could repay sometimes."
"I'm the only one who left town," he said. "One of the things I feel bad about is, my kids don't get a chance to be around their kids."
Some were high school teammates. Others go back even further, to CYO basketball and Little League teams. Barry Hyde was often the coach of those squads, which tended to include the children of his friends, many of which were instructors as well, in some capacity.
"I've always been around teaching or coaching," Brandon Hyde said. "My whole life."
Which is part of the reason he can look back fondly on one of his father's most poignant lessons. Brandon Hyde was in seventh grade when disappointment washed over him one morning on the drive to their local Little League complex. Looking back, he realizes that was Barry Hyde's intention. The father wanted his son to remember the moment when he turned, nonchalantly, toward the passenger seat with the worst news a baseball-obsessed seventh-grader could hear.
"I thought Vince had a better practice than you this week," Barry Hyde said, referencing a young teammate. "So I'm going to start him instead."
"What are you talking about?" his son asked.
"Vince earned it," Barry Hyde replied. "He played better than you did."

Brandon Hyde still relays the story, all these years later. He's gotten some mileage out of the moral, having carried it with him throughout what was an incremental, at times painful, three-decade climb up the baseball rungs: three colleges, a dead-end Minor League career, independent ball, then the 20 years of coaching that followed.
"I remember telling myself that is never going to happen again," Brandon Hyde said. "At the time I was mad, but my dad was still teaching me accountability. You still have to compete like you're anybody else. I'm not just going to play because I was his kid. That taught me nothing comes easy and you're going to have to grind for anything, for everything."
Another time, Lucy Hyde implored their son to accept their help. This was sixth grade, and Brandon had a book report due the next day. Problem was, he'd just broken his arm, and the report needed to be typed. The parents offered to type it for him, given the circumstances.
"He marched down to the library and typed it up himself," Barry Hyde said. "That's just the kind of guy he was. He knew he was the one who was supposed to do it, and he did it."
*
As the young Cubs grew into champions, so did Brandon Hyde's standing in the game. By this winter, he'd honed a reputation as someone who married, as one rival executive put it, "tremendous baseball intelligence, exceptional experience and great relationship-building skills." This blend was what ultimately led the Orioles to him, and they weren't alone. Brandon Hyde spent November interviewing for managerial openings with five clubs, including four in rebuilding phases. He eventually became the top target for a new regime in Baltimore that, in the weeks to come, would narrow its search to six candidates.
"His was the first name I heard," Orioles executive vice president and general manager Mike Elias said. "Every call I made, his name always came up."
Over the course of a day in Baltimore, Brandon Hyde outlined to Elias and assistant GM Sig Mejdal how he'd gotten to this point and what he'd learned along the way. He expalined how he'd grinded through four Minor League seasons after playing his way onto Long Beach State and how he'd held on in independent ball before a broken hand halted his playing career at age 27 in 2001.
"At that point, I was pretty frustrated with how my career was going, and really had nothing," Brandon Hyde said. "I was at a crossroads in my life. What am I going to do with my life?"

Long Beach State called the next day, offering a graduate assistant position. He finished his degree and was with the Marlins two years later, their hitting instructor at Class A Jacksonville. From there, opportunities kept coming. Nine years with the Marlins led to seven more with the Cubs, who returned him to the dugout in 2014. In all, Brandon Hyde has held executive titles, player-development roles and positions on coaching staffs at every level.
He arrived at Camden Yards armed with an understanding of how different levels of an organization interact, a respect for analytics, an appetite for collaboration and experience as a bench coach for four Major League managers, including Jack McKeon and Joe Maddon.
"He brought such a wide breath of perspectives," Elias said, "from the way he views the game, the manager's role, the way he views the relationship between the manager's office and the front office and certainly the specific mentorships he benefited from."
To Brandon Hyde, the Orioles are practically oozing with parallels to the Cubs of yesteryear. Elias and Mejdal plan to model the team after the Astros, who they were helping to build from an even lower point when Brandon Hyde was starting in Chicago. Herein laid the common ground for a contingent committed to resurrecting a 115-loss franchise by a process Elias says "has no shortcuts."
Which means more losses are bound to come, in bunches. Those who know Brandon Hyde say that, due to his competitive nature, they will hurt. But Elias and Mejdal hired him to be someone with enough foresight to see beyond them, someone uniquely versed in the realms of patience and payoff. Not as a stopgap until winning arrives, but as someone who knows how to cultivate it from the ground up.
Brandon Hyde's job now is to be the daily face of that process, which he hopes will be defined by "open thinking, creative ideas and staying positive throughout."
"My goal is to develop the talent that's here and try to improve every single day," he said. "The bottom line is to be true to yourself. My players have always seen how invested in them I am. And then because of that, you can always have honest conversations, because I care about their career, and they know it. You can have those accountability kind of talks because you're backing it up."