Alarming numbers? Colon, Snitker not worried
Braves starter labors in second consecutive outing, but preparation outweighing results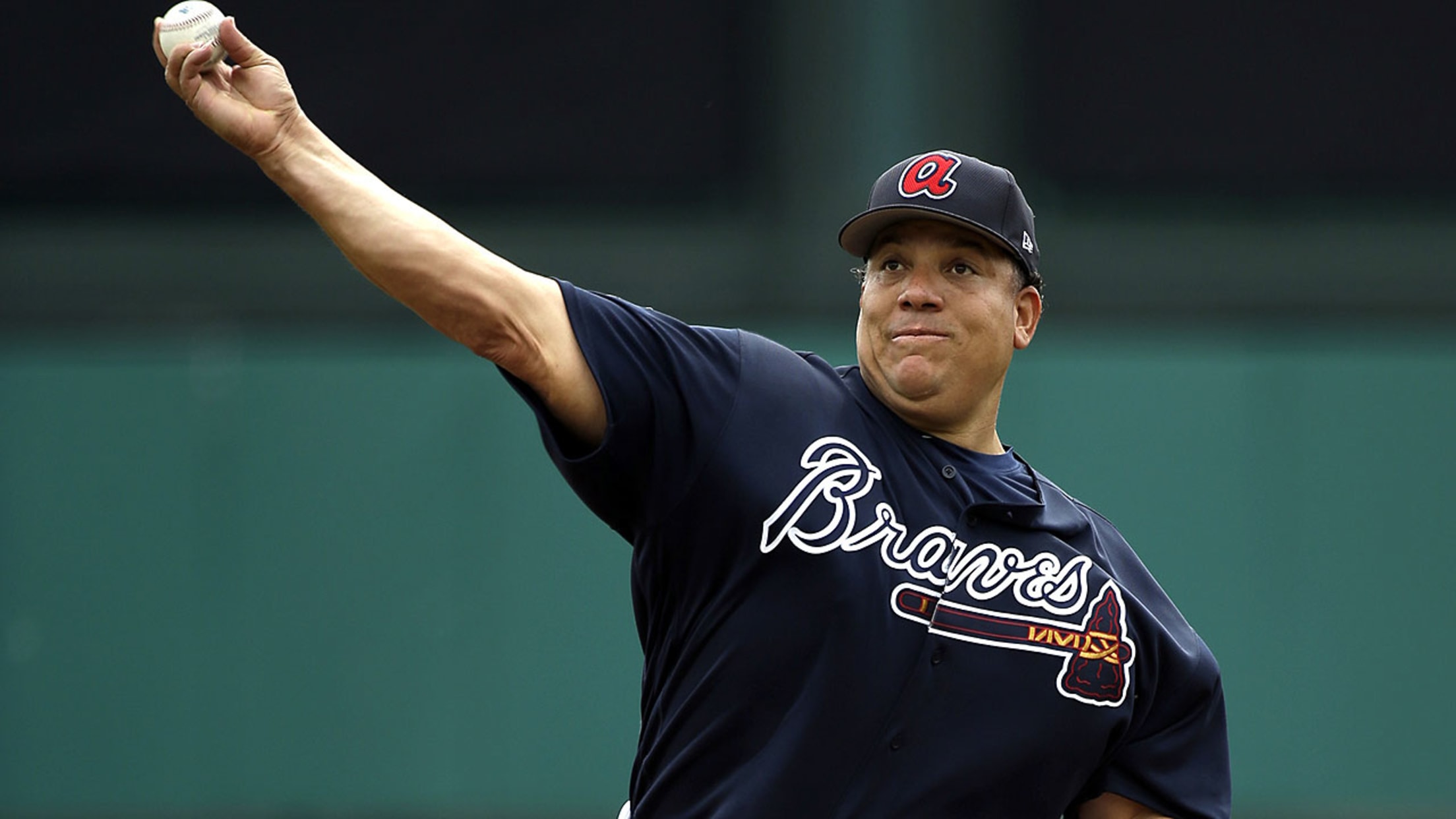 Bartolo Colon: "Right now, I'm just taking this time and this opportunity to work on the things I want to work on." (AP)
LAKE BUENA VISTA, Fla. -- Braves right-hander Bartolo Colon isn't concerned about the results of his recent trips to the mound, but that doesn't change the fact that he's been roughed up in similar fashion in two consecutive starts.Colon allowed six runs on eight hits while walking two over 3
LAKE BUENA VISTA, Fla. -- Braves right-hander Bartolo Colon isn't concerned about the results of his recent trips to the mound, but that doesn't change the fact that he's been roughed up in similar fashion in two consecutive starts.
Colon allowed six runs on eight hits while walking two over 3 2/3 innings in Saturday's 7-5 loss to the Tigers. In Monday's start against the Pirates, he gave up five runs on eight hits and walked two over three innings.
The Tigers worked Colon's pitch count throughout his start, with a pair of full-count walks factoring into two runs. Colon also ran into some bad luck in the second, when Brandon Phillips misplayed what appeared to be an inning-ending double-play ball, opening the door for four Tigers runs in the frame.
Colon settled down in the third inning, striking out JaCoby Jones and Alex Avila as part of a perfect frame. In the fourth, Colon allowed consecutive one-out singles before Nicholas Castellanos chased him with a two-out ground-rule double for his third RBI of the game.
"I'm not too worried about the results out there, as far as the hits and runs," Colon said through an interpreter. "The most important thing is that I feel well, feel healthy and feel good. Right now, I'm just taking this time and this opportunity to work on the things I want to work on."
Colon struck out four among his 80 pitches, 52 of which were strikes. Manager Brian Snitker agreed with Colon that the results did not matter as much as elevating his pitch count and preparing for the season.
"I think he's fine -- I don't worry about a guy like that," Snitker said. "He's, I'm sure, trying to hit location and paint and all that. Sometimes you get it, and sometimes you don't."
Colon found better results at the plate, when he laid down a squeeze bunt to score Kurt Suzuki from third and advance Chase d'Arnaud to second in the second inning, his only plate appearance.
"I'm kind of glad it was a bunt, just because we really haven't put too much time and effort into practicing or taking [batting practice] for the pitchers yet," Colon said. "I'm getting into that time now, so I'm kind of glad that was the ... opportunity that I got."
In Colon's 14 2/3 innings through five starts this spring, he has a 9.20 ERA and 1.91 WHIP. His next scheduled start is March 26 against the Mets in Port St. Lucie.
Zak Kerr is a contributor to MLB.com and covered the Braves on Saturday.