Snitker reflects on Memorial Day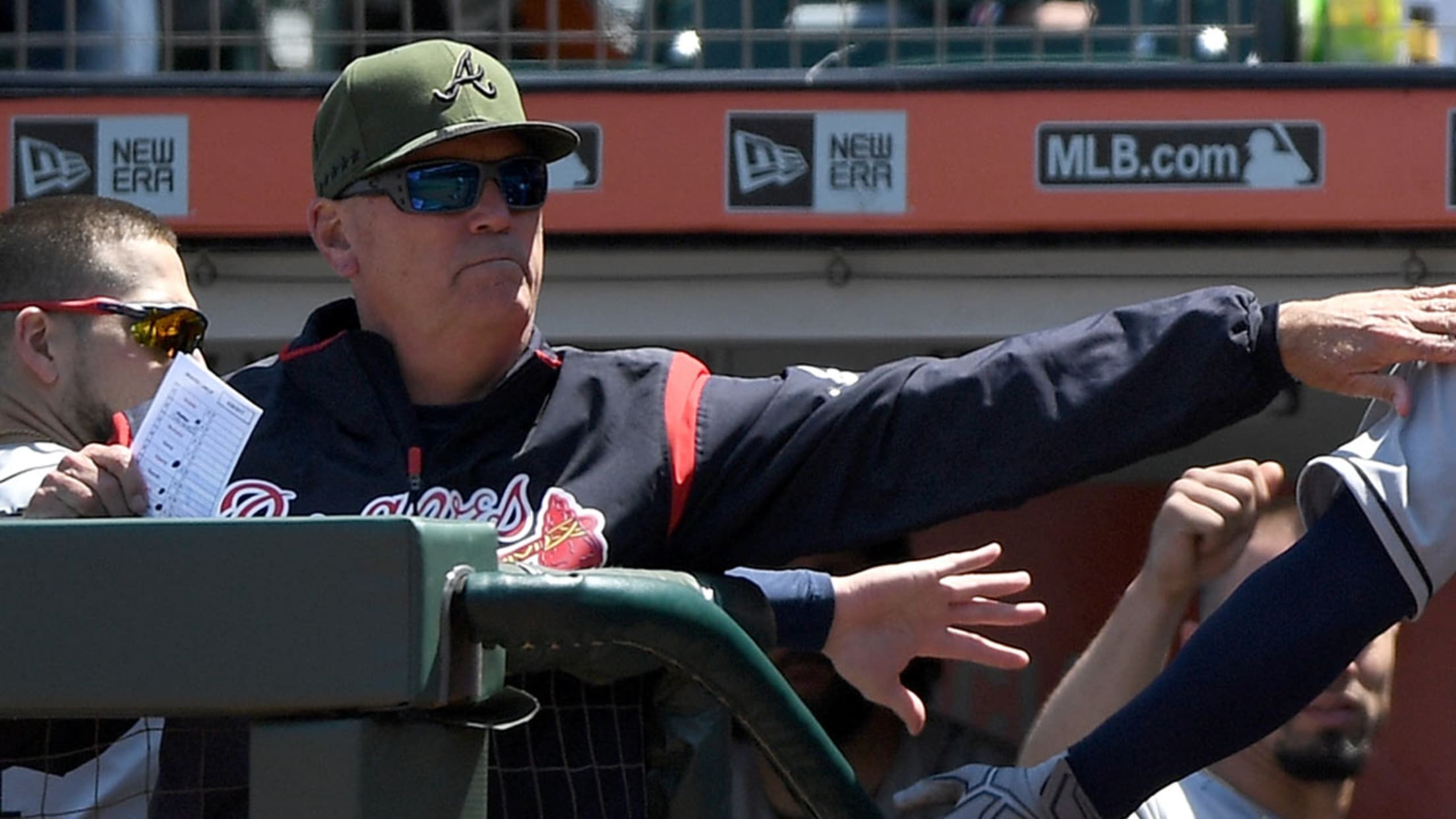 Brian Snitker and the Braves have worn special Memorial Day gear since Saturday. (Getty Images)
ANAHEIM -- Memorial Day bears special meaning to Braves second-year manager Brian Snitker. Justin Lansford, his son's good friend who served in Afghanistan, is one reason in particular.Snitker said he texted Lansford "just let him know I was thinking about him" on Monday morning."I continually pray for him and his
ANAHEIM -- Memorial Day bears special meaning to Braves second-year manager Brian Snitker. Justin Lansford, his son's good friend who served in Afghanistan, is one reason in particular.
Snitker said he texted Lansford "just let him know I was thinking about him" on Monday morning.
"I continually pray for him and his wife, and everything that he's been through and all the good that he's continuing to do now, even with his disability," he said. "He's doing amazing, and always has been."
Lansford, whose life was nearly lost because of injuries sustained in Afghanistan, lives in Tampa, Fla., and assists with the Wounded Warriors project, according to Snitker. His wife, Carol, trains service dogs. Snitker said he admires how Lansford and other injured veterans he's encountered maintain a positive outlook on life.
"I think about a lot of those guys that you see and you get to know," he said. "Just the courage they have. The outlook -- it just blows me away, their outlook on life, and how they just cherish every minute. It's kind of powerful when they acknowledge those guys on days like this."
All 30 teams in the Major League have sported camouflage jerseys throughout Memorial Day weekend to honor those who have served.
Snitker happy former Braves finding way with Halos
Snitker, who took over Atlanta's managerial duties in May 2016, said he was happy with how former Braves pitcher Bud Norris, shortstop Andrelton Simmons and outfielder Cameron Maybin have fit in with the Angels.
Norris, who's served as a closer for the first time in his career with the Angels, has "been doing good," according to Snitker. He said he "put [Norris] in the eighth inning just because of his stuff." Norris entered Monday night with nine saves this season.
Snitker said he was especially happy to see Simmons, who he said was best shortstop he's seen since Rafael Furcal.
"He's a fun kid to be around," Snitker said. "His skill set and the instinct and just where he is on the field. He's on fire when he's out there in defense."
Worth noting
• Shortstop Brandon Phillips, who left Sunday's game against San Francisco with a right knee contusion, was left out of Monday's lineup. Snitker said he hopes Phillips will be able to play Tuesday and serve as a designated hitter.
• Outfielder Matt Kemp is performing well at the plate in May. Entering Monday, he had slashed .356/.510/.906 in 25 games this month.
"He's one of guys whose bat stays in the zone for a long time," said Snitker. "He's just a good hitter. He's not just a run producer, he's a good hitter."
Kaelen Jones is a reporter for MLB.com based in Los Angeles.