Garber still a spring chicken in Braves camp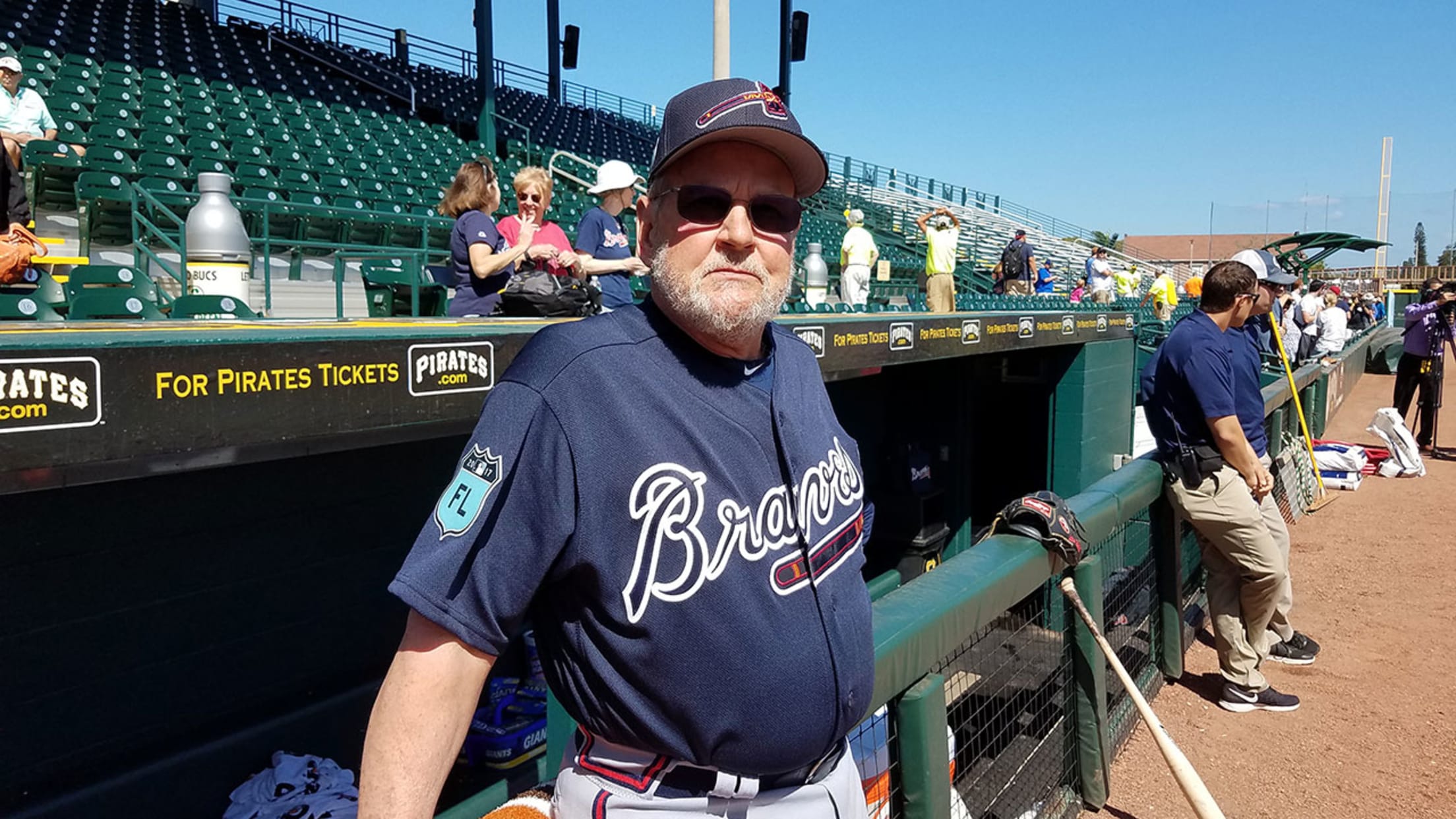 Gene Garber has been a guest bullpen instructor in Braves camp for 12 straight seasons. (Mike Nabors)
BRADENTON, Fla. -- You wonder where former Braves reliever Gene Garber is these days? Most of the time you can find him working on the farm -- not the Minors -- "his" farm."Now we have chickens, that keeps us busy."Garber has been busy working on his Pennsylvania farm since he
BRADENTON, Fla. -- You wonder where former Braves reliever Gene Garber is these days? Most of the time you can find him working on the farm -- not the Minors -- "his" farm.
"Now we have chickens, that keeps us busy."
Garber has been busy working on his Pennsylvania farm since he retired following the 1988 season, but this is his 12th straight spring as the Braves' guest pitching instructor.
"They say I can talk to any of the young pitchers that I care to and they don't care what [I] say to them," Garber said. "They must trust me."
Braves manager Brian Snitker trusts Garber, as he was his bullpen coach his last year in Atlanta and is happy to reunite with him this spring.
"I love to see Geno, he's part of our history here." said Snitker.
"It's really neat to be able to see him here," said Garber. "Tremendous baseball guy and I'm just really happy they've given him the opportunity to run this club."
Garber played in Atlanta for 10 of his 19 Major League seasons, and saved 218 games. He saved 30 for the Braves when they won the National League West title back in 1982.
Garber's unusual delivery originated after he watched Luis Tiant display his version of the "back-to-the-batter" approach in a rehab stint when Garber was a Minor Leaguer. It forever changed his career, thanks to some coaxing from then Minor League player/coach and former big leaguer Pedro Gonzalez. Gonzalez convinced Garber to change his delivery on the spot, and he found immediate comfort and success with the new approach.
"When he suggested that I might want to use it more, that's when I started going to it. After one game, nobody said, 'You better change back where you used to be.'"
It worked for Garber, but he isn't confident it could work for today's young Braves pitchers.
"Nobody wants to have that reputation that they're a little slow delivering the ball to home plate, but for me it allowed me not to have as many guys on base. I was able to get by with it."
Garber isn't passing on his delivery this spring, but he is passing on how to implement his trademark pitch.
"I was a changeup pitcher, that was my number one pitch. In this day and age, there aren't [any] Trevor Hoffman's anymore and there should be. Everything is so much based on great velocity, rather than a lack of velocity. A lot of these pitchers would really like to learn to throw a changeup."
The pitch worked wonders for Garber, who had a long career yet missed the golden age of Braves pitching in the nineties. Where would he have fit, in relieving the likes of Tom Glavine, John Smoltz and Greg Maddux?
"I'm not sure I [would have] wanted to be the closer, that was back when guys wanted to go nine innings. I wanted to pitch and I didn't like just pitching one inning. If they needed two or three innings, it didn't bother me at all."
Just getting a taste of it every spring is enough for one of the most memorable Braves -- before he returns to the chickens.
Mike Nabors is a contributor to MLB.com.