Thursday's best: Anderson fans 11 in gem for Rome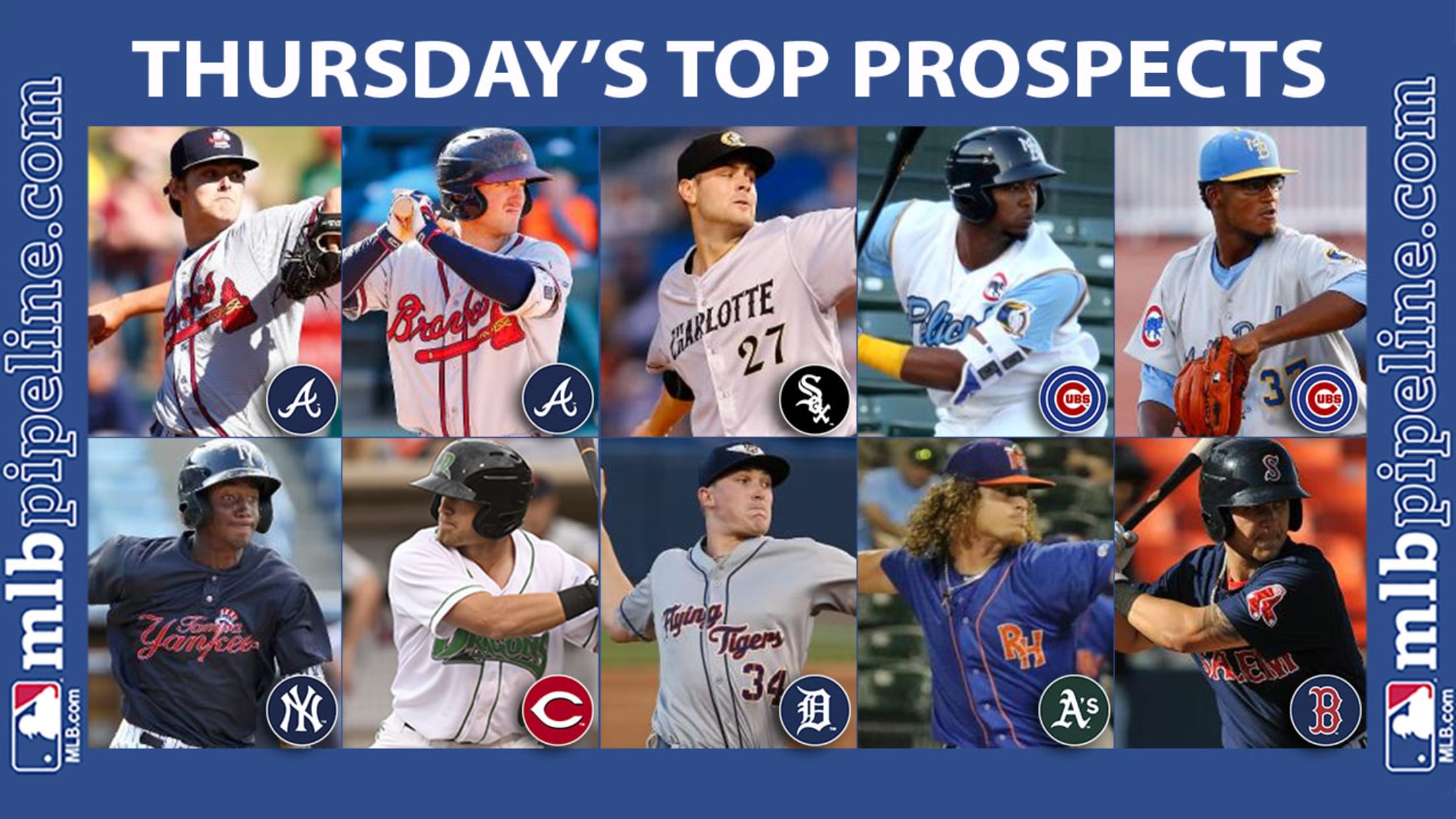 The Atlanta Braves' decision to assign Ian Anderson to Class A Rome this season had as much to do with his makeup as it did his pure stuff, as they believed he possessed the aptitude needed to overcome struggles and make adjustments against advanced competition.The Braves' No. 6 prospect did
The Atlanta Braves' decision to assign Ian Anderson to Class A Rome this season had as much to do with his makeup as it did his pure stuff, as they believed he possessed the aptitude needed to overcome struggles and make adjustments against advanced competition.
The Braves' No. 6 prospect did exactly that on Thursday night against Augusta, as he rebounded from what had been a shaky month of May to set a career high with 11 strikeouts over six scoreless innings in his best professional start.
"I've been feeling good, but the results haven't been there," Anderson told MiLB.com. "[Rome pitching coach Dan Meyer] just told me, 'Keep grinding, keep going out there every fifth day and things will turn around.' It's great to have someone backing you up like that. It felt great to go out there and show what I can do."
Anderson, MLBPipeline.com's No. 77 overall prospect, allowed one hit, one walk and hit one batter in the performance, though ultimately received a no-decision after departing with a 1-0 lead. He threw 88 pitches, 56 for strikes.
"Getting ahead for the most part and being able to put them away with the curveball was the biggest thing for me," Anderson said. "Being able to throw it so that it looks like a strike and have it dive out of the zone, it was a big pitch for me and that all comes from getting ahead and attacking the hitters."
Anderson's gem was his second scoreless start this season in nine turns for Rome. The 2016 first-round pick (No. 3 overall) had struggled in his previous four starts, going 0-3 with a 6.88 ERA and a .358 batting average against after posting a 1.93 ERA in four April starts.
Overall, the 19-year-old righty has pitched to 3.73 ERA with 59 strikeouts, third-most in the South Atlantic League, over 41 innings to begin his first full season.
Rome eventually would win the game, 6-2, in 10 innings. Braves No. 29 prospect Brett Cumberland provided the big blow with a go-ahead, bases-clearing double in extras. He drove in four in the contest, giving the 21-year-old catcher 17 RBIs in his last six games.
The rest of the best performances from top prospects Thursday
• No. 8 overall prospectLucas Giolito (White Sox No. 2) fired a seven-inning no hitter with three walks and three strikeouts for Charlotte in Game 1 of a doubleheader against Syracuse, the Triple-A affilitate of the 22-year-old right-hander's former organization. He recorded eight ground-ball outs and five flyouts, with 50 of his 87 pitches going for strikes in the outing. The no-no also did wonders for Giolito's ERA, which dropped to 5.44 from 6.41 behind his seven scoreless frames.
MILB Video - Title: Giolito gets final out of no-no - Url: http://www.milb.com/r/video?content_id=1427816583
• No. 10 overall prospect Eloy Jimenez (Cubs' No. 1) hit a first-inning grand slam to stake Class A Advanced Myrtle Beach to an early lead before finishing 2-for-5 with five RBIs. The homer was his second in his last three games and third of the season, and he now has 10 RBIs through nine games. On the mound, Oscar De La Cruz (No. 5) struck out a season-high 10 batters in 5 2/3 innings to pick up his fourth win. He allowed three earned runs on five hits and two walks.
MILB Video - Title: Jimenez jacks grand slam to left - Url: http://www.milb.com/r/video?content_id=1428691783
• No. 40 overall prospectJorge Mateo (Yankees' No. 5) went 4-for-7 with four extra-base hits to pace Class A Advanced Tampa in a doubleheader sweep of Jupiter. He did much of his damage in the nightcap, going 3-for-3 with two triples and a double after finishing 1-for-4 with a double and a steal, his 17th, in the opener.
• No. 76 overall prospectGrant Holmes (A's No. 3) allowed one earned run on two hits over six innings in his longest start of the season for Double-A Midland. He issued three walks and matched his season high with six strikeouts, ultimately throwing 54 of his 99 pitches for strikes.
MILB Video - Title: Watch: Holmes goes 6 strong - Url: http://www.milb.com/r/video?content_id=1429135783
• Tigers No. 3 prospect Beau Burrows lowered his Florida State League-leading ERA to 1.22 with six innings of one-run ball for Class A Advanced Lakeland. The 20-year-old righty allowed two hits, walked a pair and fanned a season-high nine. Along with the best ERA, Burrows is tied for the league lead in strikeouts (56) and ranks second in WHIP (0.97).
• Red Sox No. 10 prospect Michael Chavis went 3-for-4 with a double and a three-run homer to pace Class A Advanced Salem in Game 1 of a doubleheader sweep against Buies Creek. The 21-year-old third baseman is having a breakout campaign, as he leads the Carolina League in average (.360), on-base percentage (.440) and slugging (.712), ranks second in homers (11) and total bases (99) and owns a share of third with 39 RBIs.
• Picking up a game from Wednesday that was suspended due to rain after 13 scoreless frames, Reds No. 15 prospect T.J. Friedl hit a go-ahead solo homer in the top of the 16th inning for Class A Dayton, only to see Great Lakes walk it off in the bottom half. The 21-year-old outfielder then continued his power surge in their regularly scheduled game, going 2-for-5 with two homers, five RBIs and three runs scored in a 14-6 Dragons victory.
MILB Video - Title: Friedl's second homer is grand - Url: http://www.milb.com/r/video?content_id=1426979583
• Rangers No. 27 prospect Juremi Profar tallied four hits and four RBIs to lead Double-A Frisco past Northwest Arkansas, 5-3. One those hits was the 21-year-old third baseman's fourth homer, and he also plated runs with a single and a double before finishing 4-for-4. He's batting .500 (17-for-34) over his past eight games, during which he's raised his season average to .297 from .248.
MILB Video - Title: Profar's homers for fourth hit - Url: http://www.milb.com/r/video?content_id=1428205183
• Rays No. 28 prospect Genesis Cabrera spun seven scoreless innings of one-hit ball in game 1 of Class A Advanced Charlotte's doubleheader sweep of Daytona. He issued one walk and struck out seven, throwing 55 of his 81 pitches for strikes in a no-decision. The 20-year-old lefty has been excellent this month, posting a 1.17 ERA and a 0.91 WHIP with a .140 opponents' batting average in 30 2/3 innings (five starts).