Opening Day FAQ: Braves vs. Phillies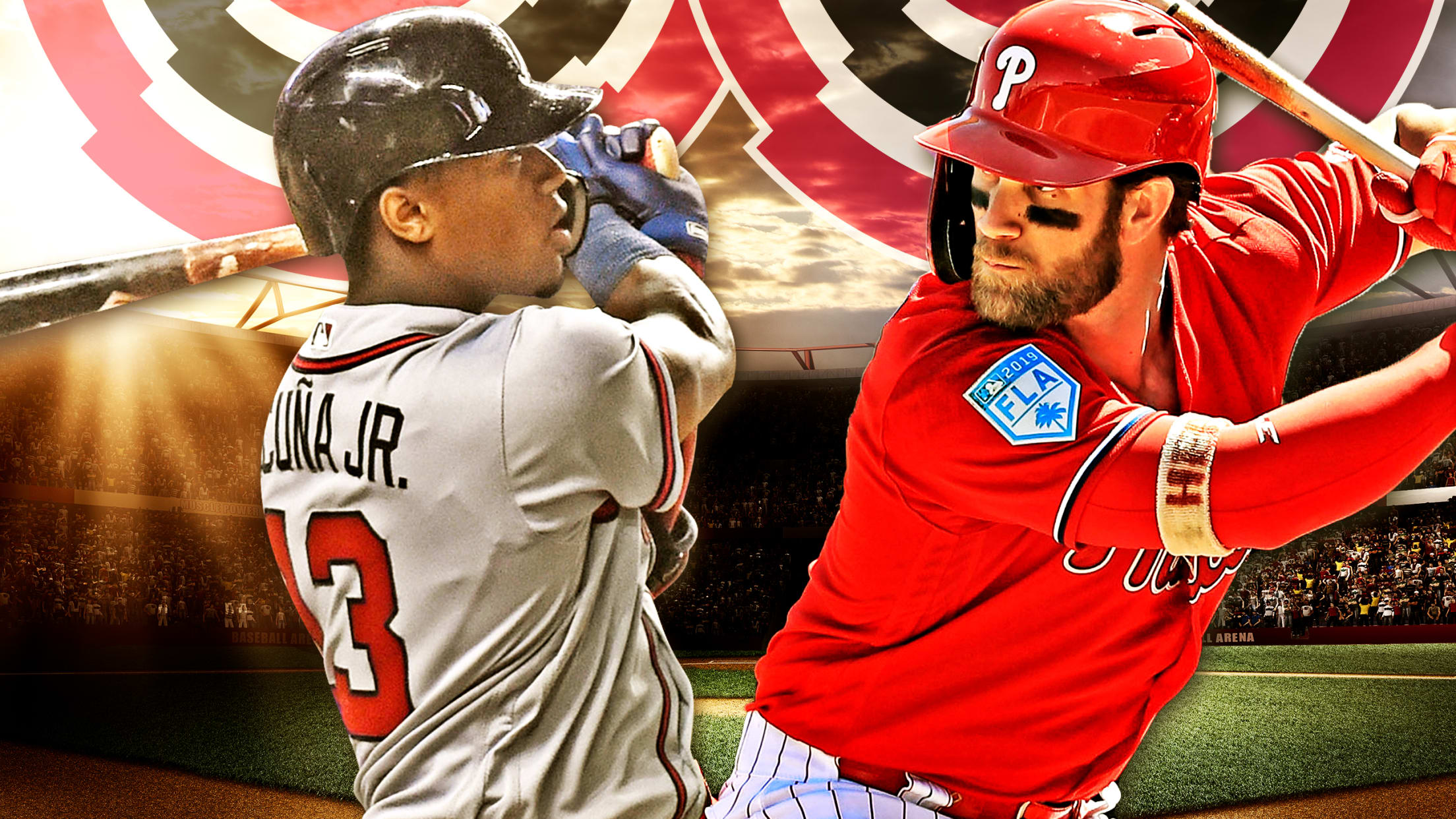 The National League East could be baseball's biggest battle royale in 2019. Two of its title contenders open the 2019 regular season against each other Thursday afternoon at Citizens Bank Park, where the defending champion Braves play the no-longer-rebuilding Phillies, who are looking to make the postseason for the first
The National League East could be baseball's biggest battle royale in 2019.
Two of its title contenders open the 2019 regular season against each other Thursday afternoon at Citizens Bank Park, where the defending champion Braves play the no-longer-rebuilding Phillies, who are looking to make the postseason for the first time since '11.
The Phillies might have won the offseason with the acquisitions of Bryce Harper, J.T. Realmuto, Andrew McCutchen, Jean Segura and David Robertson. But winning the offseason means nothing once the regular season starts. The Braves have heard throughout the spring that the Phillies and Nationals are now the favorites to win the NL East. They plan to prove the doubters wrong. A strong showing this weekend would be a good start.
When is the game and how can I watch it?
Thursday at 3:05 p.m. ET
Atlanta: FSSE for TV and 680 AM/93.7 FM for radio
Philadelphia: NBC 10 for TV and 94 WIP and WTTM 1680 for radio
The starting lineups
Braves: This weekend's matchup includes two of the game's top lineups. The Braves will bunch their three NL MVP Award candidates -- Josh Donaldson, Freddie Freeman and Ronald Acuna Jr. -- behind Ender Inciarte, who has shown he can be a capable table setter against right-handed pitchers. The length of the lineup will be significantly influenced by how Ozzie Albies fares from the left side of the plate.
Official lineup
1) Ender Inciarte, CF
2) Josh Donaldson, 3B
3) Freddie Freeman, 1B
4) Ronald Acuña Jr., LF
5) Nick Markakis, RF
6) Ozzie Albies, 2B
7) Brian McCann, C
8) Dansby Swanson, SS
9) Julio Teheran, P
Phillies: The Phillies saw a lot of pitches last season, but with little to show for it. This season should be different. They are a deeper lineup, with players that not only see a lot of pitches, but actually reach base, either by driving the ball or working a walk. Philadelphia's offense should be its best since Jimmy Rollins, Chase Utley and Ryan Howard led a power-packed Phils squad from 2005-11.
Official lineup
1) Andrew McCutchen, LF
2) Jean Segura, SS
3) Bryce Harper, RF
4) Rhys Hoskins, 1B
5) J.T. Realmuto, C
6) Odubel Herrera, CF
7) Cesar Hernandez, 2B
8) Maikel Franco, 3B
9) Aaron Nola, P
Who are the starting pitchers?
Braves: Julio Teheran will make his sixth career Opening Day start. Before being tagged for four runs over 5 2/3 innings against the Phillies last year, he'd never allowed more than two runs in a season opener. His primary nemesis in Philadelphia's improved high-octane lineup will be Harper, who has eight homers and 1.125 OPS in his career against the Atlanta right-hander.
Phillies: Philadelphia's Opening Day starter, Aaron Nola, finished third in NL Cy Young Award voting last year. He sounds like a guy intent on living up to the hype in 2019.
"We have a team to make the playoffs," Nola said last week, "but we've still got to go out there and win and compete. But expectations are better than no expectations. That's going to raise my game up, I believe. You look around the clubhouse and field, the type of guys we've got -- All-Stars, MVPs, Cy Youngs -- we've got them on our team. But we've still got to go out there, play and compete. There are no guarantees."
How will the bullpens line up after the starter?
Braves: With A.J. Minter (left shoulder tightness) and Darren O'Day (sore right forearm) on the injured list, closer Arodys Vizcaino's primary setup men might be left-hander Jonny Venters and right-hander Chad Sobotka, who has made just 14 career appearances. Shane Carle is capable of filling this role, and left-hander Jesse Biddle became a more valuable piece once he ended his reverse splits trend last year. Josh Tomlin and Max Fried will be available to provide length if necessary.
Phillies: If the Phillies have a lead of three or fewer runs entering the ninth inning Thursday, who will be the closer? It could be David Robertson. Or it could be Seranthony Dominguez. Or maybe it is Hector Neris. Manager Gabe Kapler said he will use a closer-by-committee approach, much like 2018. But the Phils believe they have the makings of one of the better bullpens in baseball with interchangeable parts that should weather injuries and ineffectiveness.
Any injuries of note?
Braves: Mike Foltynewicz, the team's originally projected Opening Day starter, will miss at least the first half of April with a sore right elbow, and veteran starter Kevin Gausman, who battled right shoulder soreness when Spring Training began, will be on the injured list through the season's first five or six games. These injuries have created opportunities for Bryse Wilson and Kyle Wright, who will start the final two games of the opening series. The absences of Minter and O'Day could prove significant during the late innings.
Phillies: Right-hander Tommy Hunter (strained flexor in right arm) and outfielder Roman Quinn (strained right oblique) open the season on the injured list. Hunter was a workhorse last season, taking the ball whenever needed. There is no timetable for his return. Quinn is a weapon off the bench because of his speed and defense. The Phillies hope he could rejoin the team sometime in April.
Who is hot and who is not?
Braves: Acuna caught fire during the final couple weeks of camp, and Markakis flirted with a .400 batting average during the Grapefruit League season. McCann seems to be reaping the benefits of a surgically repaired right knee, and Freeman appeared to regain some of the power that he lost after fracturing his left wrist in 2017. But there are concerns about Albies, who struggled again from the left side during Spring Training.
Phillies: McCutchen and Realmuto have had good springs, making Phillies fans dream a little more about the offense. After arriving in camp on March 2, Harper has looked better at the plate recently, homering twice in Thursday's game vs. the Blue Jays. Scott Kingery has had some good at-bats recently. Franco is expected to be in the Opening Day lineup, but it should not be considered a surprise if Kingery is in there. Hernandez missed a lot of time in camp because of a strained right hip flexor. He struggled this spring, but he should be fine.
Anything else fans might want to know?
• The Phillies have sold a lot of tickets since they agreed to a 13-year, $330 million contract with Harper on Feb. 28. It would not be a surprise if Citizens Bank Park was sold out or close to it for the entire three-game series. It has been a long time since the Phils could expect something like that.
• Phillies right-handers Nick Pivetta and Jake Arrieta will pitch Saturday and Sunday, respectively, opposite Wilson and Wright.
• McCann's .878 OPS at Citizens Bank Park is the third-highest mark produced by any player who has compiled at least 250 plate appearances there without playing for the Phillies.
• Harper has a .930 career OPS at Citizens Bank Park.