Braves push Spring Training relocation to 2020
Team will now remain at Walt Disney World Resort through '19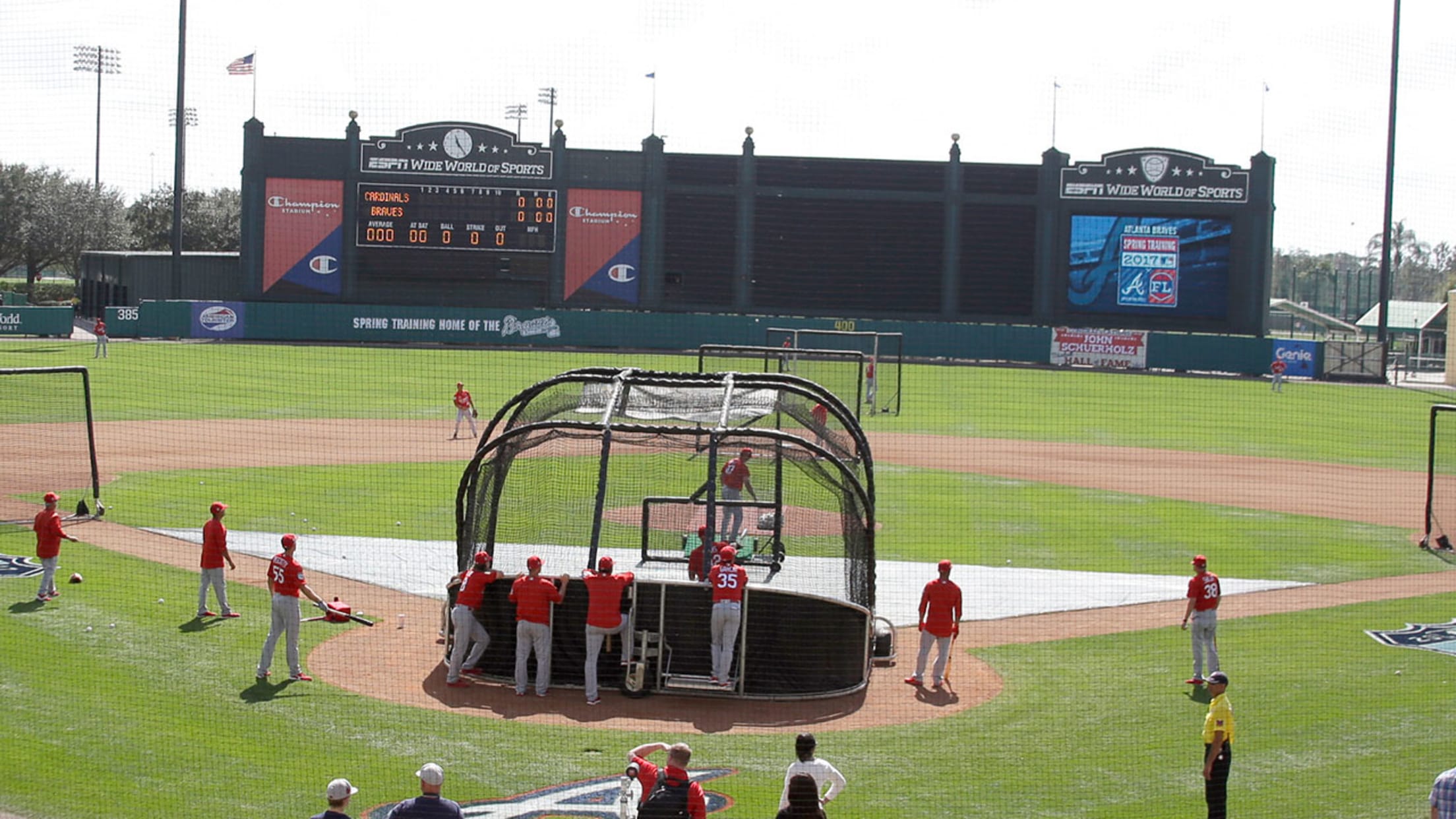 ATLANTA -- Instead of maintaining an optimistic hope to relocate their new Spring Training home in 2019, the Braves have determined that this year will not be the last spent making their preseason preparations at ESPN's Wide World of Sports at Walt Disney World Resort.The Braves announced they have extended
ATLANTA -- Instead of maintaining an optimistic hope to relocate their new Spring Training home in 2019, the Braves have determined that this year will not be the last spent making their preseason preparations at ESPN's Wide World of Sports at Walt Disney World Resort.
The Braves announced they have extended their Spring Training agreement with Walt Disney World Resort through 2019. So, contrary to initial plans, the club will not make North Port, Fla., its Spring Training home until 2020.
The Braves had expected to be able to utilize the North Port facility at the start of Spring Training in 2019. But the completion of all necessary governmental procedures took longer than expected and set the construction timetable back enough that there were lingering concerns about having to deal with some of the same issues the Astros and Nationals faced when they moved into their shared West Palm Beach, Fla., Spring Training complex last year.
Despite Hurricane Matthew damaging portions of Palm Beach County in October 2016, the Astros and Nationals stuck with their relocation plans. The playing surfaces were completed ahead of the players' arrivals, but the teams dealt with plumbing and other construction issues throughout much of the Grapefruit League season in '17.
"We are thankful for our good friends at Walt Disney World Resort and are excited for this extension," Braves vice chairman John Schuerholz said. "We also appreciate the foresight and thoughtfulness of our partners in North Port, Sarasota County and West Villages [Fla.] in recognizing such an extension will be of benefit as we continue to make progress on our new facility."
The Braves have used the Walt Disney World Resort complex as their Spring Training home since 1998, but they opened the facility by playing one game there at the end of the '97 Grapefruit League season. They plan to take a similar approach by closing out the Florida portion of their '19 exhibition schedule at their North Port home.
The new ballpark in North Port will include 6,500 fixed seats and 2,500 other general admission options that will include opportunities for patrons to watch games from the concourse and outfield berm.
Located within what will be the West Villages community, the Braves' new facility will feature six full baseball fields and a half field. The clubhouse and fitness center will cover 55,000 square feet, providing the Major League and Minor League players comforts that do not exist within the Walt Disney World facility.