Breaking Barriers winner's story will inspire you
15-year-old wins Grand Prize in essay contest; perseveres despite missing most of his arms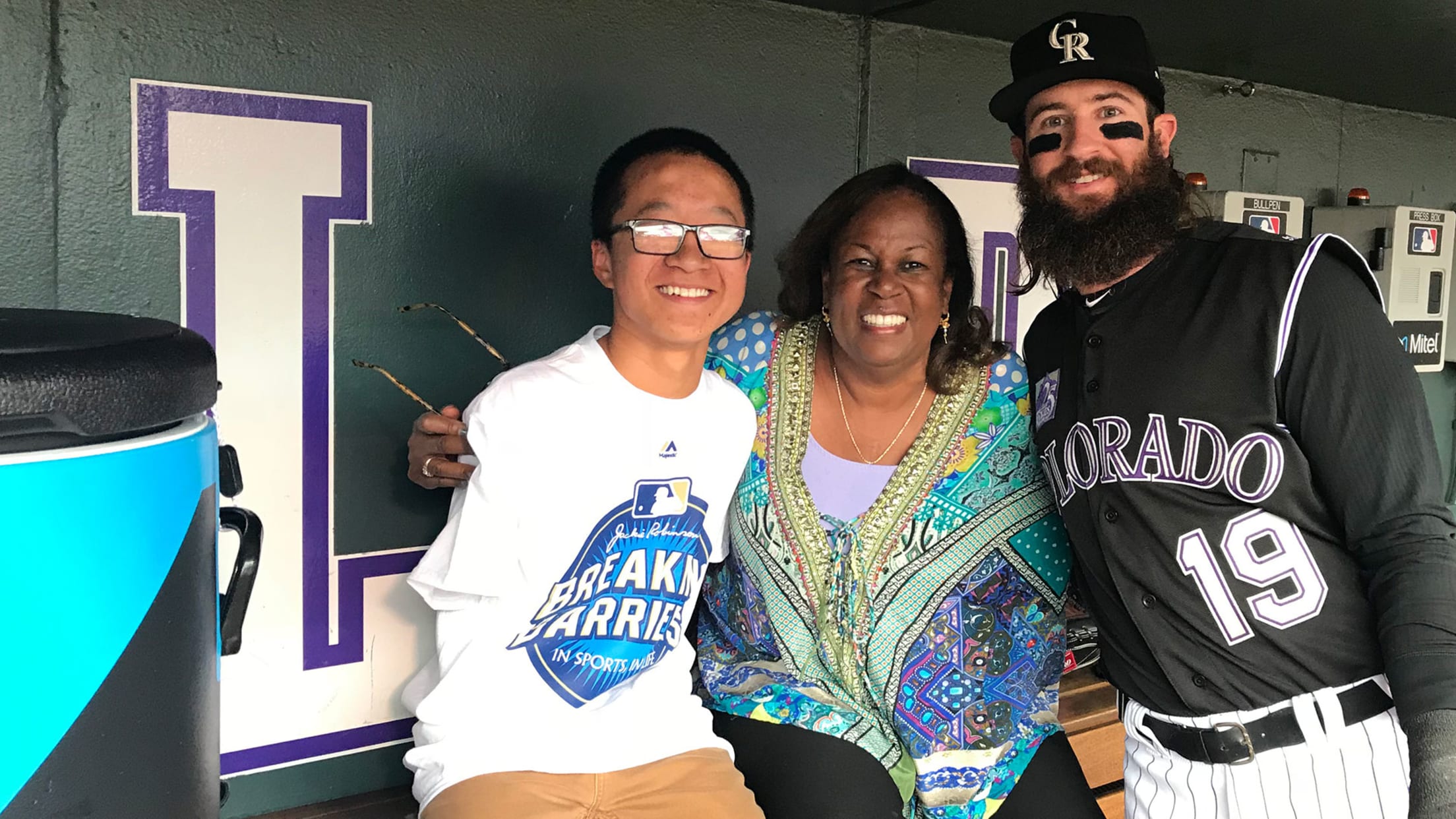 DENVER -- When Jesse Quist saw the movie "42," depicting Jackie Robinson's courageous battle to break the color barrier in Major League Baseball, the scene that stood out to him the most was when Dodgers owner Branch Rickey (played by Harrison Ford) tells Robinson (played by Chadwick Boseman) that he
DENVER -- When Jesse Quist saw the movie "42," depicting Jackie Robinson's courageous battle to break the color barrier in Major League Baseball, the scene that stood out to him the most was when Dodgers owner Branch Rickey (played by Harrison Ford) tells Robinson (played by Chadwick Boseman) that he needs a player "who's got the guts not to fight back," someone who can withstand the hatred and abuse heaped upon him, a player who has "the guts to turn the other cheek."
"You give me a uniform, you give me a number on my back, and I'll give you the guts," Robinson responds in the film.
Jesse was born missing most of both arms, and without hands. The 15-year-old from Cheyenne, Wyo., was riveted by "42," and after seeing the film discovered the Jackie Robinson Breaking Barriers essay contest, writing an essay for which he was named one of two Grand Prize winners, among 10 winners overall.
Each of the 10 prize winners will receive a new laptop computer, courtesy of Microsoft, and additional prizes for their classes, including Breaking Barriers T-shirts and books written by Sharon Robinson, Jackie's daughter. Each of the Grand Prize and MVP Prize winners also will receive a personal visit from Robinson, and their teachers will receive a new laptop from Microsoft as well.
Breaking Barriers was developed by MLB, Sharon Robinson, and Scholastic, the global children's publishing, education, and media company. Since its inception in 1997, Breaking Barriers: In Sports, In Life has reached more than 34 million children and 4.6 million educators in the continental United States, Canada and Puerto Rico. The Breaking Barriers essay contest asks students in grades four through nine to submit an essay about barriers or obstacles they have faced or are still facing in their lives, and how they overcame these obstacles using the values demonstrated by Jackie Robinson.
"The extraordinary perseverance and inner strength that these children have demonstrated in their young lives is inspiring," said Sharon Robinson. "The winners, along with everyone who submitted essays, continue to exemplify the true meaning of the Breaking Barriers program."
On Monday night, Sharon accompanied Jesse to Coors Field where, before the Rockies hosted the Padres, Jesse was honored as a Grand Prize winner.
In his essay, Jesse described the many challenges he's had to overcome and is still overcoming. He described learning how to write without hands, and dealing with the stares and whispers of those who don't understand.
When asked why the Rickey-Robinson scene was so poignant in his eyes, Jesse paused for 10 seconds, contemplating exactly how he wanted to respond to ensure his point got across.
"I definitely know that it was a lot more than whispers and stares for him," Jesse said of Robinson. "He faced a lot more than that. I wrote my essay about all the stares I've gotten, and I mentioned it a few times because part of it is, you kind of have to turn the other cheek. Branch Rickey said he wanted a player with the guts to just turn, to ignore, to let it roll over him. Those words touched me. That personifies how I want to try to do things: to just ignore and let it bounce off me. I just can't let it touch me.
"Maybe they just hadn't seen someone like me before. It isn't something you see every day. It gets annoying and frustrating. I pretty much do everything like everyone else. But I try not to judge too harshly."
Sharon, sitting next to Jesse as he spoke, shook her head in amazement.
"Wow," she said. "His maturity is incredible."
Meeting Sharon has been a highlight of the entire experience for Jesse, and the feeling is mutual between the two.
"I was just so nervous and preparing the whole day," Jesse said of meeting Sharon after not only watching "42," but reading several books about Jackie Robinson and also books that Sharon has written.
"I felt the same way," Sharon said, smiling.
Another person Jesse wanted to meet when he arrived at Coors Field was Rockies center fielder Charlie Blackmon, a favorite of Jesse and his father, Paul, both Rockies fans.
"We asked Jesse, 'Is there one person you'd like to meet?" Sharon said. "He said it was Charlie. And Charlie was the first player that came out [into the Rockies dugout] and Jesse yelled 'Yes!'"
Jesse, with Sharon at his side, will be honored at the 2018 World Series this fall, and his story will be amplified to many more people around the country and around the world. It's one of resolute determination befitting the legacy of Jackie Robinson, a legacy that continues to inspire people everywhere to break down barriers of all types.
"Our big thing that really hit my wife and me, is that we really try to teach being grateful," said Paul. "One of the things this essay really did, which would be a good exercise for any of us, is to sit down and really have to contemplate [our life and its challenges]. And he did.
"Appreciating what we have as a family, as a unit, and as a team, as Jackie talked about, is really important. Our family motto is 'We rise by lifting.' All these values that Jackie talked about, they all result in the same thing. Jesse really personifies that. All these different ideas on how to live life and overcome barriers, it all came together in this essay."
One of Jesse's seven siblings, 18-year-old Cohen, yelled "that's my brother!" when Jesse was honored prior to the Rockies game. Cohen has had a unique perspective that perhaps some of Robinson's teammates might have shared in their time.
"There's a lot that I've seen Jesse do, and I'm so proud of him for what he's done," Cohen said. "It's crazy. I don't think we've ever talked about [Jesse being born without most of his arms]. There's not a thing that he can't do."
Jesse's essay ends with a motto he lives out every day.
"'Veni, vidi, vici,' from Julius Caesar is one of my favorite quotes," Jesse said. "I came, I saw, I conquered."