1 breakout prospect for every team 
These guys could shoot up the rankings in '19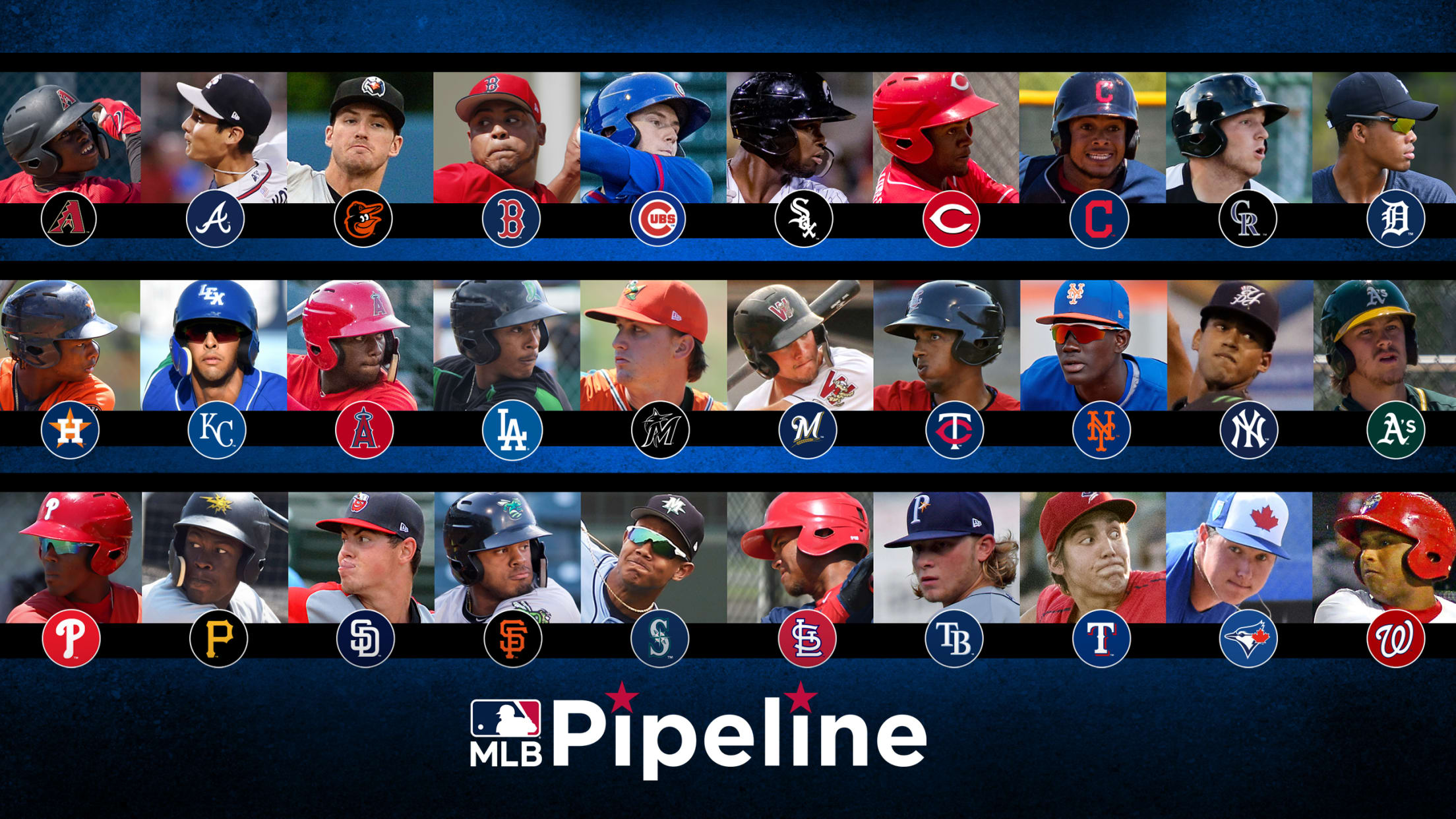 The four players atop MLB Pipeline Top 100 Prospects list -- Blue Jays third baseman Vladimir Guerrero Jr., Padres shortstop Fernando Tatis Jr., White Sox outfielder Eloy Jimenez and Nationals outfielder Victor Robles -- are no surprise. They all ranked among the eight best on the 2018 preseason Top 100.
The four players atop MLB Pipeline Top 100 Prospects list -- Blue Jays third baseman Vladimir Guerrero Jr., Padres shortstop Fernando Tatis Jr., White Sox outfielder Eloy Jimenez and Nationals outfielder Victor Robles -- are no surprise. They all ranked among the eight best on the 2018 preseason Top 100.
But several other elite-level talents burst onto the prospect scene in 2018. A's left-hander Jesus Luzardo ranked 60th and Angels outfielder Jo Adell 62nd a year ago at this time, while Rays shortstop Wander Franco and Twins outfielder Alex Kirilloff didn't crack the Top 100. Now, all of them rate among the 15 best prospects in the game.
Who will be the breakout prospects of 2019 and move way up the rankings by 2020? We present one candidate from each organization.
American League East
Nate Pearson, RHP, Blue Jays' No. 4 (MLB No. 76)
Pearson's first full season lasted only 1 1/3 innings, ending when he sustained a fractured right forearm after being struck by a line drive in his season debut at Class A Advanced Dunedin. But the 6-foot-6 right-hander looked great in the Arizona Fall League, pitching increasingly well as the season unfolded, all while flashing a front-of-the-rotation ceiling with his combination of size, stuff and pitchability.
Adam Hall, SS, Orioles' No. 14
Hall might have been the most improved prospect in Baltimore's system from start to finish in 2018. After hitting .212 during the first month of the season at Class A Short-Season Aberdeen, the 2017 second-rounder erupted to hit .358 over his final 36 games, recording a 19-game hit streak along the way. Also a plus runner who has a chance to stick at shortstop long term, he has the type of well-rounded skill set that should allow for an easy transition to full-season ball.
Shane Baz, RHP, Rays' No. 10
The player to be named from the Pirates in August in the Chris Archer non-waiver Trade Deadline deal, Baz has power stuff that he's still learning to harness. His fastball, slider and cutter are all plus pitches, and he rounds out his arsenal with a curveball and changeup that could be average or better. With better control and command, the 19-year-old righty could begin to dominate as his stuff suggests he should.
Darwinzon Hernandez, LHP, Red Sox's No. 4
The Red Sox would like to develop Hernandez as a starter, but he has been so overpowering as a reliever this spring that he could make their Opening Day bullpen. He can run his fastball into the upper 90s in shorter stints and his slider can be overpowering when he stays on top of it.
Deivi Garcia, RHP, Yankees' No. 4
Garcia is so polished that he finished his third professional season in Double-A at age 19. The Yankees love high spin rates, and he has them with his curveball and 91-96 mph fastball. He also shows promise with a fading changeup.
AL Central
George Valera, OF, Indians' No. 5
A broken hamate bone truncated his 2018 pro debut after six games, but scouts who have seen Valera believe he could emerge as one of the best pure hitters in the Minors. He has a sweet left-handed stroke, an advanced approach, plate discipline and the bat speed and leverage for power.
MJ Melendez, C, Royals' No. 3
After a strong first full season in which he hit 19 homers and threw out close to 42 percent of potential basestealers in 2018, Melendez is tucked into the back of the Top 10 catchers list at No. 9. But with a step forward in his approach as he moves up a level, he could move close to the top of that list and firmly onto the Top 100.
Wenceel Perez, SS, Tigers' No. 12
Signed for $550,000 in July 2016 out of the Dominican Republic, Perez climbed his way up three levels in his United States debut, finishing the season as an 18-year-old in the Class A Midwest League -- and hitting .309 over 16 games there. He swings the bat well from both sides of the plate, with plus speed that makes him a threat on the basepaths and the requisite defensive chops to stick at shortstop.
Wander Javier, SS, Twins' No. 4
The Twins thought highly enough of Javier's upside to give him $4 million to sign in July 2015. But injuries have kept him from showing too much of that potential on the field, with the exception of a strong United States debut in 2017. He missed all of '18, so this will be his full-season debut. A full year of at-bats and Javier could enter into conversations about the top middle-infield prospects in the game.
Luis Robert, OF, White Sox No. 4 (MLB No. 40)
Rarely healthy in his first two pro seasons after costing the White Sox a $26 million bonus and a matching amount as a penalty for exceeding their bonus pool, Robert lit up the Arizona Fall League in 2018. Few players can match his combination of exit velocity and foot speed, and he's a potential five-tool center fielder.
AL West
D'Shawn Knowles, OF, Angels' No. 10
One of two big signings out of the Bahamas by the Angels in July 2017, Knowles got $850,000 to sign, then hit his way across two levels of Rookie ball during his pro debut last year. He has the chance to be a plus hitter from both sides of the plate, with solid tools across the board. After an .855 OPS in his debut, the now 18-year-old could hit the ground running in full-season ball.
Freudis Nova, SS, Astros' No. 7
The Astros don't exactly need another left-side infielder, but they've got another high-ceiling one on the way. Nova is a potential 20-20 shortstop with a strong arm that fits anywhere on the diamond, prompting comparisons to Hanley Ramirez and Edgar Renteria.
Austin Beck, OF, A's No. 5
Beck led the Class A Midwest League in hits during his first full season in 2018, and hit close to .300 despite a rough overall approach that led to a 117/30 strikeout-to-walk ratio. There's bat speed and raw power to tap into, and he has all the tools to be a dynamic center fielder. Better plate discipline in 2019 should lead to an even more productive season.
Julio Rodriguez, OF, Mariners' No. 5
Rodriguez, signed for $1.75 million in July 2017, hasn't even played a game in the United States yet, but the Mariners have trouble containing their excitement about Rodriguez. He showed up to camp this spring in phenomenal shape and has wowed with his makeup as much as his tools. He has the chance to develop into one of the best offensive prospects in baseball.
Hans Crouse, RHP, Rangers' No. 1 (MLB No. 84)
Few pitching prospects combine stuff and entertainment value like Crouse. He can get animated on the mound and throw in a Johnny Cueto shimmy to disrupt batters' timing, though what matters most is that he possesses a riding mid-90s fastball and a wipeout slider.
National League East
Freddy Tarnok, RHP, Braves' No. 17
That's right, another Braves pitching prospect. Atlanta went way over pick value to sign Tarnok in the third round of the 2017 Draft. He pitched well out of the bullpen in the first half of 2018 (1.26 ERA in 16 games) and scuffled a bit as a starter. But as someone who didn't pitch until his junior year of high school, his ceiling as a future starter is very high.
Braxton Garrett, LHP, Marlins' No. 8
The No. 7 overall pick in the 2016 Draft, Garrett looked like he'd advance rapidly for a high school pitcher -- until he needed Tommy John surgery following his fourth pro start. After missing all of 2018, he's back with his trademark curveball and low-90s fastball.
Ronny Mauricio, SS, Mets' No. 3
After signing with the Mets for $2.1 million in July 2017, Mauricio made the jump straight to the U.S. last year for his pro debut and impressed on all fronts, eventually earning a promotion to the Appalachian League at age 17 after slashing .279/.307/.421 with 19 extra-base hits in the Gulf Coast League. An athletic shortstop who could develop both a plus hit tool and plus power, he has one of the highest ceilings in the Minors among players yet to reach full-season ball.
Israel Pineda, C, Nationals' No. 8
A Venezuelan catcher whom Washington signed for $450,000 in July 2016, Pineda had already garnered New York-Penn League All-Star honors last year when he sustained a season-ending broken left hamate bone in late August. He still put together a strong campaign, showing impact potential on both sides of the ball that should translate well as he transitions into full-season ball at age 19.
Luis Garcia, SS, Phillies' No. 4
There's nothing like winning the Gulf Coast League batting title in your professional debut to open some eyes. Signed for $2.5 million in July 2017, the switch-hitter can swing well from both sides of the plate, there's some power to come, he can run and he plays good defense. The teenager could very rapidly climb up the top shortstops list in 2019.
NL Central
Tristen Lutz, OF, Brewers' No. 4
The No. 34 overall pick from the 2017 Draft showed a dynamic bat in his first full season as he totaled 13 homers and 33 doubles in the Class A Midwest League. He struck out quite a bit in the process, but his overall approach was solid and he showed he could make adjustments as the season progressed. Lutz's blend of size, athleticism, tools and baseball skills gives him one of the higher ceilings in Milwaukee's system.
Jhon Torres, OF, Cardinals' No. 6
Torres slashed .397/.493/.683 over 17 games in the Rookie-level Gulf Coast League last year after the Cardinals acquired him from Cleveland in July in the Oscar Mercado deal. He won't turn 19 until March 29, but he's already a physical specimen with remaining projection to his listed 6-foot-4, 199-pound frame. That should lead to more power that Torres could start tapping into in 2019.
Cole Roederer, OF, Cubs' No. 5
The Cubs may have gotten steals with the position players they selected with their first three choices in the 2018 Draft: shortstop Nico Hoerner (first round) and outfielders Brennen Davis (second) and Roederer (supplemental second). Likened to Andrew Benintendi, Roederer had a quick left-handed swing and advanced bat-to-ball skills.
Oneil Cruz, SS, Pirates' No. 4 (MLB No. 95)
Acquired from the Dodgers in the 2017 Tony Watson deal, Cruz reached double-digits in homers and steals in full-season ball. The 6-foot-6 (you read that right) shortstop continues to defy expectations defensively, as the 20-year-old is just scratching the surface of his enormous offensive upside.
Mariel Bautista, OF, Reds' No. 19
It's taken Bautista a little while to get going, having signed back in November 2014, but things started to click in the Rookie-level Pioneer League last year. He's always shown a feel for hitting, with batting averages routinely over .300 thanks to innate contact skills and a solid approach. Strength gains allowed him to start impacting the ball more last year (.927 OPS), with more power to come in 2019.
NL West
Kristian Robinson, OF, D-backs' No. 5
A Bahamian outfielder whom the D-backs signed for $2.5 million in 2017, Robinson has an exciting package of tools headlined by massive raw power that could soon make him one of the more revered sluggers in the Minors. He also has plus speed, arm strength to match and a chance to stick in center field. He batted .279/.363/.428 with seven homers and 12 steals between two Rookie leagues as a 17-year-old making his pro debut last summer.
Jeter Downs, 2B/SS, Dodgers' No. 8
Acquired during the offseason from the Reds as part of the Yasiel Puig/Matt Kemp/Alex Wood trade, Downs had 13 homers and 37 steals in 2018, his first full professional season. The only other Minor Leaguer to reach those totals in both categories was Padres outfielder Buddy Reed.
Heliot Ramos, OF, Giants' No. 2 (MLB No. 91)
Ramos batted just .245/.313/.396 last year, in part because at age 18 he was the youngest regular in the low Class A South Atlantic League. His impressive power/speed combination remains intact, however, and he showed improvement in terms of making contact.
MacKenzie Gore, LHP, Padres' No. 2 (MLB No. 15)
The No. 3 pick from the 2017 Draft was hampered by a blister issue in his first full season and logged only 60 2/3 innings while making 16 starts for Class A Fort Wayne. Gore's stuff and overall feel were still plenty impressive, though, and reports from this spring have his velocity up a few ticks and both breaking balls looking sharp. The 20-year-old southpaw seems poised to dominate this season, regardless of level, as long as he stays healthy.
Grant Lavigne, 1B, Rockies' No. 5
It wouldn't surprise anybody if a high school player out of a cold-weather state like New Hampshire took a while to transition to the pro game. But Lavigne, No. 7 on the Top 10 first basemen list, went out and led the Rookie-level Pioneer League in on-base percentage and finished third in OPS. He has the chance to be a plus hitter with plus power and should put up gaudy numbers in hitter-friendly Asheville this year.