Cecil's struggles put roster spot in doubt
Shildt says lefty is 'still a work in progress' in camp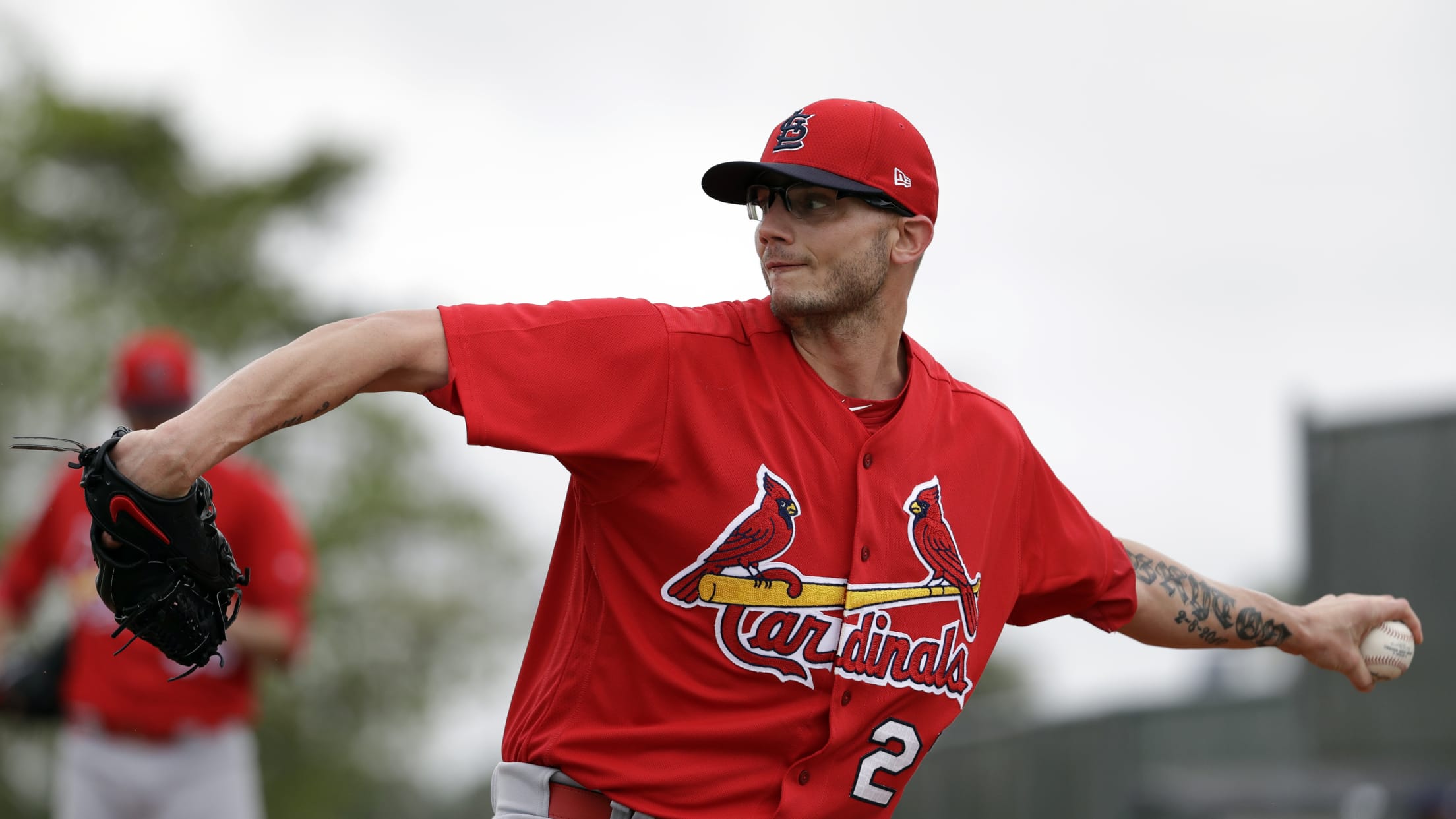 JUPITER, Fla. -- It's back to the drawing board for Brett Cecil, who appears to be pitching his way off the Cardinals' Opening Day roster each time he takes the mound. Cecil's appearance in a squad game on Thursday was hardly encouraging, and manager Mike Shildt confirmed on Friday that
JUPITER, Fla. -- It's back to the drawing board for Brett Cecil, who appears to be pitching his way off the Cardinals' Opening Day roster each time he takes the mound.
Cecil's appearance in a squad game on Thursday was hardly encouraging, and manager Mike Shildt confirmed on Friday that Cecil is not scheduled to appear in any upcoming Grapefruit League games. Instead, the lefty, who found his mechanics to be out of whack following significant offseason weight loss, will continue to get work on the back fields and in bullpen sessions.
"He's still a work in progress," Shildt acknowledged.
Cecil may also be nearing a crossroads. The Cardinals' bullpen is filling up fast, especially with Alex Reyes' late push for one of the seven spots. Cecil is still due $14.5 million over the next two years, but after two subpar seasons and a disappointing spring, the Cardinals are running out of patience.
Asked on Friday if Cecil still had a chance to pitch his way onto the Opening Day roster, Shildt hedged.
"He's an option," Shildt said. "But right now he's getting his work on the backfields, and we are mindful of the fact that the season is getting closer."
If they choose to fill their bullpen spots with other relievers, the Cards will have a corresponding decision to make. Cecil could open the year on the injured list, if there is actually an injury to cite. Or, since Cecil is unlikely to accept a Minor League assignment, the club could consider releasing the veteran.
Cecil, when asked for an update on his program on Friday, declined comment.
Mixed bag on the mound
Adam Wainwright, so efficient through 5 1/3 innings that he had to throw extra pitches afterward to get enough work in, highlighted the Cardinals' pitching performance in Friday's 11-2 split-squad loss to the Astros. Despite allowing a homer on what he described as the "worst breaking ball of my life," the veteran also induced swing-and-misses on four different pitches, including the split-finger fastball that he has been experimenting with this spring.
The outing was likely Wainwright's last of the Grapefruit League season, too, as the Cardinals have scripted his next to come on the back fields and his last to be in Memphis for the March 25 exhibition game against the club's Triple-A affiliate.
Behind Wainwright on Friday, however, things didn't go so smoothly. Andrew Miller issued three walks (including one with the bases loaded) and allowed one hit without retiring a batter. Ryan Meisinger served up a grand slam. Jordan Hicks walked another two batters, and Alex Reyes was knocked for three runs in his second inning of relief.
"It's not what you want to do by any means," said Miller, who this spring has allowed seven earned runs to the Astros and none in his other four appearances. "I know the adjustment. I feel like runners on base clearly kind of sped up in both of those games. That's clearly on me, and it's something I shouldn't be doing. I'll make it a focus down the stretch."
For Reyes, Friday marked his first multiple-inning opportunity of spring.
Medical report
Catcher Francisco Peña is expected to start on Saturday for the first time since tweaking his oblique muscle in a March 5 loss to the Phillies. Pena remains in the mix to win a Major League roster spot as Yadier Molina's backup, though the missed time has given Matt Wieters an opportunity to strengthen his case for the job.
Infielder Jedd Gyorko is due back in the lineup on Monday, Shildt said. Though Gyorko hasn't played since March 3, the Cardinals remain optimistic that he'll accrue enough at-bats to feel ready for the start of the regular season.
Pitching plans
The Cardinals' fifth-starter competition will be front and center this weekend as Austin Gomber (Saturday) and John Gant (Sunday) make starts against the Nationals and Marlins, respectively. This will likely be the last look the Cards will get at both candidates before officially whittling down what has been a four-man race.
With Gomber and Gant pitching in the stadium, Miles Mikolas and Jack Flaherty will make their next starts on the back fields. The Cardinals had planned all along to get members of their Opening Day rotation work in a more controlled setting outside of Grapefruit League play.
Worth noting
• The Cardinals fell to 1-6-1 in their past eight games and have been outscored 46-11 during that span.
• Late in Friday's home game, spectators at Roger Dean Chevrolet Stadium were able to view the Delta IV rocket, which launched from the space station in nearby Cape Canaveral.
Up next
The Cardinals return to the Fitteam Ballpark of the Palm Beaches on Saturday, this time to face the Nationals in a 12:05 p.m. CT game. The pitching matchup will feature Gomber and St. Louis native Max Scherzer, who allowed three runs in 5 1/3 innings against the Cardinals on Monday. Jose Martinez, who did not appear in either split-squad game on Friday, is expected back in the Cardinals' lineup.
Jenifer Langosch is a senior content manager at MLB.com. She previously covered the Pirates (2007-11) and Cardinals (2012-19). Follow her on Twitter.