Gardner recognizes military at Thanksgiving
Yankees OF, wife host luncheon near his hometown at Air Force base in Charleston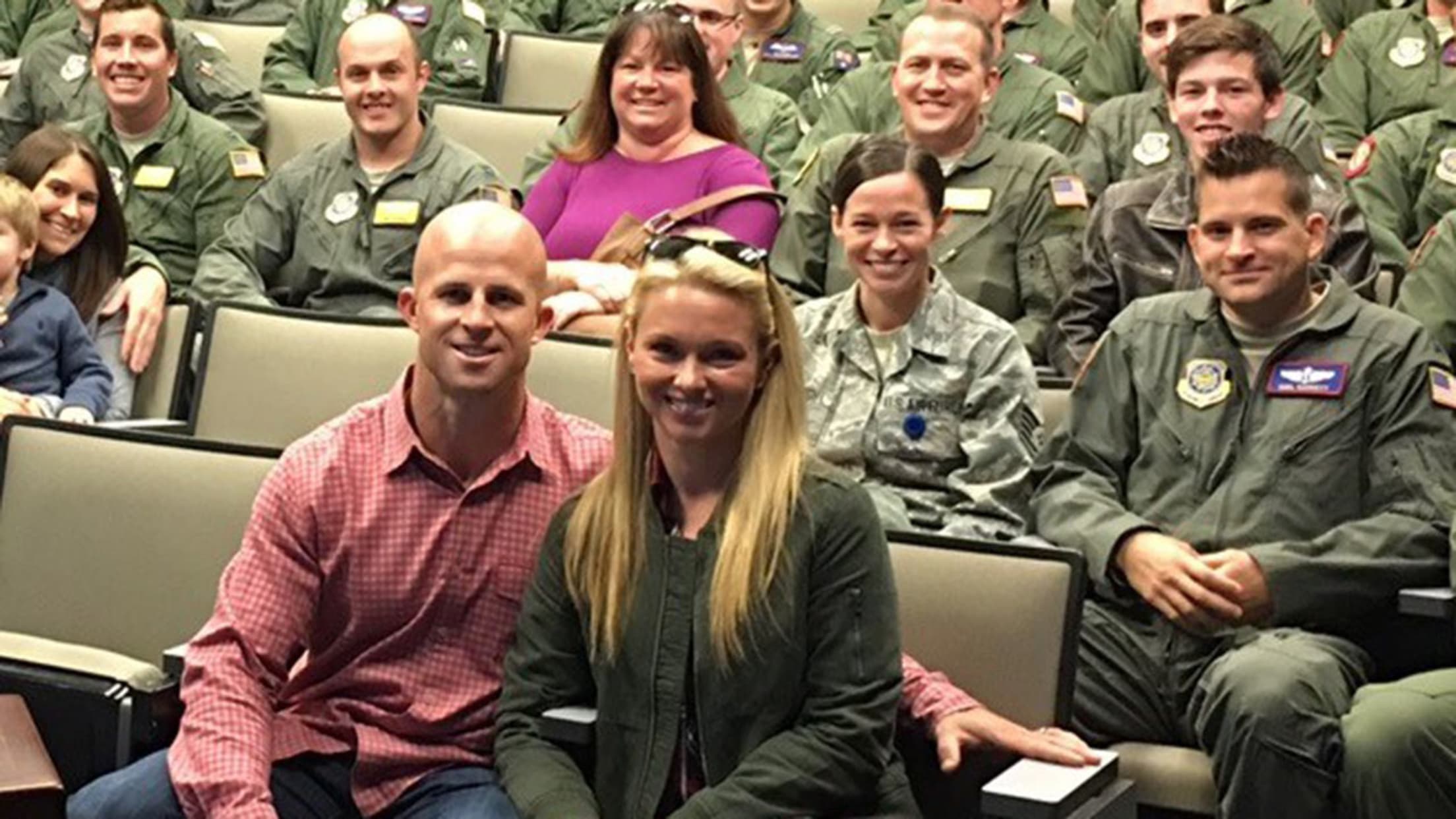 Brett Gardner and his wife, Jessica, hosted a luncheon at Charleston Air Force Base. (U.S. Air Force)
NEW YORK -- It seems like only a few short years ago that Brett Gardner was patrolling an outfield in the uniform of the Charleston Riverdogs, a Yankees Class A affiliate playing its home games in a city where members of the United States Air Force are routinely groomed for
NEW YORK -- It seems like only a few short years ago that Brett Gardner was patrolling an outfield in the uniform of the Charleston Riverdogs, a Yankees Class A affiliate playing its home games in a city where members of the United States Air Force are routinely groomed for much more important missions.
Gardner grew up in nearby Holly Hill, S.C., and he has long held admiration for the sacrifices made by members of the U.S. military and their families. He and his wife, Jessica, displayed their gratitude this Thanksgiving week by hosting a special luncheon for more than 80 active duty members of the 15th Air Lift Squadron and their families at Charleston Air Force Base.
:: Baseball's Giving Spirit ::
"Spending time with our active duty U.S. Air Force at Charleston Air Force Base was a highlight for me and Jessica, and a small way to say thank you for all you do to keep us safe and free," Gardner said.
To cater the event, Gardner turned to an old favorite, leaning upon the services of the celebrated Sweatman's BBQ restaurant in his tiny hometown. After sharing a few delicious plates of ribs and more, the Air Force offered the Gardners a private tour of a Boeing C-17 Globemaster III jet, the massive scale of which wowed them both.
"We couldn't believe the size of this plane," Gardner said. "It is a cargo plane and transports everything from equipment, supplies, personnel tanks, trucks, helicopters -- everything. This experience was something we'll always remember, and we look forward to doing more for our service members."

Gardner was the Yankees' nominee for the Roberto Clemente Award this past season, the annual recognition of a player from each Major League club who best represents the game of baseball through extraordinary character, community involvement, philanthropy and positive contributions, both on and off the field.
The nomination acknowledged Gardner's support for the military and several other worthy causes, both at home in South Carolina and up in New York.
This week, the Gardners are providing Thanksgiving lunch to families from the Ronald McDonald House in Charleston, a home away from home where families can stay near their hospitalized child.
They have also committed to participate in a Christmas parade with the Salvation Army, and they will provide more than 500 gifts to children in need who made a wish via their "Angel Tree" program.
"Something that's very special not only to myself but to my wife, Jessica, and our family is children -- children in need," Gardner said.
In addition, the Gardners make an annual visit to the Medical University of South Carolina (MUSC), where they spend time with children and their families, read to the children and hand out gifts. They also privately visit with children who are too sick to leave their rooms.
"I just always remember that there's a lot of people out there who are a lot less fortunate than we are," Gardner said. "I'm very blessed not only to have a great job, but to be able to live the life that we live. I think any time you can make things easier, it's important to give back."