Lawrie announces deal with Crew on Instagram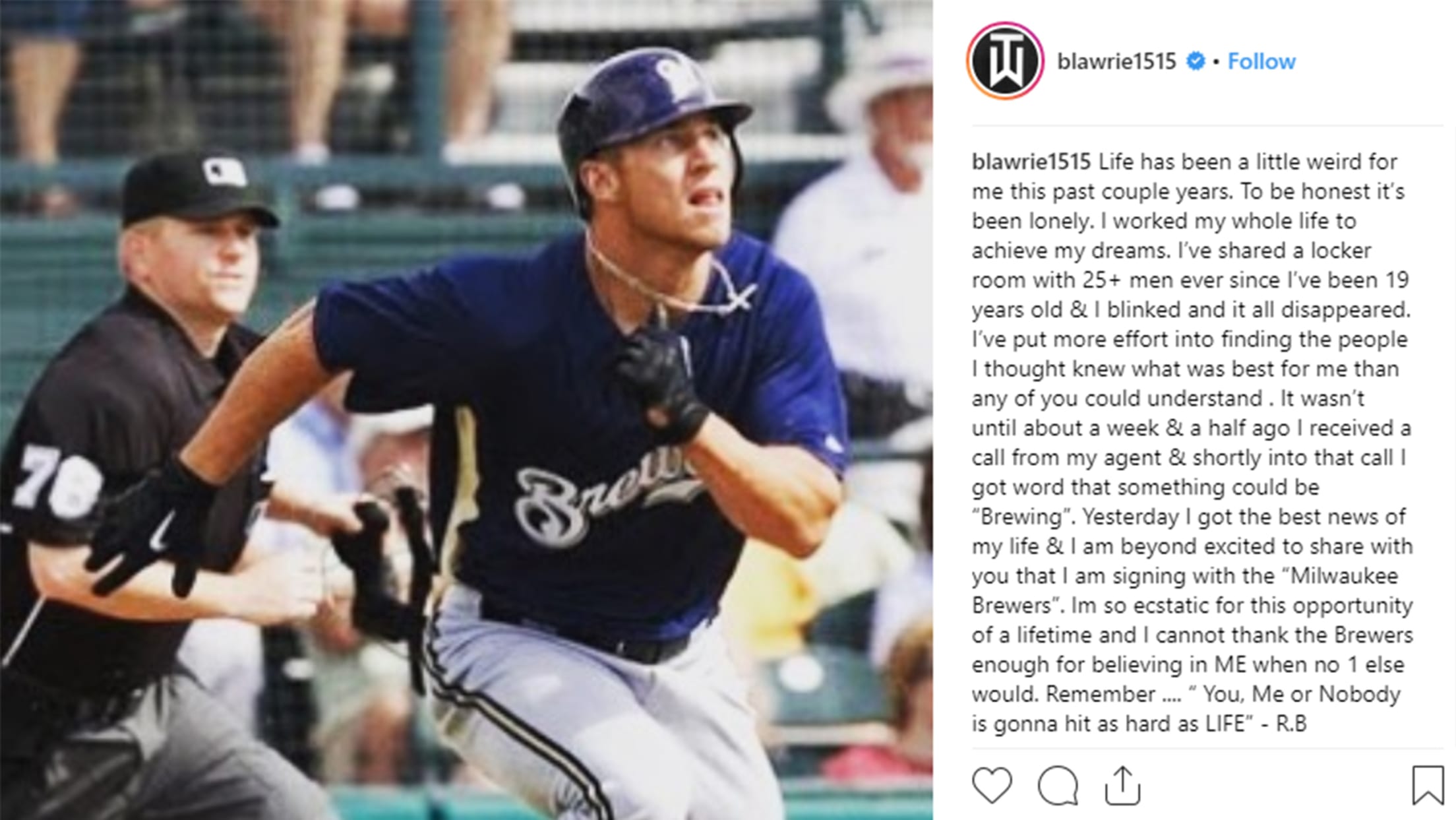 MILWAUKEE -- After two years out of professional baseball, Brett Lawrie is mounting a comeback with the organization that got him started.The former first-round Draft pick announced via Instagram on Saturday that he'd signed with the Brewers, and a source confirmed it's a Minor League pact that does not include
MILWAUKEE -- After two years out of professional baseball, Brett Lawrie is mounting a comeback with the organization that got him started.
The former first-round Draft pick announced via Instagram on Saturday that he'd signed with the Brewers, and a source confirmed it's a Minor League pact that does not include an invitation to Major League Spring Training camp.
Brewers president of baseball operations David Stearns said he couldn't yet comment on Lawrie's post.
According to Robert Murray of The Athletic, the deal is rich with incentives and has a club option for 2020. Lawrie would earn $1 million if he makes it to the Majors in 2019, according to that report, and could max out at $7 million over the two years.
Lawrie, 29, hasn't played organized baseball since the White Sox released him in March 2017. The year before, in Chicago, he spent most of the second half on the injured list with a strained left hamstring, and in an interview in February 2018 with a Vancouver radio station, he spoke of lingering lower-body issues that were difficult to explain.
"Life has been a little weird for me this [sic] past couple years," Lawrie wrote Saturday of his time away from the Majors. "To be honest, it's been lonely. I worked my whole life to achieve my dreams. I've shared a locker room with 25-plus men ever since I've been 19 years old, and I blinked, and it all disappeared.
"I'm so ecstatic for this opportunity of a lifetime," Lawrie continued, "and I cannot thank the Brewers enough for believing in ME when no 1 [sic] else would."
He was selected 16th overall by the Brewers in the 2008 Draft and was a productive, yet polarizing, player in two seasons in Milwaukee's Minor League system before he was traded to Toronto for right-hander Shaun Marcum. Later, he was traded to the A's in the deal that brought All-Star Josh Donaldson to Toronto. A year after that, he was traded to the White Sox.
Along the way, Lawrie played in parts of six MLB seasons, hitting .261/.315/.419 in 588 games. He delivered double-digit home runs in five of his six seasons, but battled injuries (ankle, oblique, hamstring) that limited his playing time in three of his final four seasons.
Given his time away from the game, Lawrie would have to prove he's healthy and can produce before the Brewers would consider him for a callup. But it's worth noting that second base, Lawrie's position in his two years in Milwaukee's farm system, is the team's most unsettled position; Cory Spangenberg is currently poised to platoon with Hernán Pérez or Tyler Saladino. Of course, that could change with an outside acquisition before Opening Day.
Lawrie moved to third base after the trade to Toronto and played extensively there in the years that followed.