Brewers add Class A Carolina to affiliates
Stearns addresses concerns with Triple-A Colorado Springs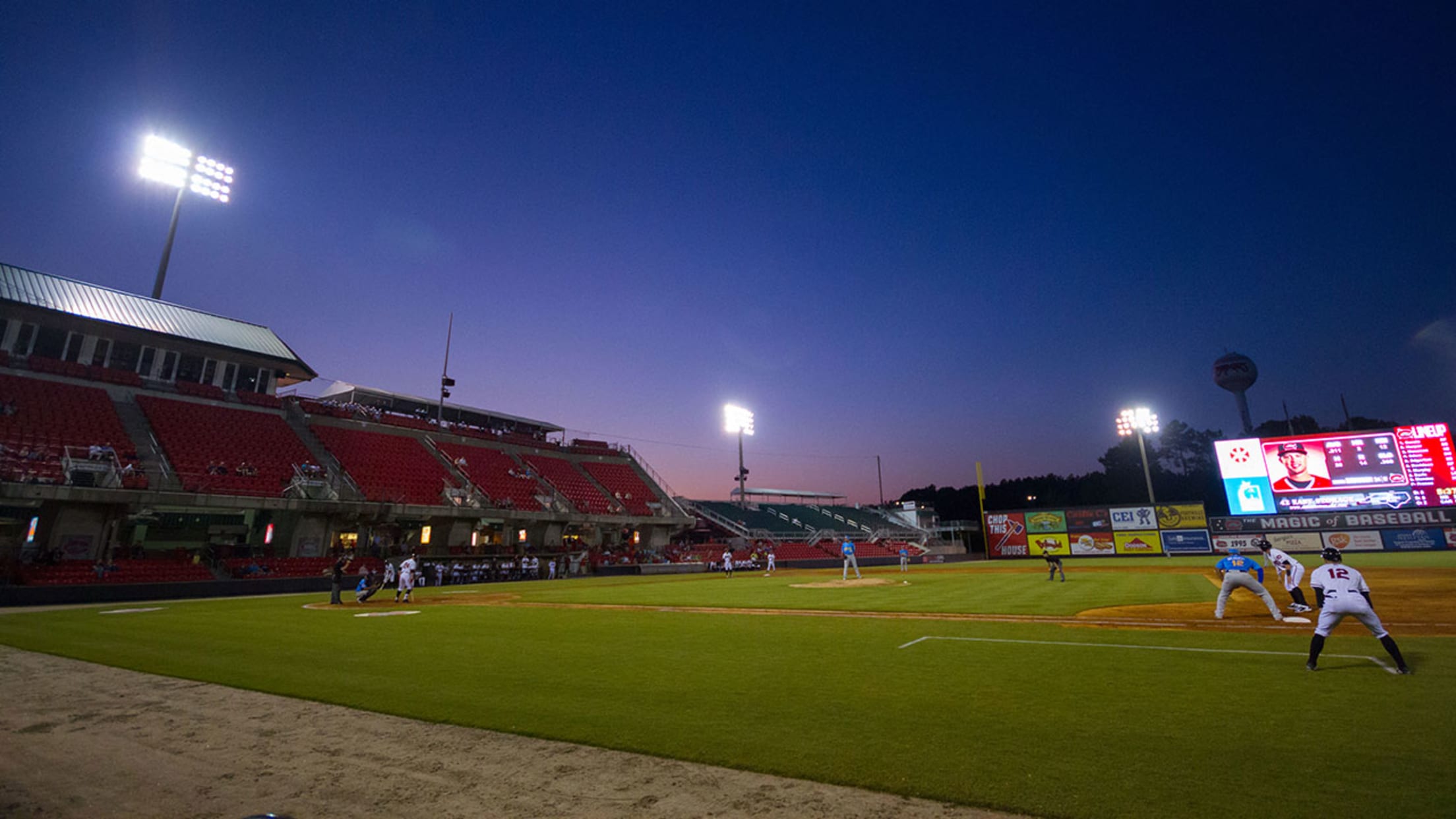 Five County Stadium, home of the Mudcats, holds 6,500 fans and will be the Brewers' affiliate through at least 2018. (MiLB)
DENVER -- The Brewers struck a two-year player development contract Friday with the Class A Advanced Carolina Mudcats, setting their affiliate slate for 2017.The agreement, through 2018, came days after Brewers general manager David Stearns traveled to Five County Stadium in Zebulon, N.C. to meet with Mudcats officials. Friday's announcement
DENVER -- The Brewers struck a two-year player development contract Friday with the Class A Advanced Carolina Mudcats, setting their affiliate slate for 2017.
The agreement, through 2018, came days after Brewers general manager David Stearns traveled to Five County Stadium in Zebulon, N.C. to meet with Mudcats officials. Friday's announcement was made jointly by Stearns and Mudcats President and Majority Owner Steve Bryant.
"It's a first-class affiliate," Stearns said.
The Brewers needed a new high-A team after the Brevard County Manatees moved to Kissimmee, Fla. and paired with the Braves. They strongly preferred Carolina, who were previously with the Braves, over the only other Class A team without an affiliate, the Lancaster JetHawks of the California League, who play in a ballpark extremely unfavorable to pitchers.
Milwaukee already has one such affiliate in Triple-A Colorado Springs, with whom they renewed for two more years on Thursday because there were no other options.
"It's basically a Double-A facility for high-A ball," Stearns said of the Mudcats' 6,500-seat home, which is about 40 miles from Raleigh-Durham International Airport. "It's a beautiful playing surface. They have a nice clubhouse, nice tunnels. They've just installed a new scoreboard; I'm told it's the biggest scoreboard in Minor League Baseball."
The Brewers' "hope and expectation," Stearns said, is that the relationship extends beyond the initial two-year PDC.
The Mudcats are a member of the Carolina League's Southern division. Among the top Brewers prospects positioned to see time there in 2017 are Milwaukee's Minor League player of the year, Isan Diaz, and the team's last two first-round Draft picks, Trent Clark and Corey Ray.
"Having met with the Brewers and in looking at their system, we are confident that we are getting an organization that is loaded with young, talented prospects that we feel will enhance our program," Mudcats owner Steve Bryant said. "We are very impressed with the Brewers in that they share with us a desire to develop young talent at the Minor League level."
This is the first time that the Brewers will have an affiliate in the Carolina League.
The Triple-A situation, meanwhile, remains unchanged because there was nowhere for the Brewers to go. The conditions at Colorado Springs have presented problems for pitchers in the first two years of the affiliation, including Jorge López, who entered 2016 as Milwaukee's top pitching prospect but struggled so badly, particularly with his curveball, that he was sent back down to Double-A Biloxi.
"Our pitching development philosophy, in terms of how we go level to level, needs some discussion," Stearns said. "I don't know that it's going to change, but we need to address it. …
"When I got here, I was adamant that I didn't want to skip levels. That was my decision, and I thought it was important to have pitchers touch that level. I think in some respects I underestimated the challenges that pitchers have in that environment, so it's been a good learning experience for me. We'll figure out the best way to adjust heading into next year."