Fry finishes AFL on high note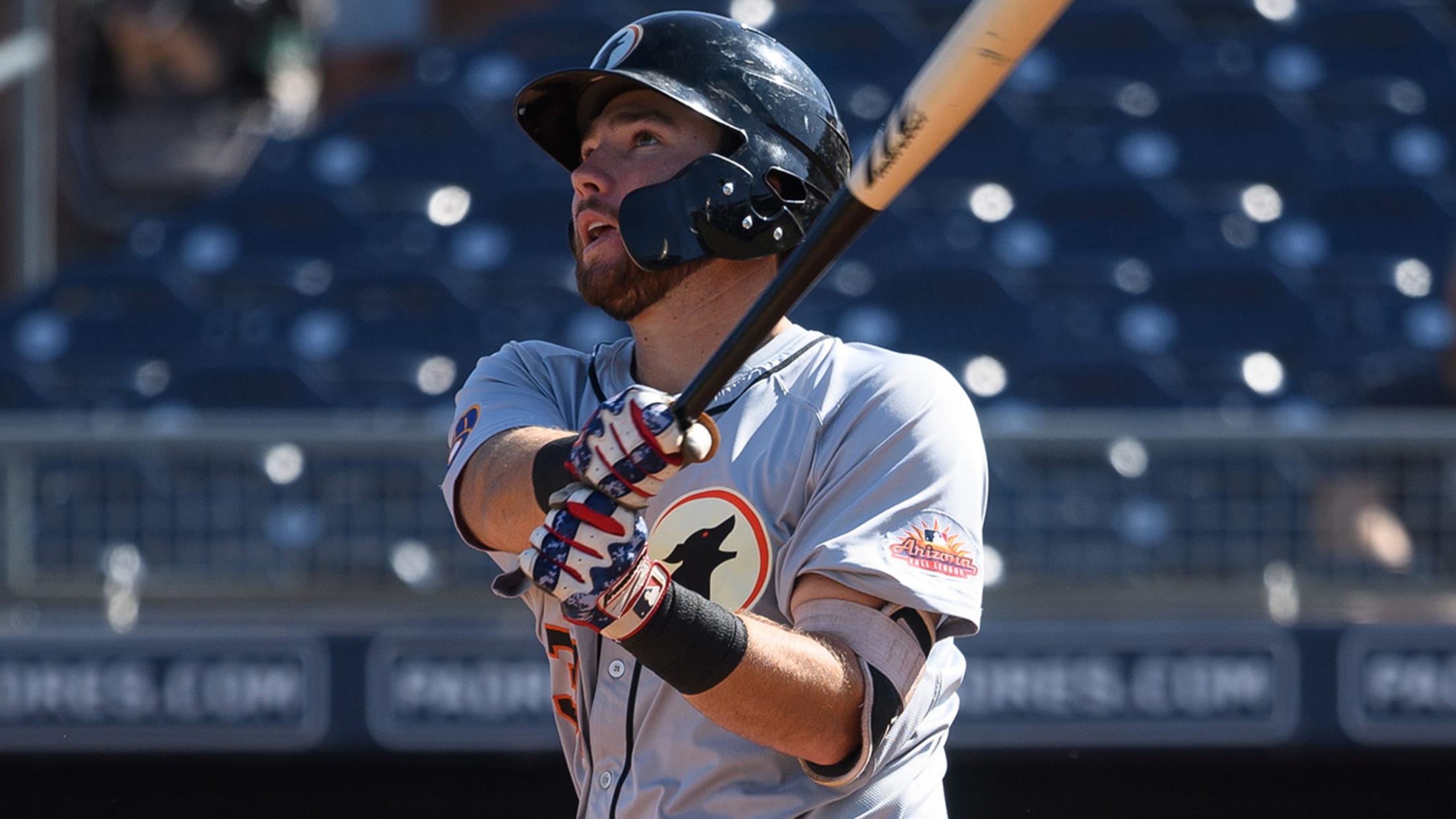 Eight Brewers prospects are playing for the Glendale Desert Dogs in the 2019 Arizona Fall League: Outfielder Pablo Abreu (No. 17), first baseman Jake Gatewood, left-hander Clayton Andrews (No. 30), right-handers Victor Castaneda and Robbie Hitt, first baseman David Fry, and left-hander Quintin Torres-Costa. Bobby Wahl (No. 29) was added
Eight Brewers prospects are playing for the Glendale Desert Dogs in the 2019 Arizona Fall League: Outfielder Pablo Abreu (No. 17), first baseman Jake Gatewood, left-hander Clayton Andrews (No. 30), right-handers Victor Castaneda and Robbie Hitt, first baseman David Fry, and left-hander Quintin Torres-Costa. Bobby Wahl (No. 29) was added to the roster on Oct. 7.
AFL news and video | Brewers Top 30 Prospects
Here's a day-by-day look at how Milwaukee's AFL contingent is faring:
Oct. 25: Glendale 5, Surprise 3
Clayton Andrews, a two-way player who actually pitched Thursday, singled and scored from atop the Glendale lineup Friday. Andrews finished 1-for-4 and went 2-for-10 at the plate in Arizona. On the mound, he pitched to a 3.09 ERA over 11 2/3 innings. David Fry picked up two hits (2-for-4) to finish the Fall League season with an even .300 average. Fry got the scoring started for Glendale with an RBI single in the first inning and later added another double in the fifth. Jake Gatewood reached base twice -- singling and scoring in his first at-bat before drawing a walk in his next plate appearance -- and finished 1-for-3.
#Brewers prospect David Fry puts Glendale on the board with this RBI double in the first inning. pic.twitter.com/TjkpVxlhUn

— William Boor (@wboor) October 25, 2019
Oct. 24: Glendale 2, Peoria 1
Bobby Wahl gave up eight runs over his first two AFL appearances, a combined one inning in length, but has been better of late. Wahl walked one and struck out one in a scoreless inning Thursday, and he has now strung together four straight scoreless outings. Jake Gatewood has hits in back-to-back games after going 1-for-4, but is still batting just .128 in Arizona. Gatewood did pick up his first AFL RBI however, with a run-scoring single in the seventh.
Oct. 23: Glendale 6, Salt River 5
Victor Castaneda struck out the side in the fourth inning to finish with a season-high seven strikeouts in his final start for Glendale. The 21-year-old right-hander threw 43 of 70 pitches for strikes in the outing, allowing one run on two hits and three walks. After garnering AFL Pitcher of the Week honors during the league's opening week, Castaneda went on to post a 1.99 ERA with 29 strikeouts and five walks in 22 2/3 innings while making six appearances (five starts). He limited the opposition to just 13 hits and a .165 average.
Robbie Hitt, 23, allowed a hit and a walk and notched a pair of strikeouts over 1 1/3 scoreless innings out of the Desert Dogs' bullpen. It was the right-hander's third straight scoreless outing. Southpaw Quintin Torres-Costa struck out the side in the eighth while pitching around a one-out single. He's recorded multiple strikeouts in six of nine appearances, giving him 15 in nine innings overall in the Fall League. Pablo Abreu struck out three times but also hit a sixth-inning single that had an exit velocity of 102.3 mph.
Oct. 22: Scheduled off day for all Arizona Fall League teams.
Oct. 21: Salt River 11, Glendale 7
Playing for the first time in five days, David Fry powered up for his first home run of the Fall League when he blasted a solo shot to left field in the seventh for Glendale. The roundtripper marked his first RBI since Sept. 29, despite his consistent contact. He singled earlier in the contest as well, giving him his third multihit performance over his last five games. Bobby Wahl looked sharp out of Glendale's bullpen as he notched a pair of strikeouts in a scoreless inning. After struggling in back-to-back outings (combined 8 R, 7 H, 3 BB) upon joining the Fall League, Wahl has rattled off three straight two-strikeout scoreless appearances.
Oct. 20: Glendale 7, Scottsdale 2
Clayton Andrews' strikeout total continues to grow in Arizona, as he punched out four batters in a two-inning relief appearance for Glendale. In a combined 10 2/3 innings, the Long Beach State product has produced 18 K's. On Sunday, he allowed an RBI double as the lone run against him. Jake Gatewood finished 1-for-4 with a single and scored a run in the five-run fifth inning.
Oct. 19: Glendale 5, Scottsdale 2
Robbie Hitt struck out the first two batters he faced and ultimately finished with three strikeouts over two scoreless innings. Hitt, who walked one, but otherwise retired six of the seven batters he faced, has pitched to a 6.52 ERA in Arizona. Quentin Torres-Costa threw 15 of his 22 pitches for strikes as he cruised through a scoreless inning. The lefty struck out two and has held opponents scoreless in six of his eight appearances this fall. Jake Gatewood drew a walk in his first trip to the plate, but that was the extent of his offensive contributions as he went 0-for-3 and his average dipped below .100. Pablo Abreu also had a tough night going 0-for-4.
Oct. 18: Surprise 3, Glendale 1
After two rocky outings to kick off his Fall League stint, Bobby Wahl posted his second consecutive clean frame Friday. He pitched right through the heart of the Surprise order, getting a groundout before reeling off back-to-back strikeouts to end his evening.
Oct. 17: Scheduled day off for all Arizona Fall League teams.
Oct. 16: Glendale 8, Surprise 4
One of six teenagers in the AFL this season, Pablo Abreu, has had trouble contributing offensively for Glendale, carrying a 3-for-29 mark with him into Wednesday night's game. But he added two hits to his record, going 2-for-3 with a double (his first of the fall) and an RBI (his second), though he did get thrown out at the plate on the back end of a first-and-third double steal attempt to end the second inning. David Fry caught and hit cleanup, and while he went 0-for-4 at the plate, he did a very nice job blocking and receiving behind it all night. Jake Gatewood hit two spots behind Fry, in the six hole, and went 0-for-4 with two strikeouts. He's picked up just one hit in his last 18 at-bats.
#Brewers prospect Pablo Abreu with an RBI double to give Glendale a 2-0 lead pic.twitter.com/fLTbFNhb0W

— Jonathan Mayo (@JonathanMayo) October 17, 2019
Victor Castaneda, who garnered Pitcher of the Week honors during the AFL's opening week, was very sharp on Wednesday night. The right-hander tossed five shutout innings, allowing just two hits and a walk while striking out six. Working very quickly and efficiently (76 pitchers through five), Castaneda mixed all of his pitches well and kept Surprise off-balance all night. His ERA is now down to 1.93 with 22 K's in 18 2/3 innings. He's given up just 11 hits and three walks (0.75 WHIP).
Here's one of #Brewers RHP Victor Castaneda's 6 K's during his 5 innings of shutout ball tonight. Brings his @MLBazFallLeague ERA down to 1.93. pic.twitter.com/VcPICyjcTp

— Jonathan Mayo (@JonathanMayo) October 17, 2019
Oct. 15: Glendale 4, Mesa 3
It's been a struggle for Jake Gatewood this fall, but the big right-handed hitter did pick up his first extra-base hit of the AFL season with a double down the left-field line in the second inning. He's now 3-for-24 for Glendale over eight games.
After getting roughed up for eight earned runs over his first two AFL outings, Bobby Wahl was much more effective out of Glendale's bullpen on Tuesday. He pitched a perfect seventh, striking out two. Lefty two-way player Clayton Andrews came on after Wahl and put up another zero in the eighth, allowing a walk and striking out one.
Oct. 14: Glendale 9, Mesa 5
Pablo Abreu got the start in center on Monday, batting ninth, but went 0-for-4 with a pair of strikeouts as his tough AFL season continues. Milwaukee's athletic No. 17 prospect only turns 20 years old this coming Saturday, October 19.
On the mound, lefty Quintin Torres-Costa pitched one inning of relief, allowing two runs (one earned) on a hit and a walk with one strikeout. Robbie Hitt pitched a clean inning of relief, striking out one, to lower his AFL ERA to 8.22.
Oct. 13: Scheduled day off for all Arizona Fall League teams.
Oct. 12: East 4, West 2
Here's how every player performed in the Fall Stars Game. More »
Oct. 11: Peoria 8, Glendale 3
David Fry hit cleanup Friday and went 0-for-3 with a strikeout, dropping his fall average to .297, but he delivered defensively, nabbing a runner attempting to swipe second to conclude the second frame. Bobby Wahl, Milwaukee's No. 29 prospect, got the start for the Desert Dogs on Friday, and the 27-year-old right-hander scuffled for the second consecutive appearance. He recorded just two outs and yielded three runs. His fastball reached 94 mph, as he also relied heavily on his breaking ball.
Oct. 10: Glendale 5, Peoria 2
Pablo Abreu went 1-for-4 with two strikeouts, playing right field for Glendale. David Fry notched his third double of the fall season and added a single in his 2-for-3 day, raising his fall average to .324 and scoring a run in the matchup. Victor Castaneda made his first relief appearance in the AFL and delivered a flawless one-inning outing. He kicked it off by striking out the first two batters that he faced, before getting a flyout to end the frame. Through four appearances, the 21-year-old has posted a 2.63 ERA. Clayton Andrews picked up his first save with a scoreless ninth. He pitched just the one frame and struck out a pair.
Oct. 9: Salt River 6, Glendale 2
Jake Gatewood struck out swinging in three of his four at-bats and grounded into a double play in the other as he finished 0-for-4. He's batting .095 in the Fall League.
Oct. 8: Salt River 11, Glendale 10
David Fry got back in the hit column after going 0-for-8 over his past two games. The 23-year-old went 2-for-4 with a double and boosted his AFL average up to .290. Bobby Wahl's first start of the fall didn't go as planned, as he was unable to get out of the first inning. Wahl, whose fastball sat in the mid-90s and topped out at 97 mph, threw nine of his 21 pitches for strikes, walked two and gave up five runs on three hits in one-third of an inning. It is important to note that Wahl missed the 2019 regular season with a torn right ACL, so a bit of rust was to be expected. Robbie Hitt followed Wahl, but didn't fare much better, as he gave up five runs (four earned) on three hits over 1 2/3 innings. Quintin Torres-Costa gave up one hit, but kept the Salt River Rafters off the board in his lone inning of relief. Torres-Costa has pitched to a 1.50 ERA in the AFL and hasn't allowed a run in five of his six appearances.
Oct. 7: Scheduled day off for all Arizona Fall League teams.
Oct. 6: Scottsdale 6, Glendale 5
Milwaukee's No. 30 prospect Clayton Andrews came on for the top of the eighth inning and the 22-year-old left-hander promptly struck out the side in order, bringing his strikeout total to 11 in 6 2/3 fall innings and lowering his ERA to 4.05. Pablo Abreu, No. 17 on the Top 30, entered the game in the bottom of the ninth as a pinch runner, and moved from first to second on a wild pitch before the matchup came to a close.
Oct. 5: Glendale 2, Surprise 0
Victor Castaneda, who garnered Pitcher of the Week honors to open the AFL, spun another gem for Glendale on Saturday as he lowered his ERA to 2.84. The 21-year-old right-hander allowed three hits five scoreless frames -- matching the longest outing so far in the Fall League -- striking out four and walking one batter. Of his 65 pitches, 41 were strikes. Lefty Quintin Torres-Costa had a leadoff error behind him and issued a pair of walks before recording an eight-pitch swinging strikeout to escape the bases-loaded jam.
Oct. 4: Glendale 7, Surprise 6
David Fry cut down two runners attempting to steal, first throwing out a runner at third in the second inning, followed by ending the sixth inning by nabbing a baserunner at second. He went 0-for-4, lowering his average to .259 despite drawing a walk. Jake Gatewood departed after his only at-bat of the game, having been plunked near the hand in the third. The 24-year-old has had a slow start out of the gate in the AFL, batting 2-for-17 through his six appearances with Glendale. Clayton Andrews earned the win out of relief despite allowing an unearned run via the additional baserunner in extra innings. Robbie Hitt worked an inning of relief and allowed two runs on one hit, one walk and a hit batsman. The right-hander did notch two strikeouts, throwing 12 of his 18 pitches for strikes. Pablo Abreu got the start in center field, but finished 0-for-3. His struggles with Glendale continued, as his average sits at .095 through six contests.
Oct. 3: Scheduled day off for all Arizona Fall League teams
Oct. 2: Peoria 2, Glendale 0
A trio of Brewers prospects was held hitless on Wednesday. No. 17 prospect Pablo Abreu went 0-for-4 with four strikeouts, but the center fielder notched an outfield assist. Designated hitter David Fry went 0-for-4 and struck out three times, while first baseman Jake Gatewood went 0-for-4 with one strikeout, adding two errors to a tough day.
Oct. 1: Mesa 4, Glendale 0
Quintin Torres-Costa continued to impress, pitching a scoreless inning with three strikeouts and two walks for the Desert Dogs. The 25-year-old, who pitched only 4 1/3 Minor League innings this season, has compiled a 2.25 ERA in Arizona thus far.
Sept. 30: Scheduled day off for all Arizona Fall League teams.
Sept. 29: Salt River 4, Glendale 3
David Fry drove in two runs with a double in the bottom of the ninth inning to bring his Glendale team within one run against Salt River in the 4-3 loss. He finished with three knocks in four at-bats to up his season total to seven hits. Clayton Andrews allowed one hit in one scoreless inning. He struck out two and did not walk a batter.
Sept. 28: Peoria 9, Glendale 4
Victor Castaneda, the reigning AFL Pitcher of the Week, was barreled up by Peoria, allowing five runs (four earned) in 3 2/3 innings. Most of the damage came in his three-run third inning, when Top 100 prospect Julio Rodriguez ripped a two-run double, which was followed by Hudson Potts' sac fly. But the final straw was Jarren Duran's homer in the fourth, after which Castaneda was pulled. The 21-year-old struck out four batters and threw two wild pitches. Robbie Hitt served up a solo home run to Jose Garcia and issued two walks in an inning of work.
None of the Brewers' offensive prospects recorded a hit, but Jake Gatewood scored a run after drawing a walk. David Fry went 0-for-4 with three strikeouts, and Pablo Abreu struck out in both of his at-bats before he was lifted from the game due to an injury.
Sept. 27: Peoria 5, Glendale 2
Left-hander Quintin Torres-Costa induced two fly-ball outs before striking out Top 100 prospect Oneil Cruz to complete a perfect eighth inning.
Sept. 26: Glendale 5, Salt River 4
Two-way player Clayton Andrews took to the mound and fired 1 1/3 innings of scoreless baseball, striking out a pair of batters while allowing no baserunners. The 5-foot-6 lefty, who also hit .333 in 63 at-bats in the Minors this season, got his fastball up as high as 92 mph during his time on the mound.
Jake Gatewood singled, scored a run and drew a walk as Glendale's third baseman, and Pablo Abreu notched a single and a run in a 1-for-4 game, but struck out three times. Catcher David Fry went 0-for-3 with a walk and two strikeouts.
Sept. 25: Salt River 8, Glendale 4, postponed due to lightning
Jake Gatewood walked and scored in the third inning and finished 0-for-1 in Glendale's contest against Salt River, which was called in the fifth inning due to weather conditions. Ahead of the game, Victor Castaneda earned AFL Pitcher of the Week honors for the first week of play.
Sept. 24: Glendale 7, Mexicali 2
Right-handed reliever Robbie Hitt was the lone Brewers player to appear in Tuesday's 7-2 win for Glendale. Hitt pitched a clean inning and struck out the side on just 14 pitches, 11 of which were strikes. The 23-year-old split this season between Class A Wisconsin and Class A Advanced Carolina, where he posted a 2.90 ERA over a combined 59 innings.
Sept. 23: Scheduled day off for all Arizona Fall League teams.
Sept. 22: Mesa 7, Glendale 6
Quintin Torres-Costa allowed a run on two hits in an inning of work, striking out two of the three batters he retired. Clayton Andrews entered the game with runners on the corners in the bottom of the ninth and his team ahead 6-3. He walked the first three batters he faced, forcing in two runs, and then allowed a sac fly and an RBI double from A's prospects Greg Deichmann and Alfonso Rivas to end the game in Mesa's favor. Serving as the designated hitter, David Fry went 2-for-4 with a run scored.
Sept. 21: Glendale 1, Scottsdale 0
Right-hander Victor Castaneda was pitching in the Mexican League in 2017 when the Brewers signed him for $40,000 in July. He made 14 appearances in the rookie-level Pioneer League in 2018 and was a reliever in his full-season debut in 2019. He got the start for his AFL debut for Glendale on Saturday night and was very sharp. The 21-year-old didn't allow a hit over four innings, walking just one while striking out six. He struck out the side in the third. Jake Gatewood played third and hit eighth, going 0-for-3 with a strikeout. In his second Fall League stint, the 2014 draftee has gone 1-for-7 in two starts.
Sept. 20: Scottsdale 3, Glendale 2
No. 18 prospect Pablo Abreu started in left field and hit ninth in the Glendale Desert Dogs lineup on Friday night. He went 0-for-4 and struck out three times, giving him a 1-for-7 start over two games. Just 19, Abreu missed most of the 2019 season and appeared in just 41 games, 27 of them coming in his first taste of full-season ball. David Fry made his first start behind the plate, and it was a good one. The 2018 seventh-round pick was a senior sign out of Northwestern State who spent the year in the Class A Midwest League, but jumped up two levels to help Biloxi in the Double-A Southern League playoffs. Fry, who is capable of playing multiple positions, went 2-for-4 with a run scored and threw out a baserunner trying to steal second in the fifth inning. Right-hander Robbie Hitt had an effective debut out of the Glendale bullpen, allowing two hits over two scoreless innings, striking out one.
#Brewers' David Fry showing off the 💪 with a strong throw, and we have some #Statcast numbers!

1.84 pop time to 2nd (would be in the top 50 in #MLB this season).

Follow live: https://t.co/c0HZHIyeOv pic.twitter.com/0B5tCBMmo1

— MLB Pipeline (@MLBPipeline) September 21, 2019
Sept. 19: Peoria 10, Glendale 3
No. 18 prospect Pablo Abreu made his AFL debut playing right field and hitting ninth for Glendale on Thursday. He went 1-for-4 with an RBI single up the middle in the second inning. First baseman Jake Gatewood struggled in 2019 in Double-A (.187/.244/.331 in 94 games), so he's looking to turn it around in his second AFL stint. He went 1-for-4 with a run scored in his Fall League debut.
A pair of Brewers lefties pitched the final three innings of Glendale's 10-3 loss to Peoria on Thursday. Quintin Torres-Costa missed nearly all of the 2019 season, but turned in a scoreless seventh inning despite walking a pair of batters. Clayton Andrews was tagged for three runs over two innings, but only one was earned. He gave up two hits and a walk, though he did strike out four.
Sept. 18: Surprise 4, Glendale 2
None of the Milwaukee prospects playing for the Glendale Desert Dogs appeared in Wednesday's opening game.