Best position-player seasons in Crew history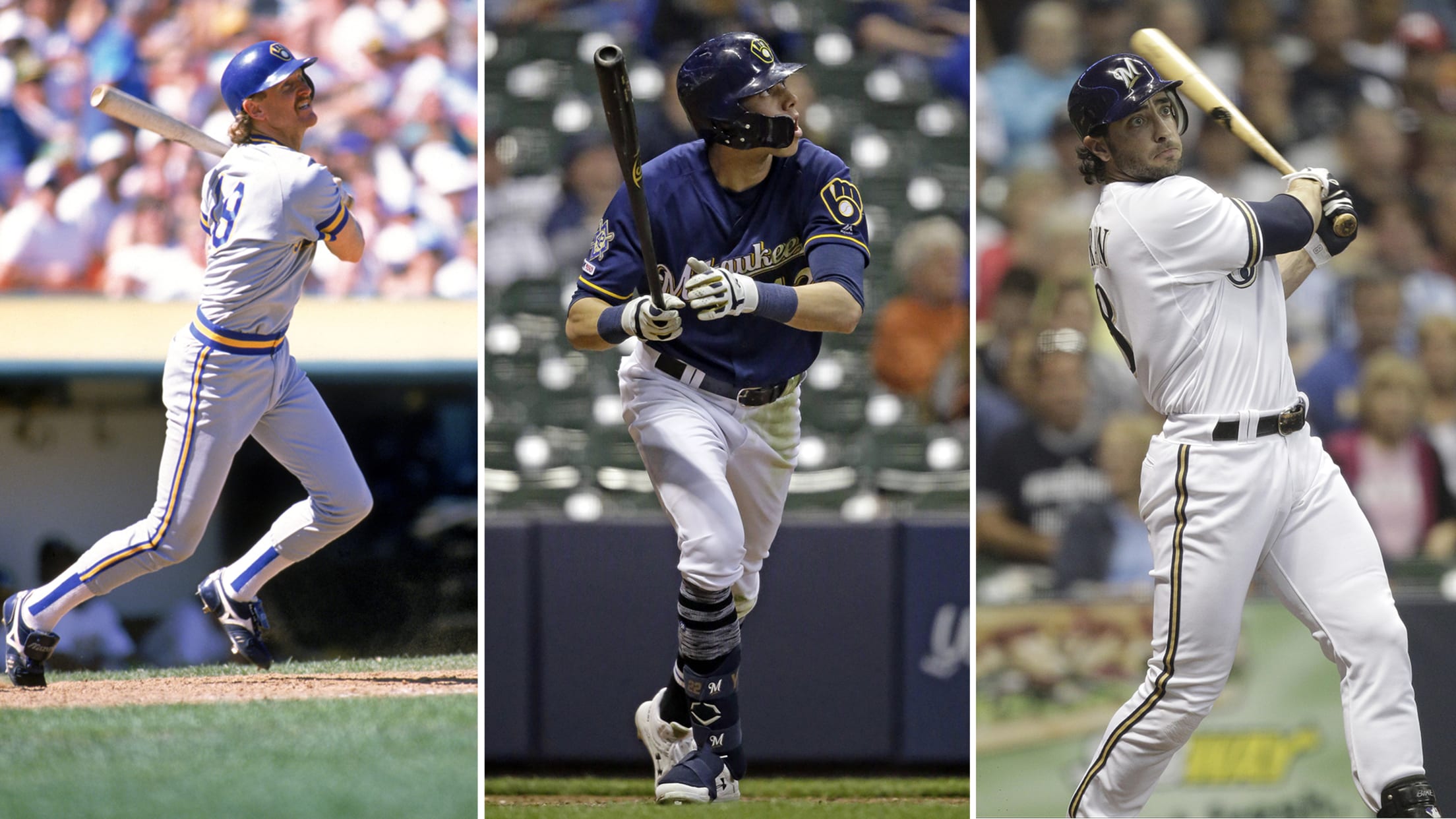 MILWAUKEE -- The downside of Robin Yount's breakthrough in 1982 was fielding questions about his individual performance. "If it were up to me," Yount told the Associated Press when asked about his chances of winning the American League MVP Award that year, "I probably wouldn't have an award. No one
MILWAUKEE -- The downside of Robin Yount's breakthrough in 1982 was fielding questions about his individual performance.
"If it were up to me," Yount told the Associated Press when asked about his chances of winning the American League MVP Award that year, "I probably wouldn't have an award. No one person can carry a team through a 162-game schedule. I think the only awards should be team awards."
Baseball still celebrates individual greatness, however, and a list of the best individual seasons for a position player in Brewers history begins with Yount. To compile a list, we averaged players' Wins Above Replacement from Fangraphs, Baseball Reference (both overall and offensive) and Stats Inc. Using those composite totals to determine the order, here are the results:
1. Yount, 1982
.331/.379/.578, 164 wRC+, 9.775 composite WAR
Yount made a steady rise to stardom for the Brewers, accessing his power in 1980 while hitting 23 home runs and an MLB-best 49 doubles, but it was in '82 that he really broke through. He led the Majors in slugging percentage, hits (210), total bases (367) and doubles (46). He hit 29 home runs with 114 RBIs -- marks that stood as career highs when his 20-year career was over -- while winning a Gold Glove Award at shortstop. In the regular-season finale at Baltimore, with the American League East title up for grabs, Yount hit a pair of home runs off Orioles ace Jim Palmer to earn the Brewers their first division crown. He was the runaway choice for AL MVP, the first hitter in franchise history to win it (Brewers reliever Rollie Fingers won in '81).
The greatness of Yount's all-around performance that season has not been diminished by the passage of time. It remains the most valuable season in franchise history by all WAR metrics -- at least one win better than the runner-up in every measure, and in some instances by multiple runs. His 10.5 bWAR is tied for 27th best in baseball history, while his 9.8 fWAR is sixth best in history for a shortstop.
"When I was younger, my brother once told me, 'You'll never know how long you will play this game, so give it everything you have, for as long as you can,'" Yount wrote in his foreword to the 2020 book, The Milwaukee Brewers at 50. "I always remembered that and tried to give it my all. That was the only way I knew how to play. I love the game of baseball."
2. Christian Yelich, 2019
.329/.429/.671, 174 wRC+, 7.475 composite WAR
Yelich won the National League MVP Award in his debut season in Milwaukee in 2018 -- yet somehow was even better in his second year, despite missing the final three weeks of the season due to a fractured right kneecap. Yelich began the season by hitting a home run in each of the Brewers' first four games, matching a Major League record. On the day he tied the mark with a first-inning homer against the Cardinals, Yelich finished with a walk-off double.
"I've never seen anyone this good at baseball for this long," said Ryan Braun that day. "I mean, maybe [Barry] Bonds in his prime. As great as [Mike] Trout is. I've seen [Albert] Pujols. … I think everybody should take the time to appreciate it, because what we're witnessing is greatness."
After becoming the first Brewers hitter to win a league batting title in 2018, Yelich did it again in '19 with an average three points higher. He led the NL in OBP and the Majors in slugging percentage and OPS (1.100). His wRC+, a measure that accounts for era and ballpark effects -- offering one of the best apples-to-apples comparison of offensive performance over time -- was the best in club history and among the best 75 performances in baseball history for a qualifying hitter. Yelich set franchise records for OPS, adjusted OPS, at-bats per home run and wOBA. Still, the Dodgers' Cody Bellinger wound up winning MVP honors, denying Yelich the back-to-back victory.
3. Ryan Braun, 2011
.332/.397/.597, 171 wRC+, 7.475 composite WAR
How does one measure Braun's performance in 2011? Statistically, it easily ranks among the best individual seasons for a hitter in franchise history: the second best wRC+ and OPS+ for a Brewers batter and the third-best wOBA. Per composite WAR, Braun's output tied Yelich's '19 season as the second-most prolific in club history. And the eye test agreed; Braun hit 33 home runs with 111 RBIs and 33 stolen bases, making him the Brewers' first 30/30 player in 41 years and helping him earn the NL MVP Award.
But Braun's statistical accomplishments were tarnished that winter when reports emerged that he had tested positive for a performance-enhancing drug. He won an appeal of his suspension, but in 2013, Braun was suspended for 65 games, and he later admitted to taking a banned substance.
4. Yelich, 2018
.326/.402/.598, 166 wRC+, 7.4 composite WAR
Yelich hit 36 home runs and collected 110 RBIs, leaving him two homers and one RBI shy of what would have been the NL's first Triple Crown since St. Louis' Joe Medwick in 1937. Yelich led the NL in average, slugging, OPS, wRC+, wOBA and OPS+ while leading NL hitters in every version of WAR. Entering his prime at age 26 and playing in a ballpark particularly friendly to left-handed hitters, Yelich made the most of the move from the Marlins, becoming the first player to win a league MVP honor the season after he was traded since the Blue Jays' Josh Donaldson in 2015. It had happened to only one NL player: Braves third baseman Bob Elliott in 1947.
It didn't take advanced stats to see Yelich pull away from the pack after he tweaked his batting stance to stand more upright in the box. Yelich hit more home runs in the second half (25) than he had in any of his five seasons with Miami. His .770 slugging percentage after the All-Star break was baseball's best second-half mark in 14 years, since Barry Bonds' .832 in 2004, and was 145 points better than the next-best finisher that year. Yelich did so much damage when it mattered most, slashing .370/.508/.804 from Sept. 1 to Oct. 1 while the Brewers closed a 5 1/2-game gap against the Cubs to win the NL Central.
5. Tommy Harper, 1970
.296/.377/.522, 146 wRC+, 6.975 composite WAR
Coming off 73 stolen bases for the short-lived Seattle Pilots in 1969, Harper became the fifth 30/30 player in Major League history with 31 homers and 38 stolen bases for the Brewers after the franchise moved to Milwaukee in '70. Before Harper, only Henry Aaron, Bobby Bonds, Willie Mays and Ken Williams (of the St. Louis Browns) were part of the 30/30 club. Harper was the Brewers' lone representative to the All-Star Game and a bona fide star for a team putting down roots in a city starved for baseball. Harper finished sixth in AL MVP Award balloting.
Honorable mentions (chronologically)
• Cecil Cooper, 1980: The sweet-swinging first baseman finished fifth in AL MVP Award balloting three times with the Brewers, including in '80, when he set a franchise record by batting .352 and led the AL with 335 total bases.
• Paul Molitor, 1987: After missing time with a hamstring injury, Molitor returned to make a bid for MLB history during a 39-game hitting streak late in the season. He finished with huge numbers, including a .353 average, a 1.003 OPS and an AL-best 41 doubles. His OPS was a franchise record until Prince Fielder broke it in 2007.
• Jeff Cirillo, 1999: The third baseman stacked two big seasons at the end of his Brewers tenure, hitting .326 in '99 to finish as the club's all-time leader in career batting average.
• Prince Fielder, 2007: His breakthrough was in '07, when the 23-year-old became the youngest big leaguer to hit 50 home runs since Willie Mays. Fielder's 1.013 OPS that season was a franchise record.
• Fielder, 2009: He bested his own mark by posting a 1.014 OPS in '09. Though he hit fewer homers (46), he led the Majors and set a franchise record with 141 RBIs while slashing .299/.412/.602. Only Yelich has posted a better OPS in Brewers history.
• Jonathan Lucroy, 2014: As framing became a popular stat, Lucroy's value at catcher came into better focus. His 8.2 fWAR in '14 is second best in Brewers history to Yount's 1982 season, and he finished fourth in NL MVP balloting with a .301 average and 53 doubles -- a Major League record at his position.