Crew can't gain on Cards, falls 2 back of Nats
Bullpen allows 7 runs in 6th after Davies tosses 5 strong innings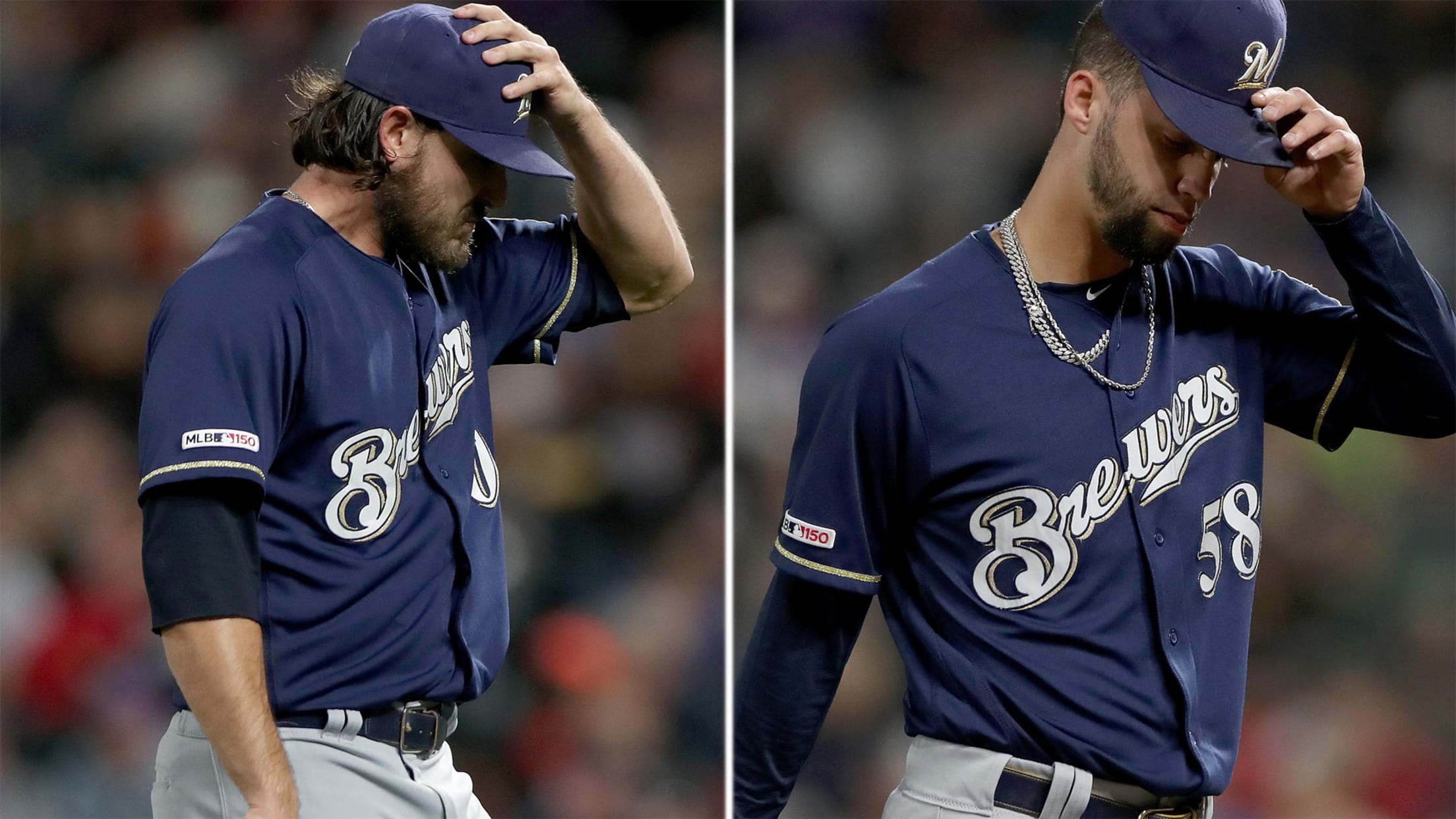 DENVER -- The Brewers entered their final regular-season series knowing they needed to win and get some help. Now they need even more help, and they have a new injury to worry about. Milwaukee's September pitching strategy finally let them down in an 11-7 loss to the Rockies in Friday's
DENVER -- The Brewers entered their final regular-season series knowing they needed to win and get some help.
Now they need even more help, and they have a new injury to worry about.
Milwaukee's September pitching strategy finally let them down in an 11-7 loss to the Rockies in Friday's series opener at Coors Field, which snapped the Brewers' seven-game winning streak. Milwaukee stayed one game behind the Cardinals in the National League Central standings after both clubs lost on the same day for the first time since Aug. 5, but the Brewers fell two games behind Washington for the right to host the NL Wild Card Game because the Nationals won their sixth straight game on Friday.
There are two games to play.
"We went through it last year. We've been through this," said left fielder Ryan Braun, whose availability for the weekend is in question after he strained his left calf running to first base on an RBI single in the first inning. "I think there's something about the unknown that can be challenging, but at the same time, the focus remains the same. It's on ourselves, it's on playing good baseball the way we have, on competing day in and day out. We'll try to win ballgames and see what happens around us."
All four of the Brewers' potential outcomes at the start of the day remained in play heading into the weekend. They are as follows:
1) Clinch the division by Sunday.
2) Tie the Cardinals and force a Game 163 for the division.
3) Clinch home-field advantage in the Wild Card Game.
4) Settle for the second Wild Card.
Over in St. Louis, the Cardinals suffered their own bullpen breakdown in an 8-2 loss to the Cubs. Did the Brewers' loss help soften the blow for Cards manager Mike Shildt?
"I guess that's accurate," Shildt said. "We want to take care of our own business, but it makes it a little softer."
For the Brewers, Friday's game was decided during a sixth-inning Rockies rally in which Milwaukee's bullpen didn't fulfill its role in the all-hands-on-deck strategy that manager Craig Counsell has employed since rosters expanded at the start of the month. Colorado turned a 2-1 deficit into an 8-2 lead by sending 12 to the plate and scoring seven runs against three Brewers relievers who combined to throw 50 pitches -- 18 shy of the number of pitches thrown by Zach Davies in his five innings of one-run, two-hit ball.
Hard-throwing right-hander Ray Black inherited a 2-1 lead and surrendered a game-tying home run to Charlie Blackmon on his second pitch. He was relieved after three batters -- all of whom reached base -- by Alex Claudio, who tied the Brewers' record with his 83rd appearance but would soon forget it. Claudio gave up a go-ahead single, walked in a run and watched Jay Jackson take over and give up a grand slam on a first-pitch slider to pinch-hitter Raimel Tapia.
"The whole inning snowballed," Black said. "I was overthrowing, trying to make my stuff better. I put Claudio in a tough situation in a tie game with two runners on. He's got to be perfect in that situation. That whole inning, I take responsibility for. It started with me."
The result was the Brewers' third loss in their last 21 games.
"When we started this thing, losses hurt. Because we put ourselves in this position, they hurt now as much as they did when we lost the first game in St. Louis [a 10-0 defeat on Sept. 13] or the game to San Diego [a 2-1 loss on Sept. 18]," Counsell said. "But it is pretty nice to say that those are the two games we've lost in the last three weeks.
"You know, we had a bad inning. We've pitched really, really well for a really long time. We had a bad inning tonight, and it cost us this one."
That Counsell removed Davies was hardly a surprise, even though Davies averaged fewer than 14 pitches per inning Friday and held the Rockies to two hits and one run. That's how the Brewers have rolled all month, turning a 7 1/2-game division deficit on the morning of Sept. 6 into a bona fide battle with the Cardinals entering the final weekend, as well as overcoming a five-game deficit in the Wild Card race to clinch a berth with four games to spare. After the starter goes twice through the order as Davies did on Friday, it's generally time to tap the expanded bullpen.
But Counsell said Davies would have returned for the sixth inning and a third turn through the lineup if not for an opportunity to pinch-hit with a runner at third in the top of that inning. With a fully stocked bench and bullpen, it would have made little sense to bat Davies in that spot so Tyler Austin took a shot instead. He struck out before the game turned south for the Brewers.
"We're not always perfect," Davies said. "You can say that for any strategy or any player in the game. You're going to have nights like this."
For the first time in a long time, the relievers didn't execute.
"It's tough, because we could have made up that game [against the Cardinals] tonight," Black said. "It makes it that much harder. We've done well this month of trying to pick one another up."