Brewers on track until rare hiccup for Hader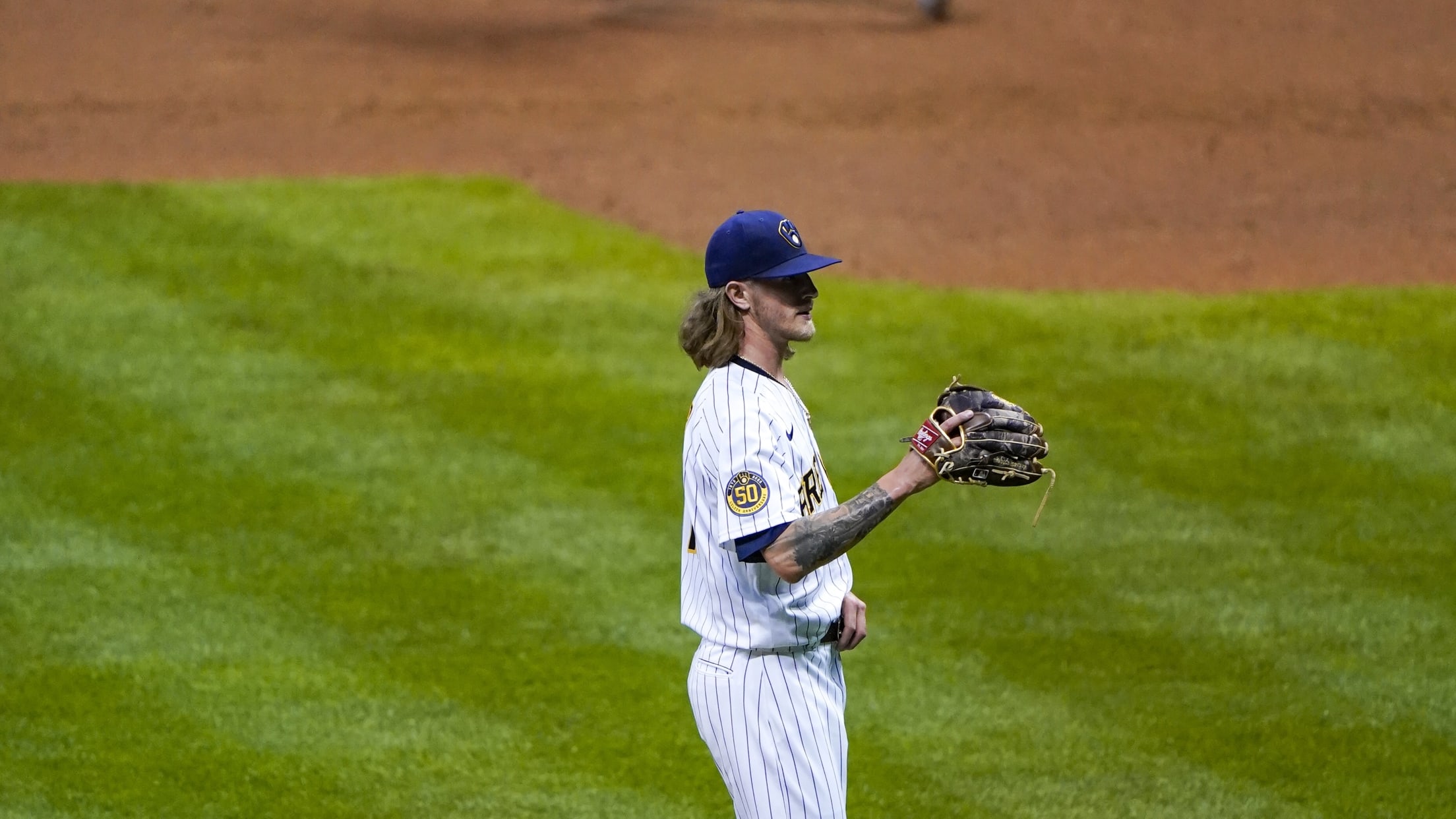 MILWAUKEE -- Well, that's one way to test whether the Brewers' "positivity train" can stay on the tracks. It was rolling along -- rather literally, thanks to emergency starter Brent Suter -- until Josh Hader surrendered four hits in the ninth inning of the Brewers' 4-2 loss to the Cubs
MILWAUKEE -- Well, that's one way to test whether the Brewers' "positivity train" can stay on the tracks.
It was rolling along -- rather literally, thanks to emergency starter Brent Suter -- until Josh Hader surrendered four hits in the ninth inning of the Brewers' 4-2 loss to the Cubs on Saturday at Miller Park. With Jason Heyward's two-strike, three-run home run and Ildemaro Vargas' two-strike solo shot, gone was a 28-inning scoreless streak for Brewers pitchers, and gone was a chance to sweep National League Central-leading Chicago.
"That's a big loss for us," Hader said.
Entering the night, the Brewers had not lost all year when leading after eight innings. Hader had pitched in 14 games and surrendered a hit in only one of them, two outings earlier in Cleveland. His opponents were 2-for-40 with 20 strikeouts, including 0-for-30 with two strikes. Hader had not allowed a home run in 2020, much less a home run to a left-handed hitter in a two-strike count. In fact, before Saturday, Hader had only allowed one two-strike home run to a left-handed hitter in his career -- to the Dodgers' Cody Bellinger in April 2019.
But that's what Heyward delivered after Hader surrendered singles to Javier Báez and Anthony Rizzo (in an 0-2 count), then threw a 1-2 fastball to Heyward down and in where a lefty likes it.
"When a guy like that is supplying power, you take a short swing and you make it work, make a good pass at it, it's got a good chance to get out of here," Heyward said.
Chalk up the loss as another challenge for the Brewers in 2020. The year has been so challenging in so many new ways, that somewhere along the line either Ryan Braun or Christian Yelich -- manager Craig Counsell was not quite sure of the conductor -- introduced the concept of a "positivity train" to help the team reach the end of the tracks.
It may sound silly for multimillionaire professional athletes to be walking around wearing T-shirts with the word "POSITIVITY" forming the body of a speeding train.
But has there ever been a baseball season in which it's more important to have a mantra?
Perennial MVP candidate Yelich got off to a horrid start and had to resign himself to the fact he won't win a third consecutive NL batting title. Hader is missing one mph on his fastball after a shortened camp. Braun has been banged up and struggled to stay in the lineup, and Suter, starting Saturday in place of an injured Brett Anderson, literally fell down on the mound, mid-delivery in the third inning, and did a backward somersault.
Suter popped to his feet and kept chugging along.
He struck out Ian Happ to finish a crisp, three-inning outing. Braun delivered a two-run home run off Cubs starter Kyle Hendricks an inning later, and Freddy Peralta, Eric Yardley, Alex Claudio and Devin Williams passed a 2-0 lead to Hader in the ninth. It got away.
"You're definitely not used to that," Williams said. "It's usually 1-2-3 whenever he comes in. But this is a tough game. It's hard to get it done every time. Sometimes you don't have it, like I didn't today. I was able to work out of it, but it happens."
Said Hader: "You just have to move forward. That's one of the things I try to do personally, not dwell too much on the good or bad. It's kind of hard, especially right now being in such a close chase and being in the same division as those guys."
Hader's positivity sounded familiar. A night earlier, it was Braun's sacrifice fly in the bottom of the ninth inning that decided the series opener, a 1-0 Brewers win, and he explained how the "positivity train" came to be.
"It's been a running theme for us for the last couple weeks," Braun said. "I think it has helped us play at least a little bit better. Obviously, this year is incredibly weird and unique and challenging in so many ways, and it becomes difficult to always stay positive, so it was just a commitment to each other, regardless of how difficult or challenging things may be, we're all going to stay positive.
"We're all going to stay on that positivity train. There's days you want to jump off the train, but you've got to stay on. Regardless of how we finish up, it's important that we all continue to stay positive and optimistic over the next couple weeks of baseball."
All aboard the positivity train. 🚂#ThisIsMyCrew pic.twitter.com/155lGN57e1

— Milwaukee Brewers (@Brewers) September 12, 2020
On Friday, after Hader pitched a scoreless ninth to secure the series opener, he admitted he's had a hard time with 2020, even as he puts together another season of sparkling statistics.
"Coming in, stopping and going, it's definitely a unique year for me, personally," Hader said. "Trying to see what works, what doesn't, and continue to try and stay healthy through it. When you see the 60 games, it seems like it's not that much. But it actually seems like it's taken more of a toll than on paper it looks."