Inbox: Will Crew re-examine rotation model?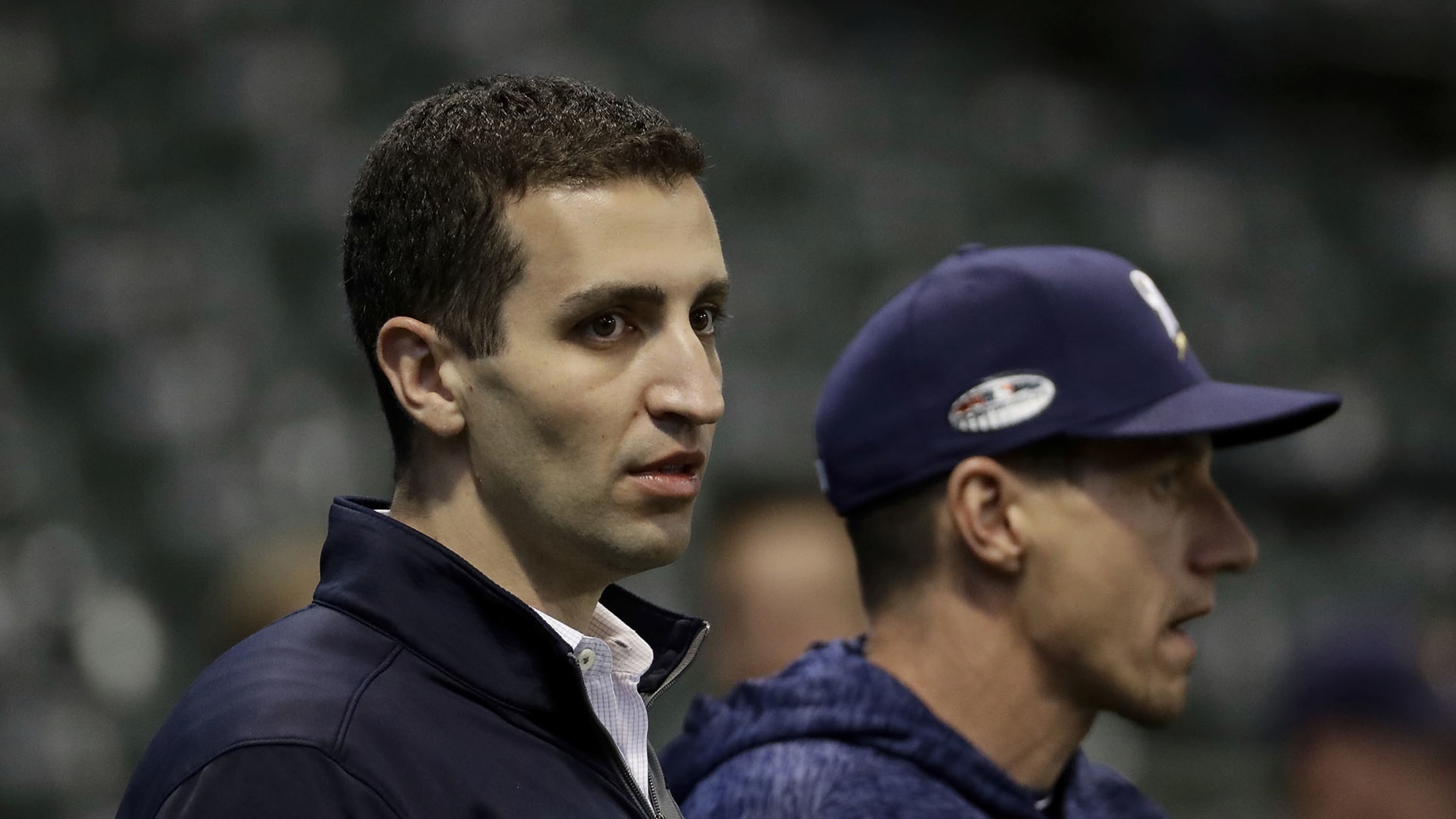 Milwaukee Brewers general manager David Stearns, left, and manager Craig Counsell watch during batting practice before Game 1 of the National League Championship Series baseball game against the Los Angeles Dodgers Friday, Oct. 12, 2018, in Milwaukee. (AP Photo/Matt Slocum) (Matt Slocum/AP)
Taking your hint to rethink the "starting five," what are the odds that David Stearns and Co. turn to a true, full piggyback model for initial out-getters? -- Tim S., Appleton, Wis. It sure feels like this is the direction baseball has been going for many years now, doesn't it?
Taking your hint to rethink the "starting five," what are the odds that David Stearns and Co. turn to a true, full piggyback model for initial out-getters?
-- Tim S., Appleton, Wis.
It sure feels like this is the direction baseball has been going for many years now, doesn't it? Shorter starts, longer relief stints, firmer stuff all around as pitchers take the mound and air it out for as long as they can go. With extra arms in the modern bullpen and starters more often hitting the showers in the fifth inning, it does start to look like a hybrid piggyback system.
:: Submit a question to the Brewers Inbox ::
To control pitch counts, many teams use that system in the Minor Leagues, in which two "starters" are paired up in a rotation and work on the same day, taking turns starting and following in relief. That's easier to do in the Minor Leagues -- where rosters are more easily manipulated -- than in the Majors, where the constraints of 25-man rosters and the grueling nature of the schedule provide complications. Perhaps someday, the implementation of a taxi squad or other rules changes will allow for more in-season flexibility. Until then, I don't expect to see true piggybacks in the big leagues.
What's most likely to happen? Moustakas at 3rd and Shaw at 2nd OR Shaw at 3rd with a new 2nd baseman?

— Jason Bruch (@JasonBruch3) January 3, 2019
The latter. The Brewers seem more interested in signing a second baseman than bringing back Mike Moustakas and shifting Travis Shaw to second again. MLB Network insider Ken Rosenthal said Thursday in a notes column at The Athletic (subscription required) that the Brewers "like" James Dozier. Remember, his name also came up before the non-waiver Trade Deadline in July.
There has not been much news about Moustakas since he declined his half of a $15 million mutual option to hit free agency. But he's still in a decent position to land a good contract because third base is not a particularly deep position in free agency this year, especially since Josh Donaldson signed early with the Braves and Adrian Beltre retired. Still, one cannot completely rule out a reunion. Last year, the cold free-agent market impacted Moustakas as much as any player, and he was forced to take a one-year deal with the Royals that guaranteed $6.5 million -- far less than he anticipated earning on the open market. Kansas City picked up a couple of prospects in the end, netting Brett Phillips and Jorge Lopez in the July trade that sent Moustakas to Milwaukee.
Moustakas liked Milwaukee and the feeling was mutual for the Brewers, who appreciated his defense and his clubhouse presence -- not to mention his walk-off single in the 10th inning of Game 1 of the National League Division Series against the Rockies. But I have a hard time believing Moustakas will get iced out two winters in a row.
Can we expect Hernan Perez to get the lion's share of starts at second base until Dubon and/or Hiura are ready? Or is Streans and co. committed to signing another stopgap guy?

— Alex Niles (@thenilesriver) January 3, 2019
If the Brewers don't acquire a second baseman (or a third baseman and move Shaw to second base), then I would expect some kind of platoon with Hernan Perez or Tyler Saladino from the right side and free-agent pick-up Cory Spangenberg from the left. Lots of time left to sign or trade for someone, however.
What's the hold up on the spangenberg signing?

— michael (@mjheitk) January 3, 2019
A physical exam. Spangenberg agreed to terms with the Brewers just before the holidays, a tricky time for travel in many instances. Ben Gamel, for example, was on a cruise when he was traded by the Mariners to Milwaukee on Dec. 21 (trades don't require players to undergo physicals).
Where will Burnes start the season? Bullpen or rotation?

— ⚾Ryan Manthey⛳ (@mantheybrewcrew) January 3, 2019
Rotation. I don't know whether that means Milwaukee or Triple-A San Antonio, but the idea is to stretch out Corbin Burnes as an initial out-getter in spring.
Do u think @Brewers would go five years with @kidkeuchy or not. Plus u think they might have interest in someone like @JoePanik

— Kyle Wagner (@Kwags_92) January 3, 2019
I do not think the Brewers would go five years for Dallas Keuchel, who turned 31 on New Year's Day. I do think Joe Panik is the sort of player that could interest the Brewers, despite his power outage and injury issues in 2018. He hits left-handed, which in and of itself makes him of interest to this Brewers front office. And Panik already avoided arbitration with the Giants and has another year of club control in 2020. Before the Brewers-Mariners trade, I wondered whether Santana might wind up in San Francisco in a swap for Panik.
When are the Brewers going to release Matt Albers?

— Brian Lightell (@BLightell) January 3, 2019
Look at Matt Albers' player page -- he's the living embodiment of the old good year-bad year theory of relief pitching. Besides that, it would make no logical sense to release him right now when his 2019 salary is guaranteed.
What's Jimmy Nelson's status? Will he be ready to go, without any restrictions, by spring training?

— CVBucky (@CVBucky) January 3, 2019
That's the idea. We wrote about Jimmy Nelson in late November, when he was eager to be a regular participant in Spring Training.
Who do you predict has a big year / comeback / breakout in 2019? Who are you concerned will have a big let down year in 2019?

— Jamie Delgadillo (@DelgadilloJamie) January 3, 2019
Brandon Woodruff looks as primed as anybody for a breakout after those performances in the NL Championship Series against the Dodgers. That was eye-opening stuff. On the flip side, is it fair to expect Christian Yelich and Josh Hader to repeat their 2018 seasons? I'm not saying either player will have a "letdown" year, but it would be an incredible feat for either man to perform at the same level.
Have you any insight on who might join Robb Edwards behind the PA mic in 2019?

— Laura (@hemming_hawing) January 3, 2019
That process is in the early stages, I'm told. We learned just after Christmas that Robb Edwards, the voice from above for the last 21 seasons of Brewers baseball, was cutting back to 20-25 games in 2019 and the club was in the process of searching for a permanent replacement. That will take some time. Unfortunately for all of us amateur public address announcers -- 1995-96 New Berlin Eisenhower High School basketball -- there won't be open auditions.