Brewers to honor Hoffman, Hardy and Weeks
Trio will be added to the Wall of Honor at Miller Park Aug. 9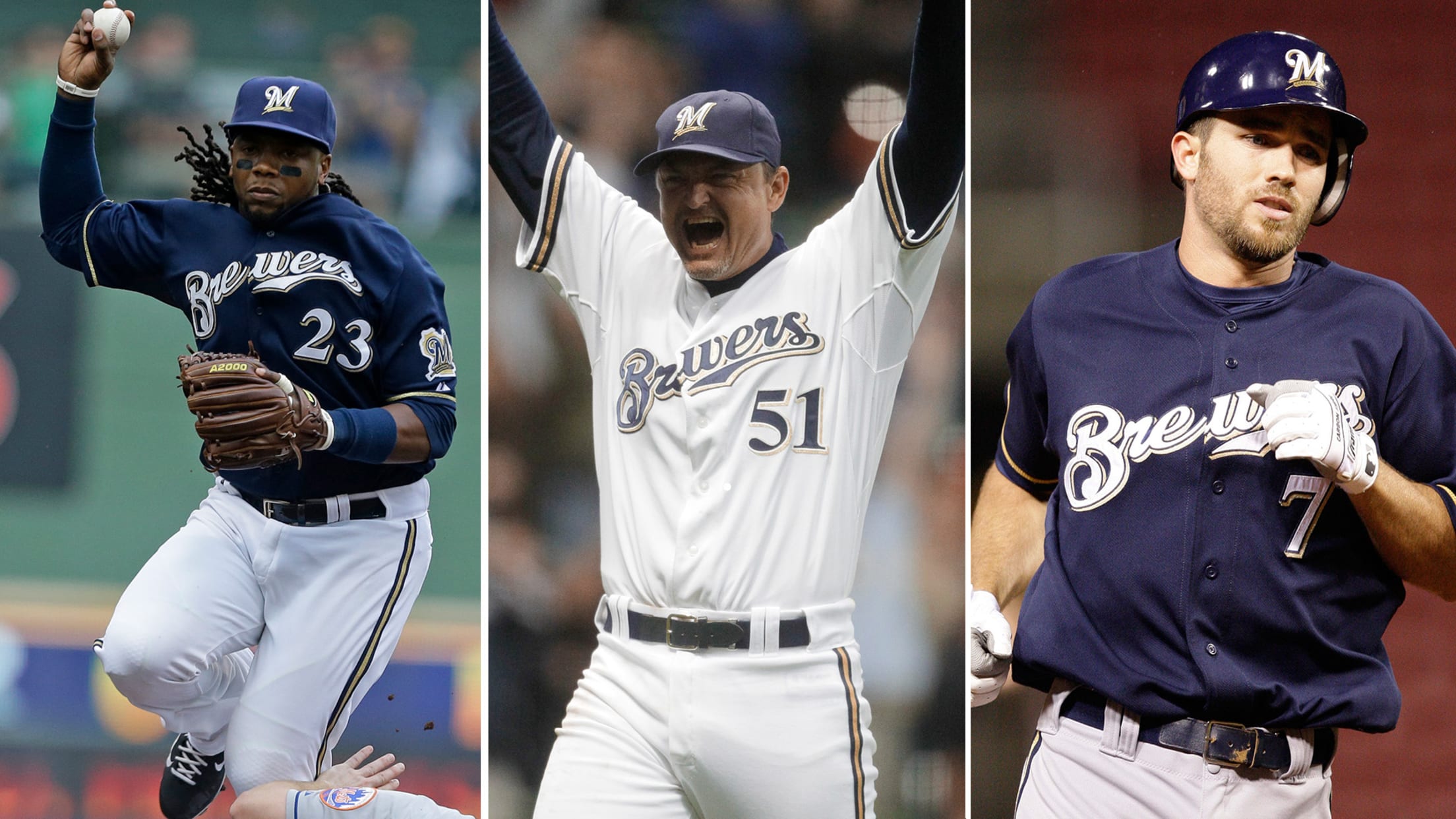 MILWAUKEE -- A trio of former Brewers All-Stars will be inducted to the team's Wall of Honor at Miller Park on Aug. 9, when Hall of Famer Trevor Hoffman and home-grown infielders J.J. Hardy and Rickie Weeks Jr. will return to Milwaukee for ceremonies prior to a home game against
MILWAUKEE -- A trio of former Brewers All-Stars will be inducted to the team's Wall of Honor at Miller Park on Aug. 9, when Hall of Famer Trevor Hoffman and home-grown infielders J.J. Hardy and Rickie Weeks Jr. will return to Milwaukee for ceremonies prior to a home game against the Rangers.
The Wall of Honor is located outside Miller Park near the Hot Corner entrance, and commemorates former Brewers players, coaches and executives who meet criteria based on service to the organization. It was the brainchild of current Milwaukee manager Craig Counsell when he was a special assistant to the GM in Milwaukee's front office, and is inspired by a similar installation outside of Oracle Park in San Francisco.
"I thought it would be a good way to keep alive the tradition, to honor the significant players, the core players of the franchise," Counsell said when it was unveiled in 2014. "And it's for fans. Something they could walk by and share stories with different generations of fans."
Once Hoffman, Hardy and Weeks are added, there will be 66 plaques on the Wall of Honor. Hoffman, who represented the Brewers at the 2009 All-Star Game and became the first player in Major League history to reach 600 saves in 2010, was inducted into the National Baseball Hall of Fame in Cooperstown, N.Y. on July 29.
New voice from above
If you were wondering about the voice booming down from the public address system on Friday night, it belongs to West Allis. Wis. native and longtime Milwaukee radio personality Mark Richards. He is splitting PA duties this season with Robb Edwards, the longtime voice of Miller Park.
"I'm trying to maintain some professionalism and dignity, but my inner little kid is going, 'Yes, yes, yes, yes, yes, yes, yes!' Edwards said. "First game. I mean, this is a dream come true, it really is."
The Brewers announced in December that Edwards would scale back to 20-25 games in 2019. Richards heard about the opening while at his day job working as weekend and fill-in disc jockey at WKLH, and he applied the first day the position posted.
From Bob Betts to Robb Edwards to Mark Richards: You'll hear a new voice from above tonight. Longtime Milwaukee radio personality Richards is splitting Miller Park PA duties with Edwards this season. pic.twitter.com/UjkBABU9Dg

— Adam McCalvy (@AdamMcCalvy) April 5, 2019
After an interview and two auditions, he got the gig in late February.
"Bob Betts and Robb, those are pretty big shoes to fill," said Richards, referring to the previous men to hold the job. "I sincerely hope I live up to the precedent that those two fellows have set, because they were total pros -- Robb still is, obviously. He's showed me a few things about how this works. I think I'm as prepared as I'm going to be."
Jeffress begins rehab assignment

Reliever Jeremy Jeffress threw 25 pitches, including 18 strikes, and he surrendered a go-ahead two-run home run in an outing for Triple-A San Antonio on Friday as he continued his comeback from a right shoulder issue.
In 1 1/3 innings, Jeffress was charged with two runs on two hits, including that home run by Dodgers farmhand Jake Peter, with no walks and one strikeout. Radar gun readings at the start of the outing registered Jeffress' fastball at 90-91 mph. Jeffress is expected to pitch several more times for the Missions before the Brewers consider reinstating him from the injured list.