Pipeline Preview: Diaz looks to homer in third straight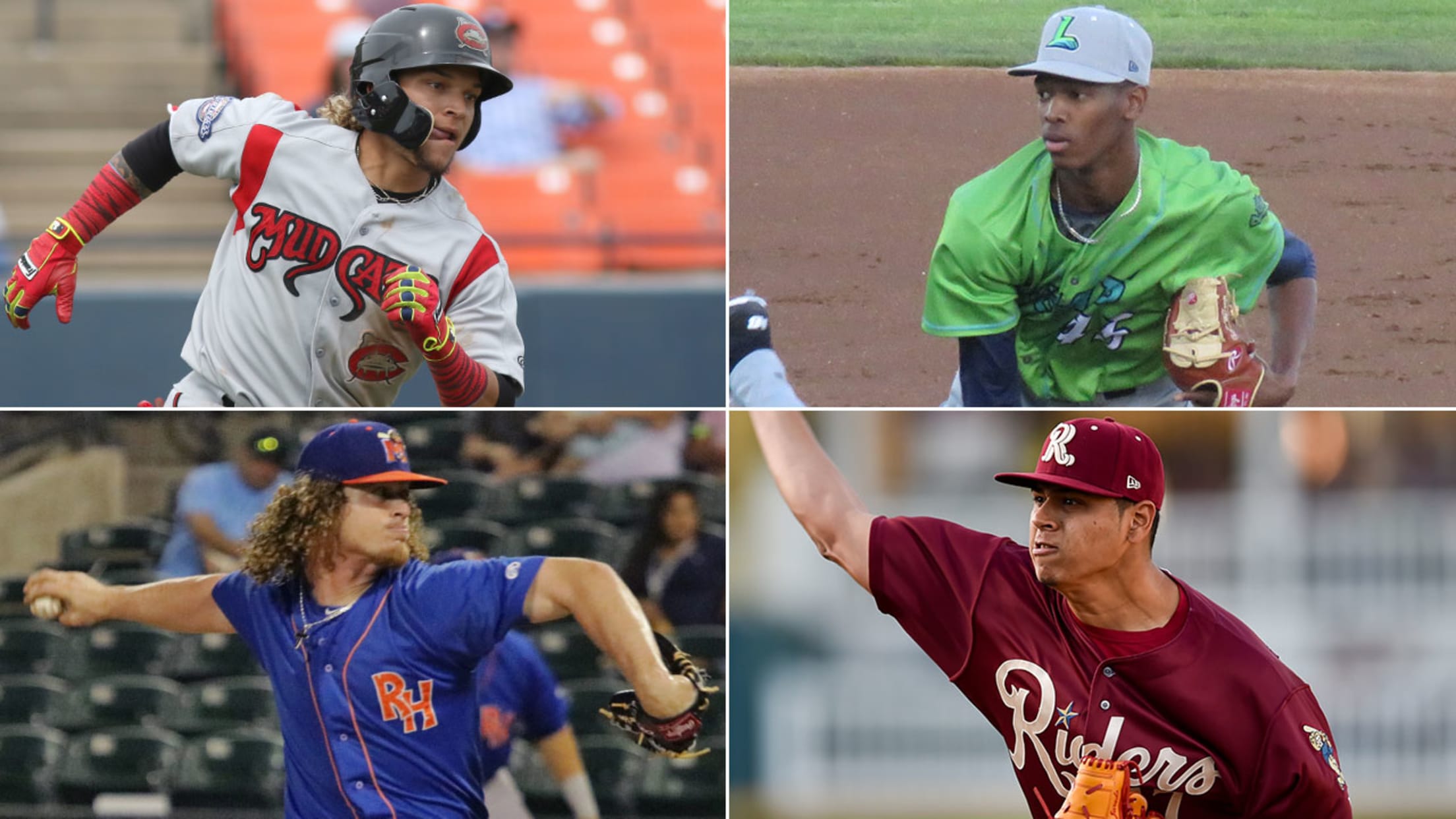 Here's a look at top prospects to watch in today's Minor League action:Hitter to watch:Isan Diaz (Brewers' No. 5), Carolina vs. Winston-Salem (7 p.m. ET on MiLB.TV)Diaz, the No. 57 overall prospect, hit a career-high 20 homers in 135 games with Class A Wisconsin in 2016. This season, he's continued
Here's a look at top prospects to watch in today's Minor League action:
Hitter to watch:Isan Diaz (Brewers' No. 5), Carolina vs. Winston-Salem (7 p.m. ET on MiLB.TV)
Diaz, the No. 57 overall prospect, hit a career-high 20 homers in 135 games with Class A Wisconsin in 2016. This season, he's continued to tap into his power potential with seven through the first 35 games. Diaz went 2-for-5 with a double and a homer on Sunday and has homered in each of his past two games. He's gone deep in three consecutive games once this season and now has a chance to do it again.
Pitcher to watch: Triston McKenzie (Indians' No. 3), Lynchburg vs. Winston-Salem (7 p.m. ET on MiLB.TV)
The No. 50 overall prospect looks to continue his hot streak as he's been absolutely dominant in each of his past two starts. McKenzie struck out a career-high 14, while giving up one hit in six scoreless innings, in his last start. The 19-year-old hasn't given up an earned run in his past 13 innings or in three of his past four starts.
Duel of the Day:Grant Holmes (Athletics' No. 3) vs. Ariel Jurado (Rangers' No. 3), Midland vs. Frisco (8:05 p.m. ET on MiLB.TV)
Holmes, the No. 77 overall prospect, is looking to get back on track after a rough start in his last outing, which also happened to be against Frisco. The 21-year-old right-hander gave up four earned runs in five innings in that outing. Prior to that, Holmes had been in a groove and allowed just one earned run over three appearances.
Jurado got the best of Holmes when they met on May 9 and will be looking for a similar performance Monday. The right-hander struck out a season-high six over 6 2/3 innings in his last start. After getting off to a slow start in April, Jurado has turned it up a notch in May, posting a 1.42 ERA through two starts (12 2/3 innings).
Monday's Top 100 prospect probables
No. 42 overall Yadier Alvarez (Dodgers' No. 2), Rancho Cucamonga vs. Visalia (4:00 p.m. ET)
More op prospect probables
Tyler Eppler (Pirates' No. 25), Indianapolis vs. Columbus (Triple-A)
Jacob Faria (Rays' No. 9), Durham vs. Charlotte (Triple-A)
Chris Stratton (Giants' No. 22), Sacramento vs. Oklahoma City (Triple-A)
Andrew Suarez (Giants' No. 10), Richmond vs. Akron (Double-A)
Preston Morrison (Cubs' No. 29), Tennessee vs. Montgomery (Double-A)
Luis Castillo (Reds' No. 6), Pensacola vs. Jackson (Double-A)
Taylor Clarke (D-backs' No. 5), Jackson vs. Pensacola (Double-A)
Andrew Sopko (Dodgers' No. 28), Tulsa vs. Springfield (Double-A)
Dakota Hudson (Cardinals' No. 9), Springfield vs. Tulsa (Double-A)
Grayson Long (Angels' No. 6), Mobile vs. Jacksonville (Double-A)
Luiz Gohara (Braves' No. 10), Mississippi vs. Biloxi (Double-A)
Miguel Almonte (Royals' No. 16), Northwest Arkansas vs. Arkansas (Double-A)
Justin Donatella (D-backs' No. 26), Visalia vs. Rancho Cucamonga (Class A Advanced)
Jordan Romano (Blue Jays' No. 23), Dunedin vs. Charlotte (Class A Advanced)
Jake Woodford (Cardinals' No. 17), Palm Beach vs. Jupiter (Class A Advanced)
Sandy Baez (Tigers' No. 10), Lakeland vs. St. Lucie (Class A Advanced)
Pedro Payano (Rangers' No. 27), Down East vs. Carolina (Class A Advanced)
Vladimir Gutierrez (Reds' No. 11), Daytona vs. Bradenton (Class A Advanced)
Framber Valdez (Astros' No. 30), Buies Creek vs. Myrtle Beach (Class A Advanced)
Ofelky Peralta (Orioles' No. 17), Frederick vs. Salem (Class A Advanced)
Peter Lambert (Rockies' No. 10), Lancaster vs. Stockton (Class A Advanced)
Joan Baez (Nationals' No. 23), Potomac vs. Wilmington (Class A Advanced)
Scott Blewett (Royals' No. 4), Wilmington vs. Potomac (Class A Advanced)
Jonathan Hernandez (Rangers' No. 18), Hickory vs. Greensboro (Class A)
Jordan Hicks (Cardinals' No. 11), Peoria vs. Cedar Rapids (Class A)
Kyle Funkhouser (Tigers' No. 6), West Michigan vs. Bowling Green (Class A)
Freicer Perez (Yankees' No. 28), Charleston vs. West Virginia (Class A)
Alex Wells (Orioles' No. 16), Delmarva vs. Greenville (Class A)
Aaron Civale (Indians' No. 21), Lake County vs. Great Lakes (Class A)
Garrett Davila (Royals' No. 17), Lexington vs. Augusta (Class A)
Marcos Diplan (Brewers' No. 11), Wisconsin vs. Clinton (Class A)